There's just nothing better than a BIG slice of carrot cake! We LOVE this moist scratch Carrot Cake recipe for it's winning combination of flavors.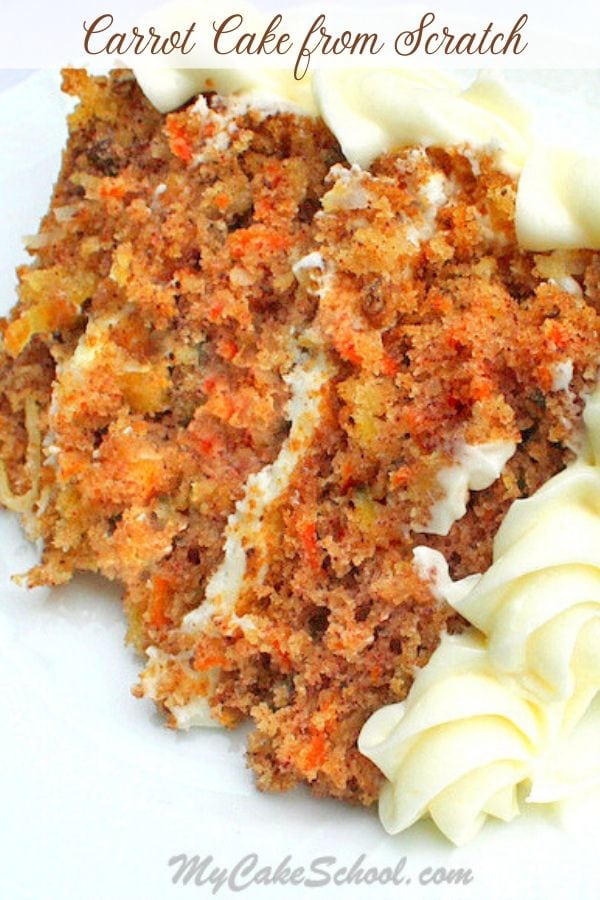 What Makes this Carrot Cake recipe the BEST?
Well, we're a little biased, but this carrot cake is the best ever. We just love carrot cakes that have tons of flavor from fresh ingredients.
This carrot cake has it all: carrots, spices, pecans, coconut & pineapple! With that amazing roundup of ingredients, how could you go wrong?
Carrot Cake is a year-round favorite. This recipe receives so much traffic no matter what time of year, but it is a go-to recipe for Christmas, Easter, and all of the holidays in between!
What Frostings Pair Well with Carrot Cake?
For me, you just cannot beat a thick coat of cream cheese frosting spread over carrot cake layers. It is heavenly!
The slight tang from the cream cheese frosting is the perfect complement to the spice in the recipe and the sweetness from the carrots, coconut, and pineapple.
If you cannot use cream cheese frosting or just don't care for it (gasp!) - I would go with a Classic Vanilla Buttercream or add a little cinnamon to the vanilla buttercream for a delicious Cinnamon Buttercream.
I've experimented with and tried so many carrot cake recipes over the years, but this is the recipe that we always come back to- we think that you are going to love it too!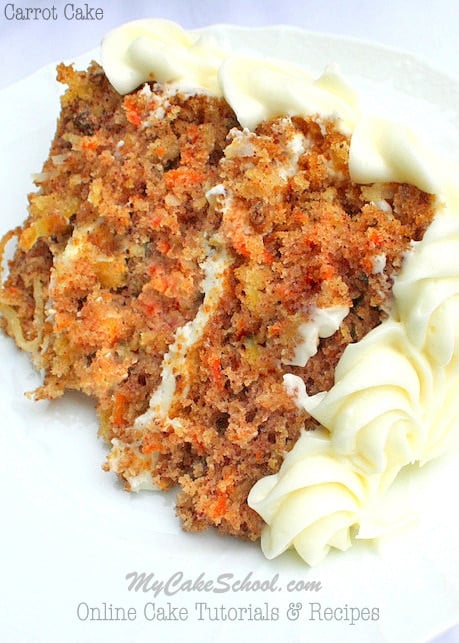 As I mentioned above, I think that carrot cakes are best with cream cheese frosting! You can find our cream cheese buttercream frosting listed in our recipe below, or you may also like our Pipeable Cream Cheese Frosting if you prefer a thicker consistency! Either recipe tastes fantastic with carrot cake!
Sharing our favorite classic cake recipes
In addition to Carrot Cake, we have several more classic cake recipes that you must try! These old fashioned favorites are recipes that you will return to again and again.
Make sure to save these go-to recipes!
More Delicious Carrot Cakes to Try!
If you love carrot cakes, we have even more carrot cake recipes for you to try ! Our Maple Carrot Cake is perfect for fall celebrations. It is just like today's recipe, but with maple extract, maple glaze, and maple cream cheese frosting.
We also have a Carrot Bundt Cake topped with cream cheese frosting and a delicious Carrot Cheesecake Cake (which has a layer of cheesecake as the middle layer)!
If you love the convenience of working with box mixes, we have a great Carrot Cake Doctored Cake Mix Recipe as well!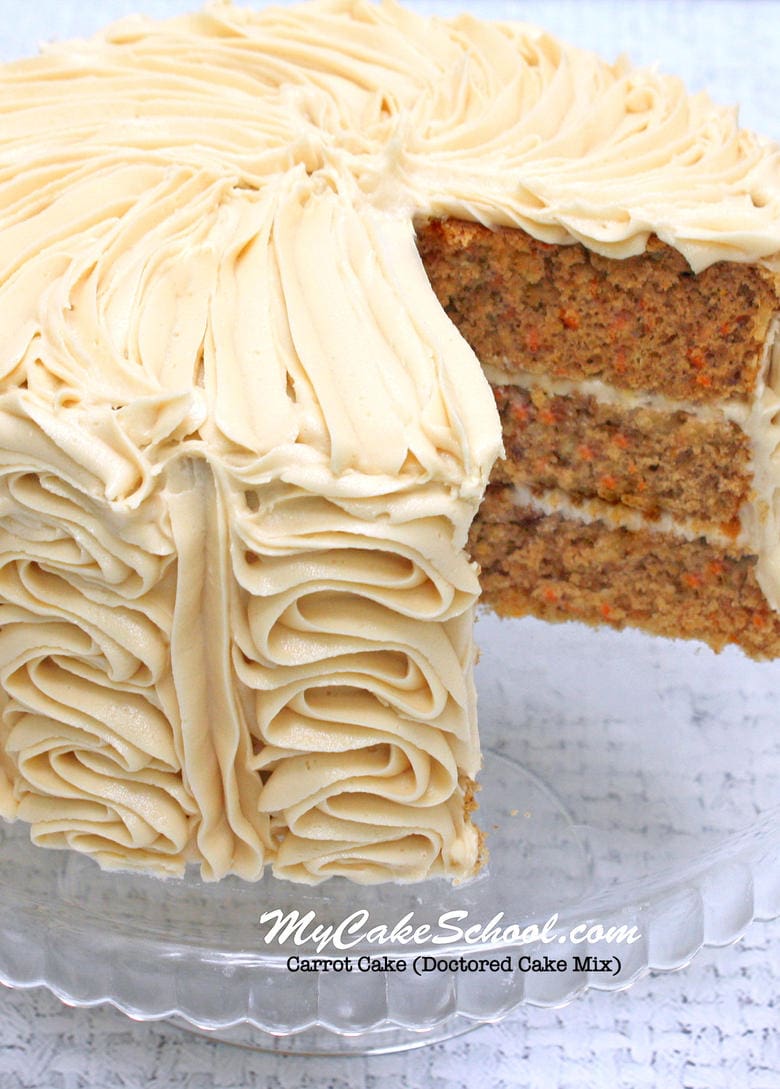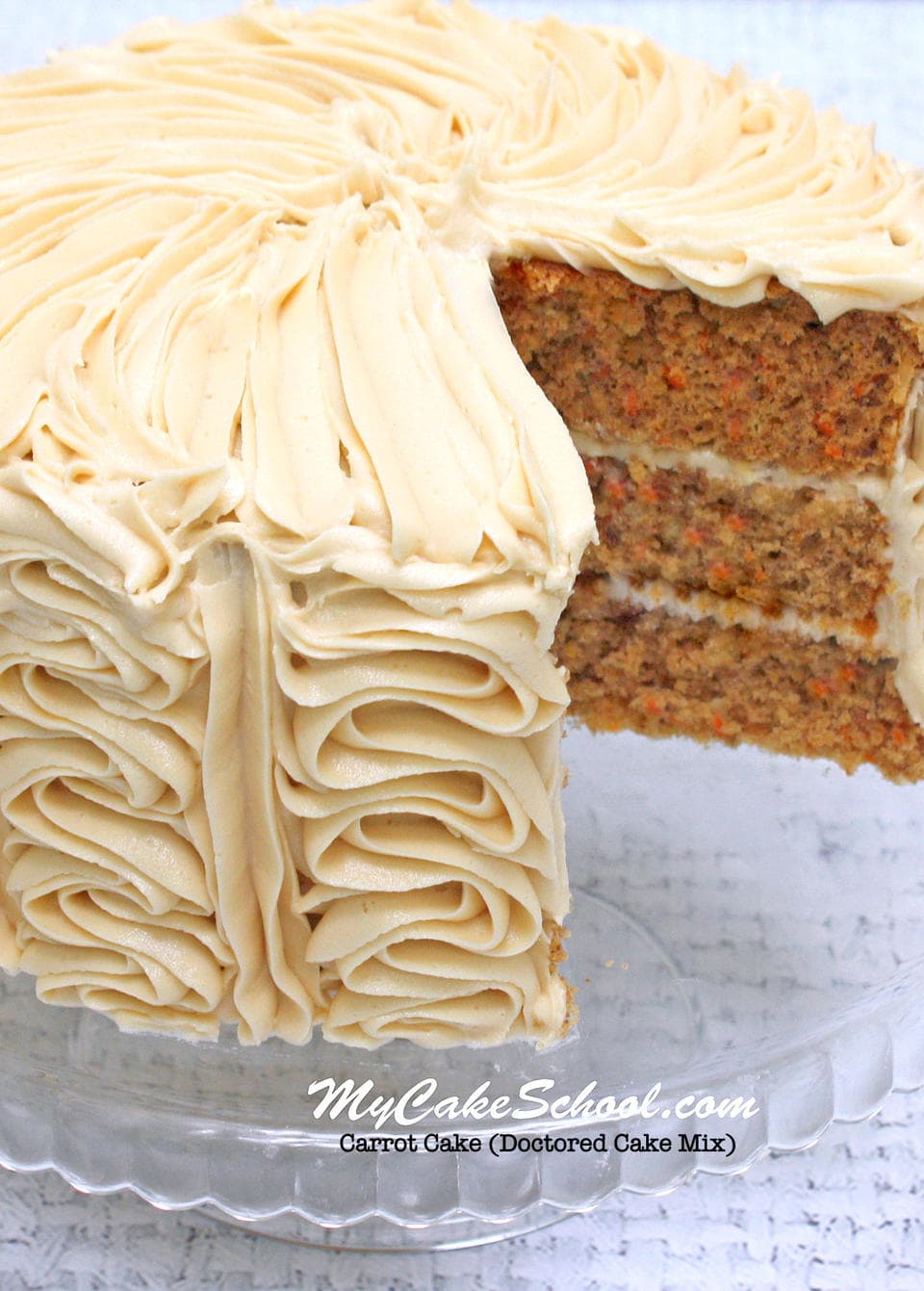 My Cake School- Favorite Cake Recipes, Tutorials, and More!
We have hundreds more delicious cake recipes and free cake decorating video tutorials in our Recipes & Tutorials Section! Enjoy scrolling through, we have so many cake ideas to share with you!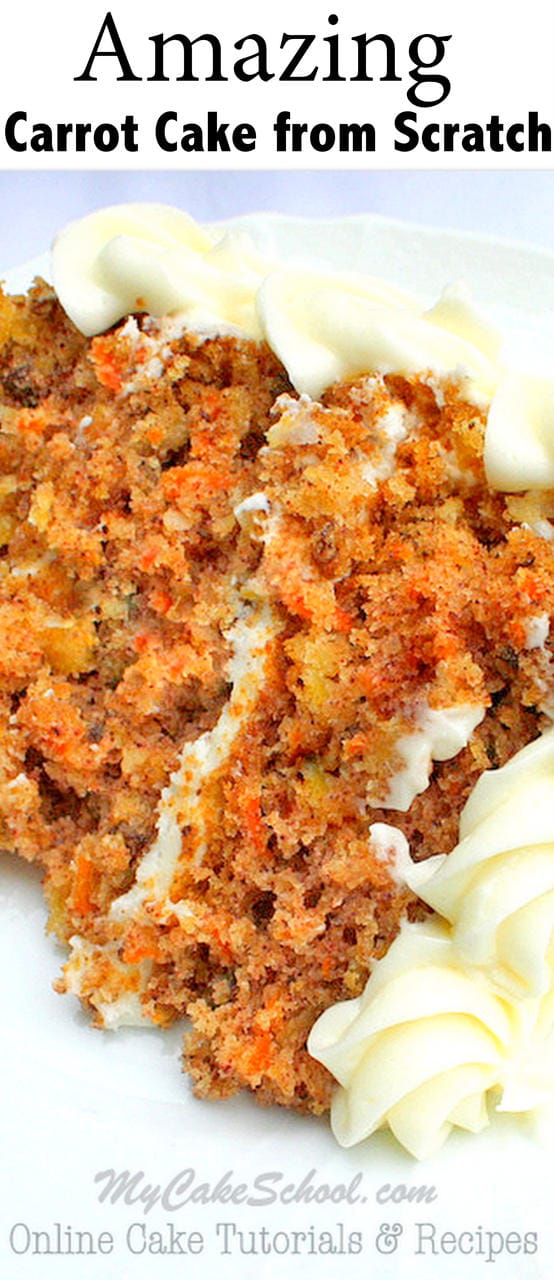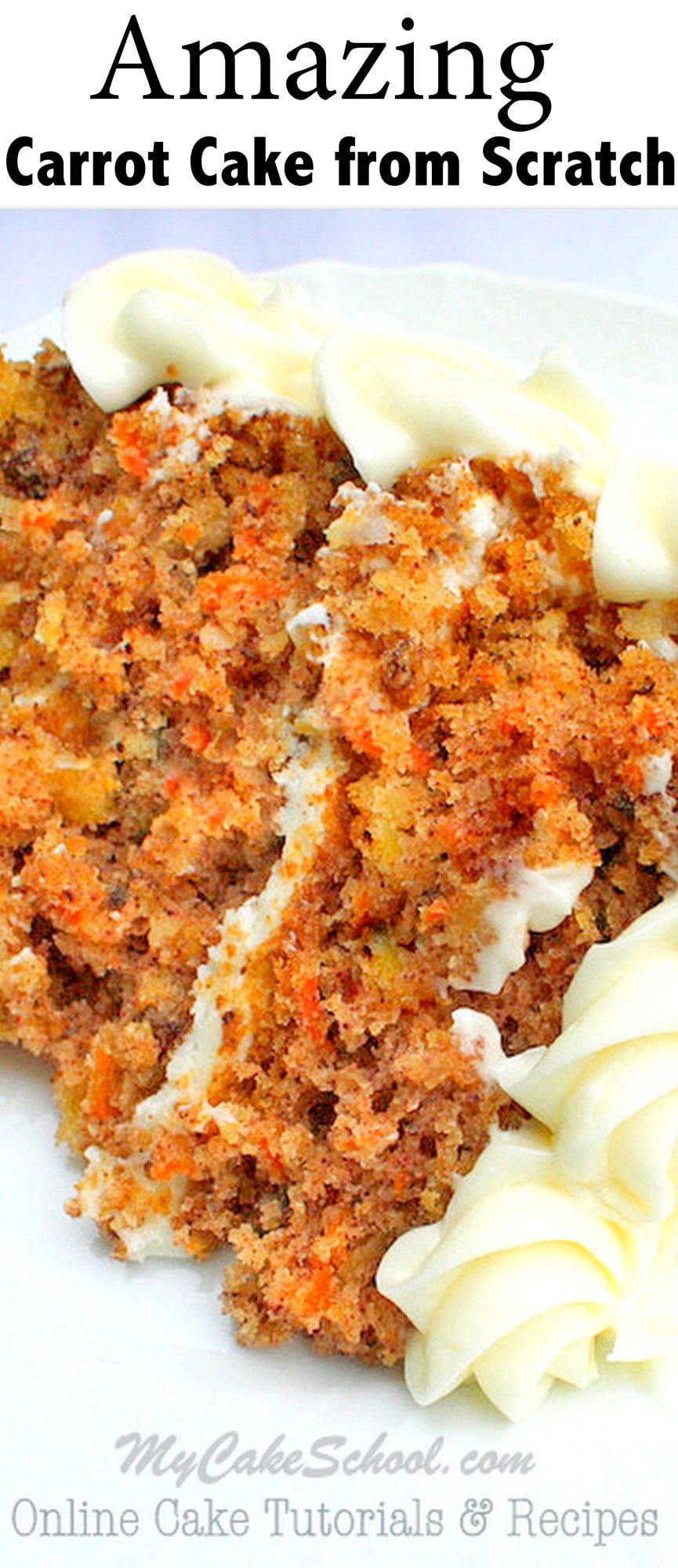 Enjoy the Recipe!
Thanks so much for stopping by. We hope that you love this carrot cake recipe! If you give it a try, please leave a comment and photo below!
Carrot Cake from Scratch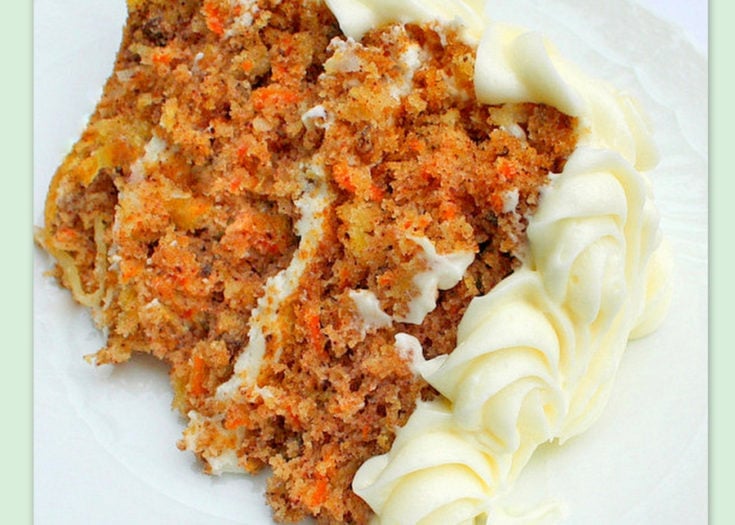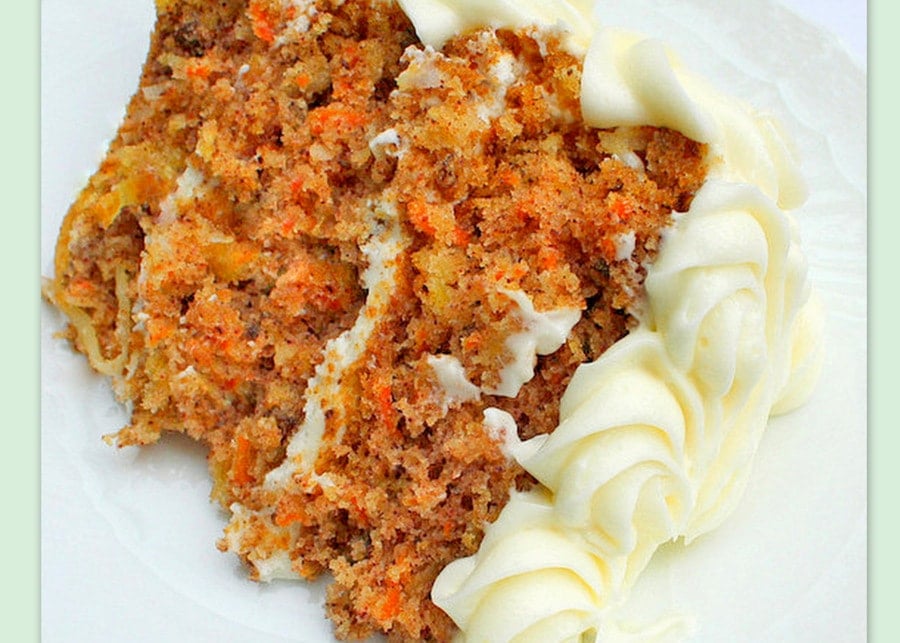 This scratch Carrot Cake is my FAVORITE cake, and one of our most popular recipes on the site! Carrot cake with crushed pineapple, pecans, coconut, and spices!
Ingredients
For the Carrot Cake
2 ½ cups (325g.) all purpose flour
1 ½ teaspoons baking soda

1 ¼ teaspoons baking powder
2 teaspoons ground cinnamon
½ teaspoon salt
2 cups ( 400g ) sugar

4 large eggs
1 cup vegetable oil (218g)
1 teaspoon vanilla extract
2 cups (180g) grated (small pieces) carrots (do not use packaged pre-shredded carrots, they are too dry)
¾ cup (92 g) chopped pecans
¾ cup (50g) coconut (optional)( we used Baker's Angel Flake sweetened coconut)
1 (8oz.) can crushed pineapple, put in a strainer and let the liquid drain off….I press with a fork to remove not all, but a bit more liquid.
For the Cream Cheese Frosting (this recipe can be easily doubled if you plan to do a lot of piping)
2 sticks ,1 cup, (226g) unsalted butter, slightly softened
2 (8oz) packages cream cheese (total weight 452g) I use full fat cream cheese. Using reduced fat or the spreadable cream cheese will cause the frosting to be too soft. Soften very slightly.
2 teaspoons (8 g) vanilla extract
½ teaspoon salt (2g) optional - it will cut the sweetness, popcorn salt is best to use because it is fine and dissolves faster
6 to 6 ½ cups (690g to 747g) powdered sugar
Instructions
For the Carrot Cake
Preheat oven to 350 degrees
Line the bottoms of 3 (8 inch) or 2 (9 inch) round pans with wax or parchment paper, grease with shortening and flour the paper and pans for easy release when turning out……carrot cake has a tendency to stick so be sure to use the paper.
Whisk together for 30 seconds the flour, baking soda, baking powder, cinnamon, and salt. Set Aside.
In the bowl of your mixer, add 2 cups sugar , 4 eggs, 1 cup oil and 1 tsp. vanilla. Mix 2 to 3 minutes at medium speed until well blended and light colored.
With a spoon stir in the flour until moistened, then add the carrots, pecans crushed pineapple and coconut.
Bake 35 minutes at 350 degrees or until a toothpick inserted in the center comes out clean. Refrain from opening the oven door or touching the center of the cake to test for doneness until very near the end of baking time or it could cause the cake to sink slightly in the center.
Makes 6 ½ cups batter
Cool cake layers in pan for 10 minutes on a wire rack then turn out. Cool completely before frosting.
For the Cream Cheese Frosting
Cut the butter into slices and add to the bowl of your mixer. Beat on low to medium speed until the butter is softened and smooth.
Cut the cold cream cheese into pieces and add to the butter, beating at low to medium speed until incorporated. If you are using a hand mixer you may need to soften the cream cheese a bit more.
Add the vanilla. Gradually add the powdered sugar beating on low speed until blended. Cover the bowl with a towel to keep down the cloud of powdered sugar.
Increase mixing speed and beat until fluffy. Don't over beat or it will become too soft. If it becomes too soft, just refrigerate a short while to firm it up a bit.
This frosting will pipe best if used while still chilled. You can make it in advance, refrigerate and when ready to use let it soften slightly (do not microwave) and remix.
Will frost a 3 layer 8 inch cake
Recommended Products
As an Amazon Associate and member of other affiliate programs, I earn from qualifying purchases.