Today's post is a cute little tutorial about making teeny tiny cupcakes...to go onto your cupcakes.
At least once a week, you can find me on the candy aisle at the grocery store...staring down the candy.  I feel like if I stand and stare long enough, an idea will finally jump up and hit me over the head.  This week, I had one of those hit in the head moments---all over Peanut Butter Cups!
Peanut Butter Cups look exactly like cupcake liners!! Talk about a cute & easy cupcake topper!  I bought a bag of the miniature ones, and a bag of the minis (super tiny ones) & off I went! --Back at home, I tested the design & everything went according to plan-- cuteness...total cuteness (and with a decorating time of about 30 seconds at most for each one!) --
But then....I realized.... this idea was so cute & easy that someone may just have done it already.  The dreaded Google search was done....and there it was....  the fabulous Kristan of Confessions of a Cookbook Queen beat me to the punch--a whole year ago!
So, I ate about 5 peanut butter cups as I weighed my options.  I finally decided...the world can never have too many cupcake cupcake toppers!!!  With Kristan's okay, I put my own twist on these cute little decorations.
Here we go!......
First, you'll need a frosted cupcake (that swirl is done with a 2D tip).  Then...unwrap a chilled peanut butter cup.  (I just kept mine in the freezer for several minutes.  This helps to prevent the chocolate from peeling away with the brown liner.)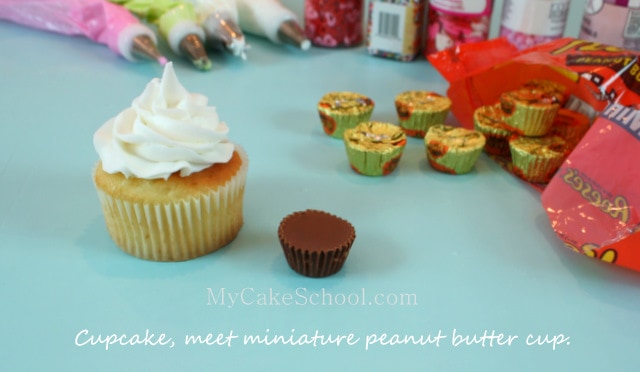 Next, I swirled a little pink buttercream with my Wilton Tip 16  & added sprinkles!  (The heart sprinkles are Wilton--I stock up at Valentine's day every year.)
Next, apply to your frosted cupcakes!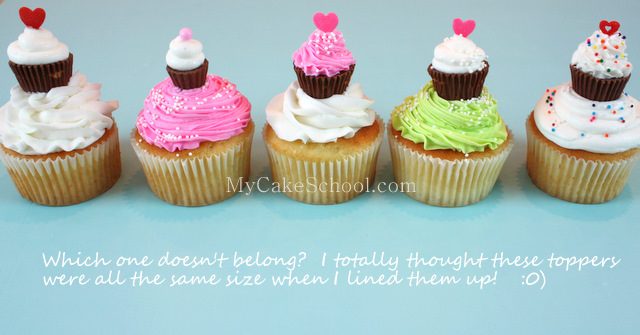 Another discovery I made at the grocery store is that you can buy Reese's Minis!--  the little brother to the Reese's Miniatures.  This means  that our mini cupcakes can have mini cupcake toppers too!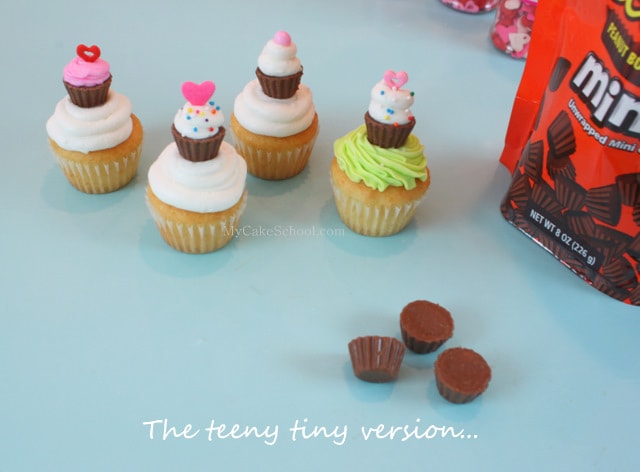 Okay, so there's one more way to enjoy the little cupcakes, and that's to put them on a stick!  You've seen me do this before--I take a slice of a gum drop or a mini marshmallow...or in this case Dots candy, and push it onto my lollipop stick.  This makes a great support for your mini cupcakes--so they won't slide down.
****I love the novelty of a cupcake on a stick---but if you're going to unwrap the cupcake liners (optional)  like I did below, wait until the day of the party.  Otherwise, the cupcakes may dry out a bit!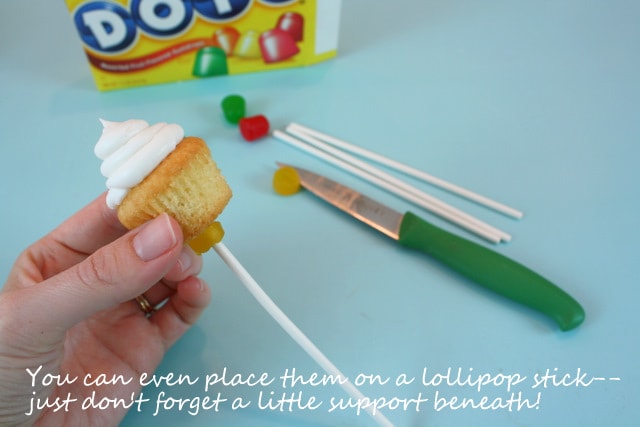 Here's another option...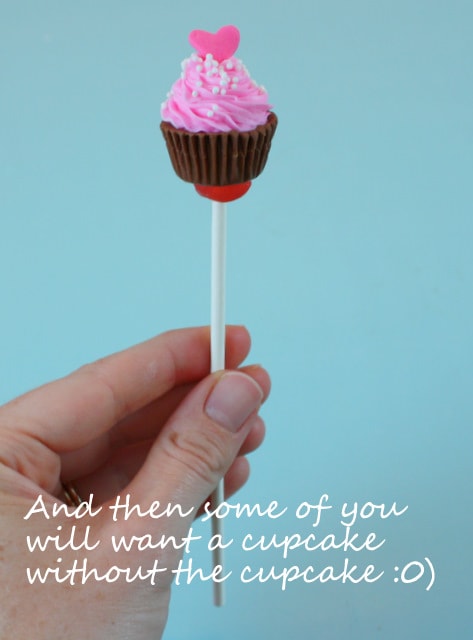 Drive the candy/cupcakes on sticks into a styrofoam block to keep them upright, and decorate with something cute (tissue paper, candy, chocolate chips, ribbon...)
Here's the group shot!   :0)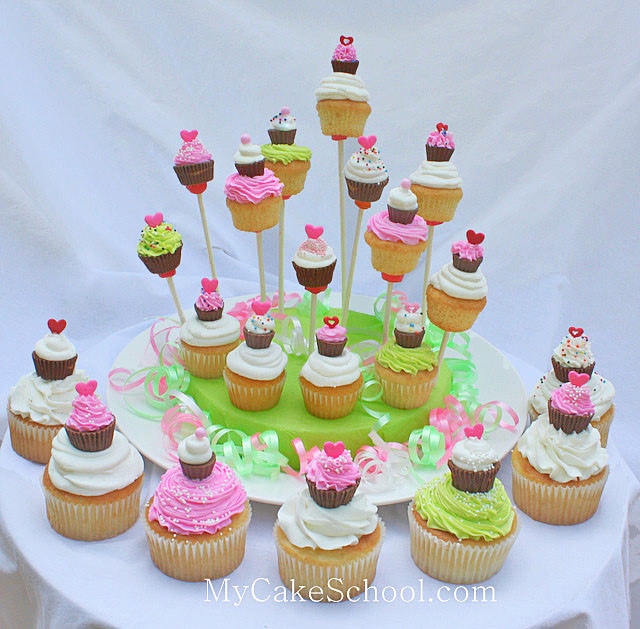 I hope that you enjoyed this little tutorial!  I think that they came out super cute--and if nothing else, now you have a great excuse to go buy a bag or two of peanut butter cups!  --
See you next time!