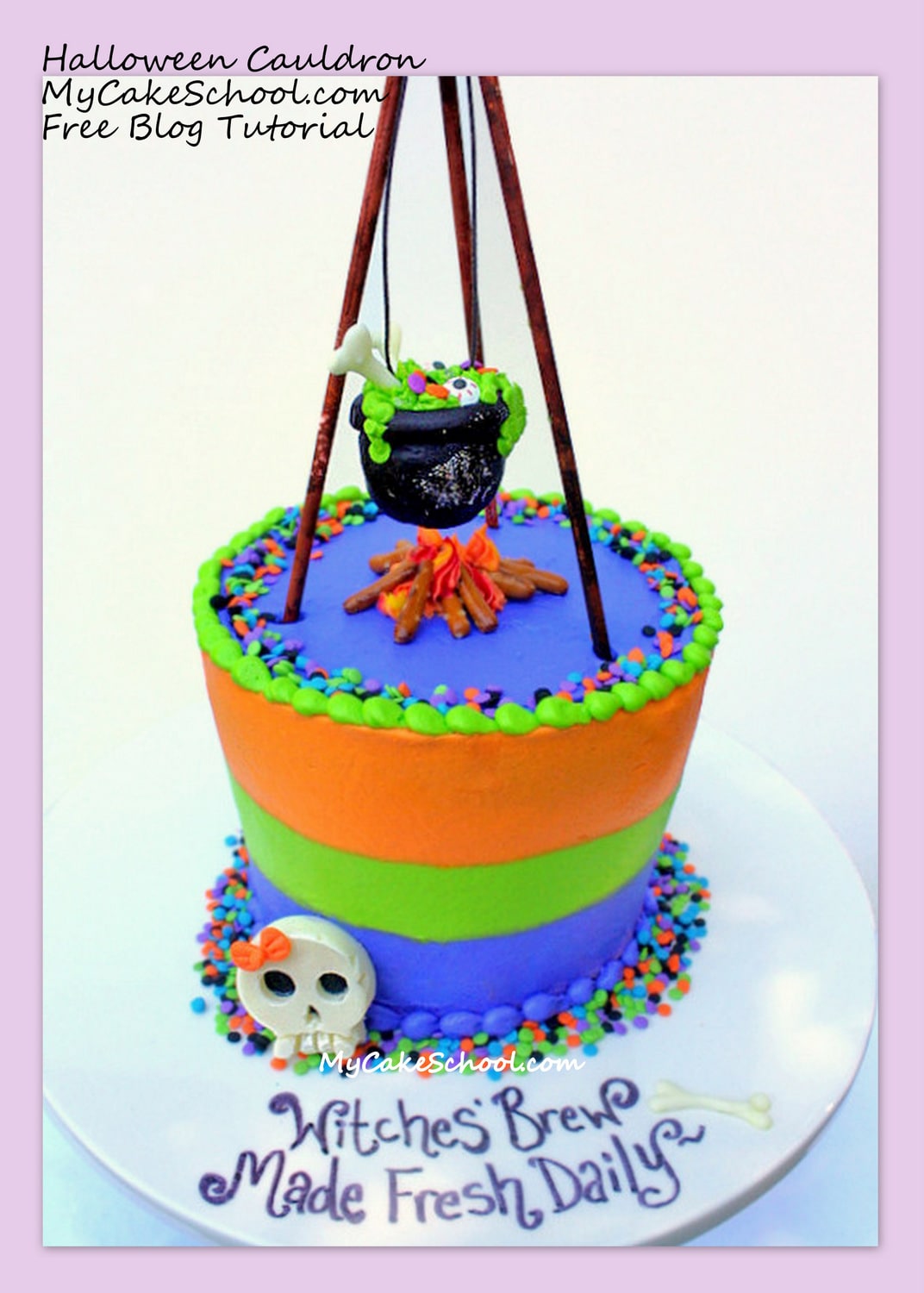 Hi everyone! Today, our witches are cooking up something bubbly, oozy, & creeptastic over the fire. This was an idea that fell into place at the very last minute! Our original blog idea of Mini Wonder Mold cauldrons just didn't pack a punch. (Maybe we'll revisit that next year!) So, we had to quickly brainstorm for a Plan B. When in doubt, look for Rice Cereal Treats, floral wire, and lollipop sticks. I'm convinced that you can make anything work if you have these in your caking tool box ;0) -- What we wound up with was something fun, festive, and best of all~ easy to make!
Here's a glance at some of our key ingredients...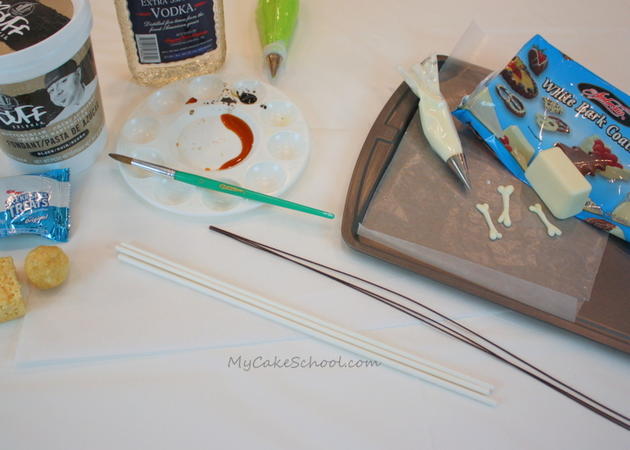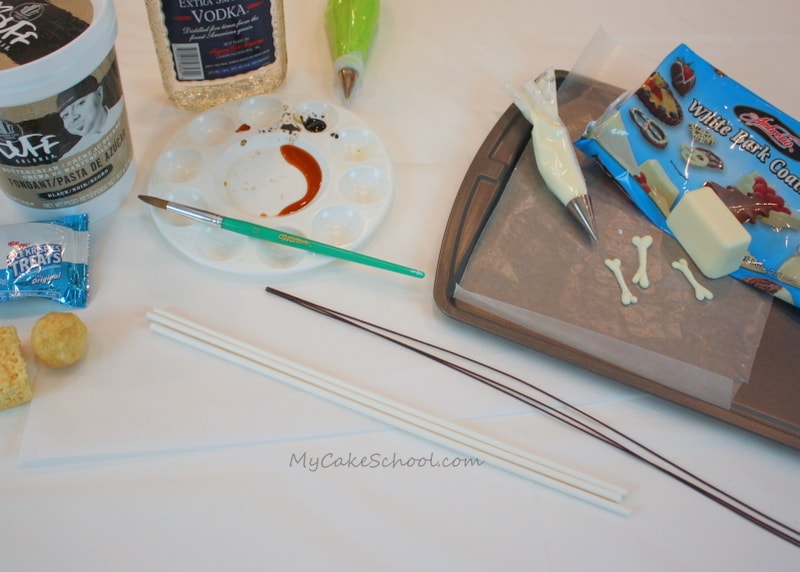 I painted three long lollipop sticks with a "paint" made from mixing a little vodka into Americolor Chocolate Brown coloring gel.  The vodka speeds up the dry time. I painted the lollipop sticks with varying shades of brown (by changing the amount of vodka that I mixed into the color) so that it would look more like wood.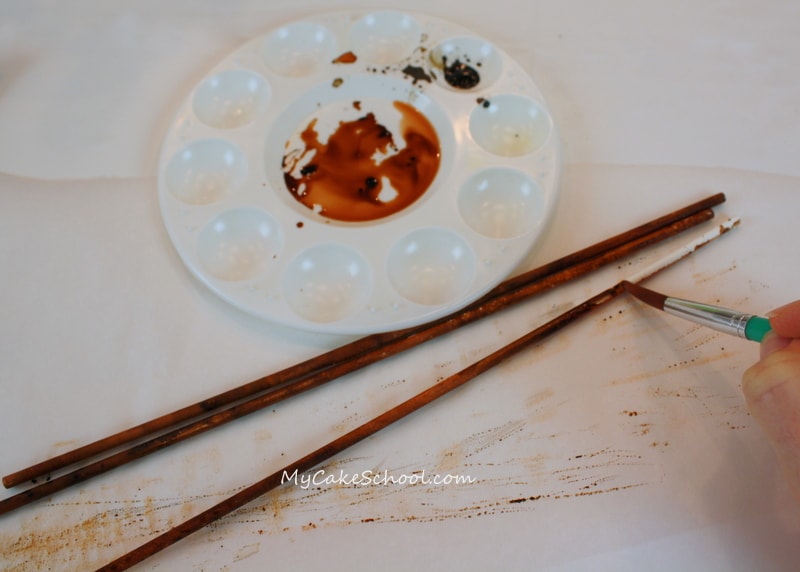 Next, I wound a piece of brown 20 gauge floral wire around the three lollipop sticks, close the top.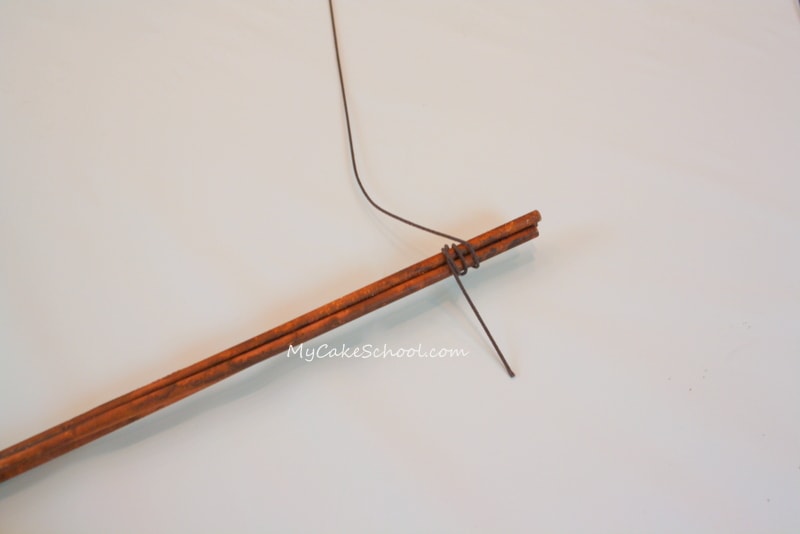 Then, I spread the sticks out enough that it could stand on it's own.  If your floral wire is too far down, the sticks will not cooperate.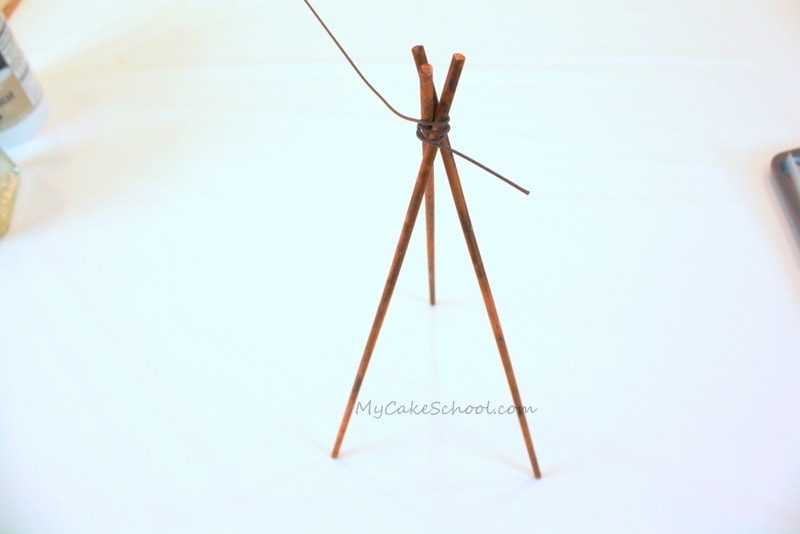 Next, I tightly balled up over half of a 22 g Rice Krispie Treat ~ this will soon become our cauldron!  (You could also use a small ball of styrofoam for this.)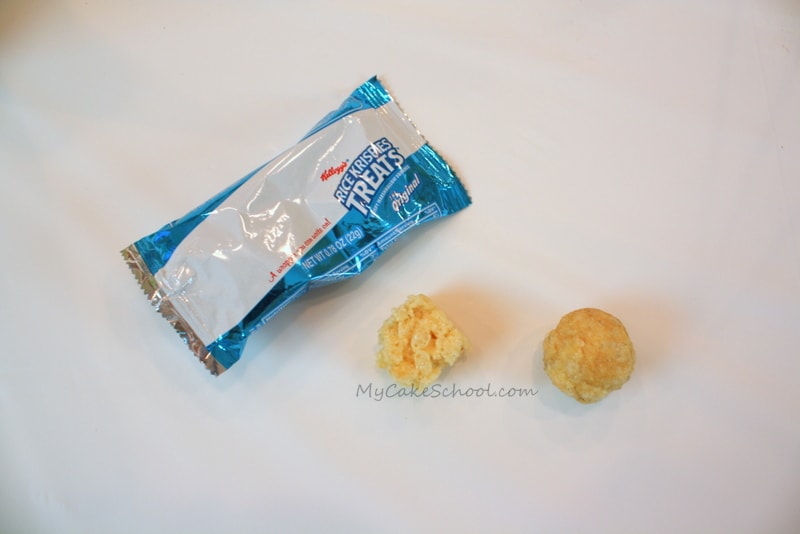 I rubbed a little vegetable shortening (for glue) onto the rice cereal treat ball and then wrapped it with pre-colored black fondant.  I use pre-colored to make life easier :0) --Today, I used Duff's brand.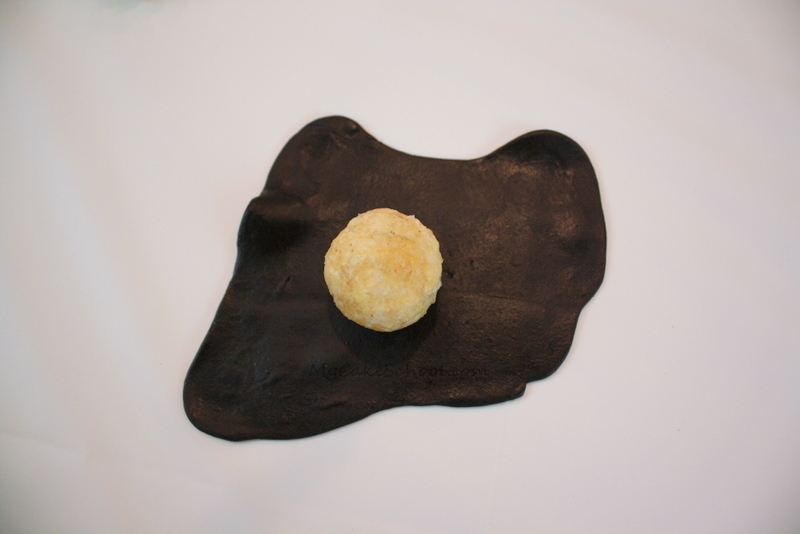 Another look.  I rolled the wrapped cereal treat in my palms until I had a nice, smooth ball.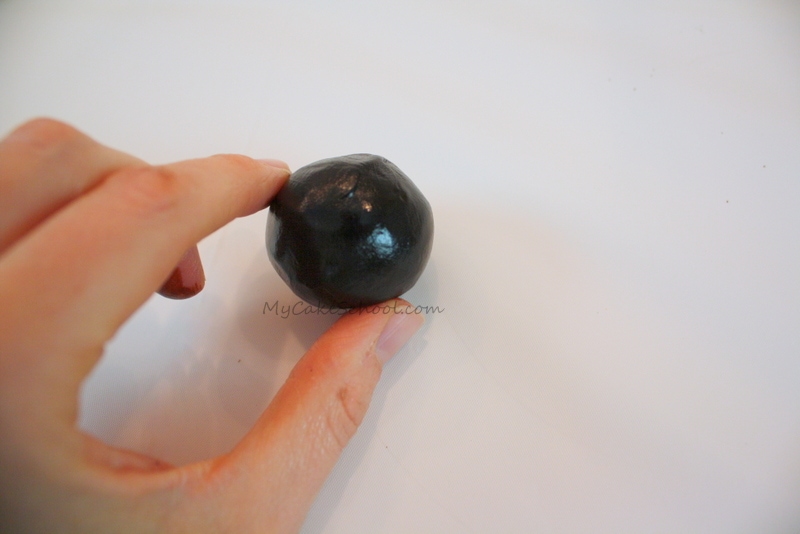 Next, I twisted a toothpick all the way through the cauldron---I made two holes.  We're creating a passageway for our floral wire.  (The floral wire wasn't quite strong enough to drill a hole through the cauldron.)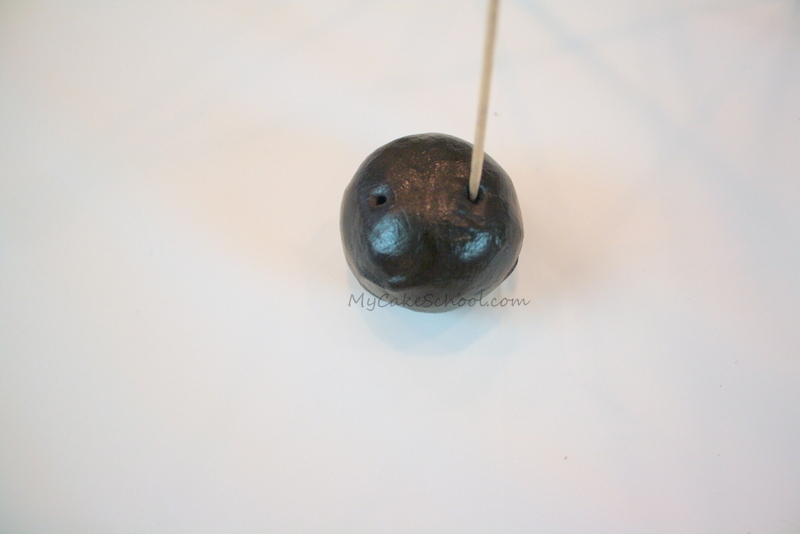 If you are a patient person, you could at this point allow the fondant to set up a while.  I am not a patient person, and so I went to the next step :0) --
I threaded the floral wire (brown, 20 gauge) through one of the holes and then bent it on the end that would be the bottom of the pot.  You can see what I mean below.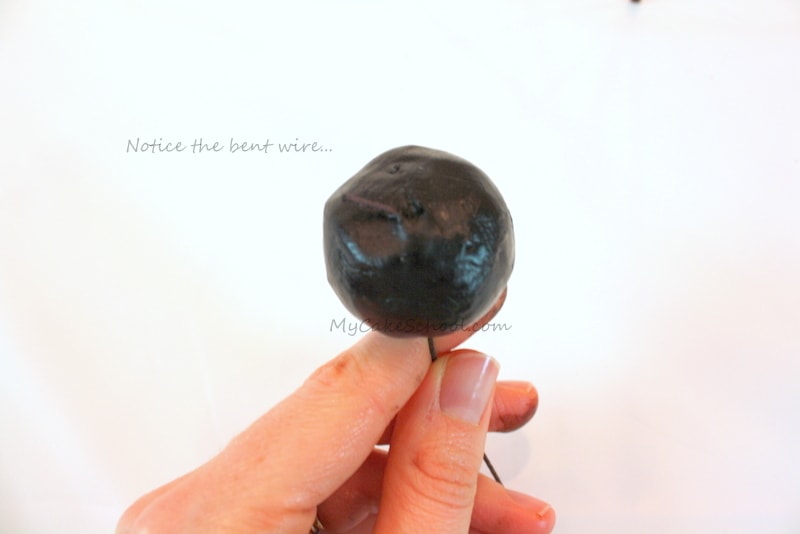 Then, I repeated the steps above with the second hole & piece of floral wire. Below is the bottom of the cauldron.  The reason for bending the wires is so they won't pull out of the rice cereal treat later.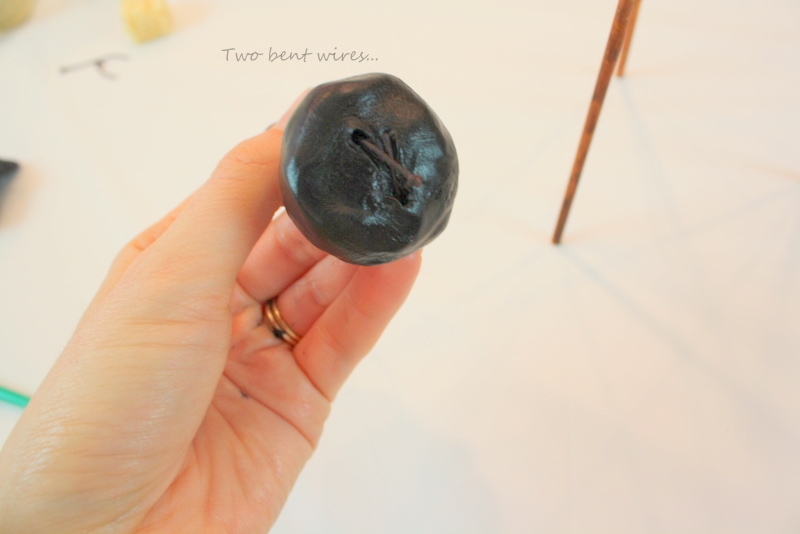 Now we're getting somewhere!  The black snake of fondant that I've rolled out will be the lip of our cauldron.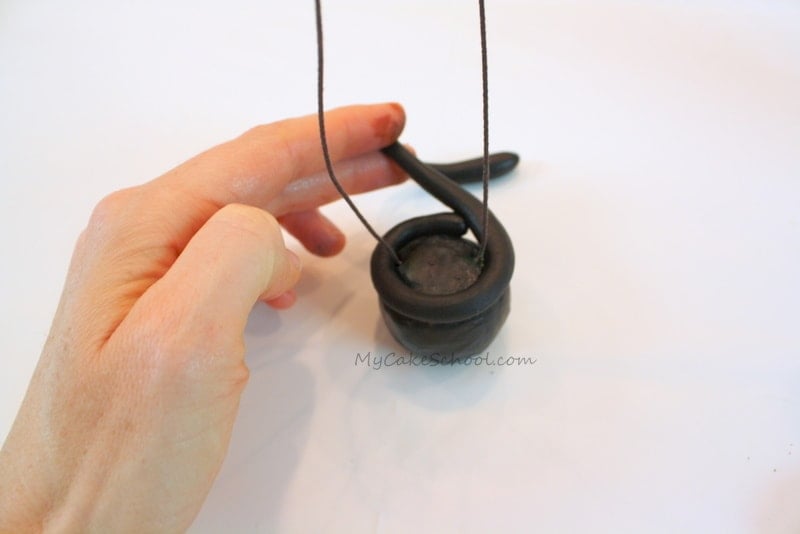 Filling the cauldron with brew!  Here, I'm using buttercream tinted with Americolor Electric Green (Wilton tip 4).  I'm using Wilton's sugar eyes and giving them some creepy details with a food coloring pen.  The bones I'm using are melted white candy coating/bark piped into bone shapes. (I've demonstrated chocolate accents before--as in the Halloween blog linked HERE.)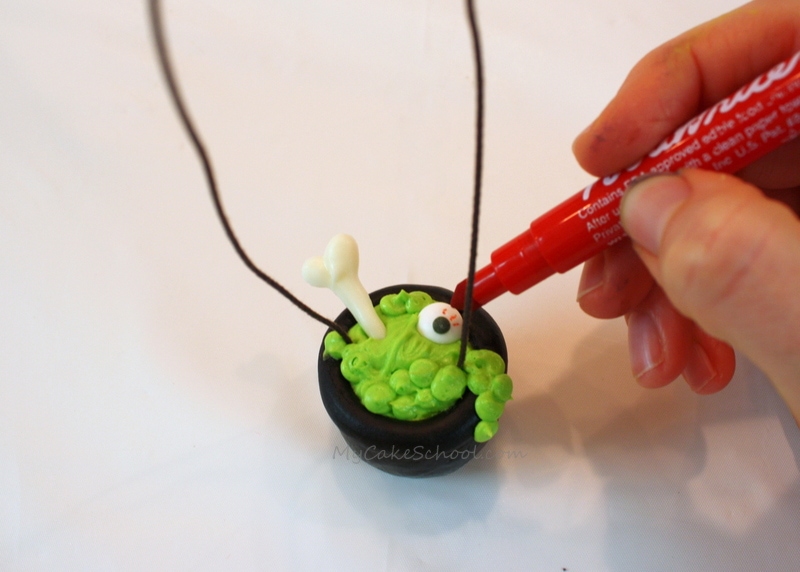 Time to hang our cauldron!  Just bend the wires a bit to hook it on to your lollipop stick stand.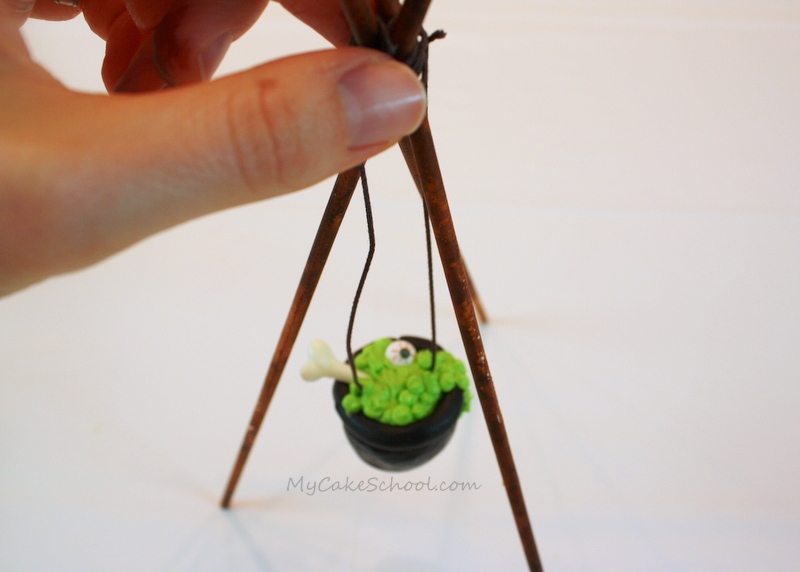 Now...let's talk CAKE.  I've never gone for a hortizonal striped effect using buttercream before but have wanted to try for a long time.  Now, I'm kicking myself for not trying it sooner!  I've seen Sweetapolita & I am Baker's versions of this look & fell in love.
I frosted a six inch, three layer cake using buttercream that I piped in three colors, using a Wilton tip 12.  (This is medium sized round tip.)   The more evenly you can pipe on your color, the happier you'll be later! (The not so perfect frosting job in the photo below should give you extra confidence.) ;0) --
My colors are Americolor Regal Purple, Americolor Electric Green, & Americolor Orange. I piped the frosting on thicker than usual for two reasons...I didn't do my usual crumb coat first, and I knew I would be scraping some of the frosting back off again during the smoothing process.
 Next, I heated my trusty bench scraper in very hot water...dried it off, and pressed it against my frosted cake as I turned the turntable.  My fear was muddled color...but to my surprise, the colors for the most part were on their best behavior!  I had a few air bubbles here and there that I smoothed with a Viva brand paper towel after the buttercream had crusted, but nothing to be worried about.  Whew! ;0)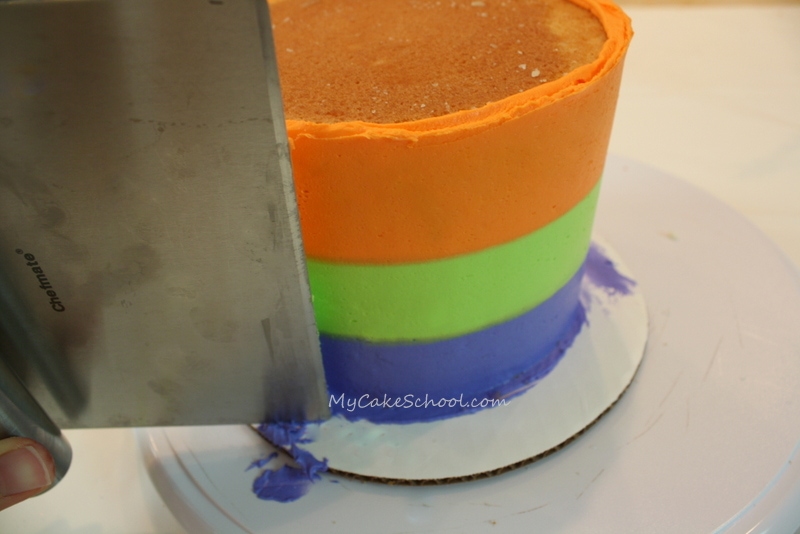 I frosted the top of my cake with purple buttercream, let it crust over, and smoothed with a Viva paper towel.  A swirly buttercream top would look great too!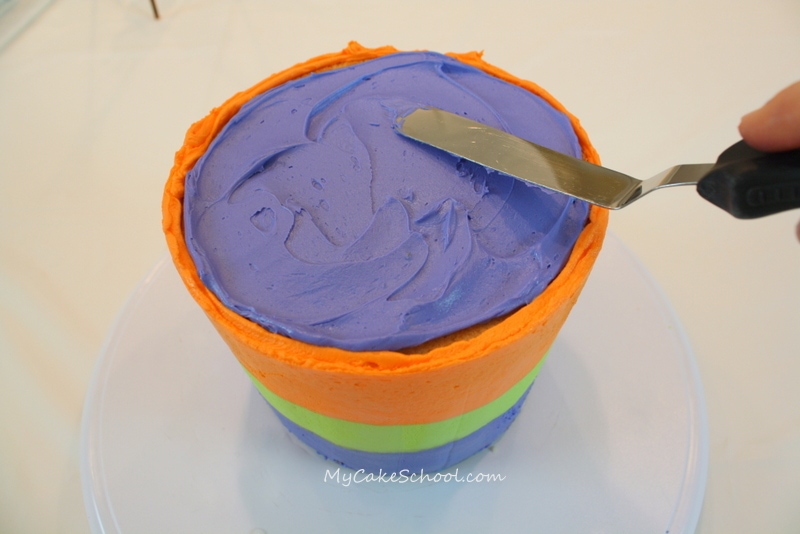 Now, let's let the fire!  I used a piping bag filled with my "fire" colors of buttercream, and piped flames into my pretzel stick logs using a piping tip 21. (Any star tip would give a similar effect!)  I also piped a green bead border with my Wilton piping tip 4 along the top, and a purple bead border (tip 4) along the bottom.  I also happen to love sprinkles...and these Wilton Halloween confetti sprinkles gave our cake some extra personality!  I also added a little sparkle to the cauldron with silver hologram disco dust ;0)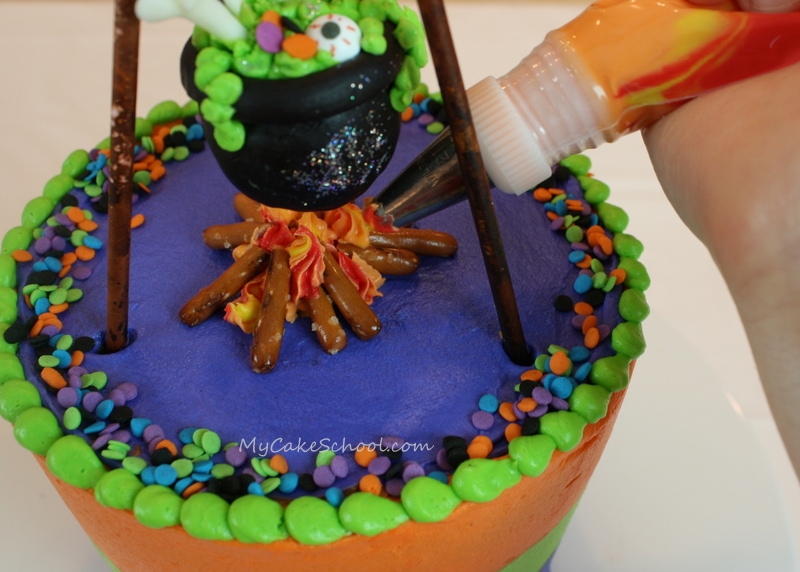 Next, I made a chocolate skull using the Halloween ice cube tray that I bought at Michael's.  Probably not a necessity to our cake, but I had to justify this impulse buy ;0)   I just melted my white candy coating, poured it into the mold, and froze for about 10 minutes.  Then, I brushed on pearl dust  and painted the "eyes" and "nose" with black coloring gel.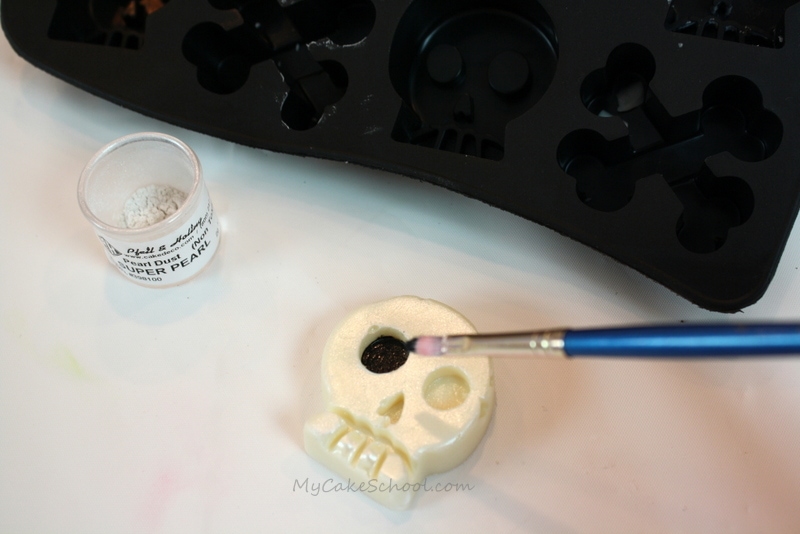 I gave my skull a little orange fondant bow (?) just because..and decided to write my message in black food coloring pen. I found this cute saying when searching on Etsy for "Witch Brew Signs"  ;0)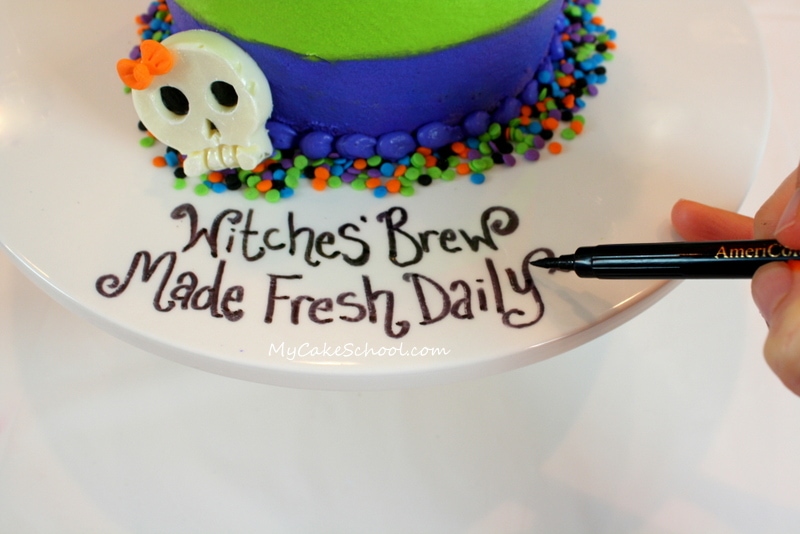 We're finished!  Let's look at a closeup of our cauldron first....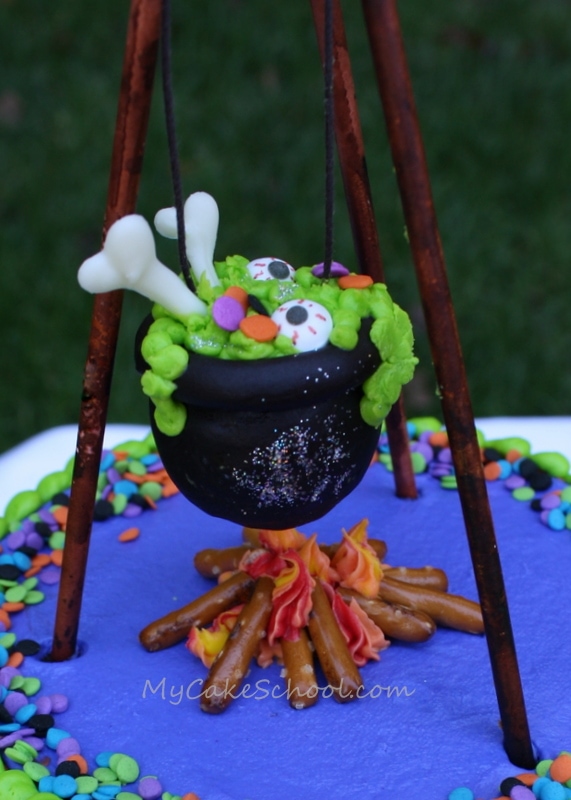 And now...the grand, spooktacular (yet cute) reveal!  ;0) --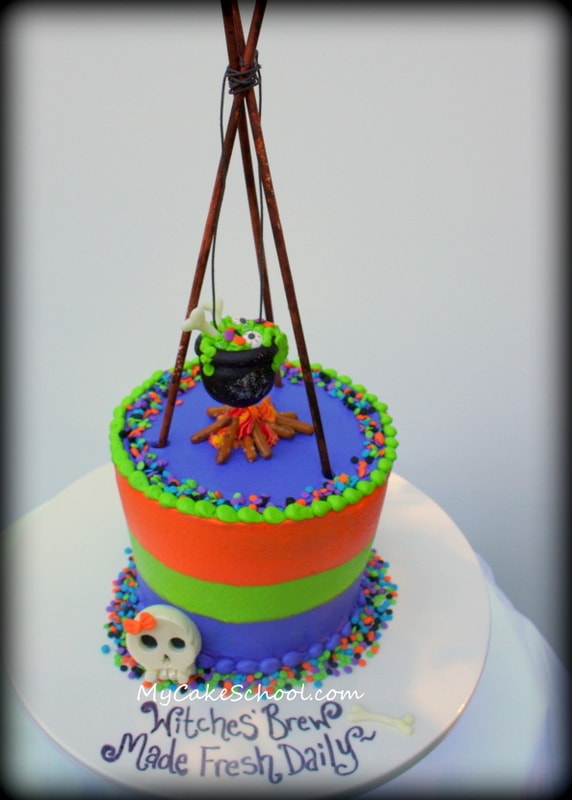 Thanks for stopping by!~ If you decide to give this cake a try, I'd love for you to share links to your photos!
See you next time....