Today I'm going to show you how to make a colorful tie dye cake! This technique is SO much fun and surprisingly simple to create with a crusting buttercream frosting recipe!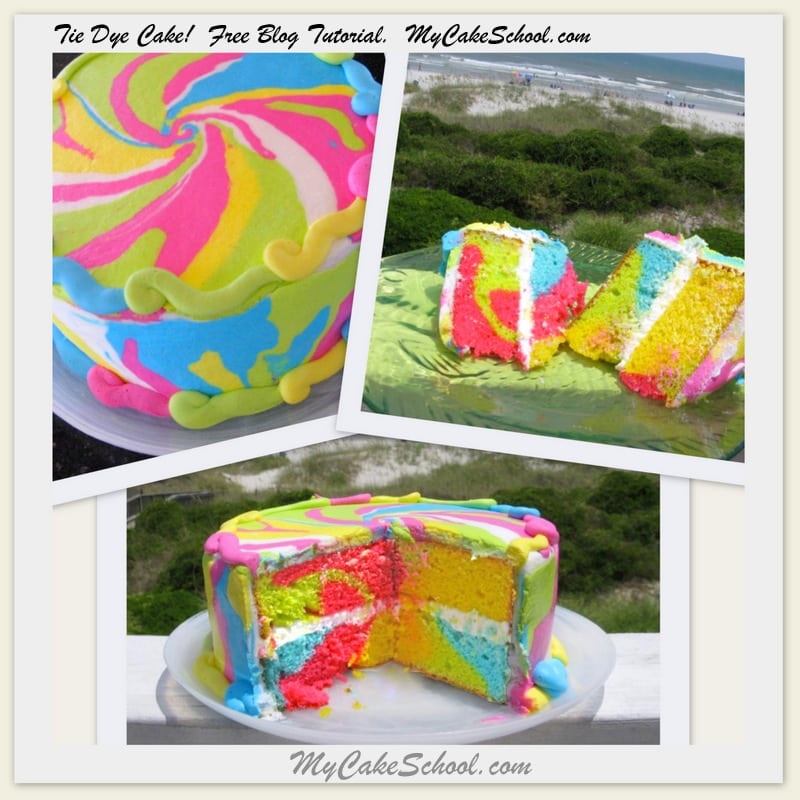 We're still at the beach! I could SO easily pack up my things and move here! I just have to convince all of my family and friends to do the same. That's a plan that I'll have to work on later. For now, let's talk some CAKE!
How to Make a Tie Dye Cake on the Inside!
Today, we finished our tie dye cake! I really enjoyed making it--and the many little girls in the beach house this week were all thrilled with the outcome! I thought the girls would be my assistants, but as it turns out, playing on the beach is much more fun than baking.
We had to do a little improvising with this one---there were a few things that we didn't pack, like a MIXER! But as it turns out, BeBe can still work her magic with a big spoon!
After mixing up the batter, we divided it among the cute bowls we found in the cabinet, and tinted each a different cheerful shade! You can see that we spooned our colorful batter in bit by bit until the pans were full.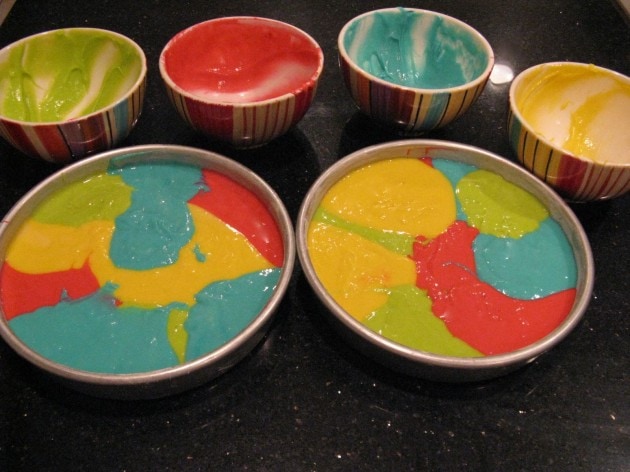 Colorful Batter Makes for Colorful Cake! Leveling the cakes reveals the rainbow fun that's waiting on the inside!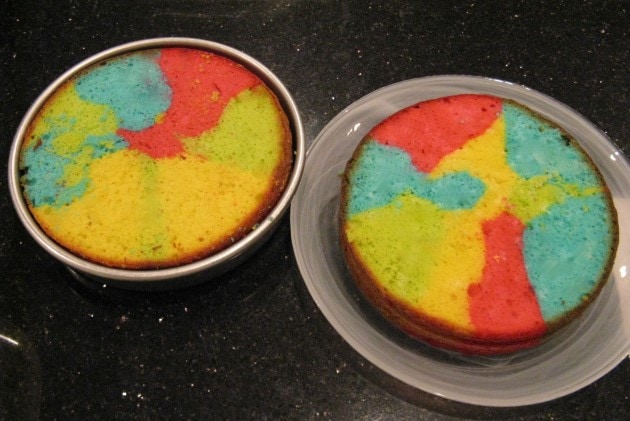 How to Make a Buttercream Tie Dye Cake
Now for the fun part- Frosting! With some imagination, a crusting buttercream, and a Viva paper towel, you can pipe and smooth your way to one groovy cake!
You can simply load different colors of frosting into disposable piping bags and snip the tips away. I like to crumb coat the cake first, and then pipe on our swirls of color.
Pipe your colors in the basic arrangement that you'd like for your cake, and then use a Viva brand paper towel (or any paper towel that has little to no impressions) to smooth over your frosting after it crusts.
Crusting buttercreams like our Classic Vanilla Buttercream Recipe or Fluffy Vanilla Buttercream Recipe will crust about 10-15 minutes after frosting.
If you can touch it lightly and no frosting comes off onto your finger, you know that it's ready for smoothing!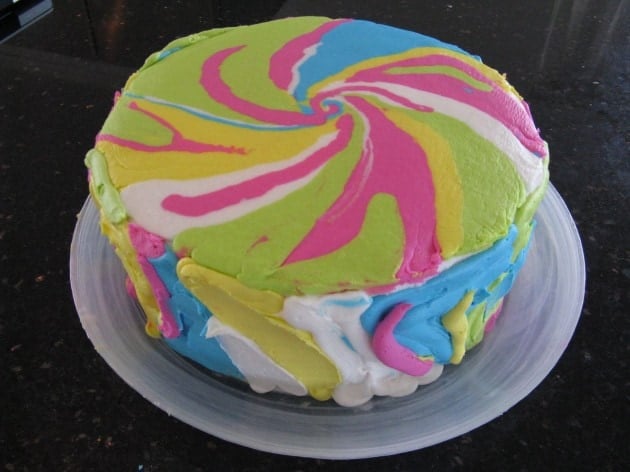 I think that this colorful and whimsical design looks adorable just as it is, but would also look great with a peace sign or other groovy cake topper!
Are you ready for the grand reveal? Here's the funky tie dye frosting after smoothing, and with a fun squiggle border!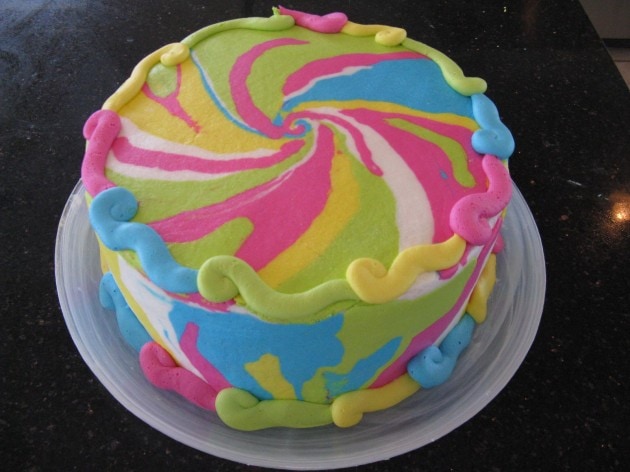 I must admit, the grand reveal is sooo much more grand when you have an ocean for a backdrop! :o) I wish that I could just stay on vacation! Ahhhh....
That's my niece coming up the walk---if you put a cake on a railing outside, kids start coming out of the woodwork!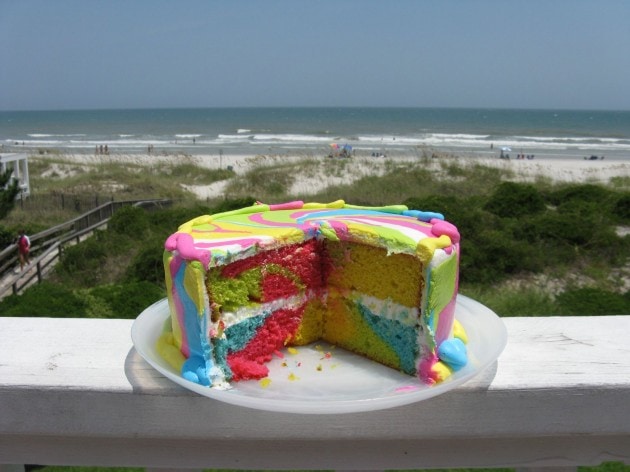 Keep the tie dye inside a surprise--it's definitely worth the reactions that you'll get when you start slicing the cake! And no two pieces are just alike!
If you are a member of our site, we actually filmed the making of this cake! Woo hoo! Click on over if you'd like to see the video version! : Tie Dye Cake Video Tutorial!
Enjoy!