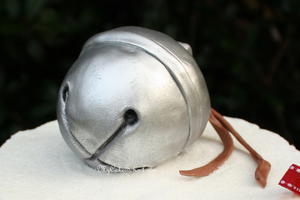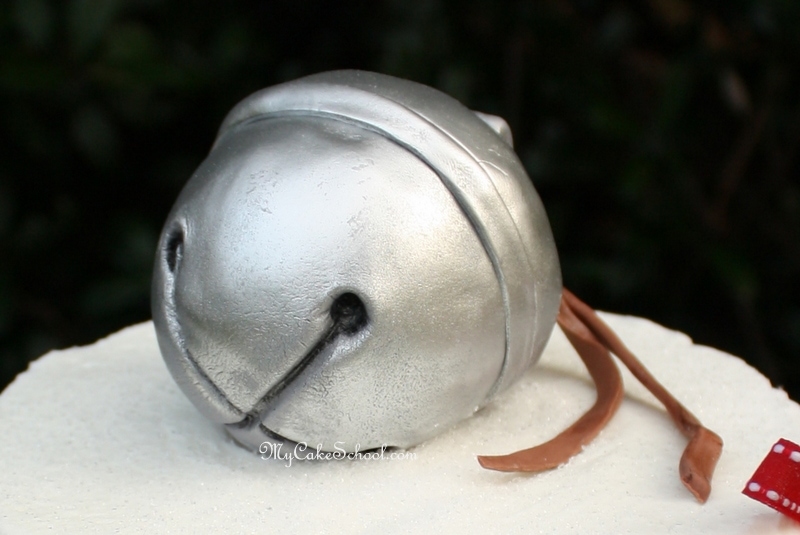 Hi everyone!  I'm excited to show you today's tutorial because it centers around one of my FAVORITE Christmas stories~ The Polar Express!
Every year, this book becomes our coffee table book through the holidays.  The other night, I couldn't help but picture the final page of the story in cake form.    Read along for a simply sweet design~
A few key supplies~
Rice Cereal Treats-- I needed three (22 gram) bars, rolled and compressed into a ball shape.
Fondant- Use your fondant of choice.  I used white Satin Ice fondant (tinted black with Americolor Super Black)
Silver Highlighter Dust or Silver Luster Dust (I used Silver Highlighter)
Americolor Black Pen (optional)
Crisco/Vegetable Shortening- To prevent stickiness and to make the fondant adhere.
Small paintbrush(es) for brushing on silver dust and for creating impressions.
Wilton Tip 2 for piping the words, Tip 12 for border
Sanding Sugar- Optional Sparkle on the top of the cake
Coloring Gels- Super Black, Chocolate Brown (for strap), Super Red (and I added a speck of Navy to it)
Red Ribbon (optional)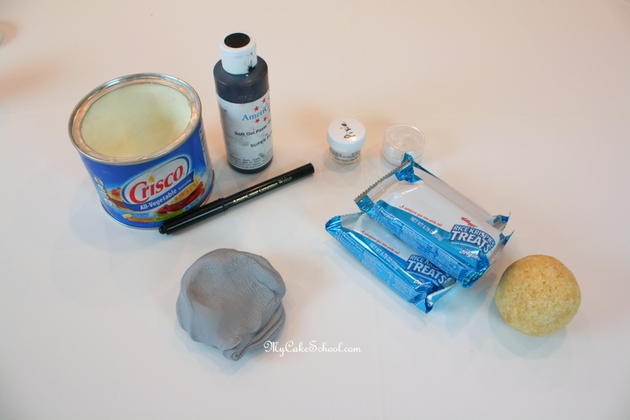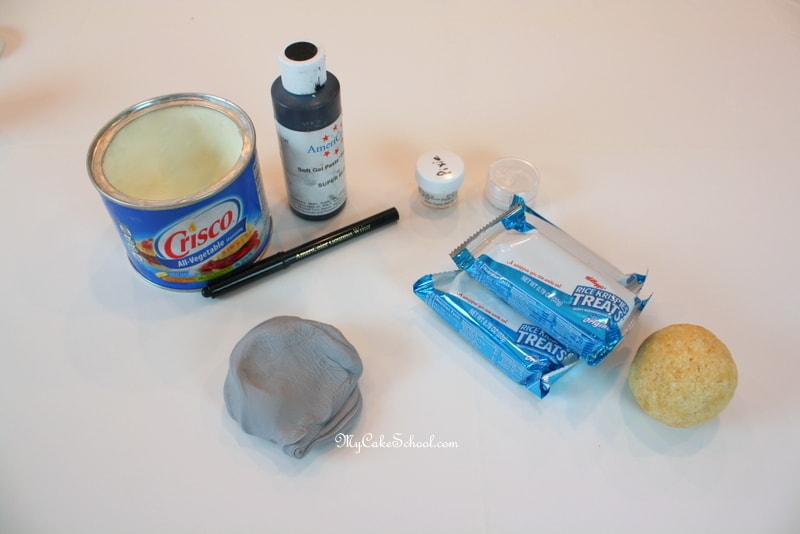 Let the fun begin!
First, I lightly greased the rice cereal treat "ball" and covered with a piece of grey fondant.  I formed the fondant around the ball and trimmed away the excess.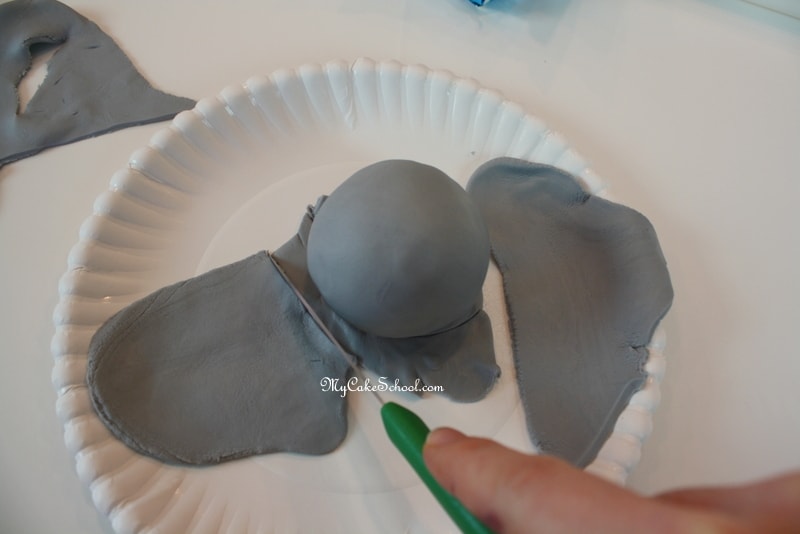 Next, use your tool of choice to press four shallow holes/impressions into the fondant, and join them with two intersecting line impressions.  (All of this was done with a small paintbrush handle.)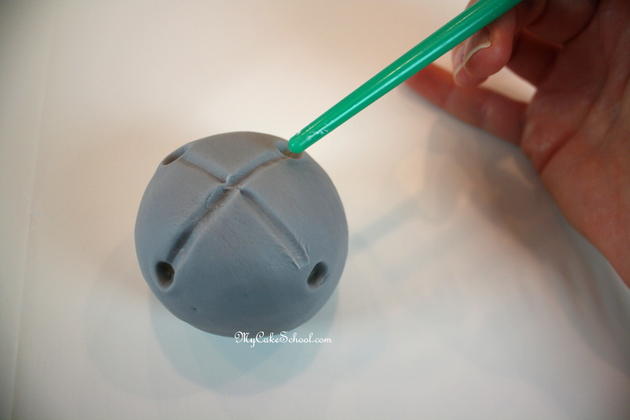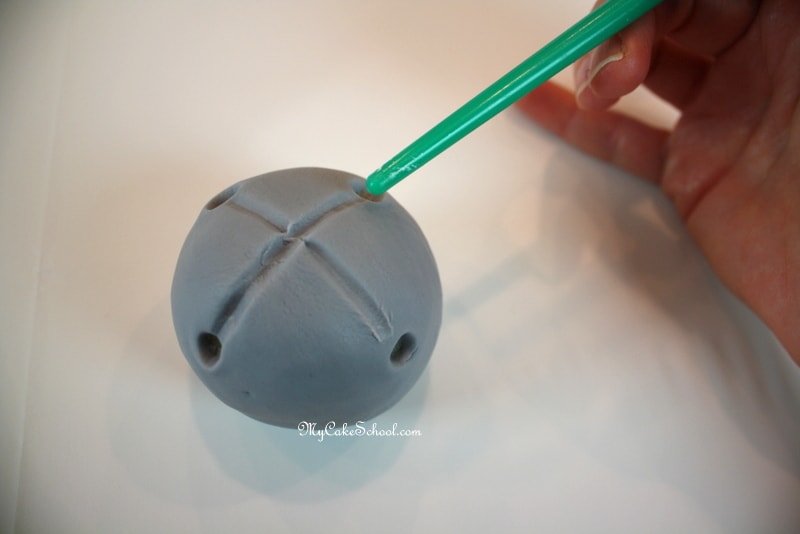 The top of the ball/sleigh bell was left uncovered after trimming away the excess fondant.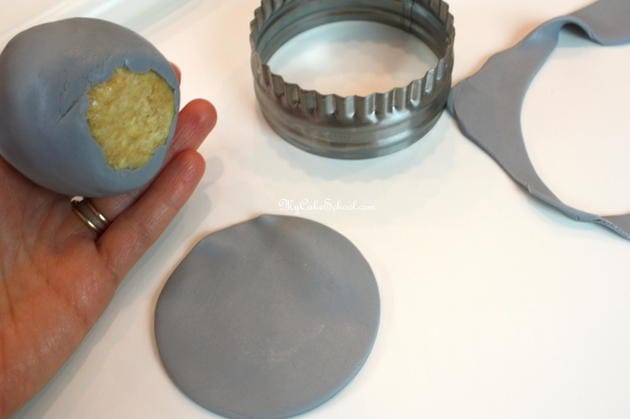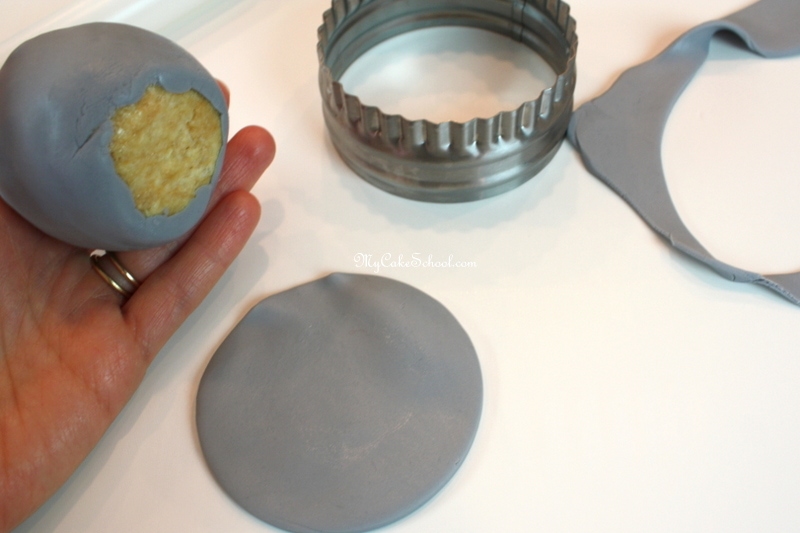 I turned over the bell and pressed on a smallish mound of fondant. (This is optional but my bell had become flat on one side!)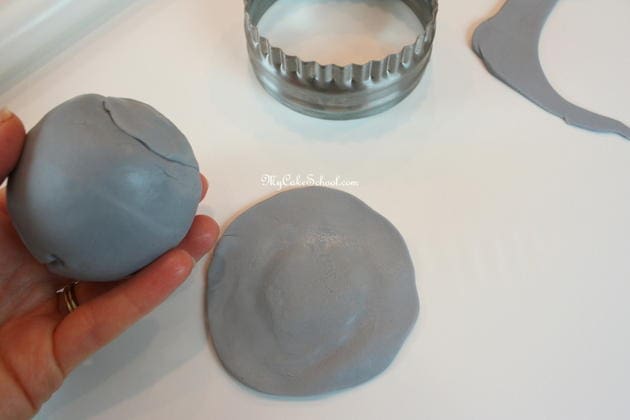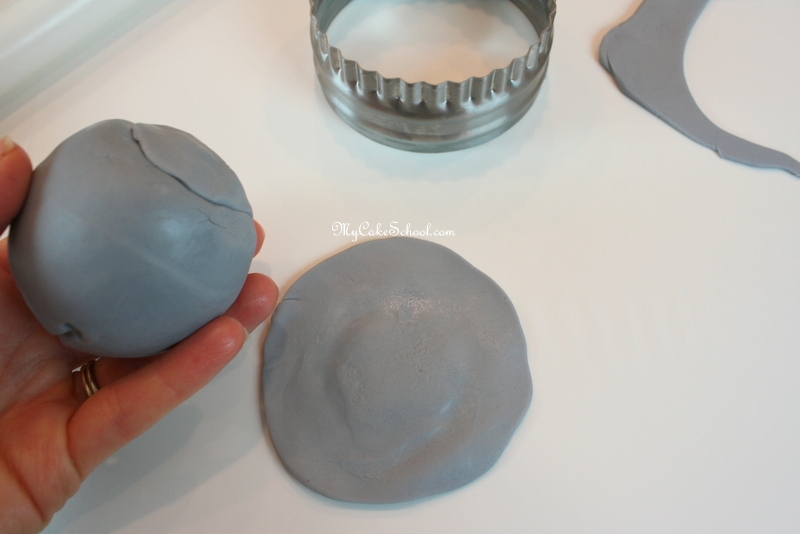 Next, I covered this top half of the bell with a circular piece of fondant, creating an overlap that ended at about the midway point of the bell.  A small strip of fondant covered the seam.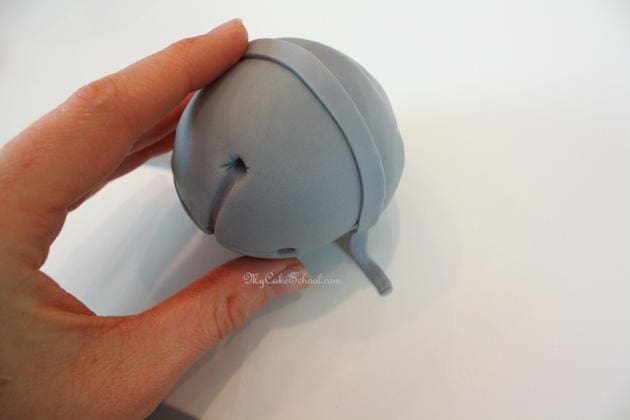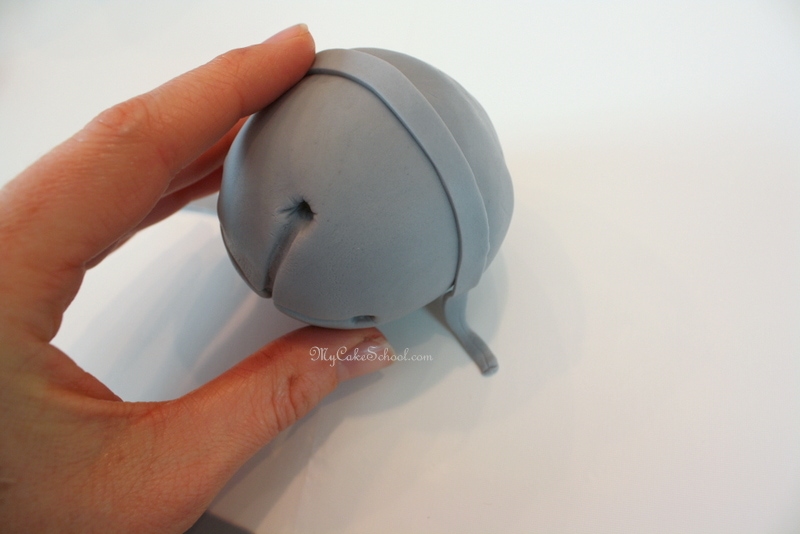 Next, I used my food coloring pen to color in the impressions that I made earlier.  This gives our bell dimension and begins to really bring it to life!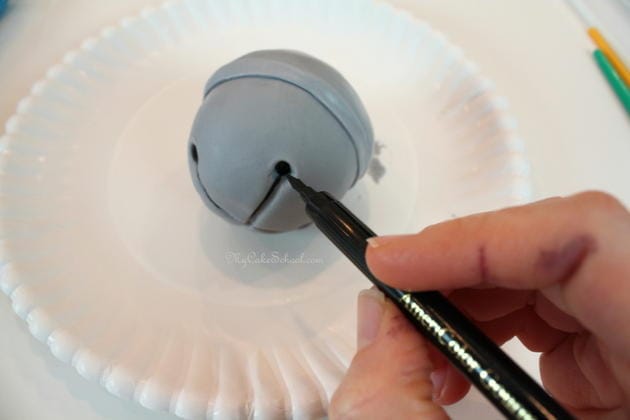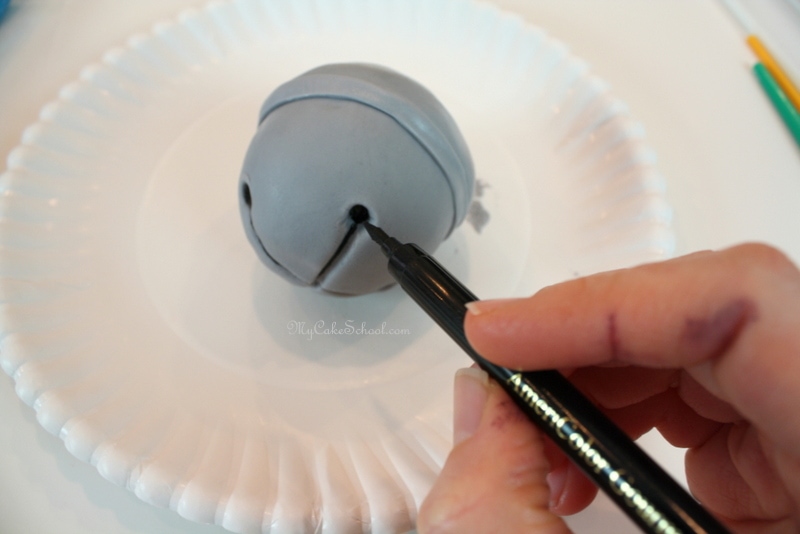 Next, I used a dry paintbrush to apply Silver Highlighter dust all over the bell.  WOW! What a difference.  If you don't have silver highlighter (which ups the shine factor), you can also use Silver Luster Dust.  ***A big tradeoff with using the Silver Highlighter is that it is completely for show.  It is not edible, and shouldn't come in contact with the cake.  So, you won't want to dust the bottom of your bell unless you plan to have a shield in between the bell and the cake.  (For instance, a piece of fondant or tiny fondant covered cardboard which could be hidden under sanding sugar or frosting.)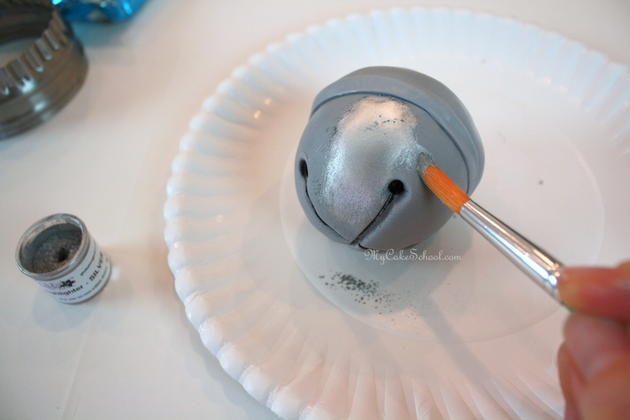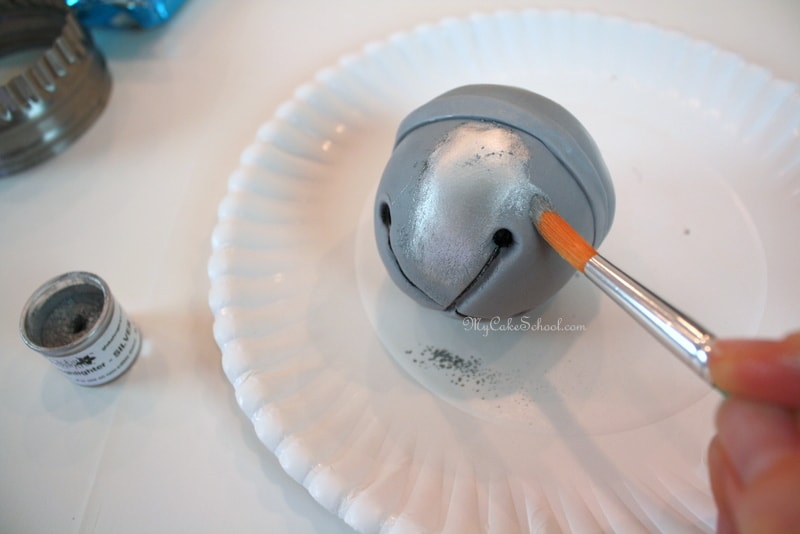 Next, I used a (chocolate brown) tinted strip of fondant to represent the leather piece attached to the bell.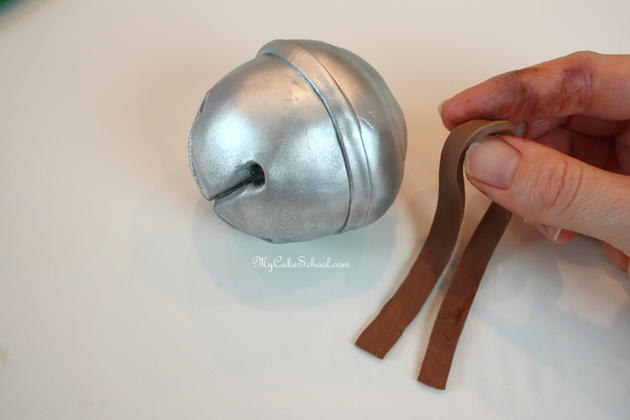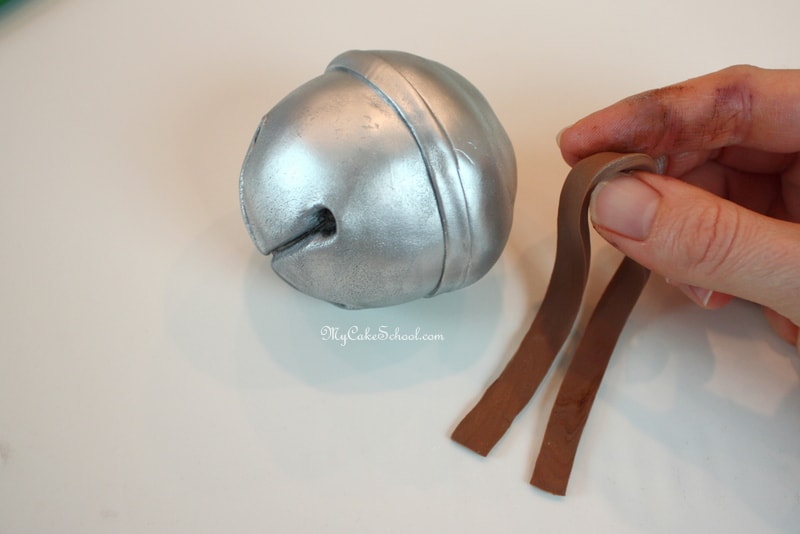 I wrapped a  small piece of grey fondant around the brown strip & attached it to the back of the bell with a little sugar glue.  (Piping gel, royal icing, melted chocolate, & even water would be adhesive alternatives.)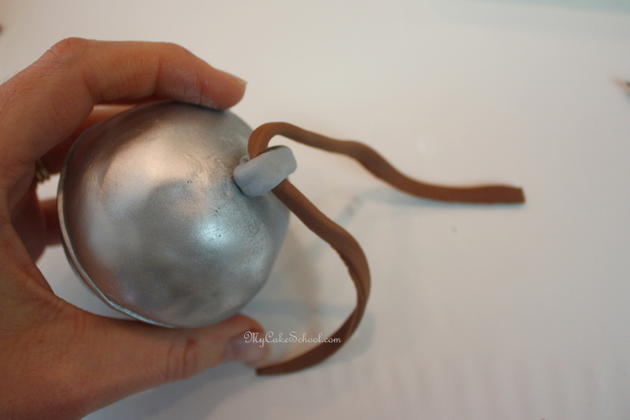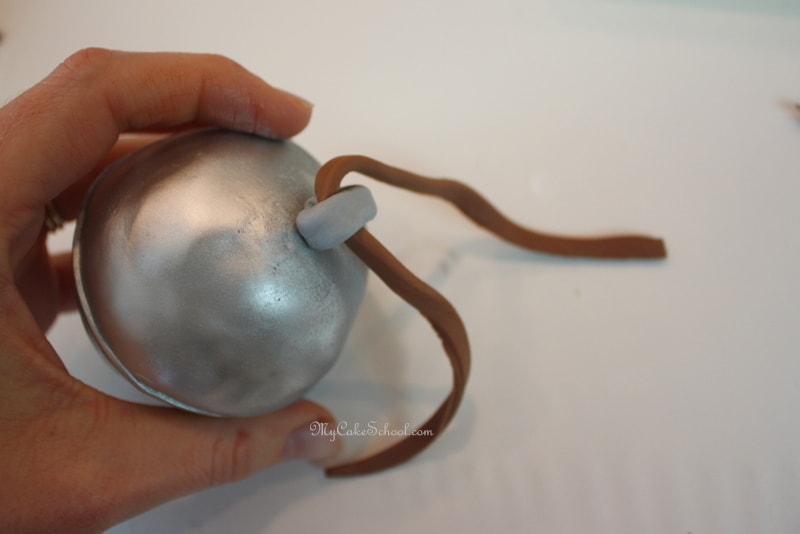 I was so excited that the rice cereal treat ball actually turned out looking like a sleigh bell!  All in about 15 minutes too! ;0)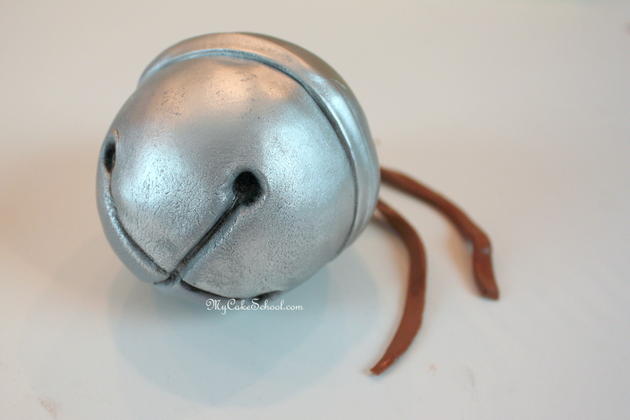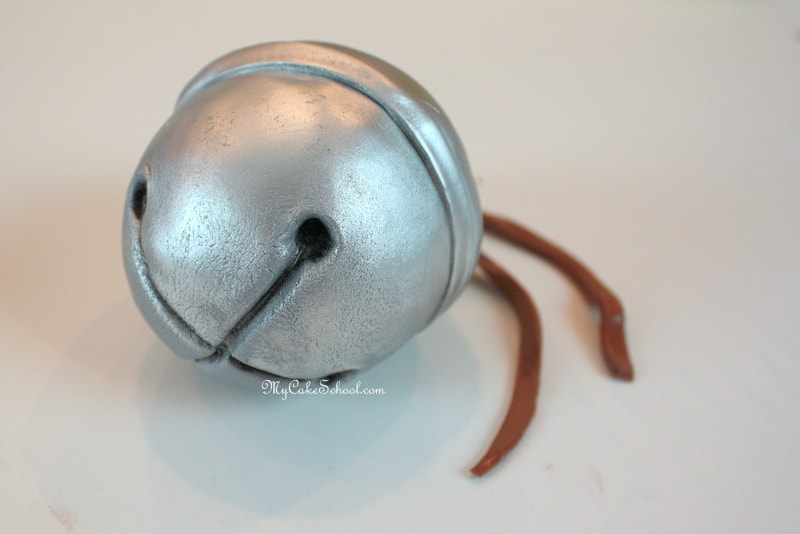 So, now that I had my sleigh bell, I needed a cake to put it on.  I used this tall 6" round cake, frosted with vanilla buttercream.  I made simple vertical strokes with my spatula.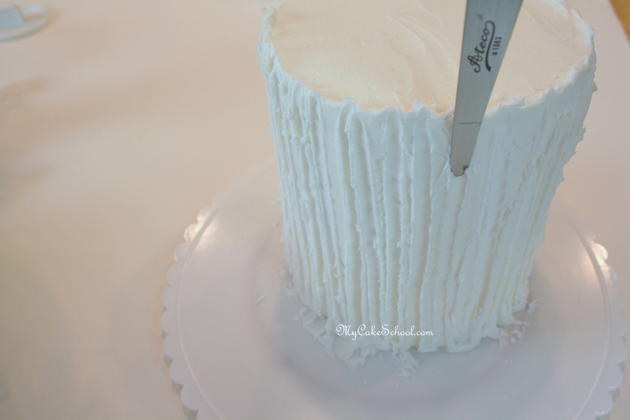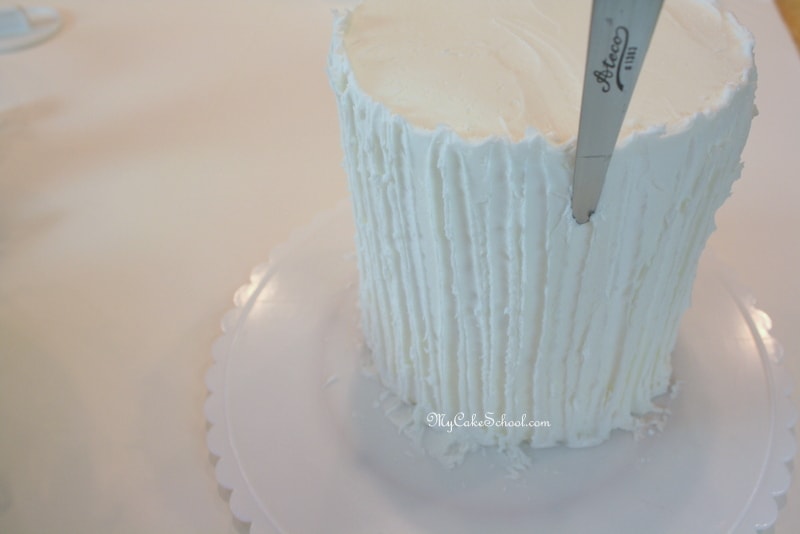 After making all of those lovely ridges I remembered that I wanted to write in buttercream across the front of the cake!  Way too bumpy.  So, I smoothed/gently patted down the ridges for a more piping-friendly surface.  The impressions still remained though, which I liked!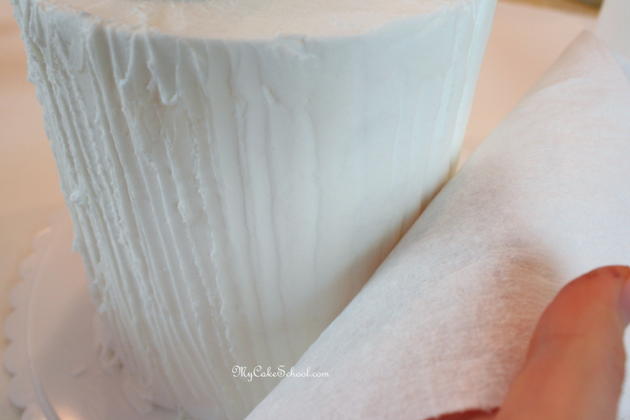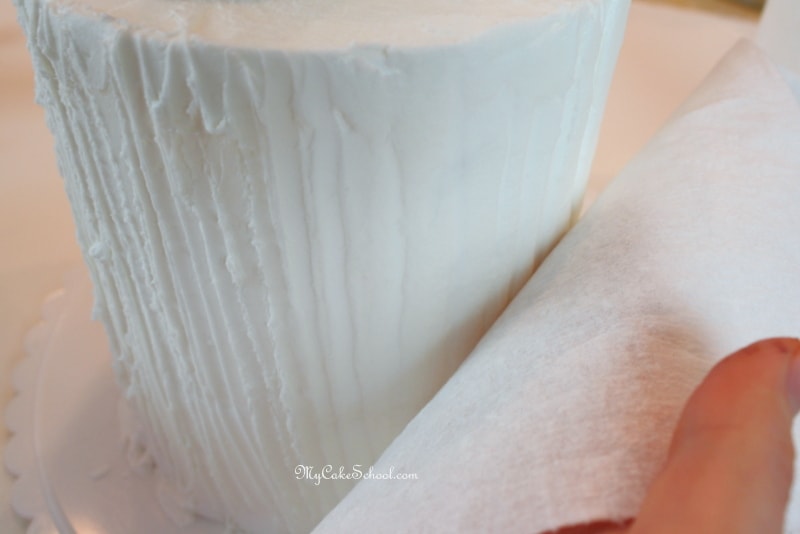 Some days, I'm in the mood for piping my letters, and other days I use letter cutters.  Today was a piping day for me :0) .  If you aren't a fan of piping, you could write the message with food coloring pen on a fondant plaque, or cut out your letters!  This is the lovely last sentence (most of it anyway) from the story!  Ahhhh..... love.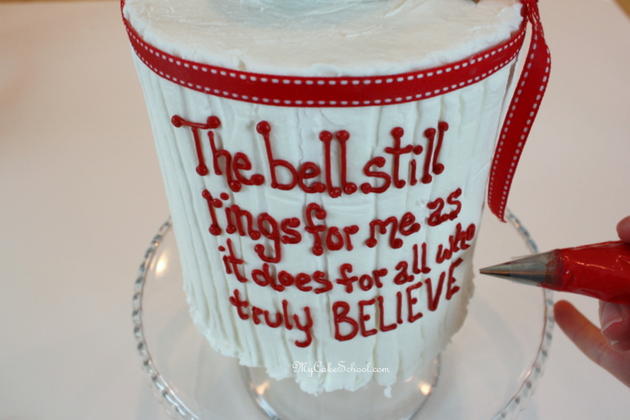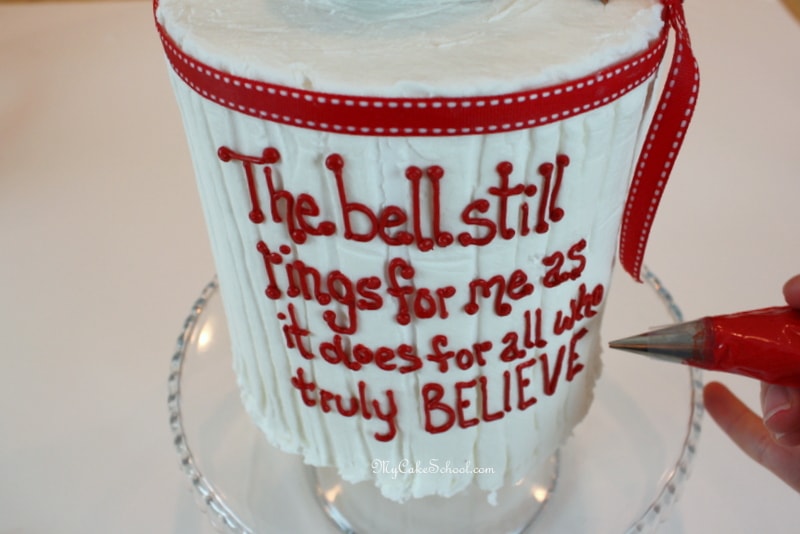 I thought that a ribbon would be a nice touch.  I had my red fondant out and ready to go when I realized that we already had some pretty red ribbon on hand (YES!).  Sometimes I back my ribbon with waxed paper, but today I greased my ribbon with a light coating of vegetable shortening.  This way, there's no worry of discoloration from the frosting--we've beat it at it's own game.  ;0)  Once greased, the ribbon stuck right to the frosting.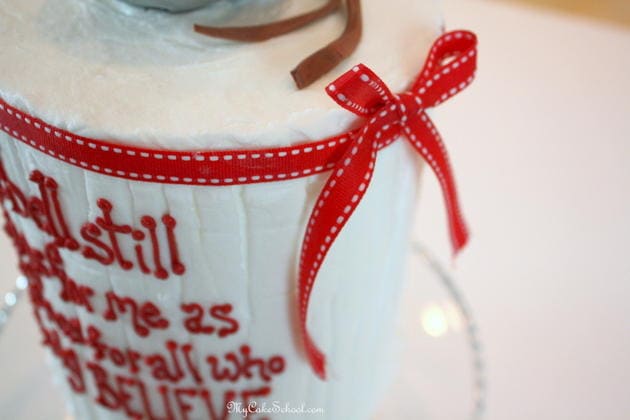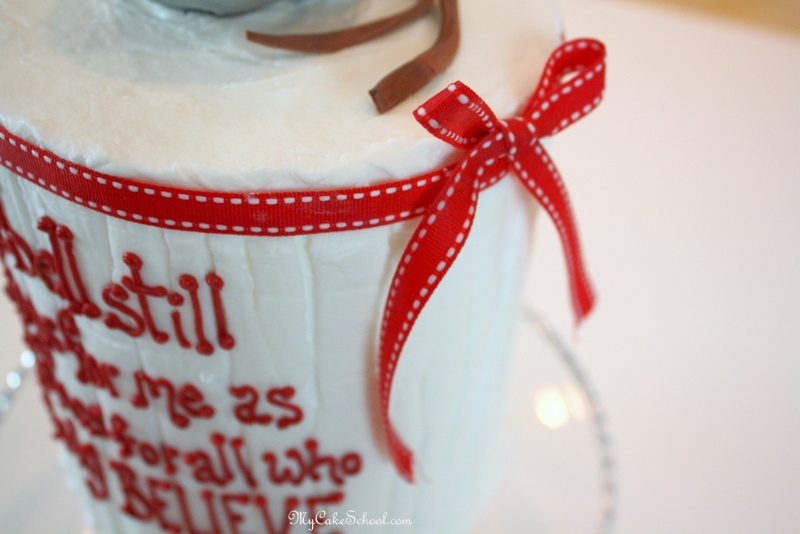 And we are finished!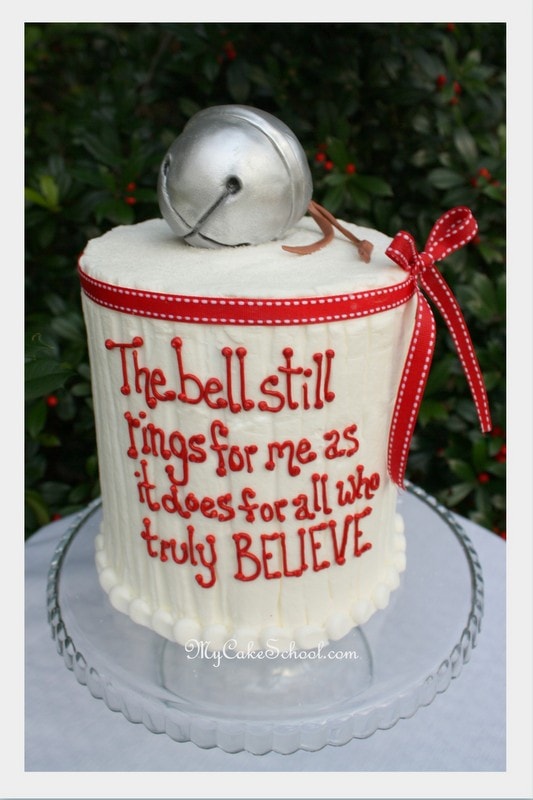 I hope that you enjoyed our tutorial!  Stop by again soon ;0)