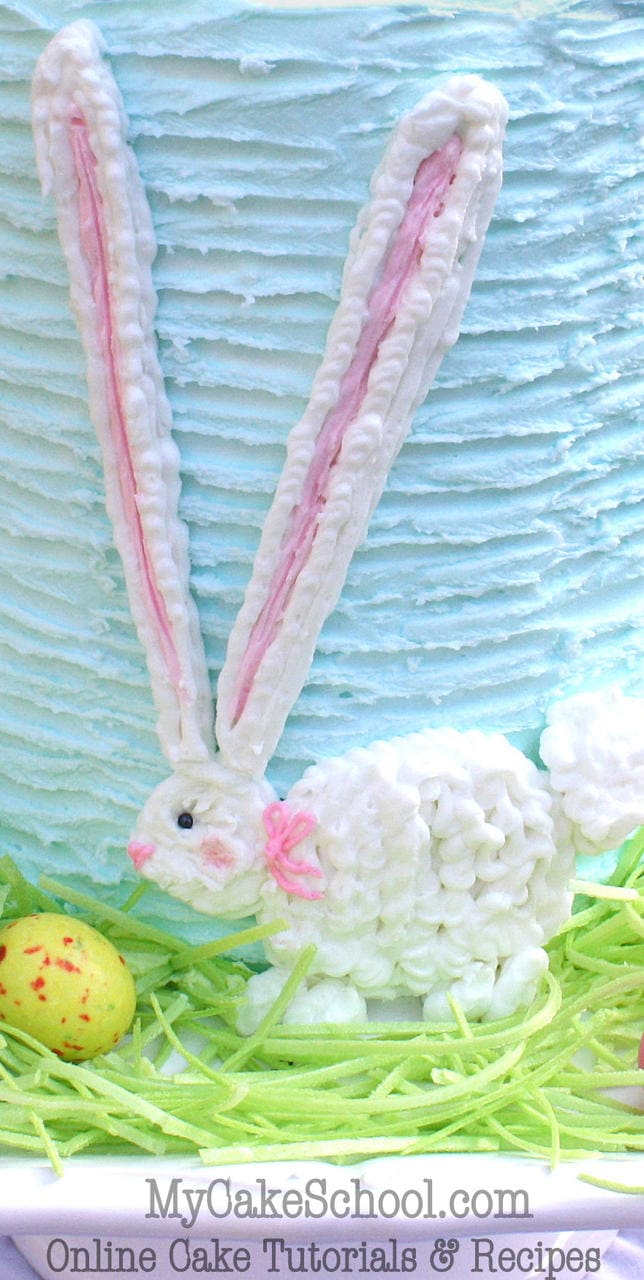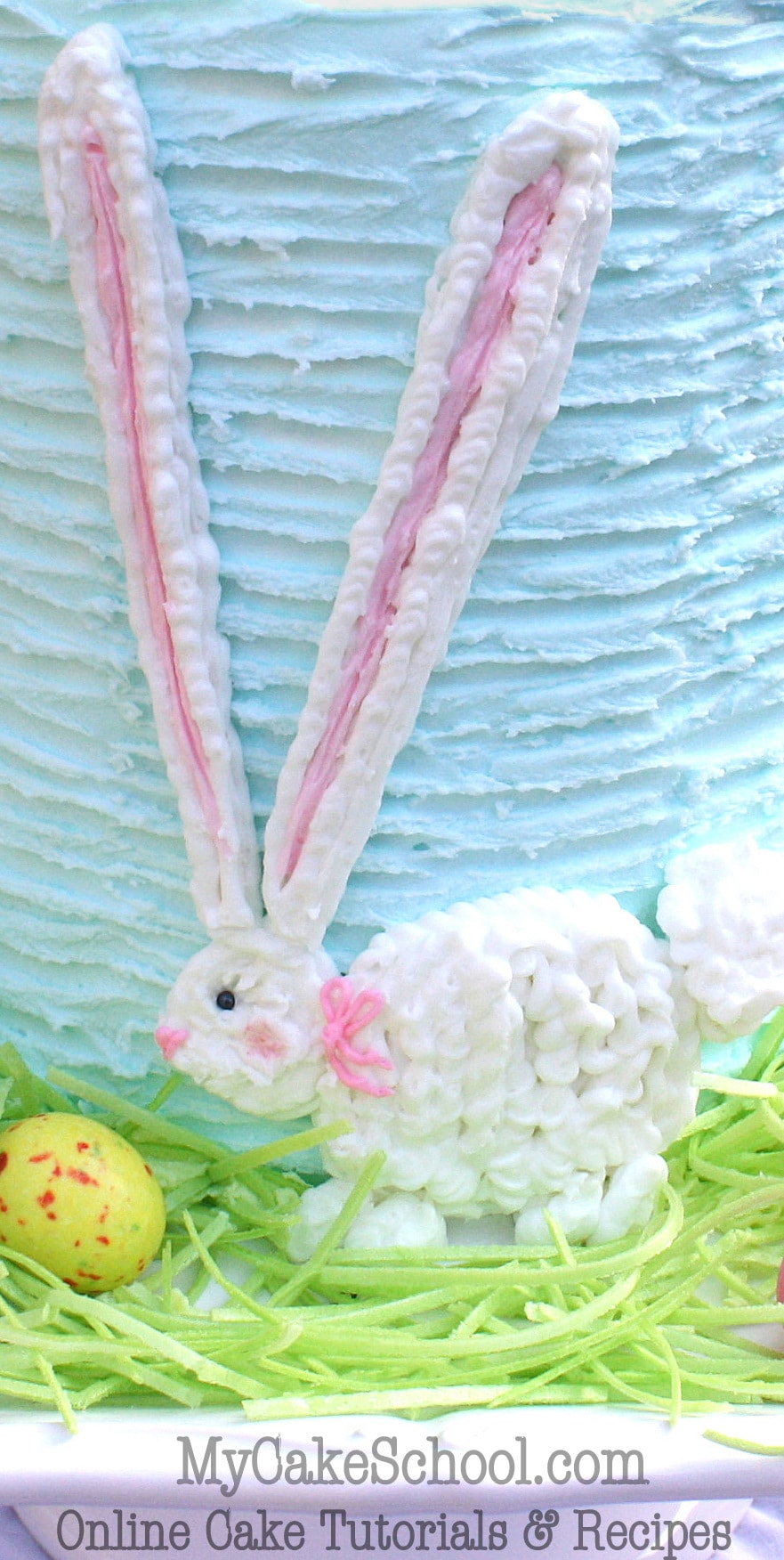 Hi everyone-- Today I'm sharing a sweet design for Easter and springtime.  My favorite cakes have a light, cheerful feel to them.  I could be completely happy doing nothing but cakes with flowers, birds, and bunnies ;0) -- This time of year is especially nice since there is inspiration everywhere for spring themes--and I have a phone filled with pictures of random cuteness (pillows, clothes, gift bags, etc) to prove it!   Today's cake is very simple--but a design I thought I'd share in case you're looking for a cute idea~
First, I started with a tall, six inch cake, frosted in vanilla buttercream tinted with Americolor Sky Blue coloring gel.  I often make tall cakes (two cake layers, cake cardboard with dowels beneath, and then another two cake layers)--they are just so much fun!  In this case, the tall cake went especially well with my design, since my bunny is going to have extra l-o-n-g ears!
I used a small tapered spatula to create a some texture in my buttercream.  I just made short quick horizontal strokes around the sides as I worked my way around the cake.  The strokes on top of the cake all pointed to the center.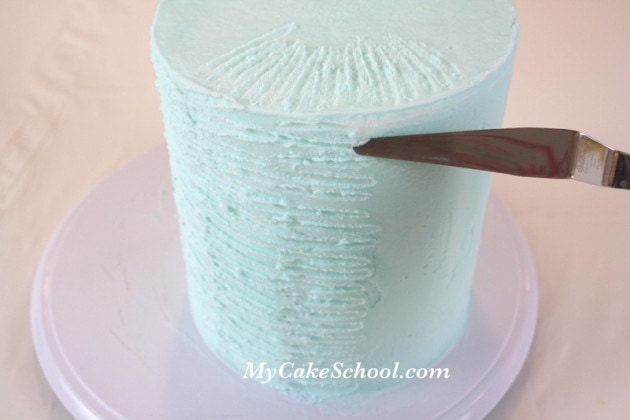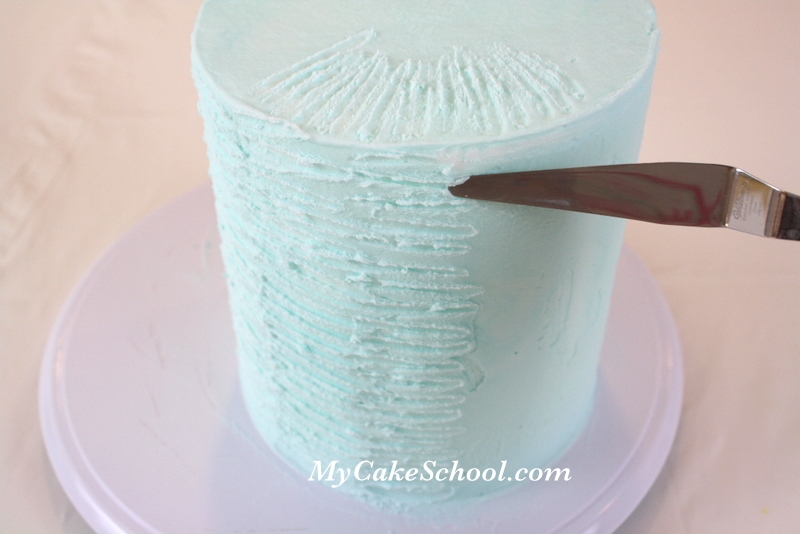 Next, I filled a piping bag with some vanilla buttercream and drew a basic outline of my bunny head & body using a small round piping tip (Wilton 4).  It doesn't have to be exact (you can see I changed my mind a couple of times), since we'll be filling in the lines with "fluff"!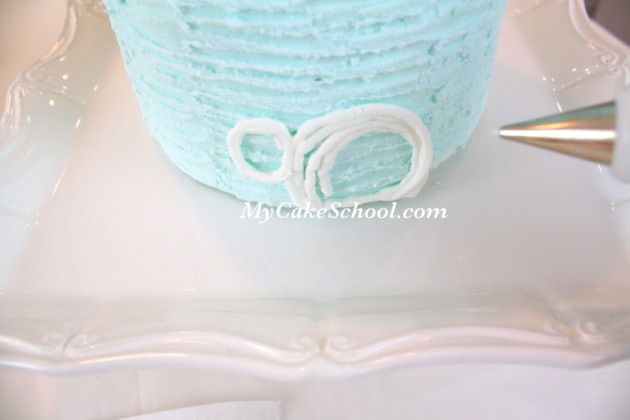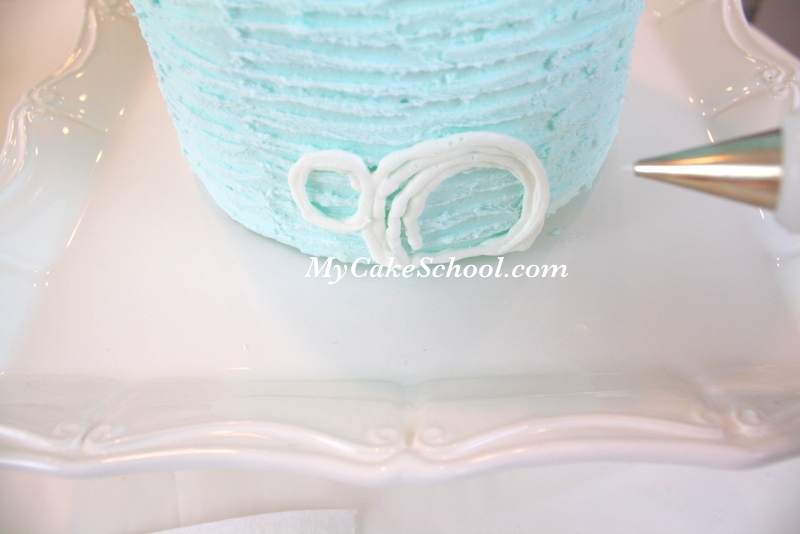 I filled in just using a in and out motion with the piping tip for some extra texture.  I gave my bunny a big fluffy tail too!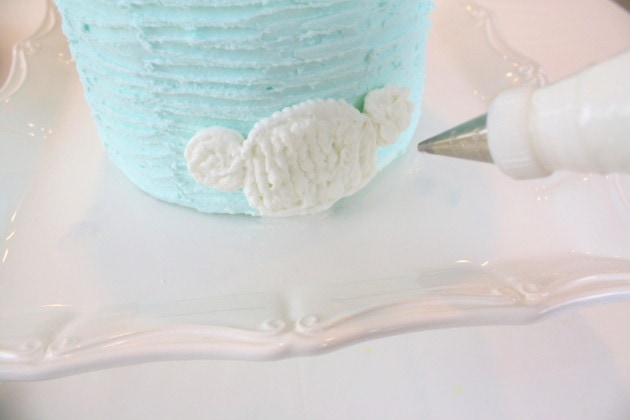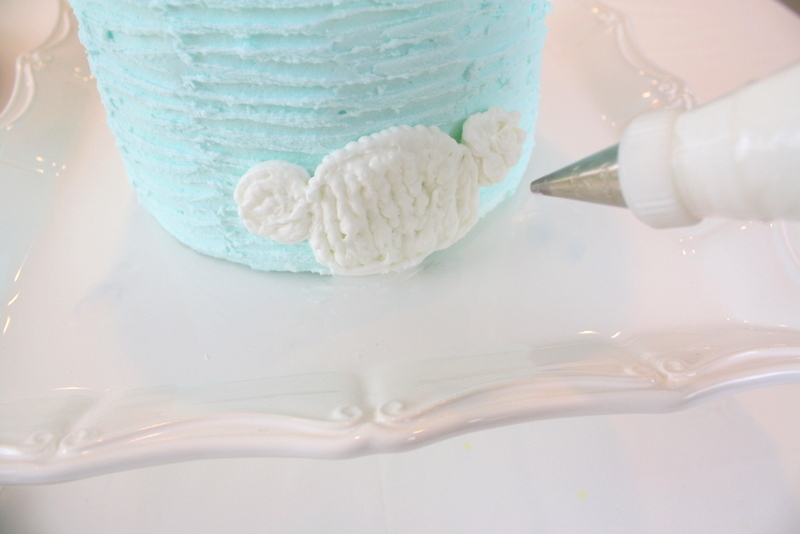 Now, the fun part-- the ears!!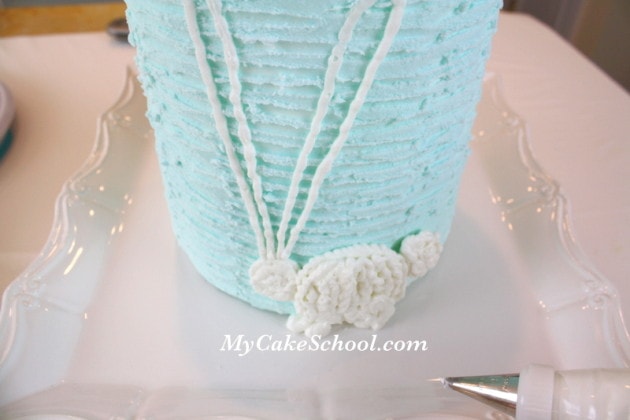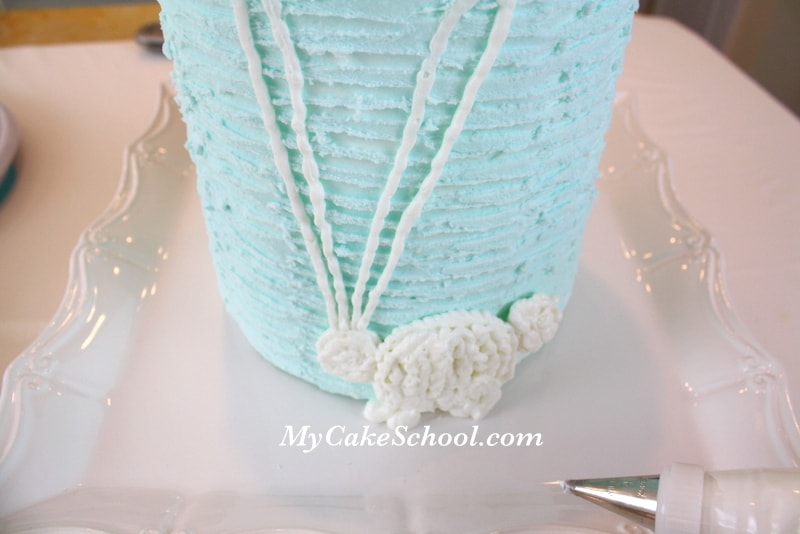 I used Americolor soft pink to tint my buttercream and piped inside of the bunny ears!  Then I went back and filled in around the pink with more white frosting.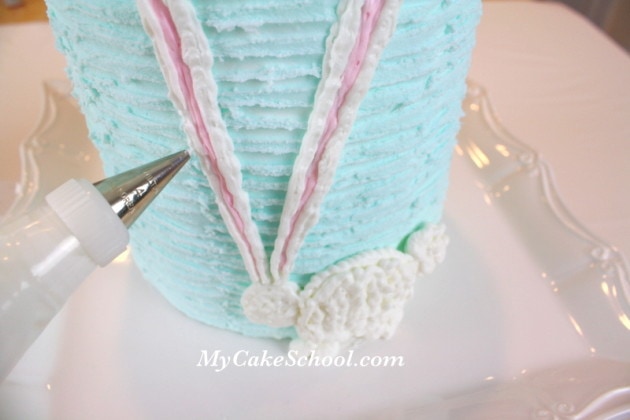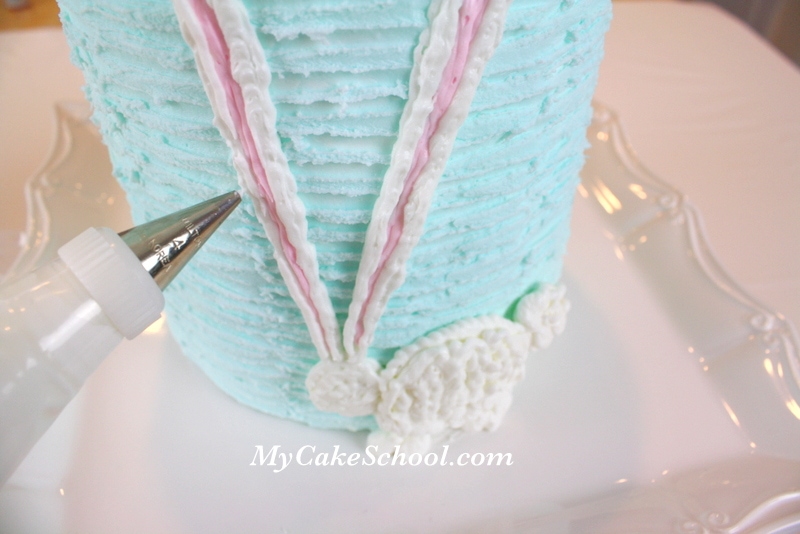 I used a black sprinkle (Wilton black sugar pearls) for my bunny's eye, which I used a toothpick to push a little further into the frosting.  Then, I used my toothpick to create some lines/eyelashes around the eyes. ;0)   If you are using a crusting buttercream, you can get cleaner impressions if you wait until the frosting has crusted.  I also piped a little heart shaped nose.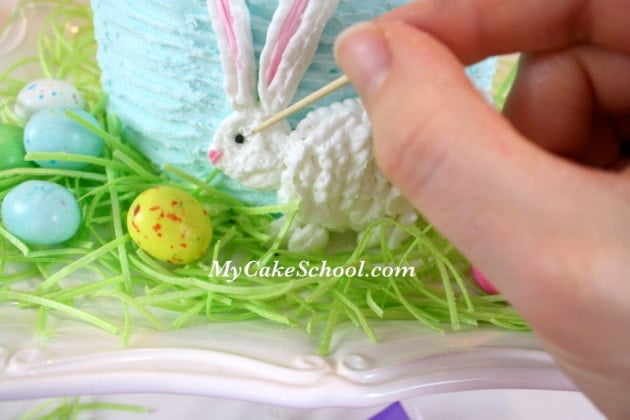 Our bunny needed some rosy cheeks and so I gave her a little blush!  This is actually just pink petal dust applied to the crusted buttercream with a dry paintbrush.  Completely unnecessary but so cute, I think!  I also gave our bunny a little bow (piped with a Wilton 1 tip)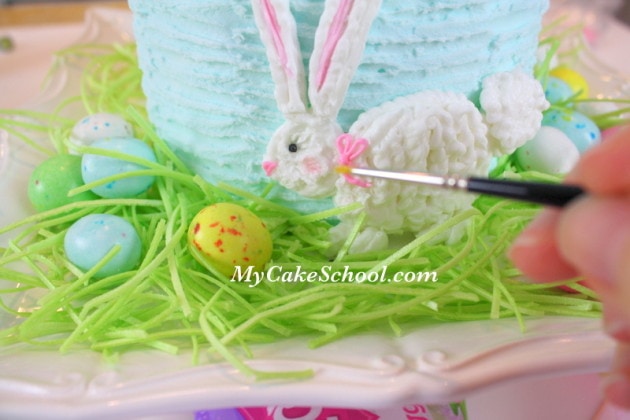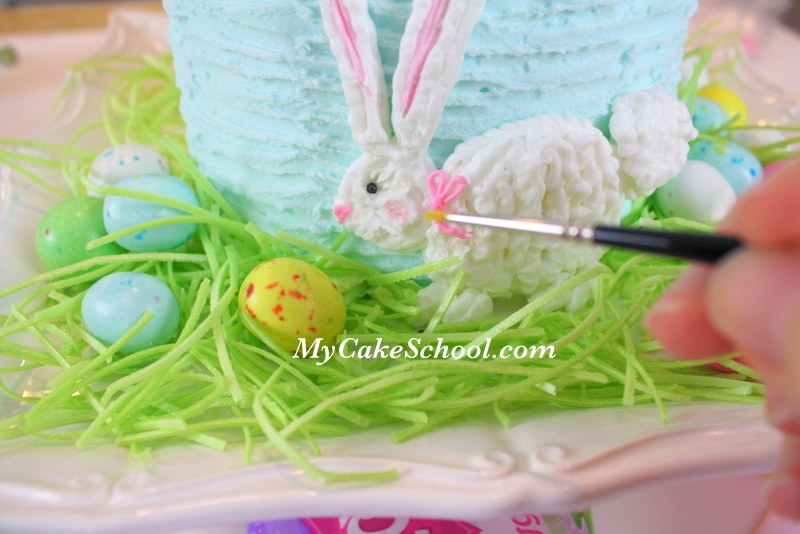 Around the base of the cake, I used some edible Easter grass (thank you, Target!) and some malted milk eggs.  I LOVE decorating with these eggs almost as much as I love eating them.  Aren't they pretty?
And that's all there is to it!  Our sweet little cake is finished.  Hope you enjoyed the tutorial!