Hi everyone! Today I'm going to share a fun and festive method for creating a striped buttercream rainbow filling for your cakes!
Instead of tinting cake batter for a colorful cake, today's tutorial focuses on adding a little flair BETWEEN your layers. It's a quick, easy, and fun technique to have in your decorating bag of tricks!
I started with three 8 inch chocolate cake layers, and about 1 cup of VANILLA BUTTERCREAM for each color.  (Looking back, ½ cup of each color would have worked fine..I had leftovers!) -
Here are the coloring gel colors that I used:  Americolor Super Red, Orange, Lemon Yellow, Electric Green, Sky Blue, and Regal Purple.
I filled my disposable piping bags with my tinted buttercream, and snipped off the tips.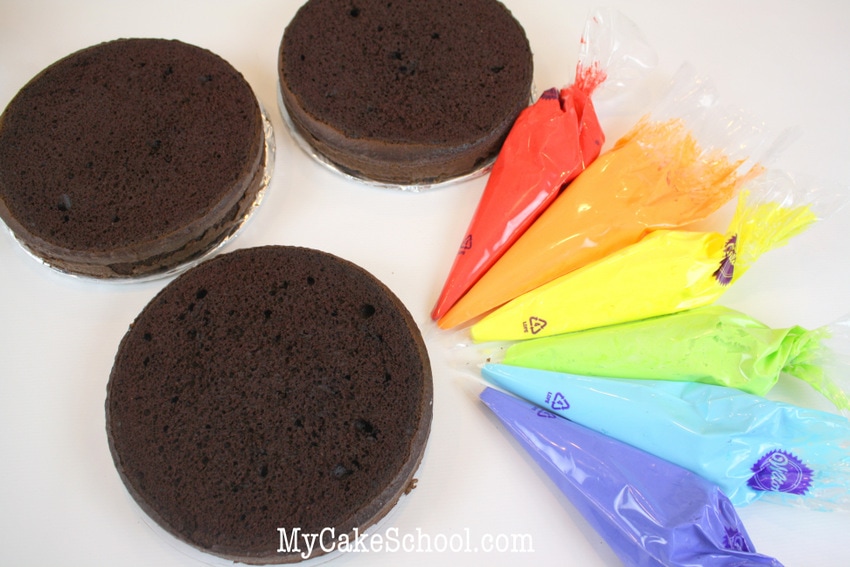 Starting with the red, I piped a circle (approx 1 inch wide) in the center of my bottom layer of cake.  I used toothpicks to mark off where my remaining colors would fall, allowing for about ½ inch for each color.  Adjust as needed depending on the size of your cake (mine is 8").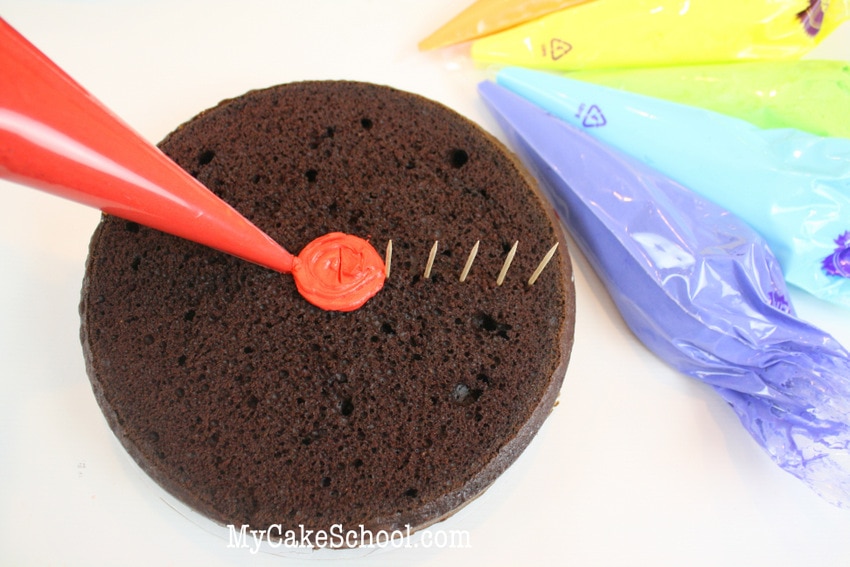 Moving right along... I encircled the red spot of frosting with orange, then yellow, green and so on.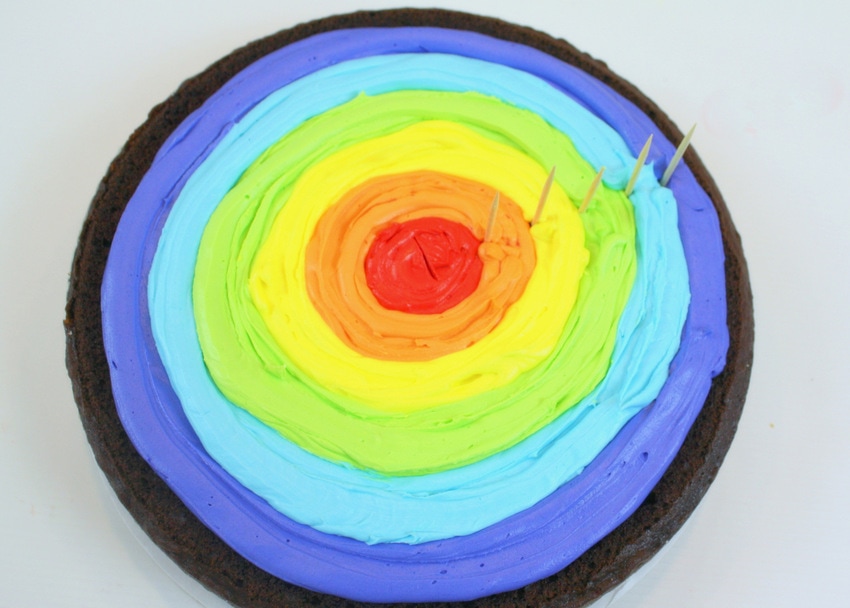 Next, I placed my next layer of cake on top of our colorful bullseye pattern, and repeated once again for another colorful layer of filling.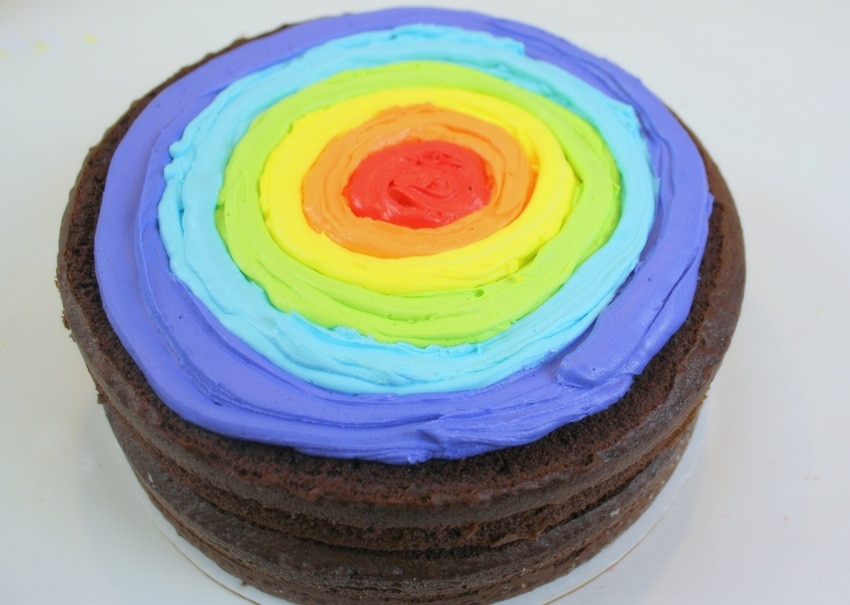 I placed our final layer of cake on top and frosted the cake with vanilla buttercream.
Then, I added a few shamrocks!  Using buttercream tinted Mint Green, I piped heart shapes into a shamrock pattern using a Wilton tip 2.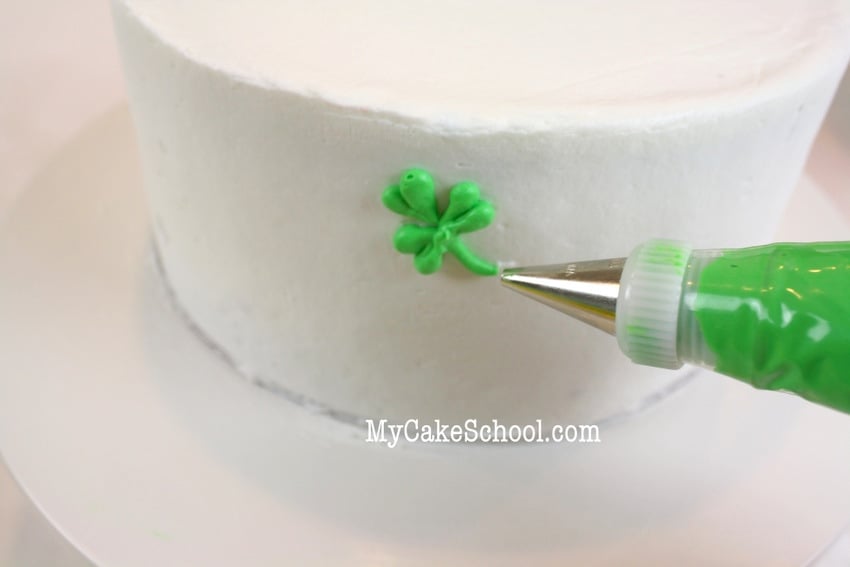 I piped several more! (Some are a little larger, piped with a tip 5).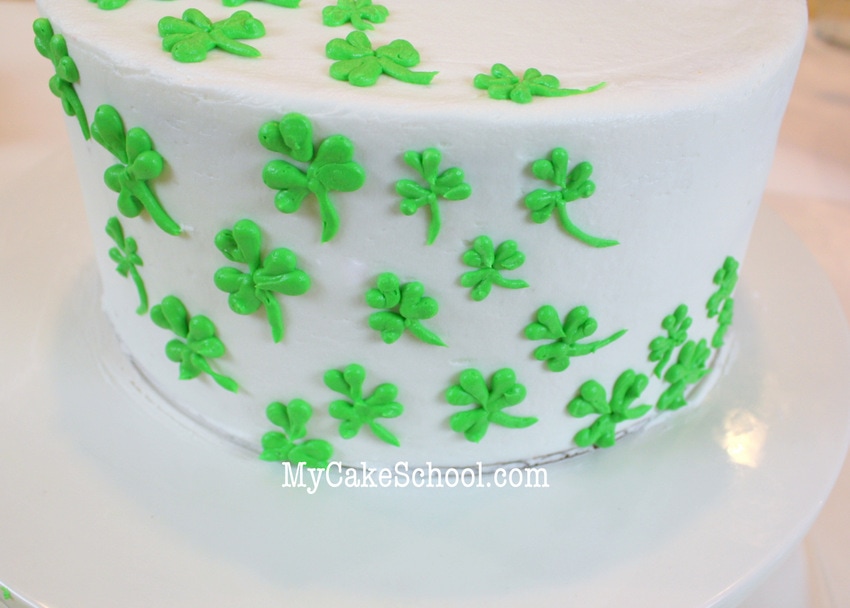 I added a few more dots of color to the outside and a small green bead border.
Then, slice to reveal your rainbow!
I hope that you enjoyed this little tutorial, have a great weekend!!!