Happy Friday!  Woo hoo!  I hope that everyone is gearing up for some weekend fun.  :0) -- I decided to continue with Halloween how-to's in the blog today because there are just too many cute ideas to try.  When else can I get away with making a candy-loving spider cake topper?
In real life, spiders terrify me!!  So, my spider is very non-threatening.  He is friendly...and if you ever cross his path, just throw him a candy corn.  Let me show you how I made him.
First off, Rice Krispie Treats!  I almost always cheat and buy premade.  This was one square that I smooshed into a round ball and flattened on the bottom.  (Of course, if you are anti-rice cereal treats, you can use a ball of fondant.)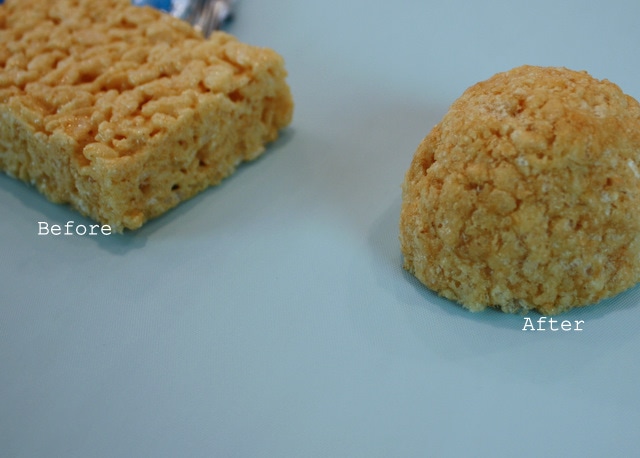 I took that rice cereal treat mound and covered in a layer of black fondant.  If you don't like fondant, you can use your star (21) or grass (233) tip and make a spikey, fuzzy buttercream or royal icing spider!
Then, I rolled a ball of fondant for the head, and gathered my other spider parts together:   Wilton's sugar eyes that I picked up at Michael's, black shoestring licorice,  a piping bag of black buttercream with a 233 tip (optional....for "hair"), and a lollipop stick for poking holes.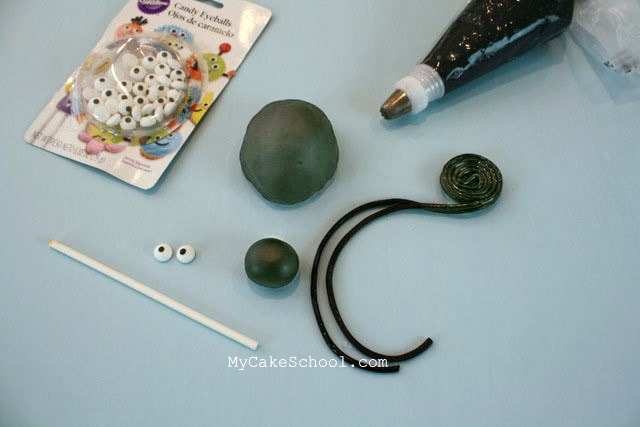 Cut eight licorice legs....make them a little longer than you need.  Preferably while the fondant on the body is still soft,  drive four deep holes down into your spider on both sides of his body.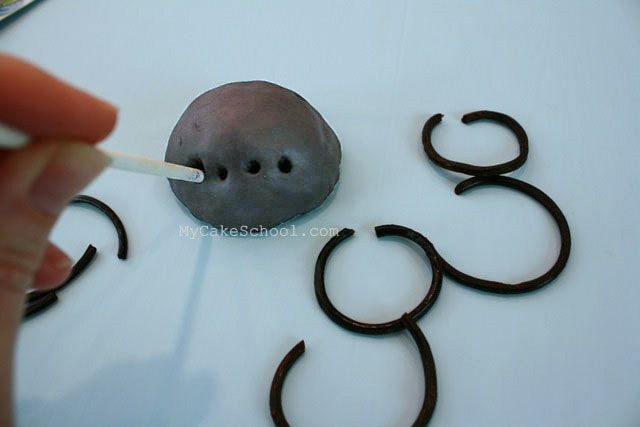 Insert all of the legs into the holes, and then if you can, smoosh the fondant back around each leg for a little added support.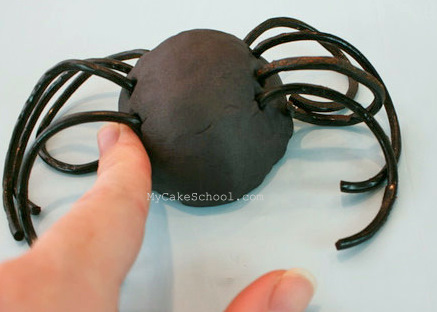 Now for the cake!  This is an 8" cake---and I'm just beginning my web by piping on intersecting lines with my tip 2 and some black buttercream.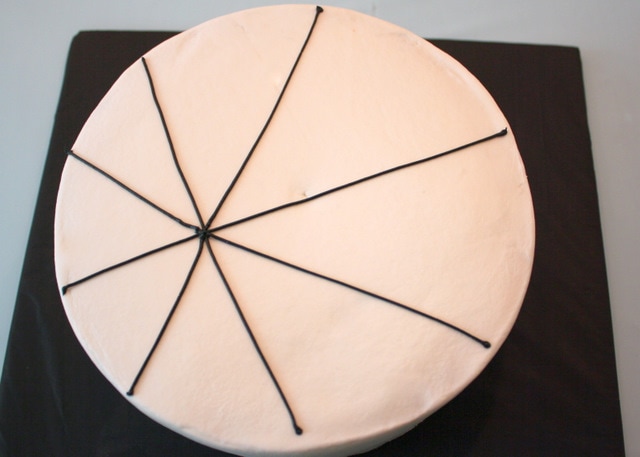 Now it's time to connect all of those lines with more webby lines.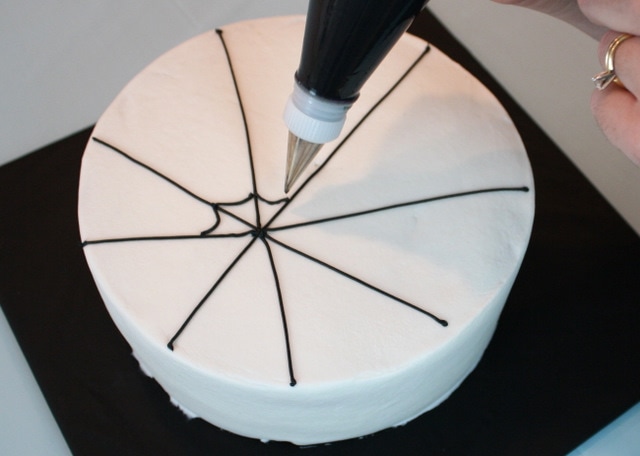 Eventually, I had a web!  (Warning:  I find it's hard to pipe a spider web after  a lot of caffeine!!).  I put a bubble tea straw (fat straw) into the section of the cake where my spider will sit....just for added support.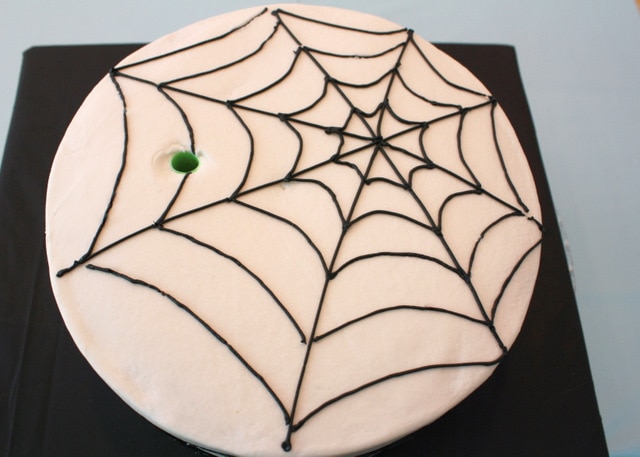 Now the fun part --arranging the legs!  I pushed the ends of each leg into the icing to  anchor them.  It gives you more control of how the legs stand up too!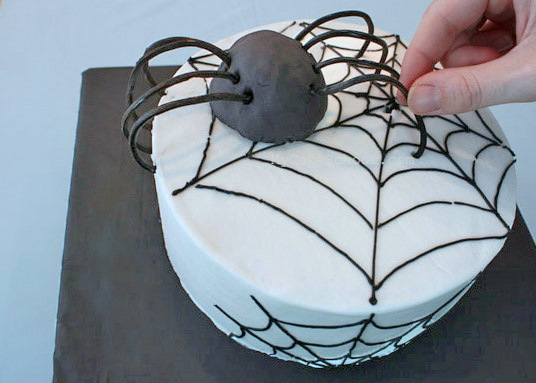 Next, I glued on the google eyes with a little piping gel, stuck the head to the rest of the body with a little more piping gel....and gave my spider a spikey 'do with a grass 233 tip!  (This is buttercream)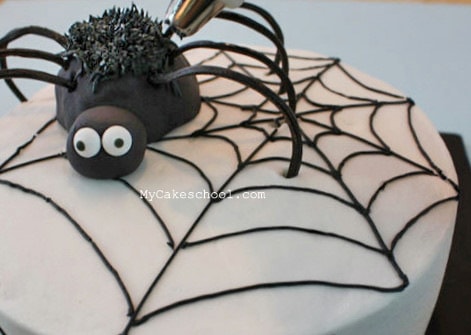 And for the final touch...candy!! Our spider trapped candy corn, gum drops, and M&Ms in his web.   He tied them up so that they could not escape.   :0)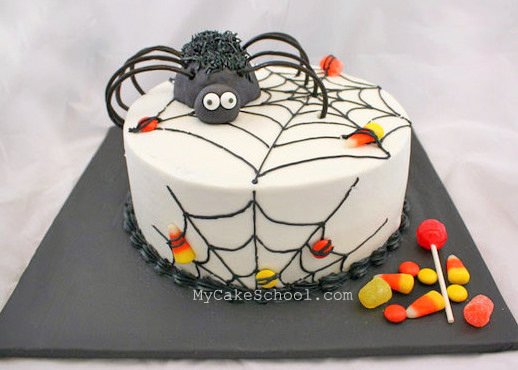 And that's all there is to it!  I hope you'll invite this guy to sit on top of one of your cake creations this Halloween! Thanks for stopping by---see you next time!