I had the idea for silly smiles a few weeks ago when we were making cookie pops--and today, we finally made them!   I think you are going to like these...
First, you'll need to pick out a sugar cookie recipe--just google "sugar cookies that do not spread"-- the shapes become a little distorted and puffy otherwise.
Then, make that recipe and roll out your dough!  I like to roll mine out in between two sheets of parchment paper.  Roll to about ¼" thick (thick enough for a lollipop stick to fit into).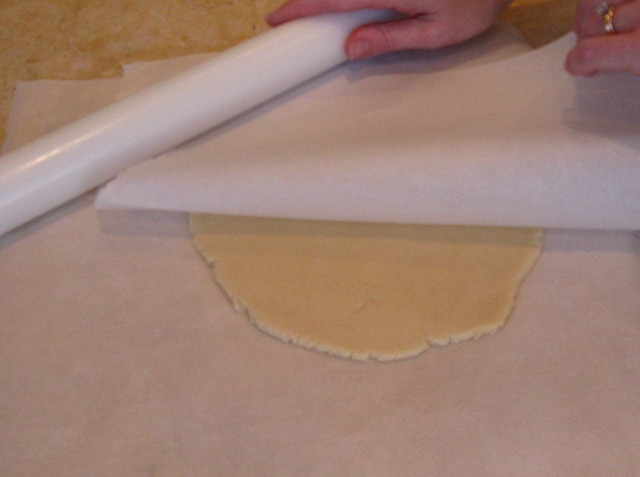 Move paper to a cookie sheet and cut out your shapes using a large circle cutter.  I'm only working with a little bit of dough at a time.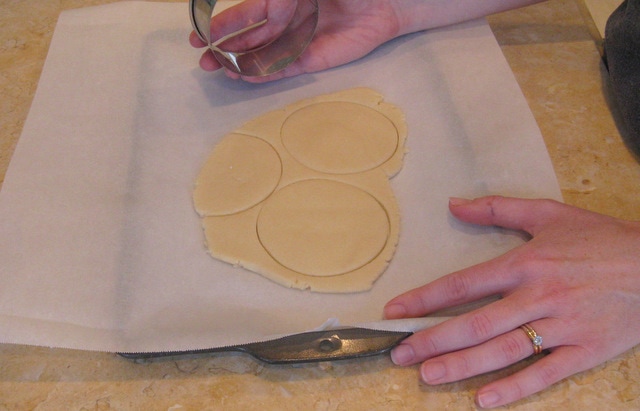 Leave your dough and cut shapes on the parchment and freeze for about 5 or 10 minutes (until firm).  Now, it's time to cut your mouth shapes!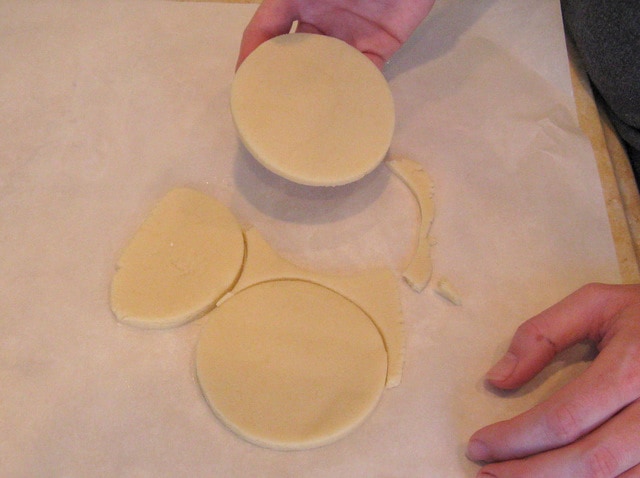 Using the same circle cutter, I am able to cut my cookie into two different mouths---one big grin, and one pair of lips.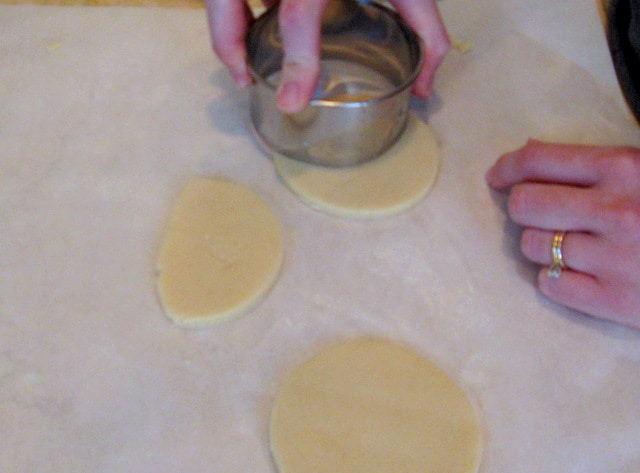 I used the tip of a heart shaped cutter to help shape the upper lip.  See it there in the top left corner?  You could also just cut out that v-shape with a knife.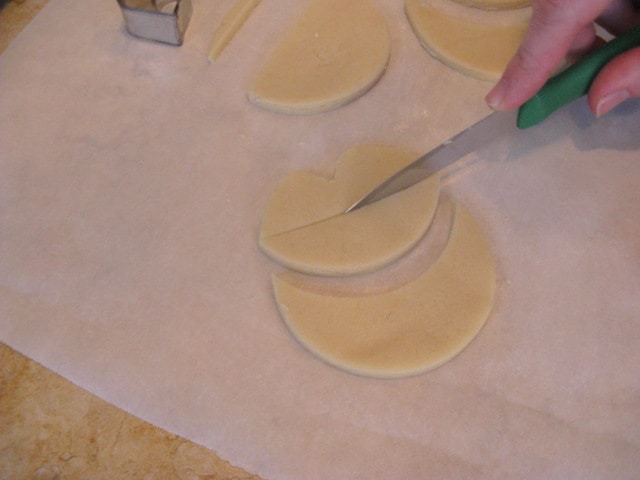 Next, insert your lollipop stick and bake until slightly brown around the edges.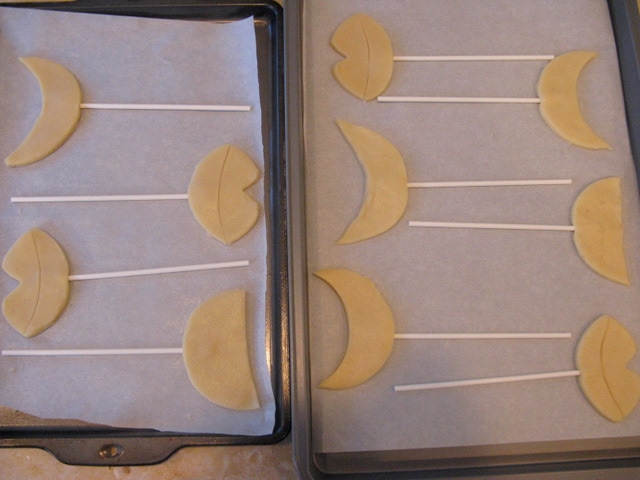 Time to decorate with royal icing!  I outlined my shape with medium-stiff consistency royal icing, then flooded with thin consistency icing.  This gives those kissy lips a smooth look.  Use a toothpick to spread the icing to those hard-to-reach corners.
Here, I am piping the lips and teeth with stiff consistency royal icing, then I flood with yellow thin consistency icing.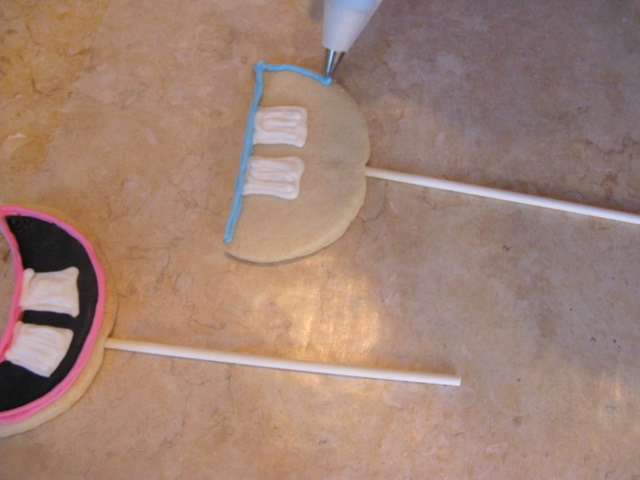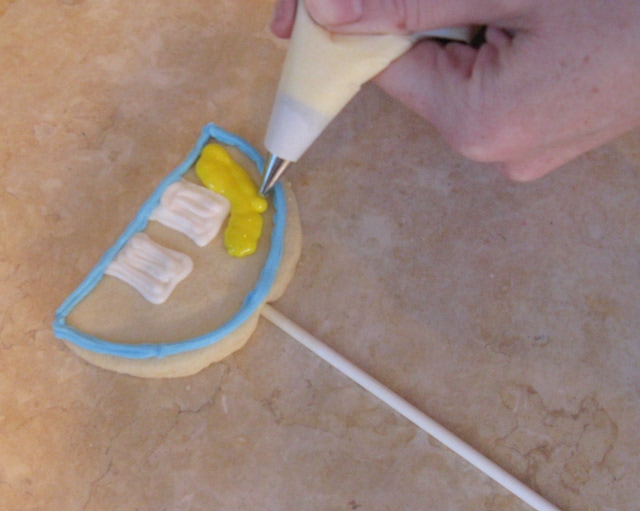 I iced lots and lots of smiles today!  After they dried, I put them in a styrofoam block covered with CANDY!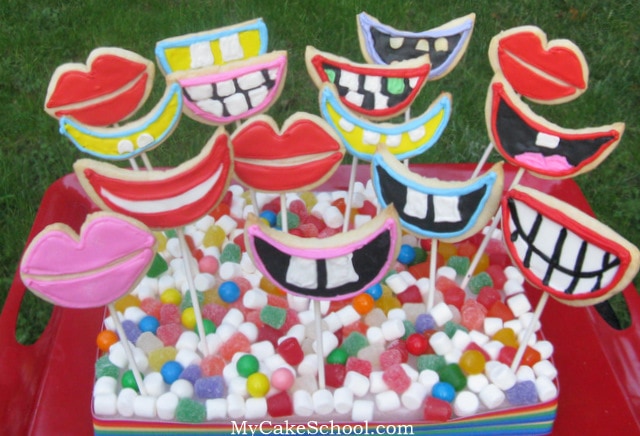 I love how these silly smiles turned out-- they would be great for children's parties--even Halloween parties!  There are endless possibilities with these--animal mouths, monster mouths, scary or gross mouths.....but one thing is for sure, the kids in your life will flip for them!  Look at my buck toothed sweetie....
I hope that you have fun with these!  Thanks for stopping by the blog!
-Melissa