Today I'm going to demonstrate how to make an ADORABLE and easy buttercream ruffle cake, as well as a "pink velvet" cake.
I just love cute cake designs and this cake in particular is just about as sweet & girlie as it gets! It all started with the batter. BeBe went with the sister of the red velvet cake---pink velvet. Here's how it all went down...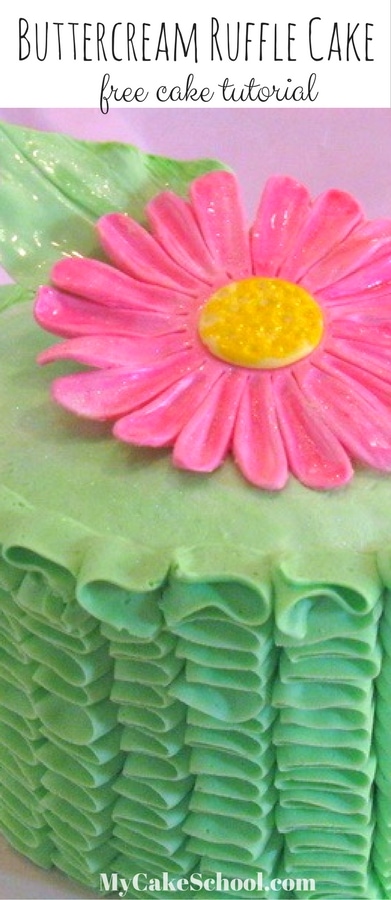 First...I made my Pink Cake Layers
First, I tinted white cake batter with about a ½ teaspoon of pink coloring gel. Use your pink shade of choice. We used Wilton Rose...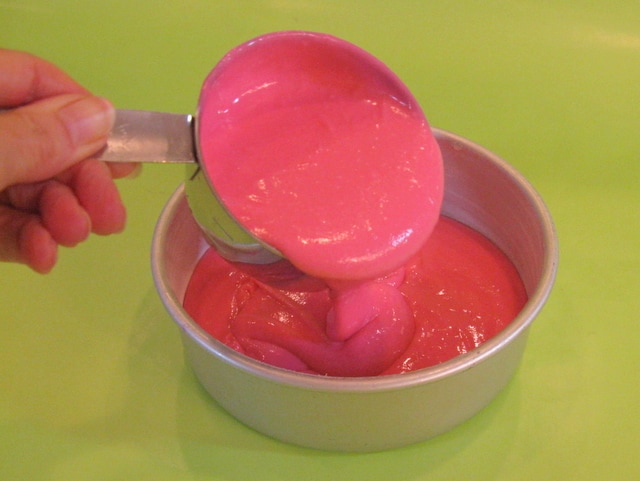 It's just sickeningly pink, isn't it? That's how we know it's perfect! Let's go for 3 six inch layers...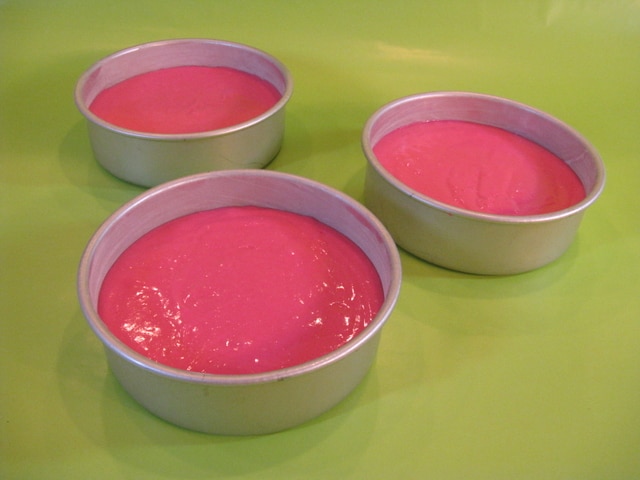 Abra Cadabra................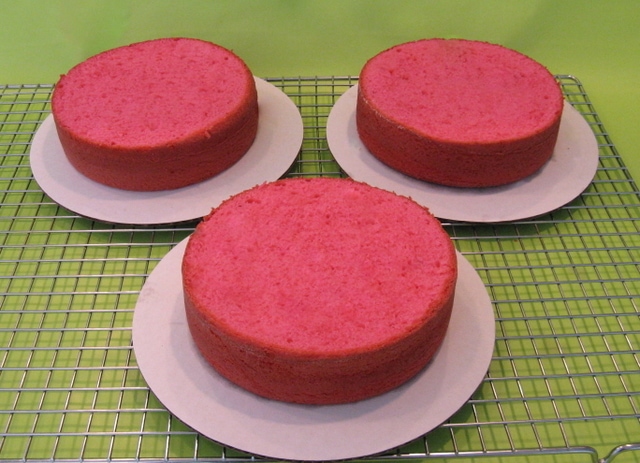 Decorating the Cake with Buttercream Ruffles
Now I'm going to dress it in green. Pink & Green is kinda my thing lately.
Next, it's time for our favorite Classic Vanilla Buttercream Frosting!
I'm using my trusty bench scraper to smooth & remove excess buttercream as I spin the cake on my turntable. It's a good idea to frost a base coat of frosting in the same color that your buttercream ruffles will be for a couple of reasons..
First, if your ruffles aren't piped very close together, the base frosting will show. Secondly, having a fresh base coat of frosting really gives the ruffles something tacky to cling too.
It's an added layer insurance (because nothing's sadder than droopy ruffles). ;0)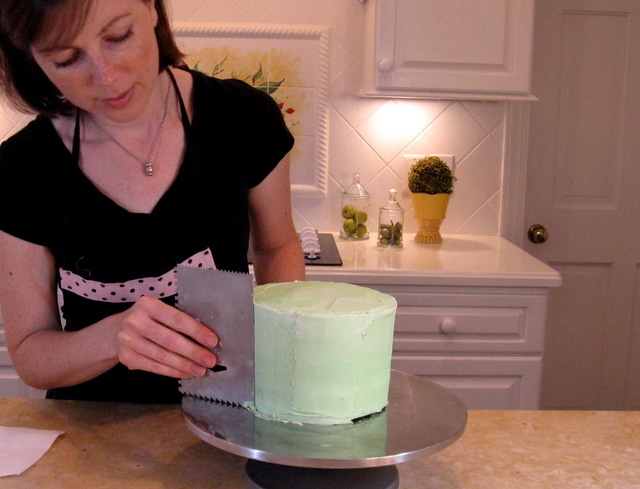 Of course, we could have opted for a smooth coat of buttercream, but ruffly is just so much fun! (It's easier too!)
Piping Vertical Rows of Ruffles with a Petal Tip
To create these rows of luscious buttercream ruffles, I used a simple 104 petal tip. Starting at the base of the cake, I positioned the petal tip so that the fat end of the opening was just barely touching the cake. Then, gently zig zag back and forth as you create your vertical row of ruffles!
I used to teach a beginning cake decorating class at our local community college, and one day during our petal tip lesson I demonstrated an easy ruffle border that I had seen in Martha Stewart's wedding cake book. Same idea as today's ruffle technique...just much shorter.
I wasn't paying attention at one point during the demo and made one of the short ruffled rows several ruffles taller than the others. Before that moment, it hadn't occurred to me that vertical ruffles can be piped the full height of the cake while remaining completely secure! Love, love, love.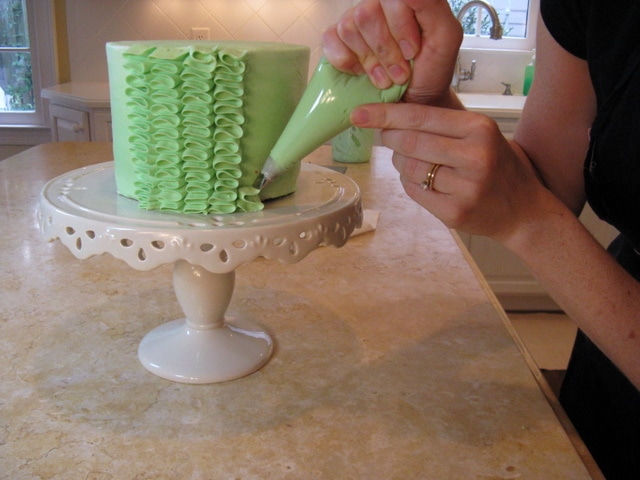 The whole process is actually very soothing. There's nothing like a little repetitive ruffle piping to allow your mind to decompress after a long day. I've had several of our members tell me that they find cake decorating to be very therapeutic and I couldn't agree more. (That's assuming that you don't have 12 cakes to do in a weekend! That's a different story.)
After spinning the cake while piping my buttercream ruffles all the way around, I decided to extend the ruffles a bit more as you see here. It's entirely up to you.
I kept the top of my cake smooth, but you can ruffle the whole top if you'd like. There's no such thing as a cake with too many buttercream ruffles!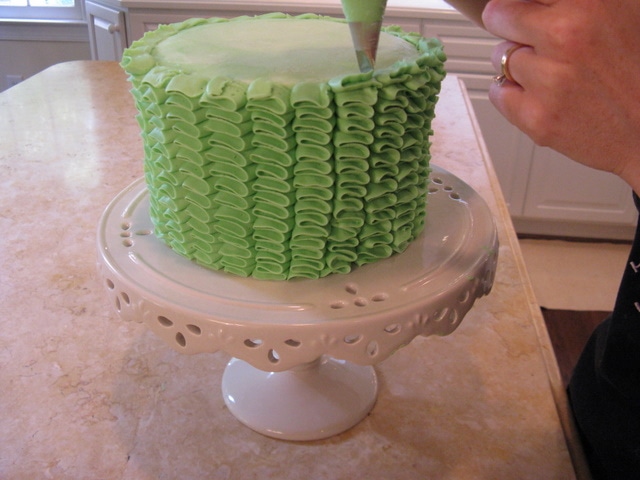 I love a Cake topper
I topped the cake with a gerber daisy from my stash of fun gum paste and fondant cake toppers. I knew I would be able to put it to good use one day! And then, I added a little shine...
Looking back, I probably should have skipped the shine on the flower, haha! I had just learned the simple recipe for edible shine and things got a little out of hand. (I glossed everything in sight for weeks!)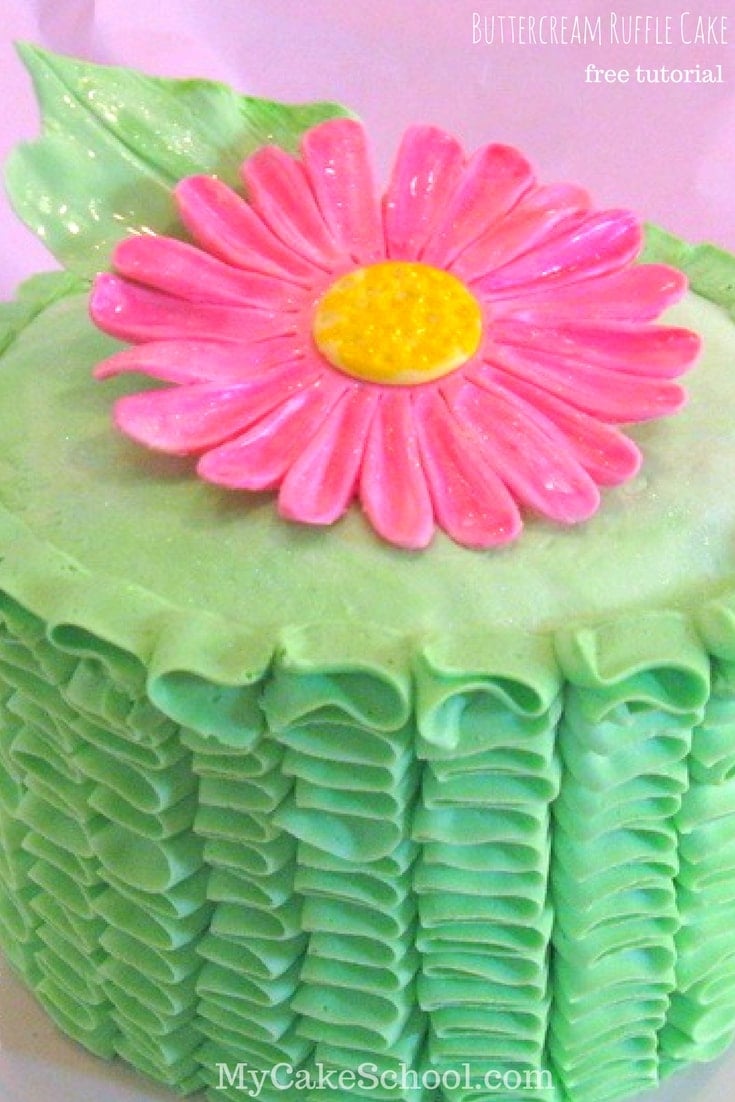 Let's Cut the Cake!- Oh how I love Pink & Green
And now for the grand finale!!! Let's cut into it!! Ahhhh...the pinkaliciousness. Love it! Nobody would ever guess how simple this ruffled cake it is to create. This is one of those buttercream techniques that is perfect for any skill level of cake decorating! Keep it in mind for cupcakes too!
Ruffled Cakes for Any Occasion!
Buttercream Ruffle Cakes are an amazing option for just about any occasion. Baby showers, bridal showers, and even ruffled white buttercream tiers would make for a gorgeous wedding cake. The options are endless.
You can also play around with the direction of your piping... horizontal ruffles are also a beautiful option (piping horizontally starting from the bottom and working your way up)-- Diagonal piping is lovely too.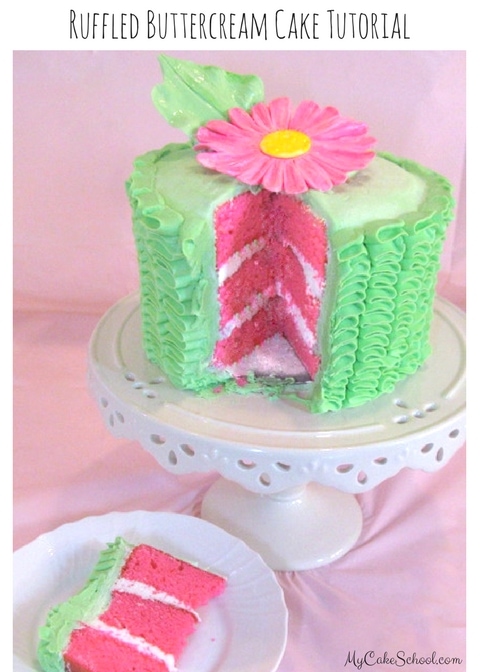 My Cake School Online Cake Tutorials, Delicious Cake Recipes, and More!
Thank you for stopping by our site today! Make sure to check out our Recipes Section for our full collection of favorite cake and frosting recipes!! We also have an ever-growing section of Free Cake Tutorials (both step by step photos & free cake videos!)
And finally, if you'd like to become a member of My Cake School, we would love to have you!! You can check out all of the details on our Join Page. Our members have access to every cake video tutorial that we've ever made (that's hundreds of cake videos!)