With New Year's Eve just around the corner, we thought it would be fun to create a roundup of the BEST New Year's Eve cakes, tutorials, recipes, and ideas! We need to start the new year off right, and what better way to do that than with a little something sweet?! ;0)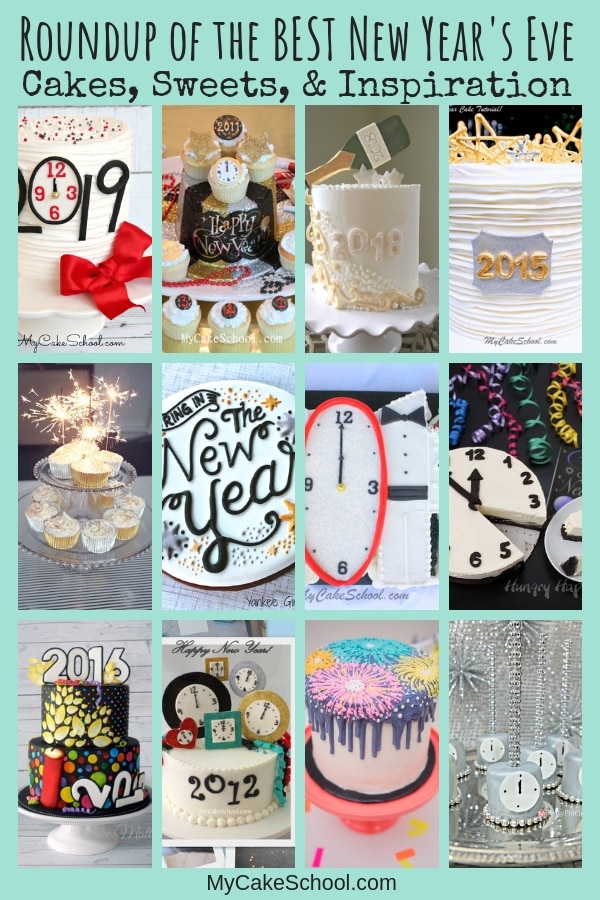 Over the years, we've made lots of New Year's Eve cake posts with all sorts of simple cake and cupcake ideas! Keep these fun and festive ideas in mind when you're planning your New Year's Eve desserts, as well as fun ideas that we are sharing from other sweet pages! We hope that you enjoy scrolling through!
*last updated Dec 2021
Perfect Cake Recipes for New Year's Eve
These crowd pleasing cakes would be perfect for New Year's Eve celebrations!
New Year's Eve Cake Design ideas
Here are a few New Year's Eve cake designs that we have created over the years as well as some great inspiration from other cake decorators. We hope that you find something you'd like to try!
Our 2020 New Year's Eve cake features colorful buttercream brushstrokes behind our gold numbers-- and the party horns on top are just about the easiest choice for a cake topper that I can think of-- but it the look is really fun and whimsical. Here's a quick video tutorial of this New Year's Eve cake!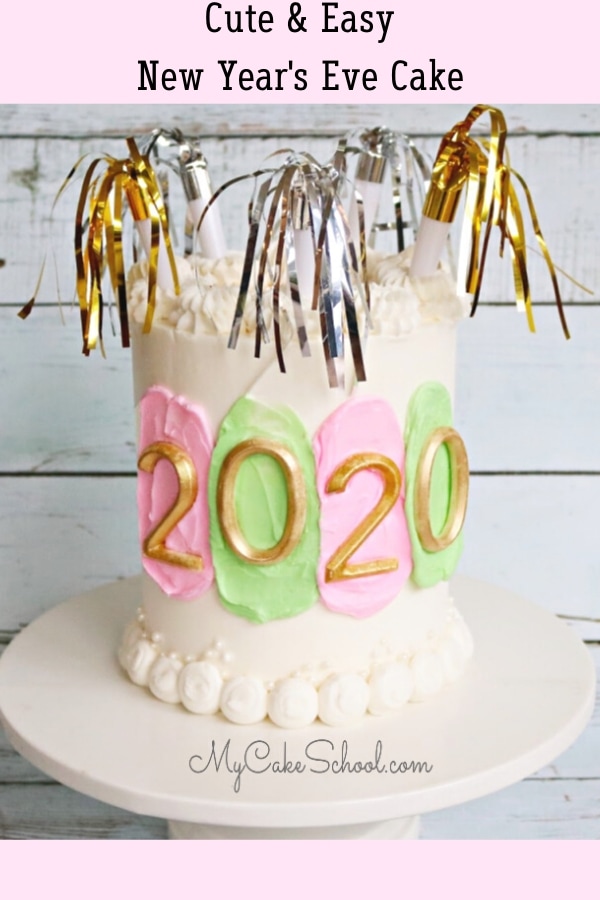 Here's our New Year's Cake design from 2019-- I love the simplicity of it, and making the 0 into a clock (set to midnight) is a fun way to easily incorporate a New Year's Eve theme! Happy New Year- 2019- Free Cake Video Tutorial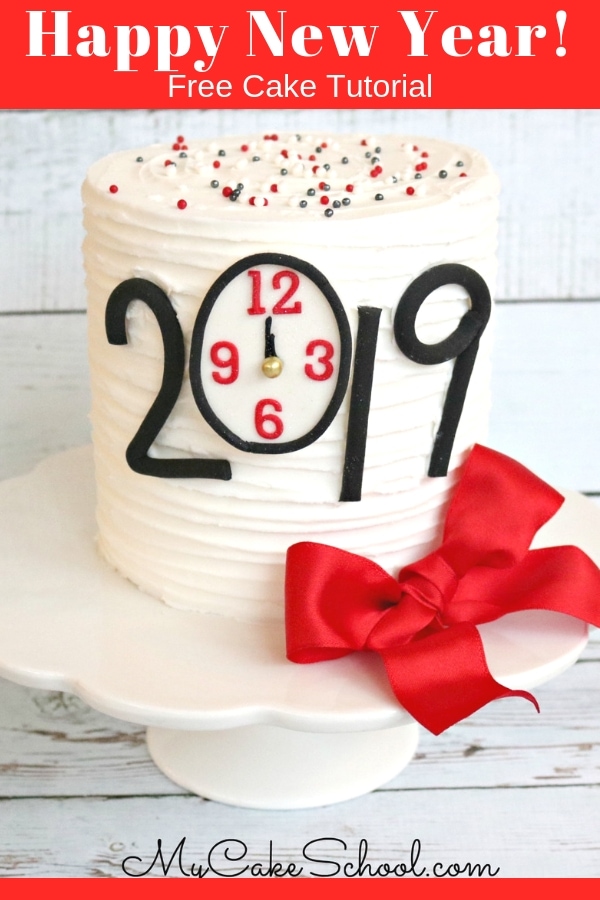 Pour the Champagne! I love the unique look of the poured champagne decorations spilling out over the side of our cake! This New Year's Cake is sure to be a crowd pleaser- hop over to learn how we made it!: Happy New Year- Pour The Champagne- Cake Tutorial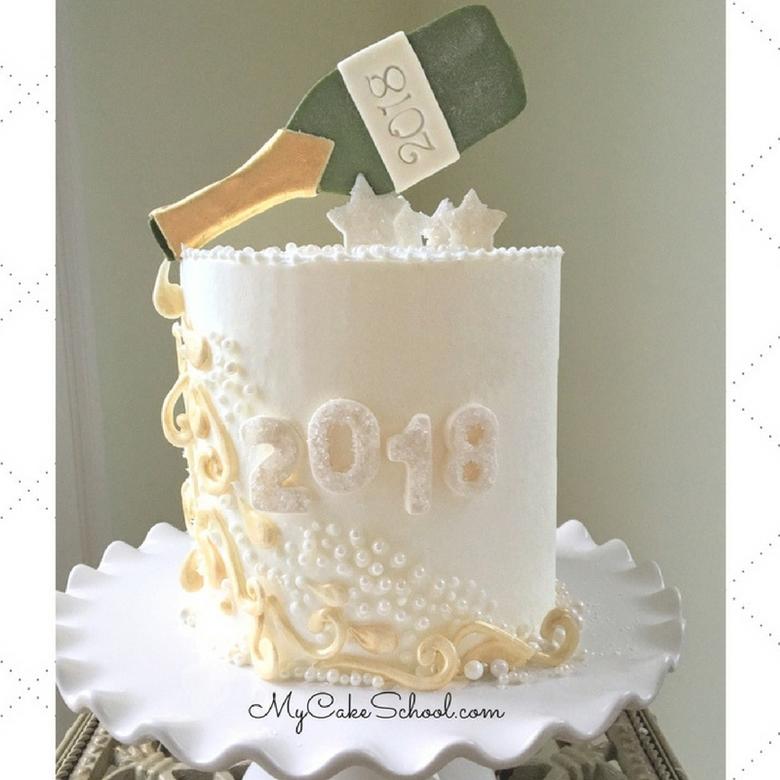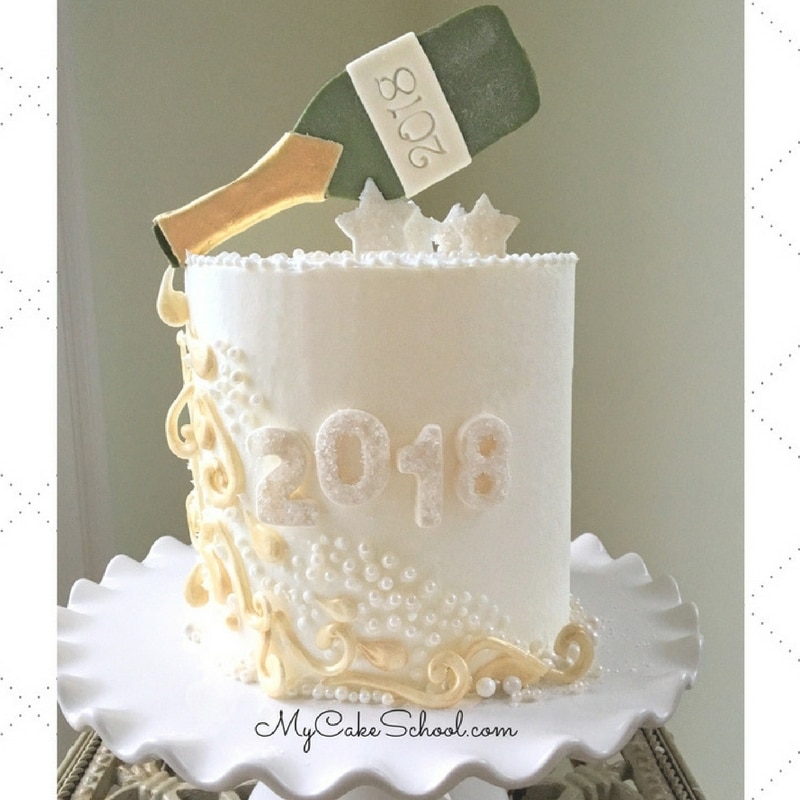 Next, I adore this brightly colored New Year's Eve Cake design by Cake Matters as featured on CakesDecor.com!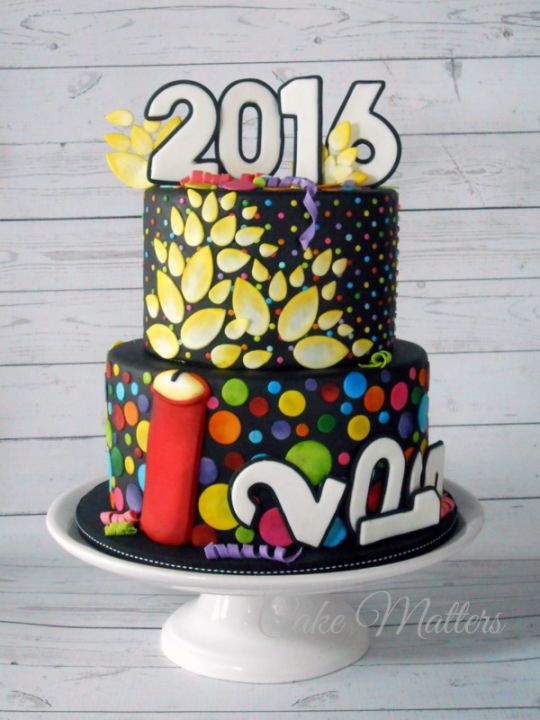 Many years ago, we made this fun assortment of New Year's Eve cupcakes! These designs are so easy to make, whether you recreate them all or just pick & choose from your favorites! Happy New Year Cupcake Tutorial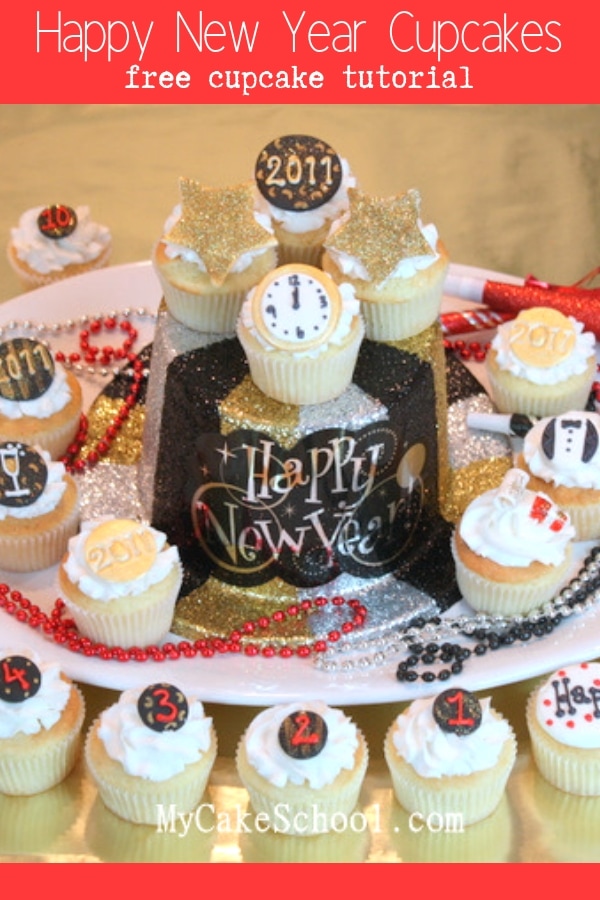 Here's an old favorite of ours- a New Year's Eve cake covered in whimsical clocks! These cute and glittery clock cake toppers are so easy to make, and I love the added height and "wow" factor that they add to the cake! Happy New Year- Clock Cake Toppers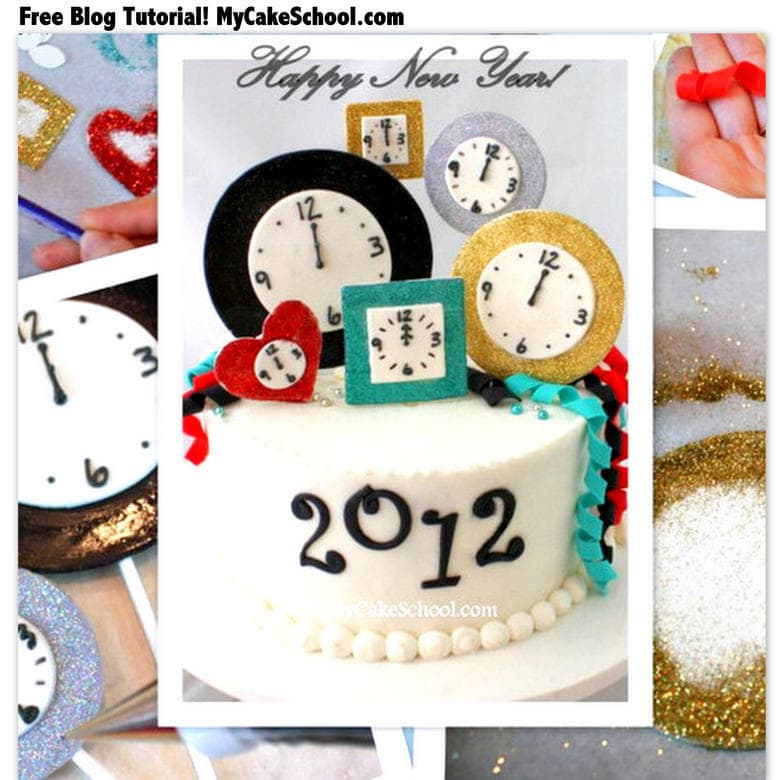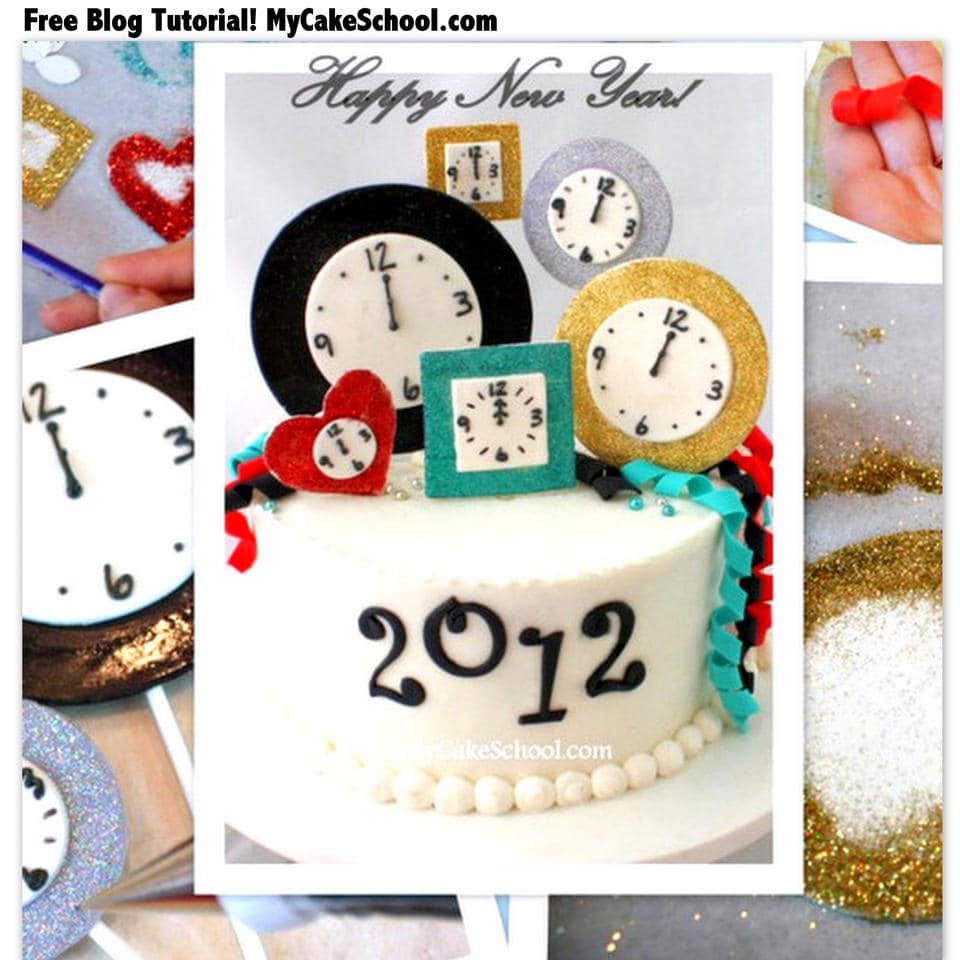 How adorable and neatly done is this New Year's Eve Cookie by Yankee Girl Yummies?! I just love the clean look (and that lettering is fantastic)! I have to admit, when I first saw it I thought it was a cake! I always have cake on the brain ;0) -- But whether you are making New Year's Eve cake or cookies, this is great for inspiration!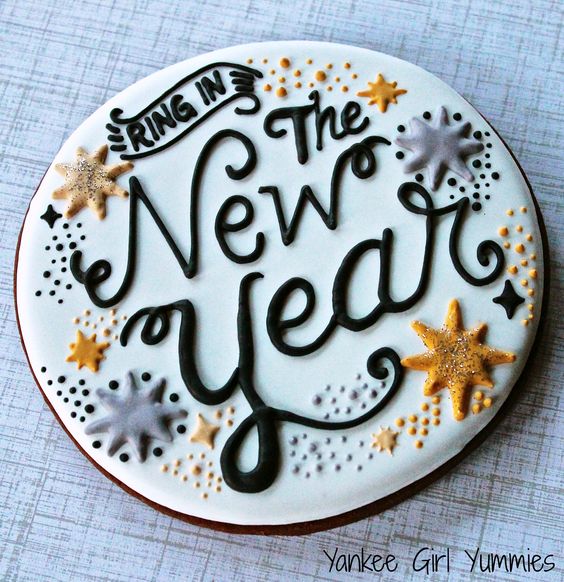 I love colorful cakes, and the piped fireworks in this design are so whimsical and perfect! They seem very doable no matter what your skill level of cake decorating. This fun New Year's Eve Cake by The Cookie Crafter was featured in THIS post by Kara's Party Ideas! Love it!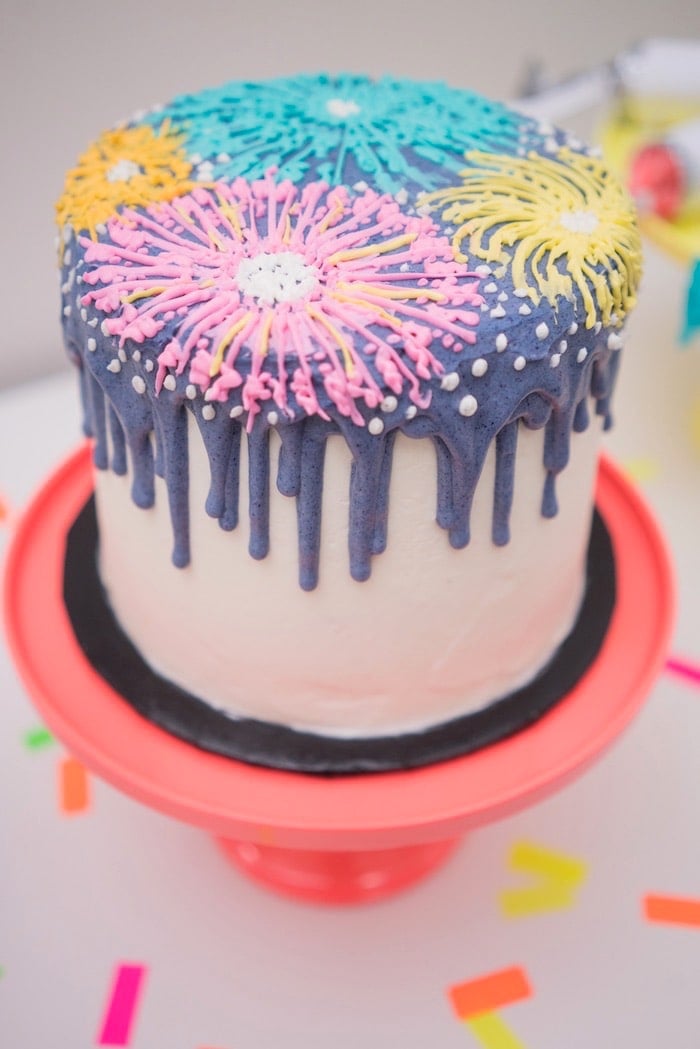 Here is another festive New Year's Eve cake tutorial which features piped buttercream with a ridged look and silver and gold accents. I just love the chocolate candy coating stars on top for quick decorations that can be piped and ready in minutes! The stars would be perfect for New Year's Eve cupcakes also!
Happy New Year Cake Tutorial- Silver and Gold Stars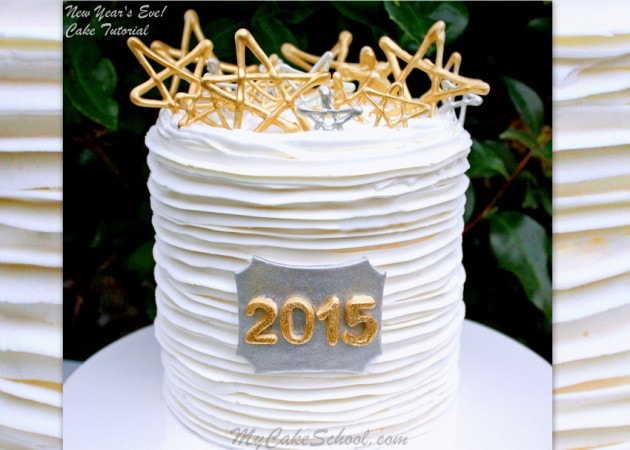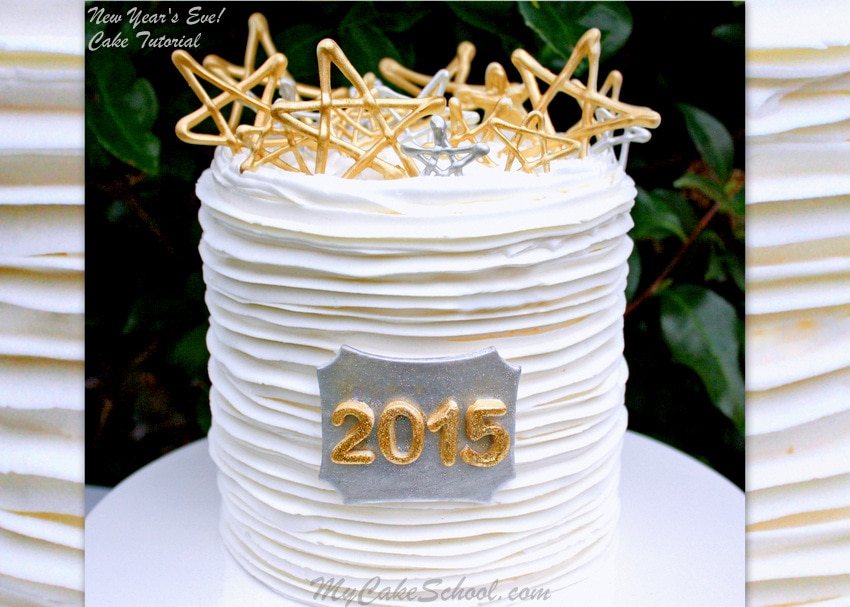 I love clock themes for New Year's Eve and I just had to include this beautiful clock cake by Natalie Madison Artisan Cakes as featured on AtHomeArkansas.com! I love the vintage feel of it.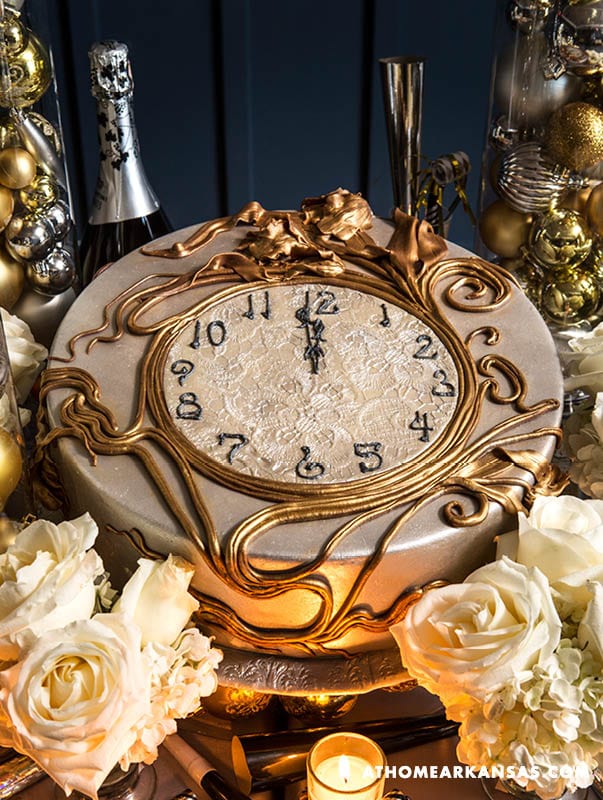 Here's something fun and festive for New Year's Eve, and they couldn't be simpler to make!! The Decorated Cookie created these adorable and EASY (yay!) Ball Drop Marshmallow Pops! These would be cute on their own, or popped into cupcakes for a perfect New Year's Eve dose of sweetness!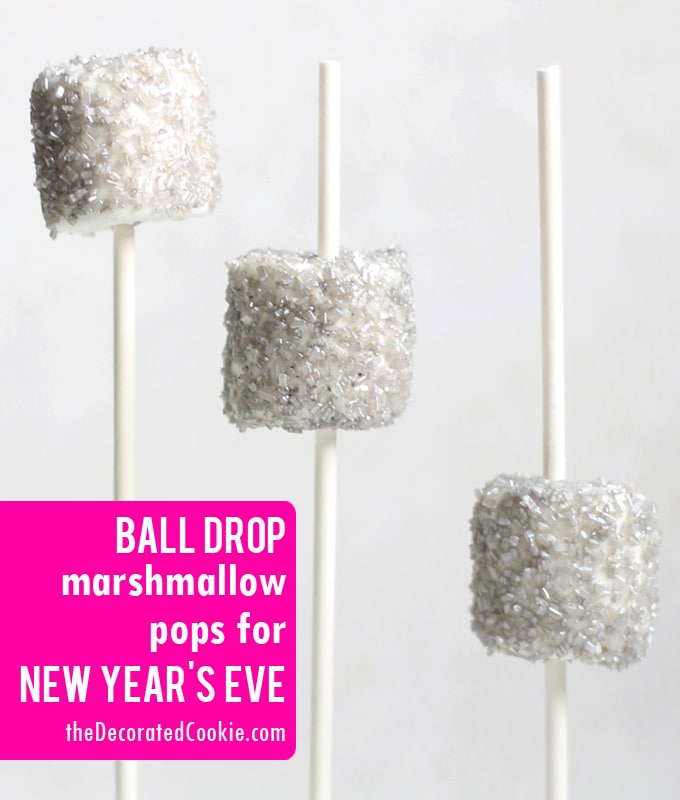 I just had to share this fabulous Champagne Cupcake with Champagne Buttercream frosting for the gorgeous spun sugar on top! Love this sophisticated detail, and the golden shade of the caramelized sugar is just perfect for New Year's Eve! Hop over for the Step by Step Tutorial!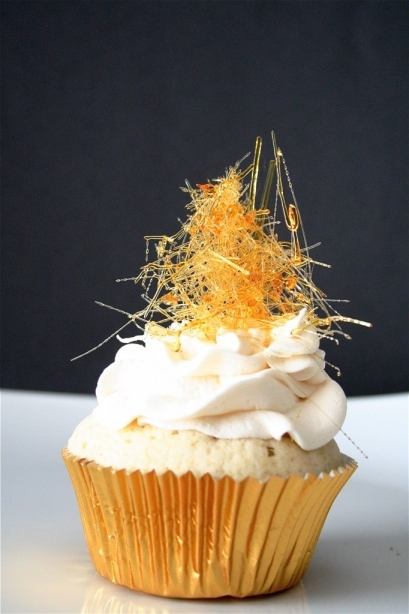 Cheers! Our next New Year's Eve cake tutorial features two clinking champagne glasses on the front of a buttercream frosted cake. Find the tutorial here!: New Year's Eve Cake Tutorial- Clinking Champagne Glasses .
Looking back I may have gone a little overboard with my coiled floral wire, haha- but I still love the quick and easy glittered champagne glasses for a decoration that can be ready in no time!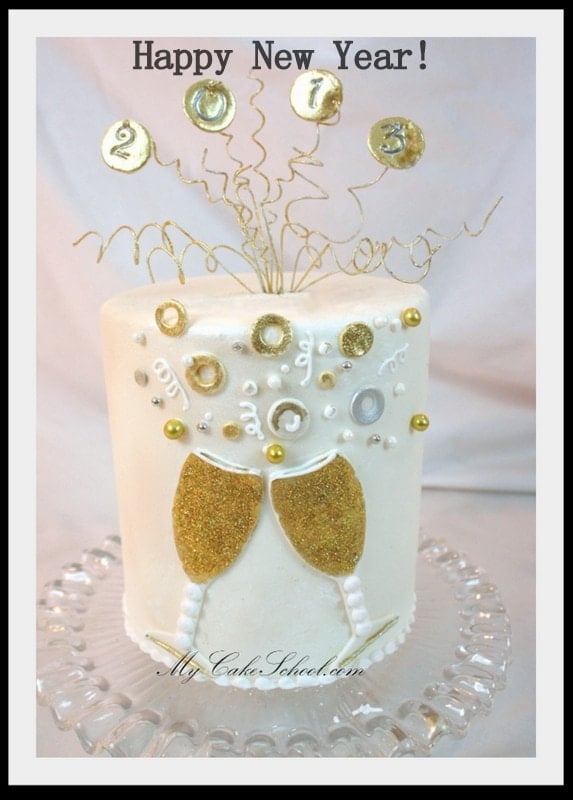 I've never been one to turn down Oreos, especially when they are as CUTE as these easy New Year's cupcake toppers! How clever! These sweet Countdown Cupcakes were made by SomewhatSimple.com. Check out her tutorial for all of the details!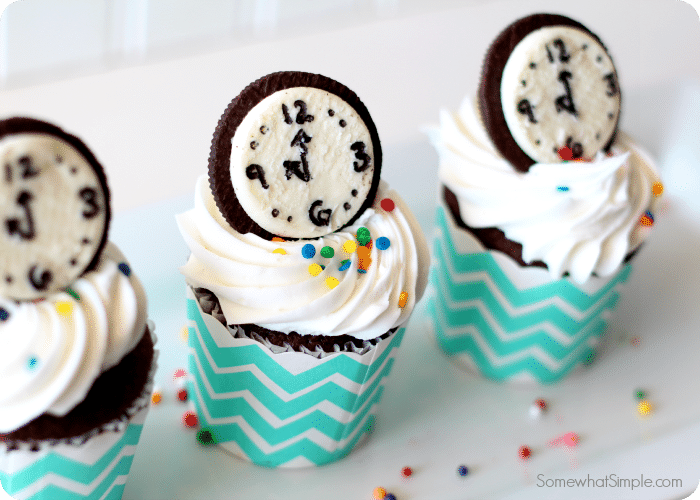 Here's another fun Midnight Marshmallow pop idea by Party Pinching! These marshmallow clocks would be adorable on cupcakes too! Don't miss her tutorial!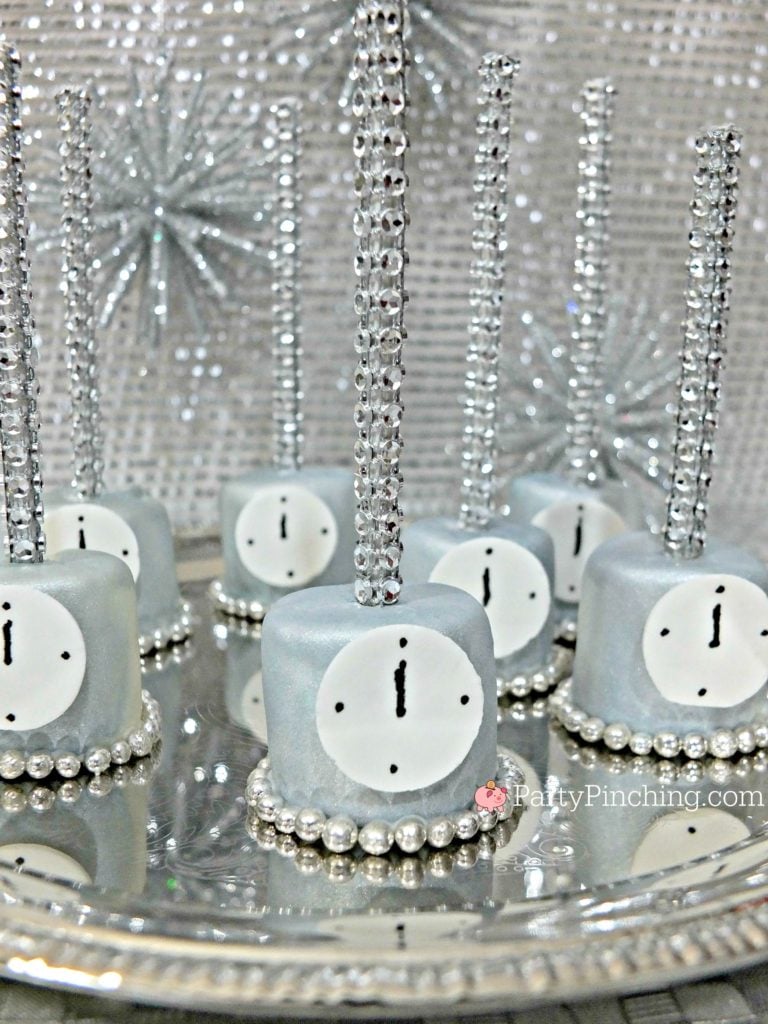 This fun little cake design from our 2016 cake was achieved by painting a mixture of coloring gels and small amount of vodka to create a watercolor consistency of edible paint.
Then, I lightly tapped over the crusted buttercream frosting for a lovely, colorful, and unique cake design! You can find the details and tools used here: Colorful Painted Buttercream Cake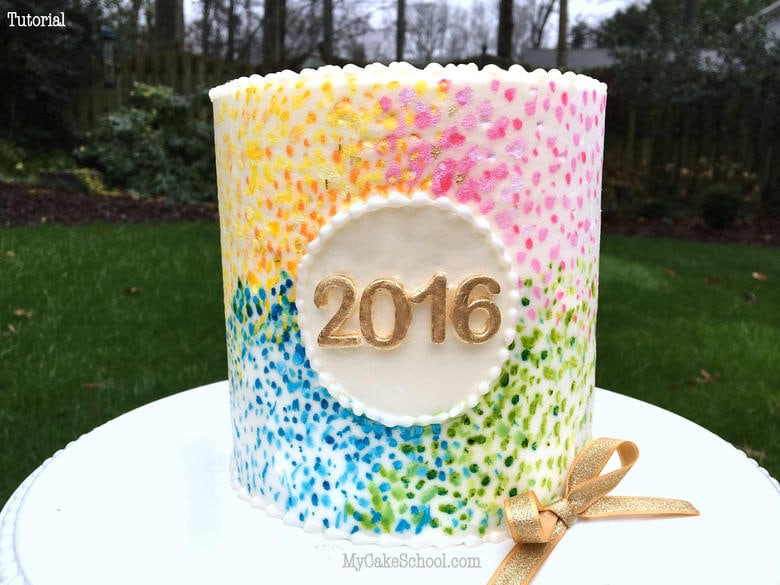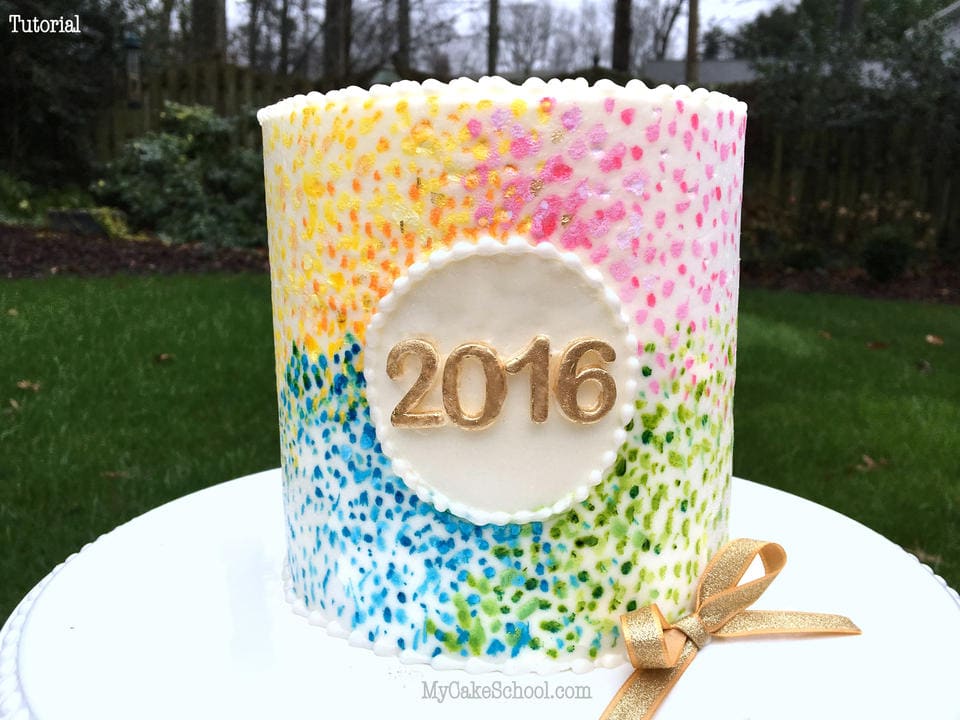 I love the simplicity of this cheesecake clock by Hungry Happenings! Whether you're dressing up a store-bought cake or a quick favorite recipe, this design is sure to please any crowd!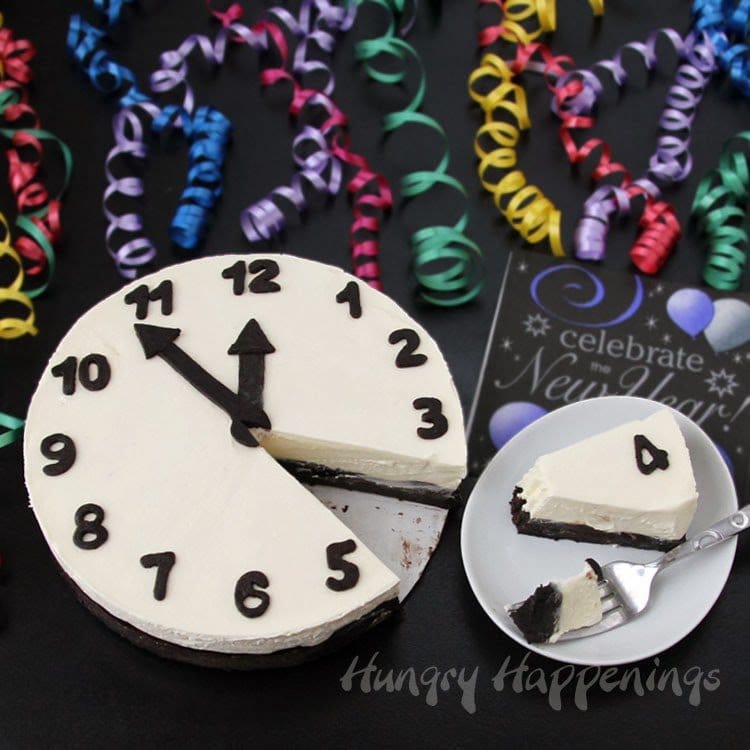 Who says sheet cakes have to being boring? I love this shaped sheet cake for New Year's! Although we made this cake several years ago, the shape can easily be adjusted to fit whatever the new year may be ;0) - Happy New Year- Shaped Sheet Cake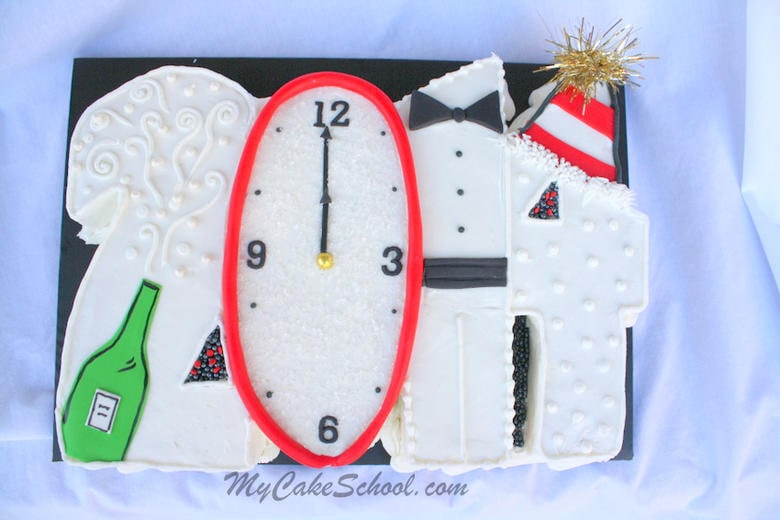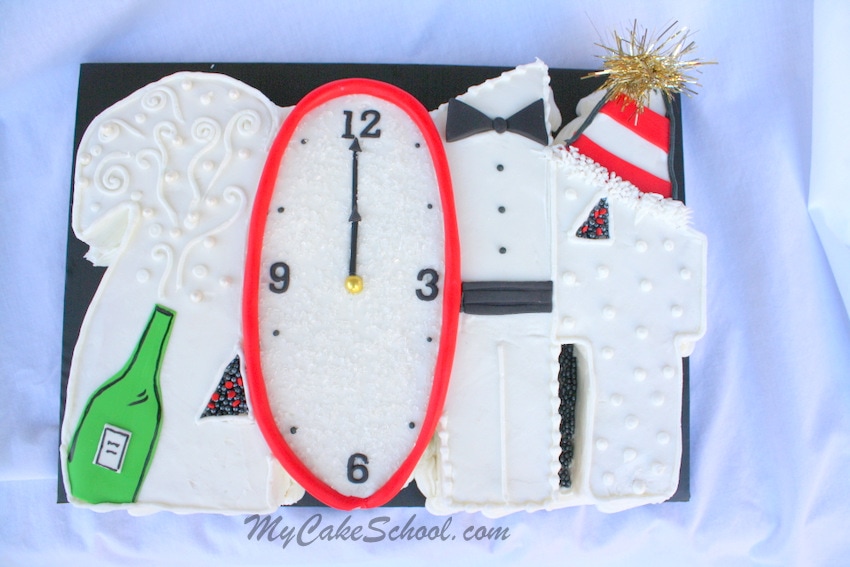 And finally, when all else fails, you can never go wrong with just pop some sparklers into your New Year's Eve cake or cupcakes and call it a day! Instant WOW factor! (These festive cupcakes were featured on CatchmyParty.com!)