Hi everyone! Well, as hard as it is for me to put away Christmas decorations, I always look forward to the start of a fresh new year!  There's nothing better than a clean slate. I want to wish all of you a 2013 that is FILLED with blessings, love, and wonderful surprises! Let's kick things off with a cake design that we came up with today~ it's fun, festive, dramatic, and it wants to ring in the new year with YOU!
Our cake is a 6" (approx. 6" tall) cake which is covered with fondant (Satin Ice).
Other Materials used~
Gum Paste (I used Satin Ice...or you could use fondant with a little tylose kneaded into it)
Luster Dust (I used gold, silver, pearl...and also some gold and silver highlighter dust which is optional)
Floral Wire- I used paper covered- 20 gauge
Dragees and various forms of bling~ Sugar pearls, white disco dust, gold & silver hologram twinkle dust--if it sparkles and shines, grab it.
Vodka- I mixed a drop or two with my luster dust to create "paint".  Lemon extract works for this also
Small Paint brushes
Royal Icing-- Optional-- You could use other edible glues or buttercream
Number Stamps- I used my plastic stone stamps that I bought from Michael's to make impressions.
Champagne glass cookie cutter or a template
Let's get started!~
First, I rolled my gum paste to approx. ⅛ inch thick and cut out two champagne glasses using a cookie cutter. If you don't have this cutter (even I had forgotten all about this one), you can fold a piece of stiff paper in half and cut out one side of the shape that you'd like, and then unfold the paper to make it whole.  Then use this as your template. This would have been my plan B ;0) -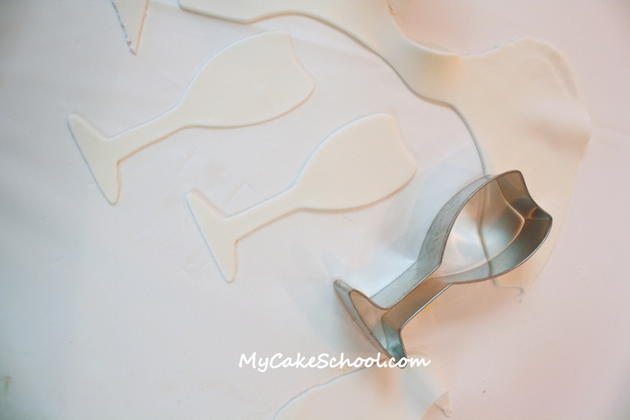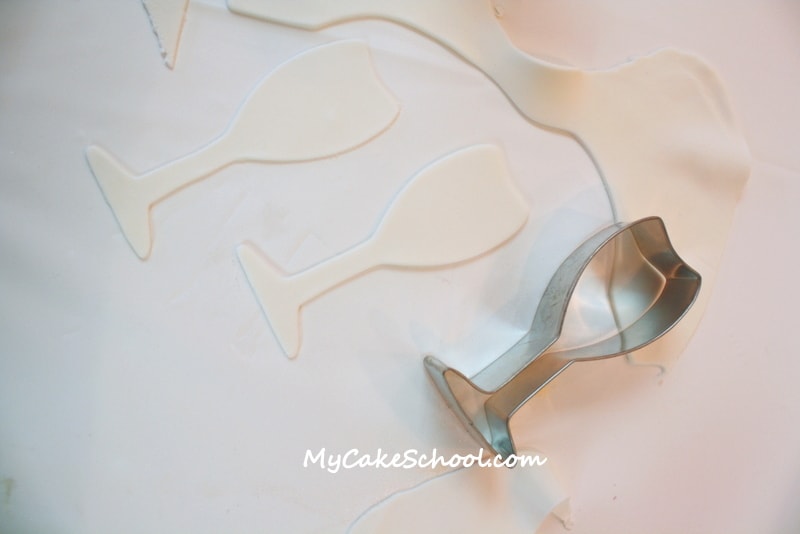 Next, I painted the glasses with gold luster dust (I used Gold Highlighter dust mixed with a little vodka).- Then, I sparkled them with my gold hologram twinkle dust before my "paint" had dried!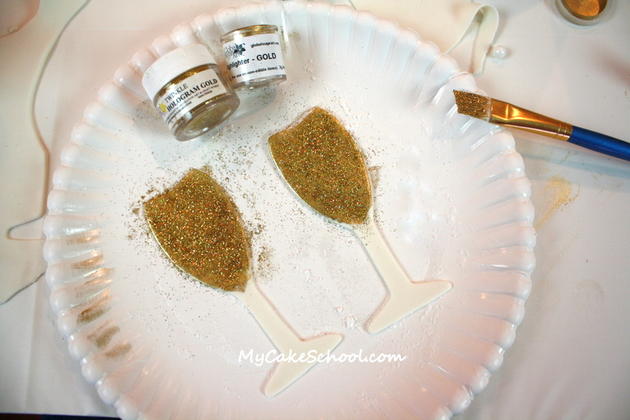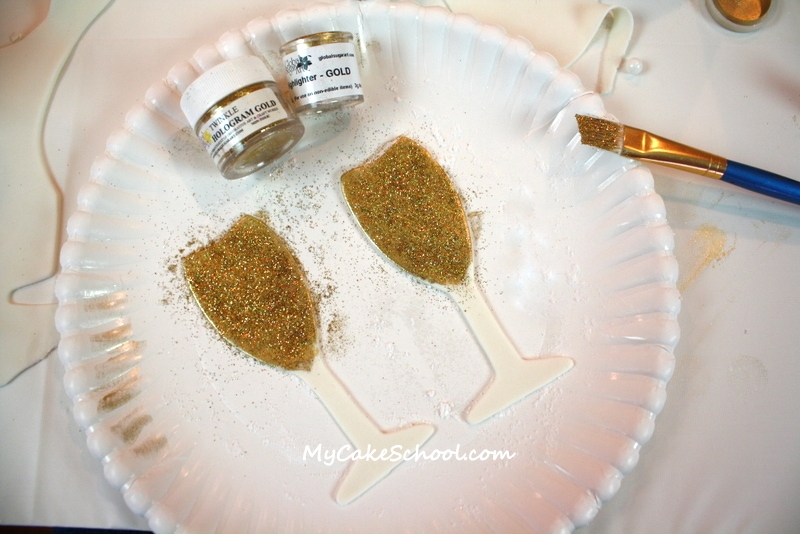 Next, I rolled out some gum paste, let it set for a few minutes,  and then cut out circles (and circles within circles) using my Wilton piping tip 12.  Use whatever circle cutters you'd like.  I dusted over them with silver and gold luster dust, and also pearl dust.  ** Sometimes I use gold and silver highlighter dust too which is extra metallic and shiny..but only use these on pieces that can easily be removed and won't come into contact with your cake.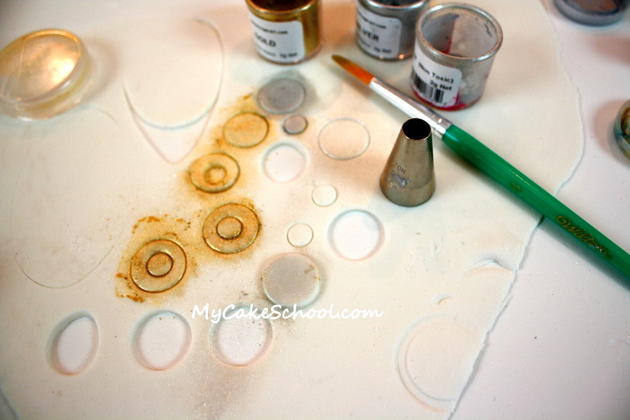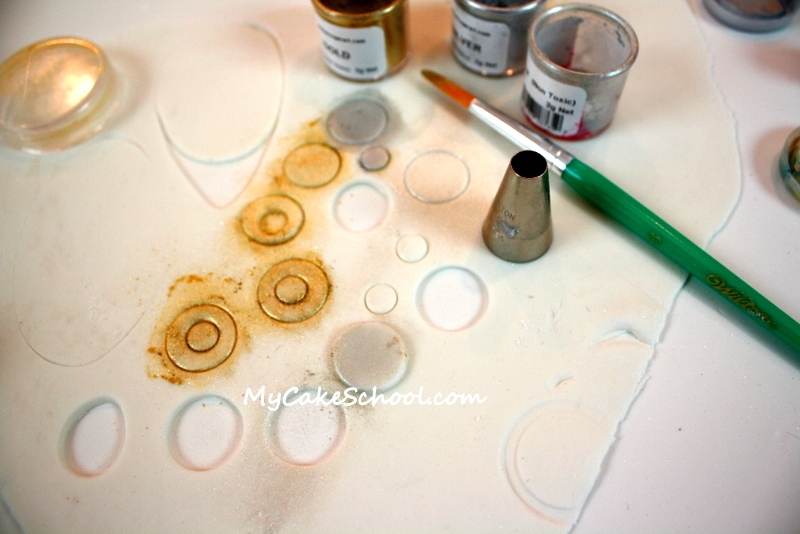 I attached my champagne glasses, while still soft, to the cake with a little royal icing (a little water, piping gel, or sugar glue would work also).  Then I attached the "bubbles and bling" to the cake also with royal icing.  Using my piping bag fitted with a Wilton tip 2, I piped embellishments onto my glasses, including "pearls" of icing onto the stems of the glasses, and little curlicues here and there on the cake.  I also used gold and silver dragees for just a little bit of extra drama ;0).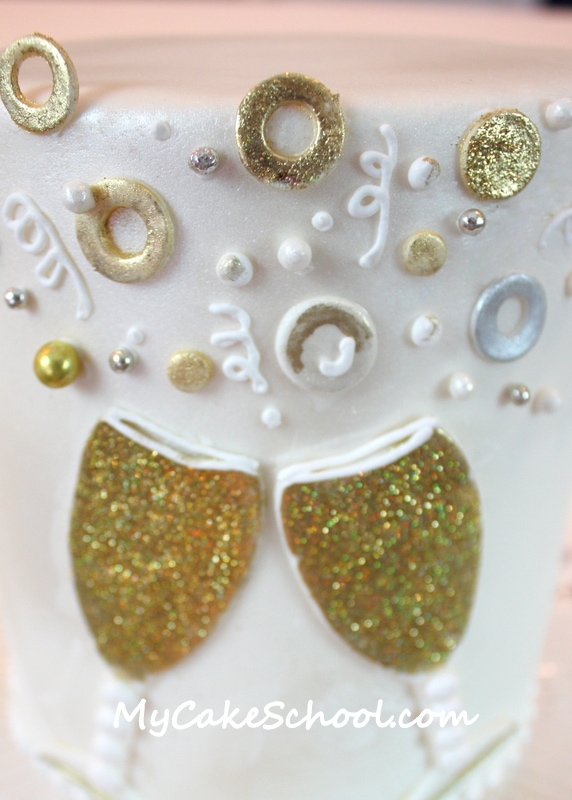 Using my stone stamps and circles of gum paste that were cut from a large Wilton tip (I used a 2D), I made our 2013.  I brushed them with gold highlighter and then went back with a small brush a little later and brushed into the grooves of the numbers with a little silver highlighter dust.  (You can see this in the final shot, as it was a last minute change!)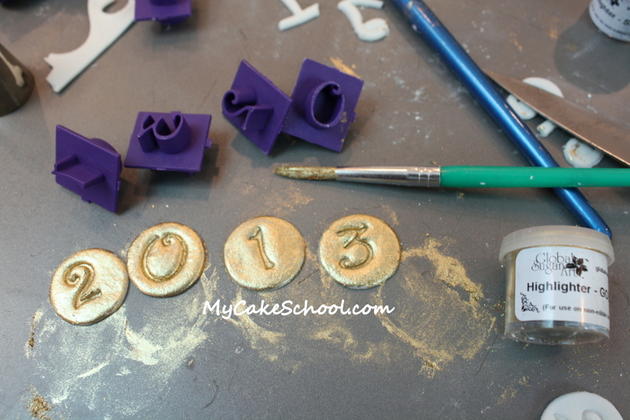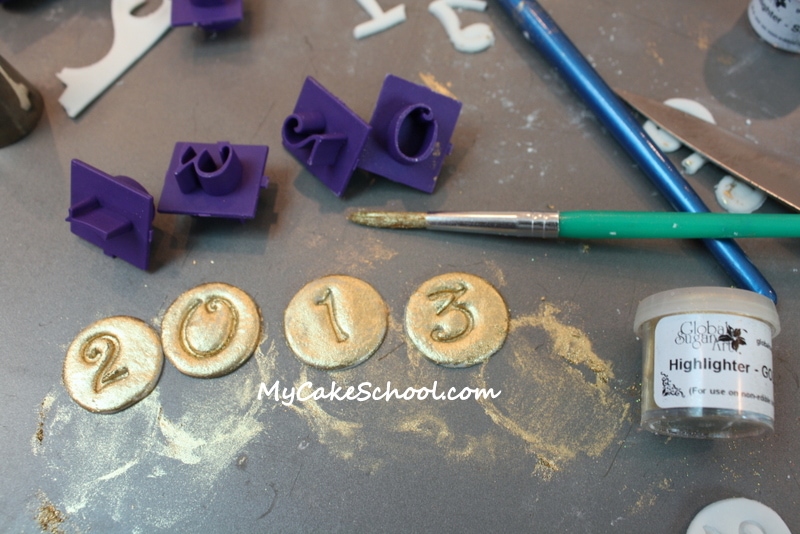 I wanted my cake to have some extra height, and I achieved that with one of my favorite quick and easy decorations--curled floral wire!  This is paper covered 20 gauge wire which I curled around my paintbrush, and then painted with our gold highlighter "paint" created with the dust mixed with a bit of vodka.  Don't paint the part that will be inserted into the cake.  Also, if the idea of wire in cake bothers you, just gather the floral wire and push the ends into a drinking straw or stir straw...whatever size the project calls for.  Trim the straw to the height of the cake and it acts as a barrier between the wire and the cake.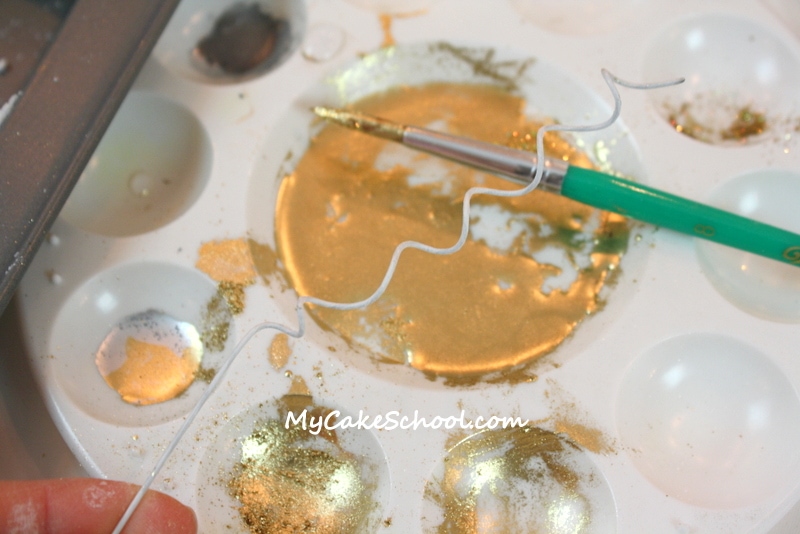 After pushing the gold wire into the cake, I decided to push my round numbers onto the wire, as if they were little ornaments.  The numbers were stiff enough to hold their shape but soft enough in the center for me to push the wire through them.  You could also press the numbers onto the wire with a little melted chocolate or royal icing as your glue.
And here we are with our festive Happy New Year cake~  Cheers!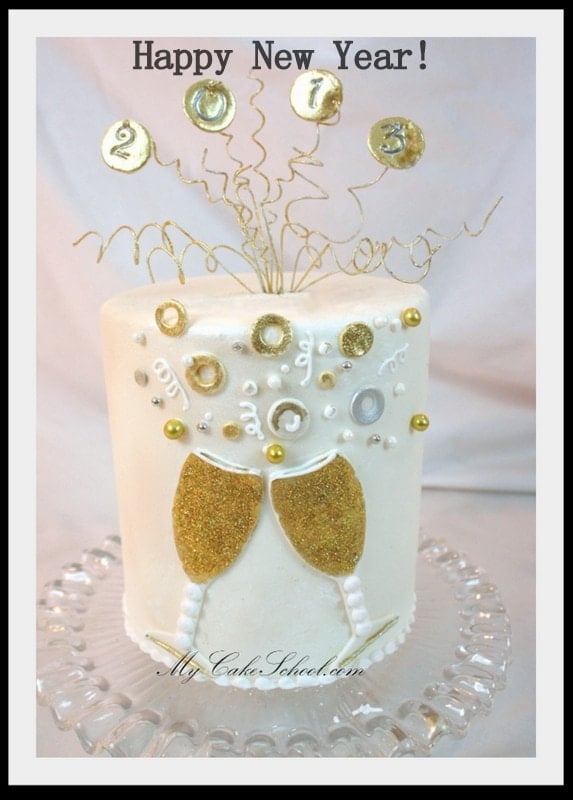 I hope that you enjoyed the tutorial, and maybe picked up a new idea or two!   Thanks for supporting our site~ we appreciate ALL of you and are looking forward to another year of cake fun and sharing!! ;0)