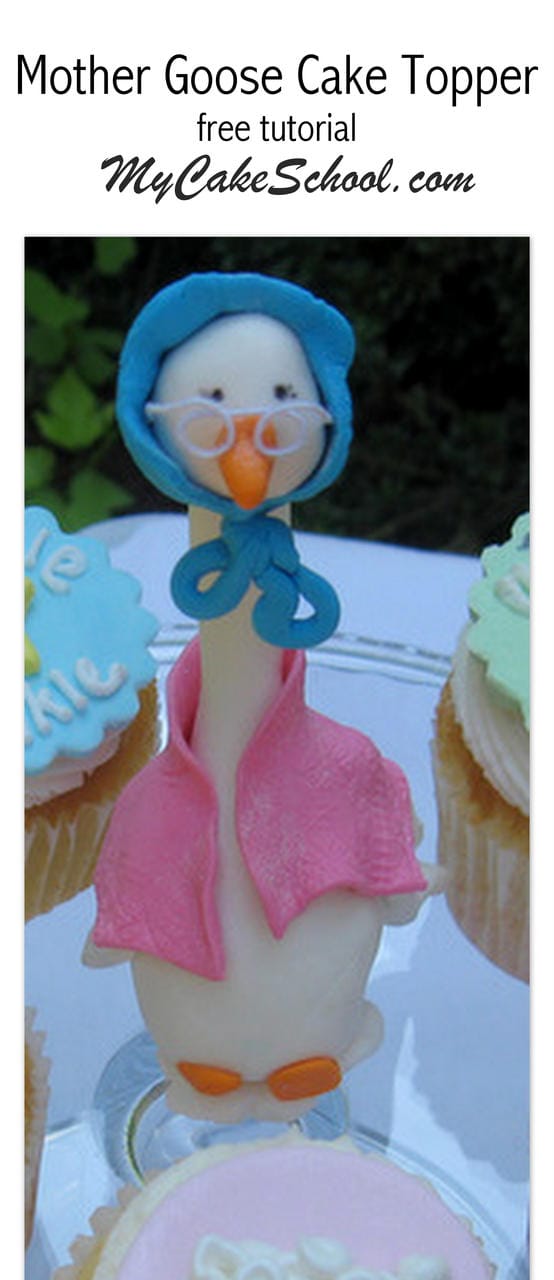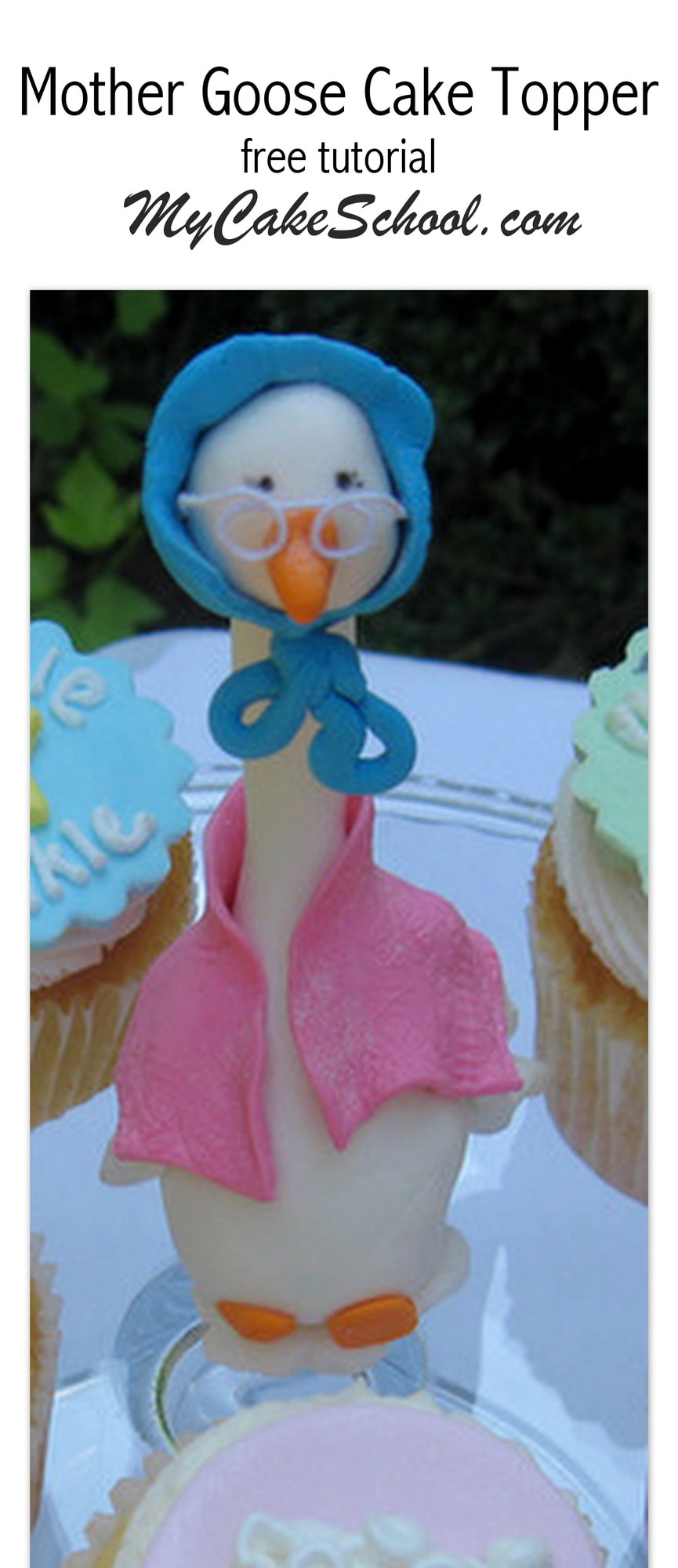 Today I'm gong to show you how to make an adorable Mother Goose cake topper! We used this topper for our Stack of Books cake in our member cake video section, but she is also the perfect centerpiece for our platter of Nursery Rhyme Cupcakes!
Find our sweet Nursery Rhyme Cupcake tutorial, which is perfect for young birthdays and baby showers here:  free Nursery Rhyme Cupcake Tutorial !
Let me walk you through how to make our sweet Mother Goose cake topper:
In this tutorial, I'm working with gum paste. However, if you prefer to work with fondant, you can knead a bit of tylose into it which will make it easier to model with. (Gum paste dries quickly and sets firm which is helpful when modeling).
First, roll a gum paste ball in your hands, adding pressure to one side. This will gradually elongate the neck.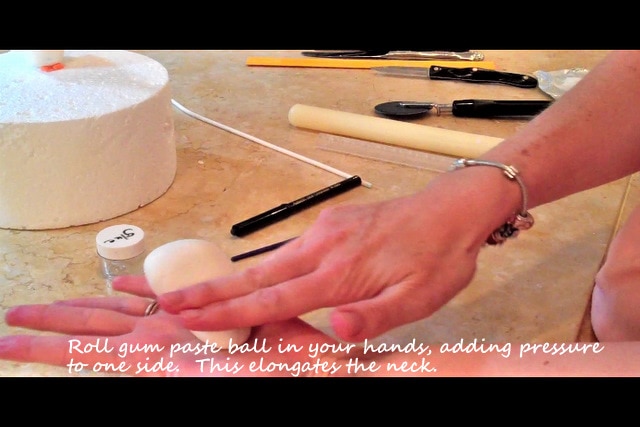 Next, push a lollipop stick through the gum paste body and neck. You'll have extra lollipop stick length exposed which will later become your anchor.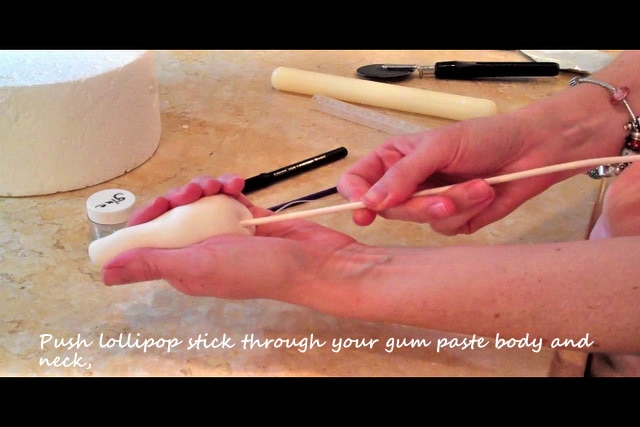 Make the neck thinner by rolling that end of the lollipop stick between your hands.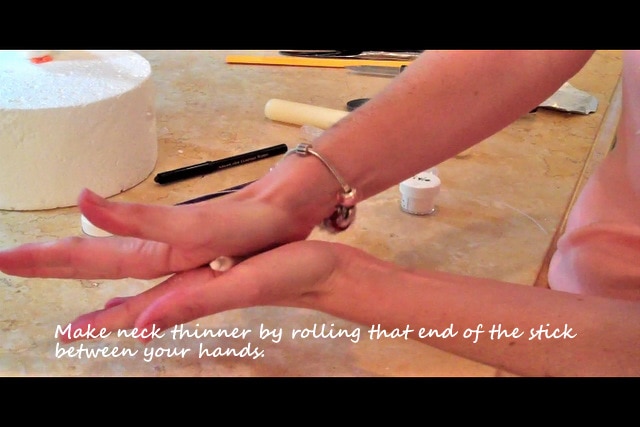 Trim away excess gum paste from the neck. A bit of the stick should still be exposed at the top.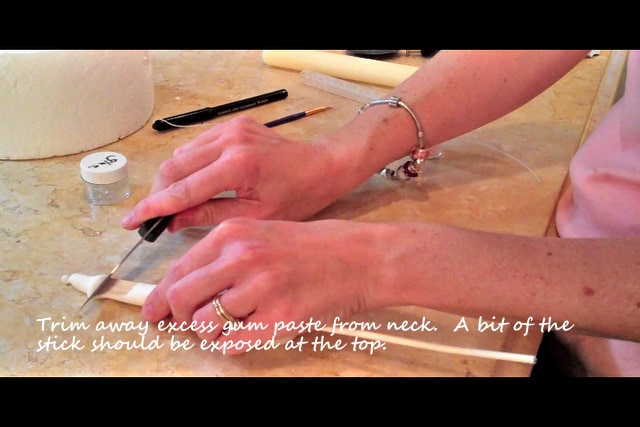 Slightly bend the top of the "neck", and leave room for the head.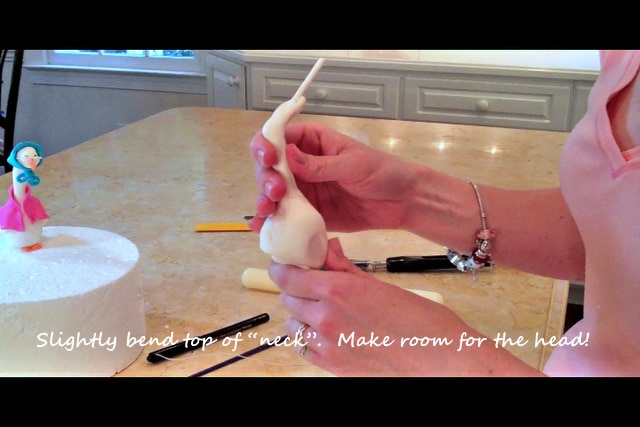 Time to twist on the head!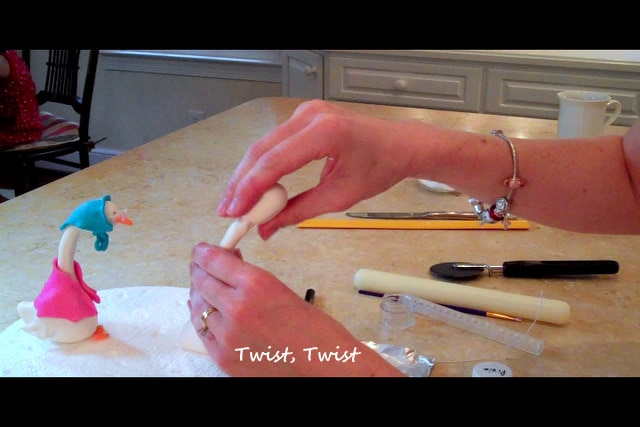 Form a teardrop shape for the beak.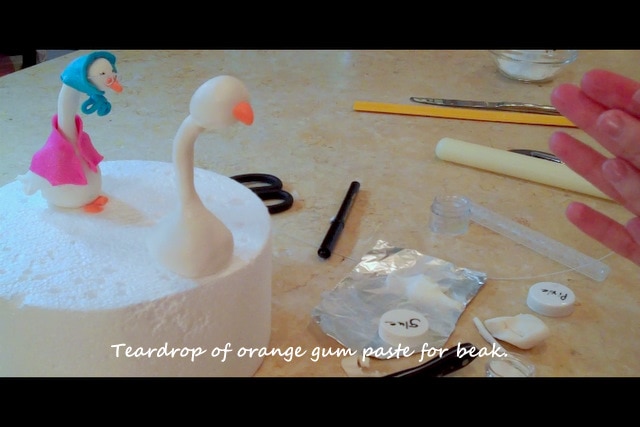 For the reading glasses, I used floral wire (an easily pliable gage like 22 for instance). Scissors will help you to bend it into the right shape.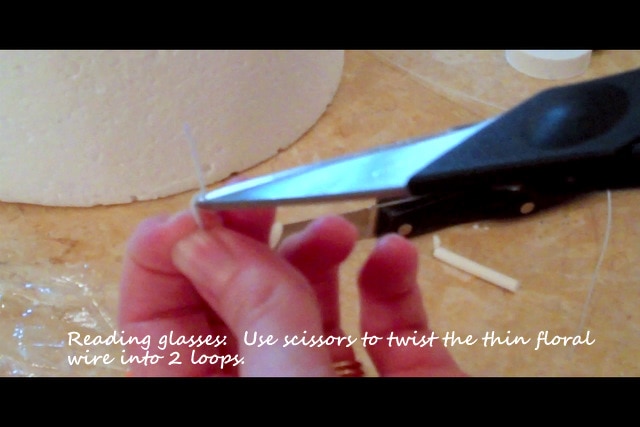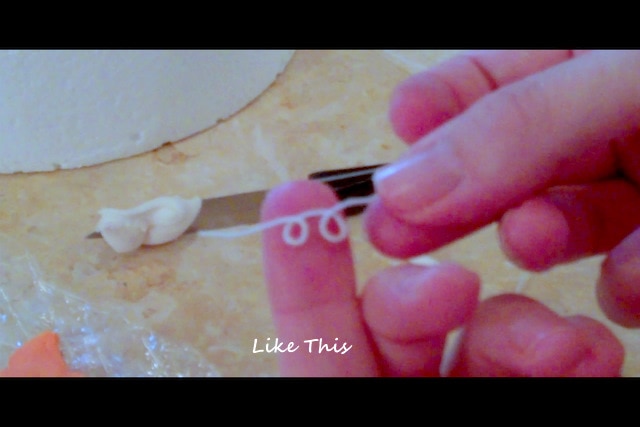 I drew on the eyes with an Americolor food coloring pen.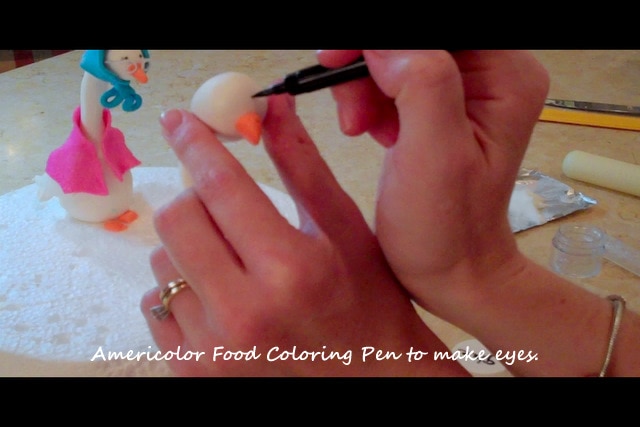 Oops! Decided to make the neck a little bit shorter. Thank goodness this is a forgiving medium!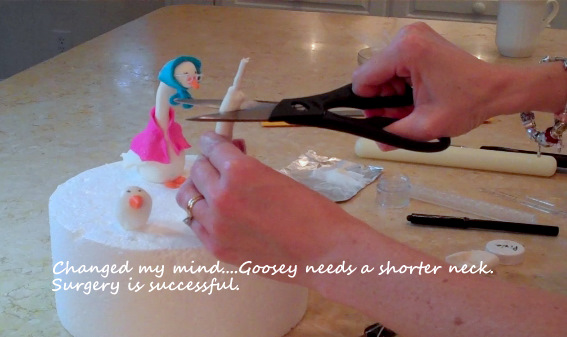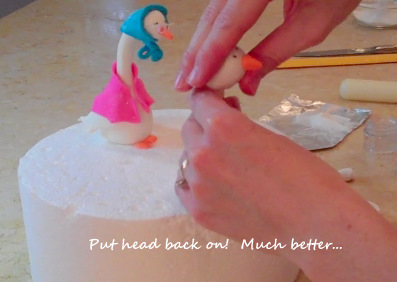 The wings are teardrop shapes which I flattened slightly, adding details with the handle of my painbrush.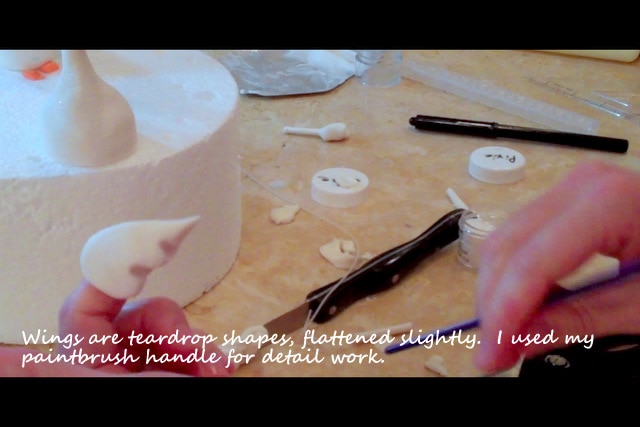 The scarf is a triangle of blue fondant wrapped around Mother Goose's head.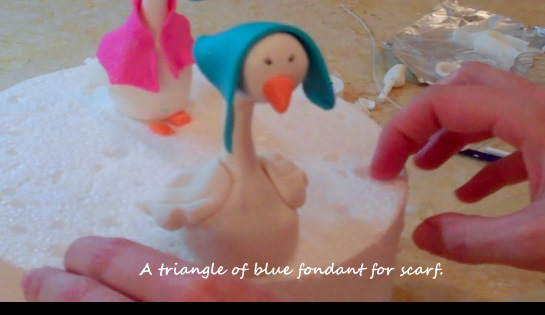 Next, a simple pink shawl from a thin rectangle of gum paste.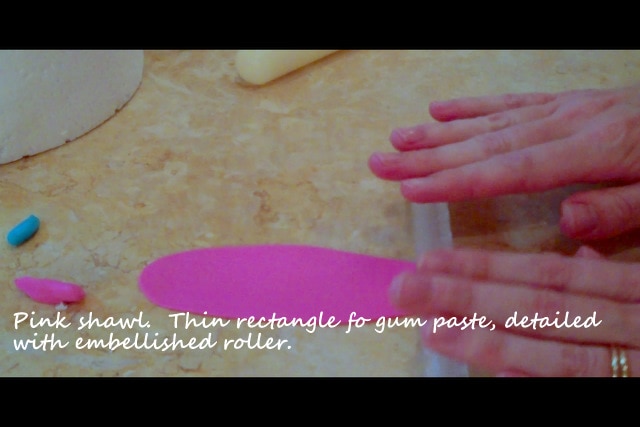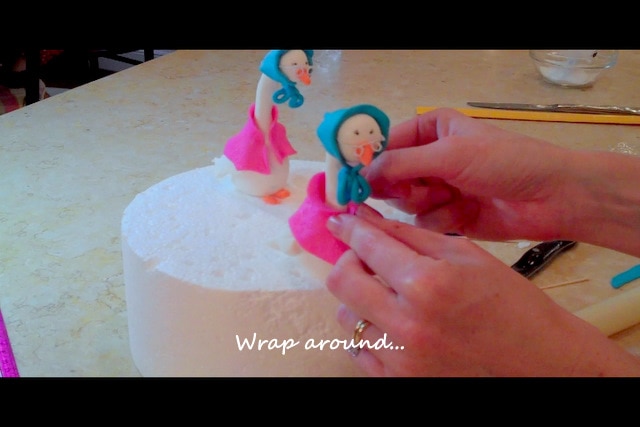 I used a bit of pink petal dust for blush (applied with a dry brush).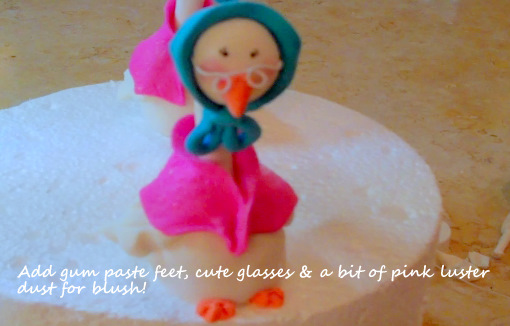 Now you know how to make Mother Goose!  I was able to make her in one sitting since I used a lollipop stick as my support.
If your fondant or gum paste is very soft, a bit of sagging can become an issue as it sits. The best way to avoid any chance of this is to dry the head and body separately for several hours before assembling. Make sure to make your hole in the bottom of the head with a lollipop stick before drying, so that when you assemble later, the head will easily slide onto the neck.
Thanks for stopping by My Cake School!  Don't be a stranger!  :0)