Today, we  have a CUTE Mama Bird cake tutorial to share with a "She's on the Nest" theme! This design would be perfect for baby showers!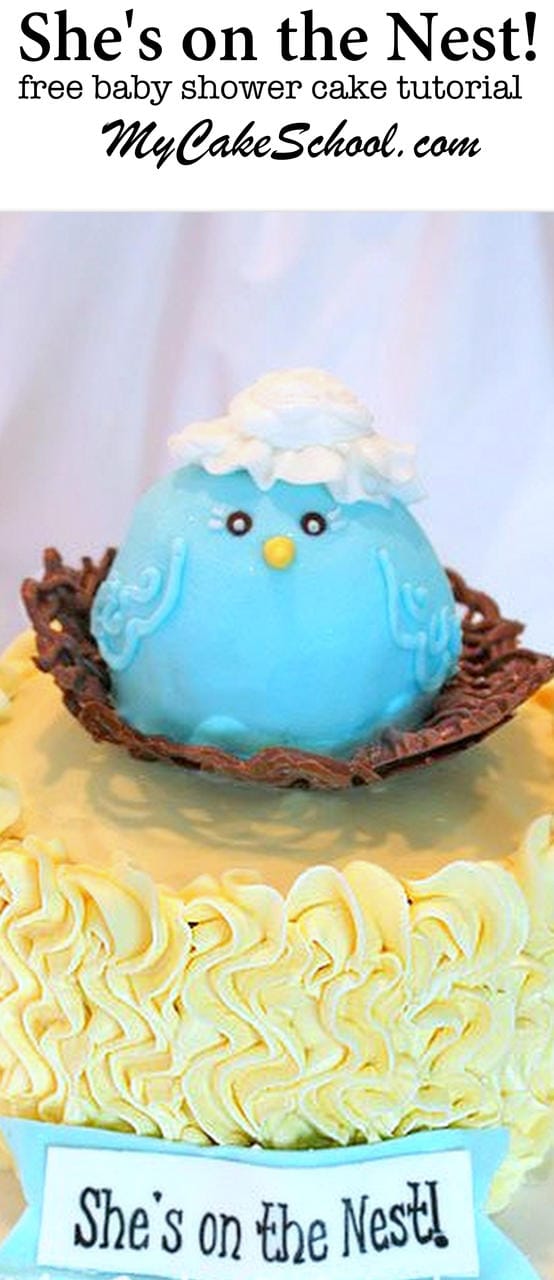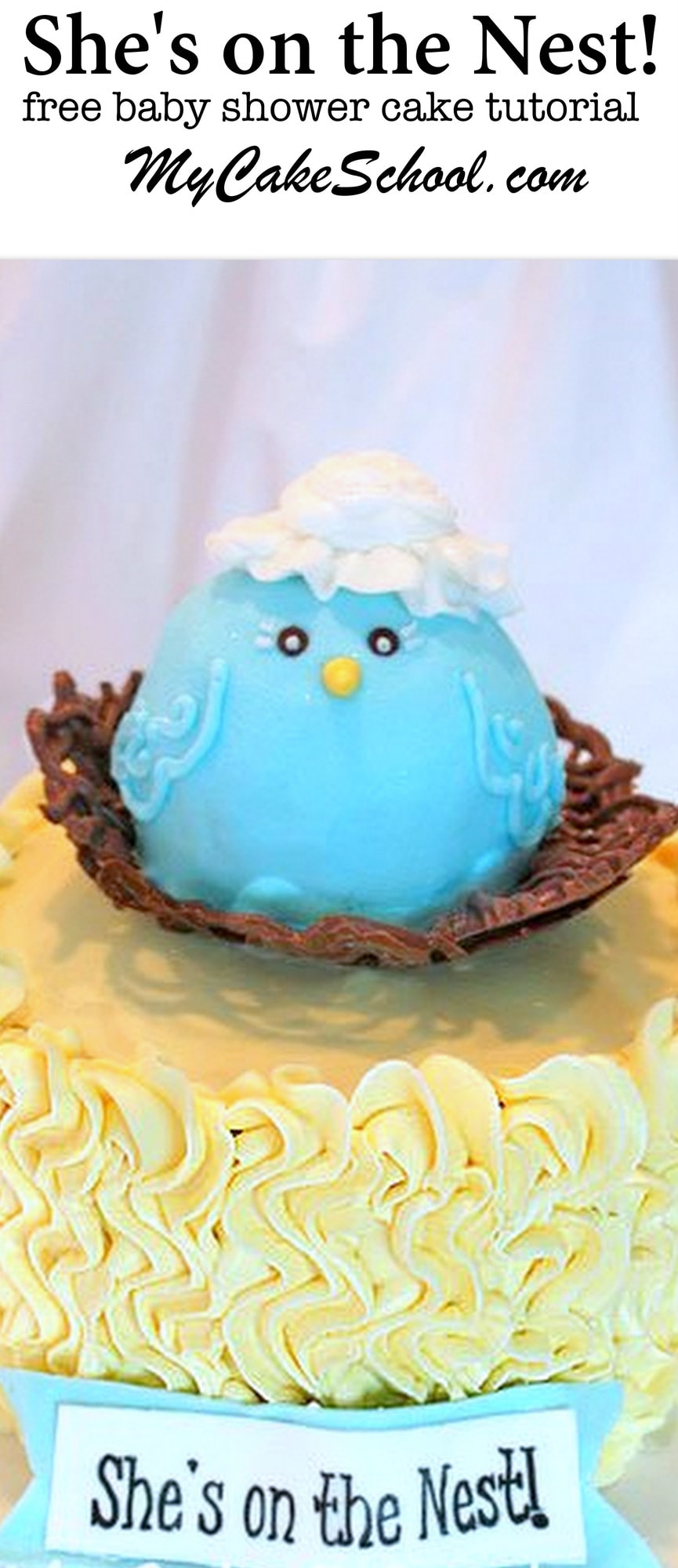 It all starts with a mini wonder mold cake.  Wilton's Mini Wonder Mold Pan (affiliate) can make 4 little cakes at a time.
I usually just fill one or two cavities & make cake toppers from them.  These little domes are such a cute size & shape to work with, and there are tons of design options. We also used them in our coconut drink tutorial (but that's for another day!)
Now, let's get started with our sweet Mama Bird!
It all starts with a little dome shaped cake...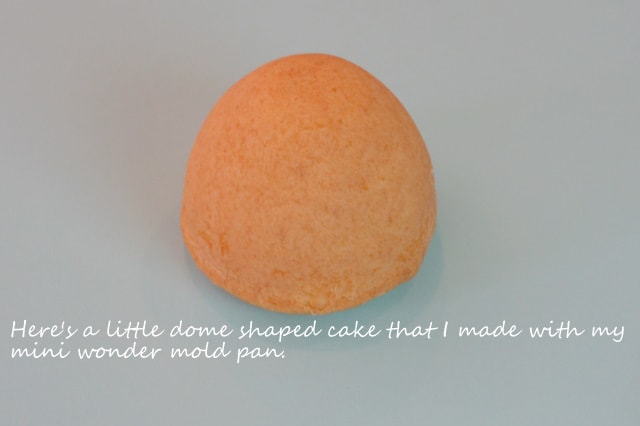 Our mini wonder mold cake is a little wide for a mama bird, so I did a little trimming, especially around the base. This is an optional step but it helped to give the bird a more rounded look.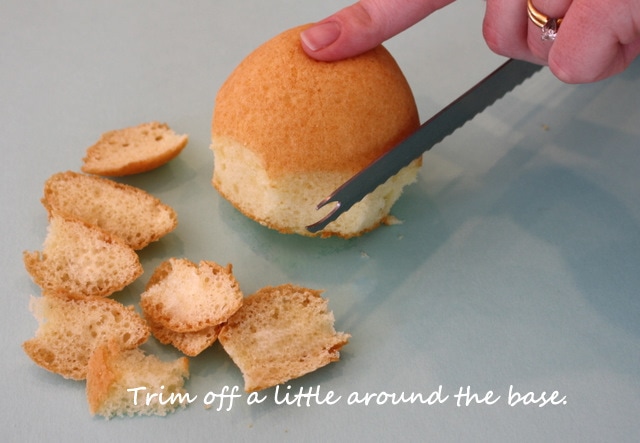 Next, I piped our crusting Classic Vanilla Buttercream onto the cake using a Wilton tip 12.
As you can see in the photo, the little cake is "glued" to an inverted bowl so that I could have an easy platform to decorate on.  This is an optional step. You could also place the cake on a waxed paper lined plate.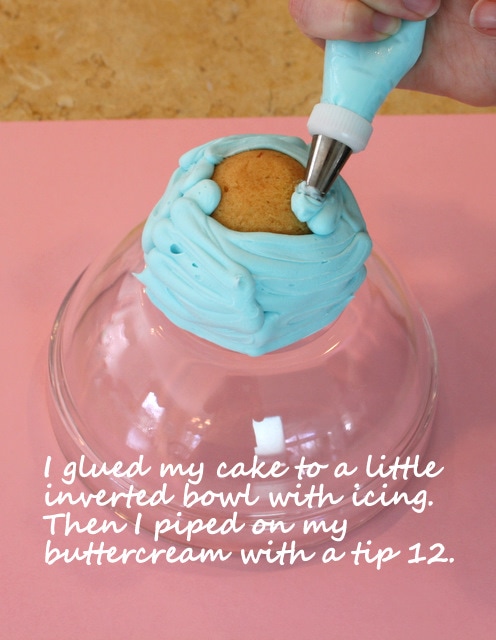 Smooth the frosting as best you can with a small spatula, removing the excess. I felt that I could frost at a better angle (especially towards the rounded base) with the cake boosted on the bowl.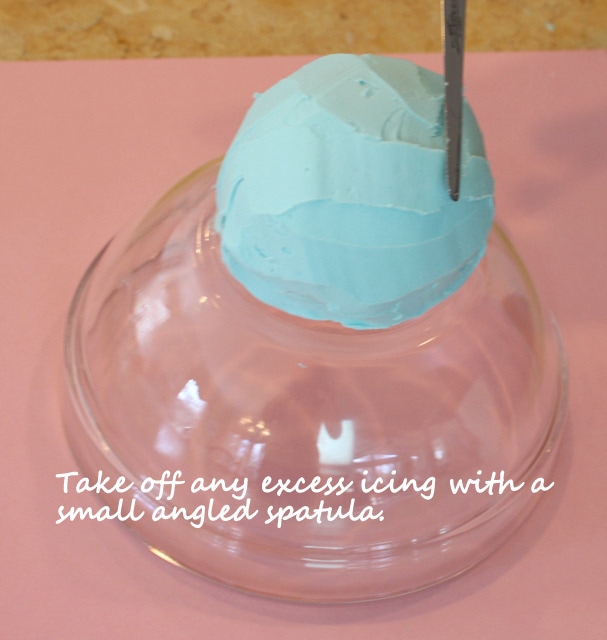 After about ten minutes, I was able to smooth over the crusted vanilla buttercream for a nice, smooth finish.
This technique is referred to as the Viva Paper Towel method of smoothing because Viva brand paper towels have no quilting or impressions.
If you are not working with a crusting buttercream, you could try the hot knife method of smoothing, which involves freezing the little cake (just leave it on the bowl) for 10 minutes or just until firm. Then go over with a hot spatula to smooth things out.
You could also use a little texture on your bird if you'd rather! There's really no wrong way to go here.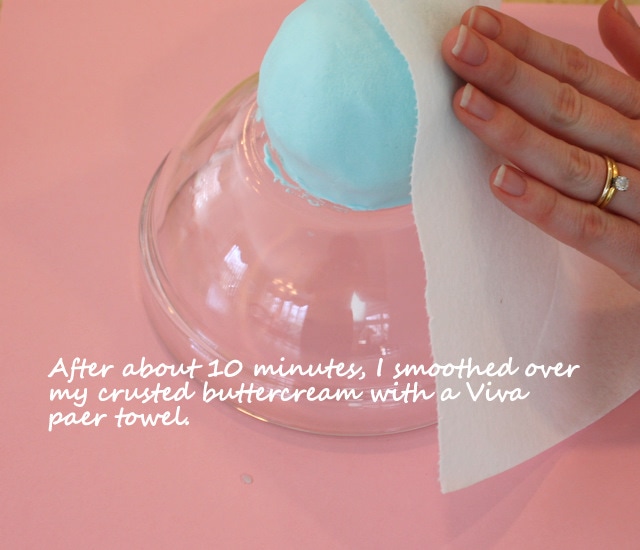 Look how cute!! We added mini chocolate chip eyes and piped on wings, lashes, and a beak with a small round piping tip 3.
The piping for the wings resembles scrollwork but you could also pipe buttercream wings with a petal tip 104.
I love her sweet little face! Next, we're going to give her a little Mama Bird hat. This is an optional step but it's such a simple one and I love the look!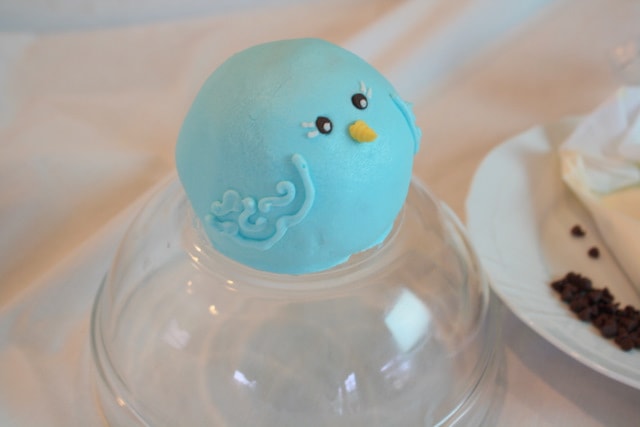 To create the hat I piped a small circle of ruffles with a petal tip 104. (Remember with petal tips, the thin end of the tear drop opening is pointing out so that you get a nice thin edge.)
I finished things off with a nice dollop of frosting in the center, piped with a Wilton tip 12.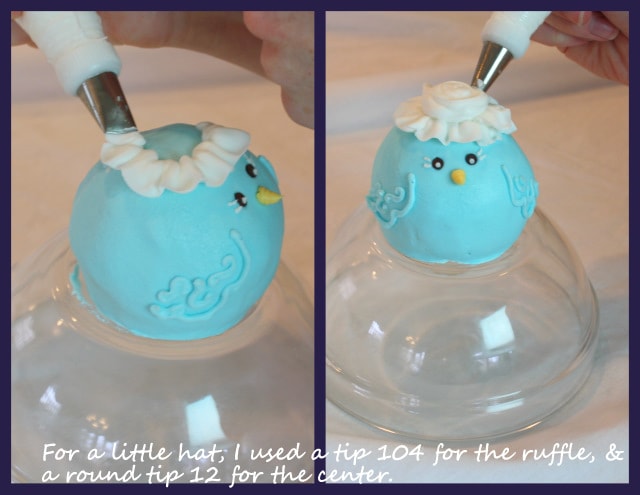 Now that our tiny Mama Bird cake is ready, it's time to make the nest!  I covered a small bowl with foil and pressed it to the depth that I needed. Of course, you want choose a small bowl that is larger than Mama Bird ;0)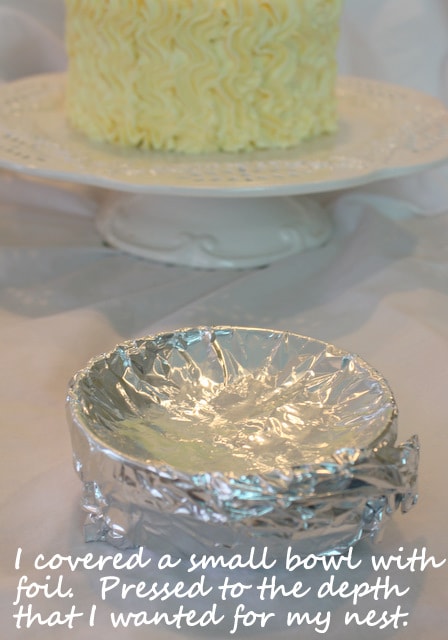 Next, I filled a disposable piping bag with melted chocolate candy coating and snipped away the tip (no piping tip necessary). I piped the nest as you see below. It's a good idea to let the chocolate "twigs" overlap in many places to create a thicker, stronger nest.
Then, I froze the chocolate nest for about 5-10 minutes or until firm. Once firm, you can easily lift it off of the foil form and onto the cake!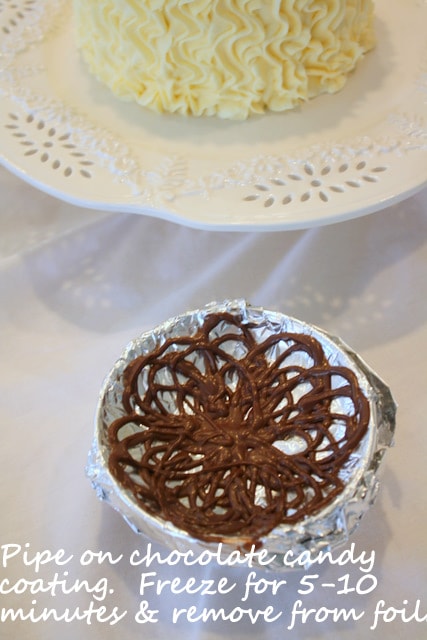 And here we are!  I used a large closed star tip (2D) to create a ruffled effect around the sides of the cake.  This is a wonderful buttercream technique to keep in mind for those days when you need to decorate a beautiful buttercream cake in a hurry!
Our Classic Vanilla Buttercream is tinted with ivory coloring.
I chilled my mama bird in the freezer for about 5-10 minutes until the frosting hardened before picking her up and placing her in the nest!  Isn't she sweet?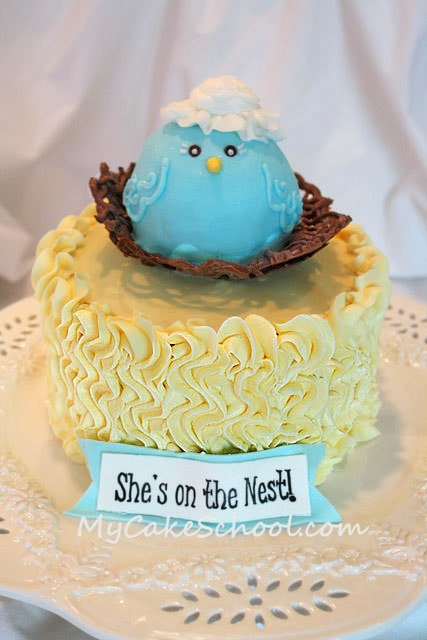 This design would make the most adorable baby shower cake! We hope that you enjoyed this idea and will be inspired to recreate this cake or use some of the fun techniques we demonstrated!
Make sure to check out our other free cake tutorials and videos in our Free Cake Tutorials Section!  We'd also love for you to check out our full collection of tried and true cake and frosting recipes in our Recipes Section!
And finally, if you'd like to learn more about becoming a member of My Cake School, you can find all of the details in our Join section! We'd love to have you! (Members have access to our entire cake video library).
See you again soon! xo