Tis the season for snowmen!! :0) --  Cute snowmen, dancing snowmen, snowmen cookie jars and pajamas....every year, I adopt one or two more.  At my house, the snowman migration from attic to...every room in the house...has begun! -- Naturally, this spills over into my cake designs too!
I had a few requests for a video tutorial of a tilted, tiered cake.  These cakes are the cousin to the topsy turvy cake, and in lots of ways they are simpler to assemble.  Here is my winter themed tilted cake, complete with a happy snowman!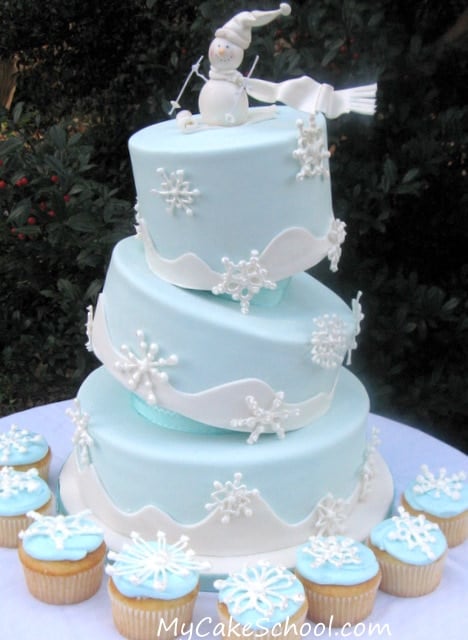 Snowmen aren't the only decorations that make me smile this time of year---I absolutely LOVE snowflakes on cakes and cupcakes.  I love real snowflakes too--- :0)
Here's a quick tutorial on how to make snowflakes---
As you can see, I start with some sort of template---you can either draw some templates of your own, or print off some snowflake clip art.  If you are feeling really adventurous, you can freehand them  :0) --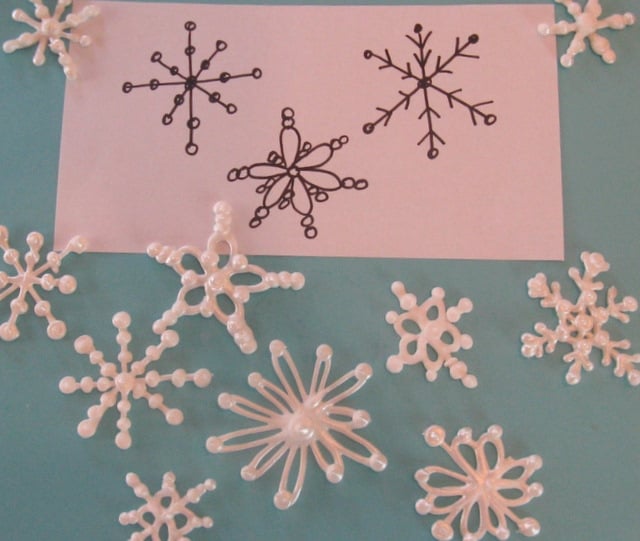 Once you have made your template, just slide it under a piece of parchment paper.  Parchment really is better than waxed paper for royal icing decorations.  It breathes better.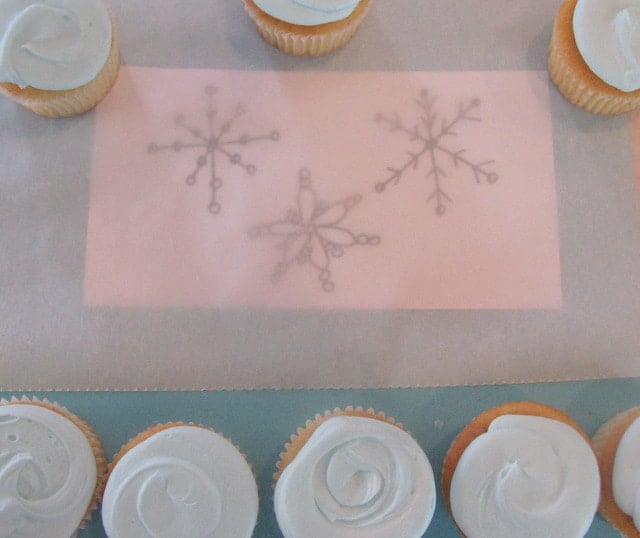 Next....we trace!  Make a batch of royal icing and thicken it with powdered sugar until you have reached a medium consistency (it needs to be able to hold it's shape, but not so thick that it is difficult to pipe with)--  I like to use a Wilton small round tip 3 or 4.
Word to the wise---Trace over your snow flakes a couple of times.  This will make them stronger.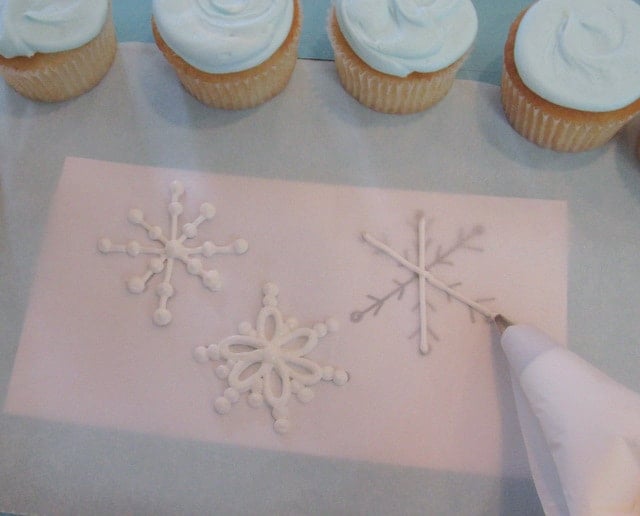 Aren't they pretty?  I like piping dots onto the snowflakes for added texture and cuteness :0)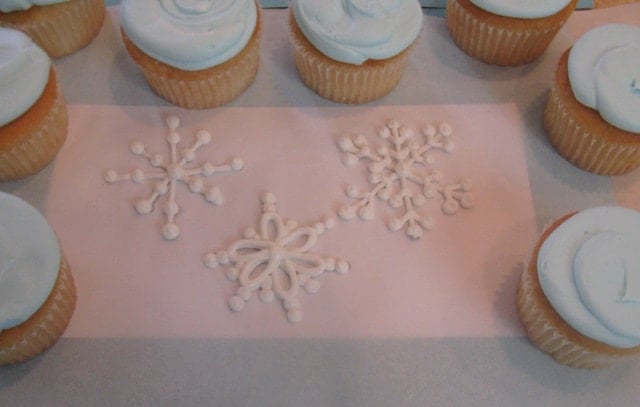 After about 24 hours or so, your royal icing snowflakes will be nice and dry.   Once dry, they will not stick to the parchment at all.  Simply  (carefully) pick them up!  My favorite part of the snowflakes is pearlizing them and adding a little sparkle.  This is an optional step--they are pretty as they are..but I love to dress them up a bit!   If you don't own an airbrush, the next best thing is using the PME pearl spray.  I bought mine at globalsugarart.com.  If you don't have this, the next best thing is brushing on some CK Super Pearl pearl dust with a dry brush.  Instantly beautiful!  I like to sparkle my snowflakes with pixie dust also.  (I buy mine from cakesbysam.com)--
(*In a rush?  You can also create snowflakes using white candy coating/bark coating.  Chill for a few minutes before applying to the cake so that they will be less fragile and easier to handle. "Glue " them onto buttercream cakes with a dot of butterdcream, or fondant cakes with a little melted candy coating.)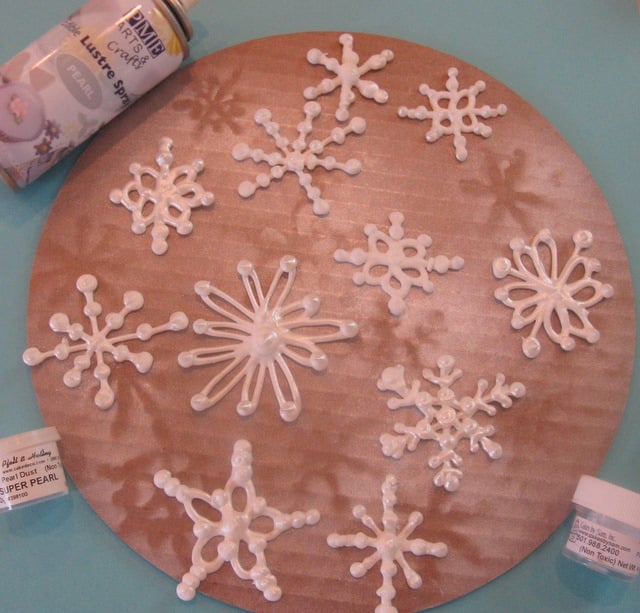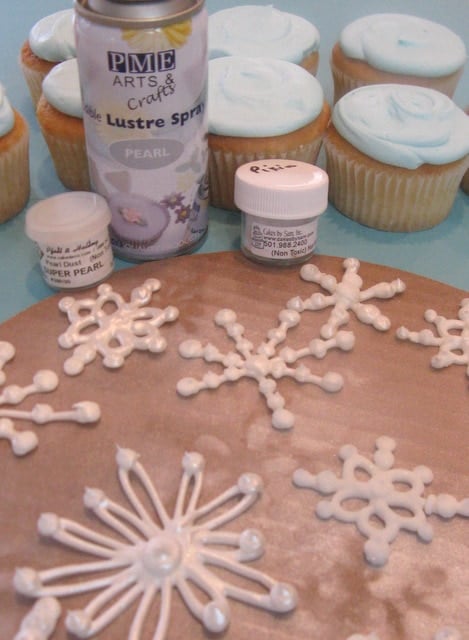 I recommend using royal icing decorations on fondant or a crusting buttercream.  Royal icing and moisture don't get along so well, so don't use with a whipped cream or non-crusting icing unless you are serving right away.  I attached the snowflakes to my tilted cake using just a little bit of royal icing as my glue.  It adheres almost immediately.
I frosted these cupcakes and then let them sit for just a few minutes in order for them to crust.  Then, I added our sweet snowflakes!  Love them!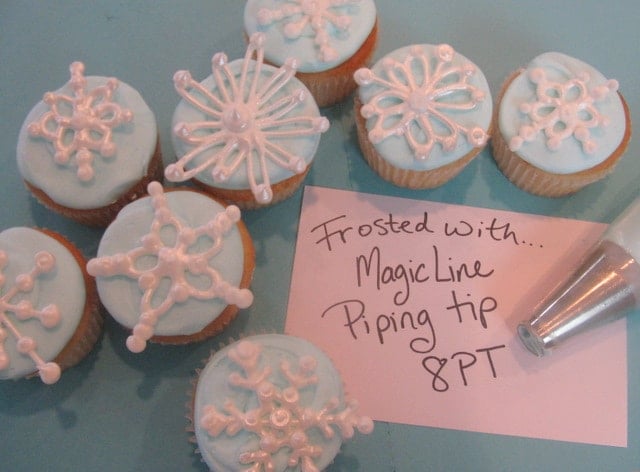 That's all for now, I hope you'll make some snowflakes for your sweets very soon!