Welcome to My Cake School!!
We all have something in common here, and that is a love for cake. Maybe it's a love of cake decorating, or trying out cake recipes… for me, it is both! Here I am falling in love with cake for the first time–birthday cake #1! If only I could still get away with just grabbing a piece out of the middle :0)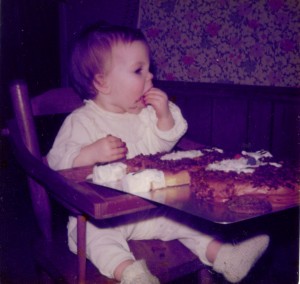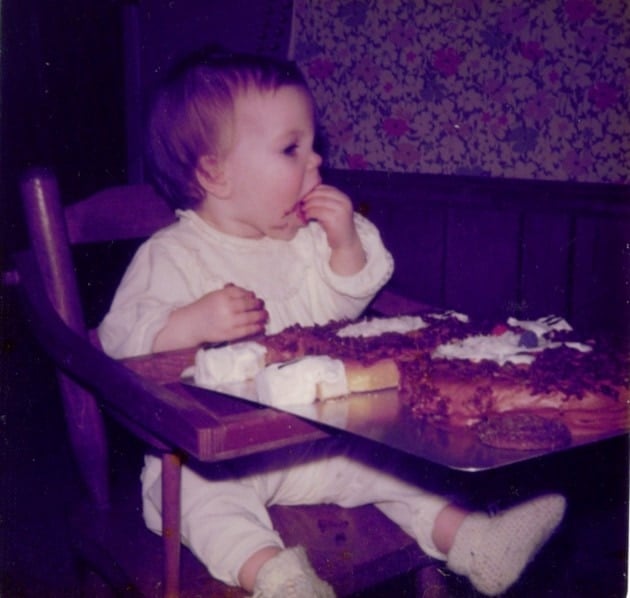 Now, let's jump ahead a little…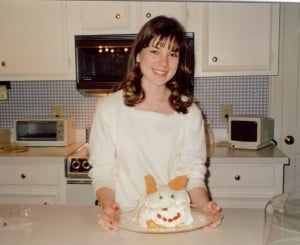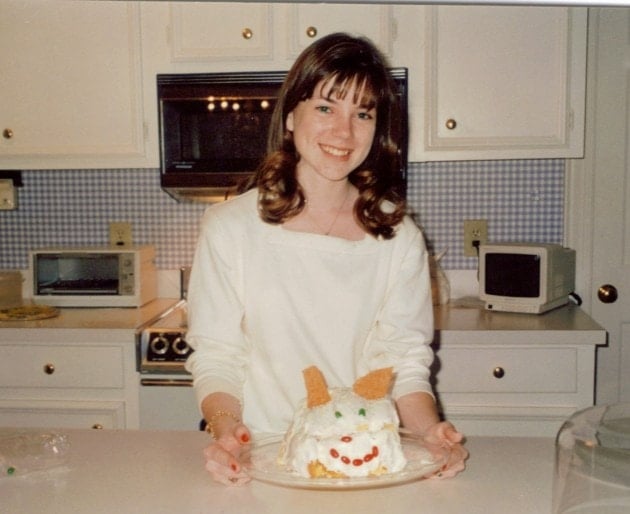 Do you know what I made? I'm not sure that Mom knew, but she took a picture of me anyway with the smiling mound of cake and jelly beans :0) — It was the Easter Bunny!! A proud day for me. (By the way, this is the same kitchen that I film our videos in today!)
Well, many years, a husband and a couple of daughters later, I was determined to find a stay-at-home business. I knew that I wanted something that would allow for a little creative expression…but what? I thought of everything– and made lots of lists of possible job ideas….photography, floral design, party planning, children's book writing?? (of course I had no experience with any of these!) — Then it hit me–
CAKE!!
I can do cake! (I'd already mastered the Easter bunny blob cake..how hard could it be?)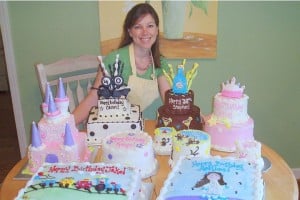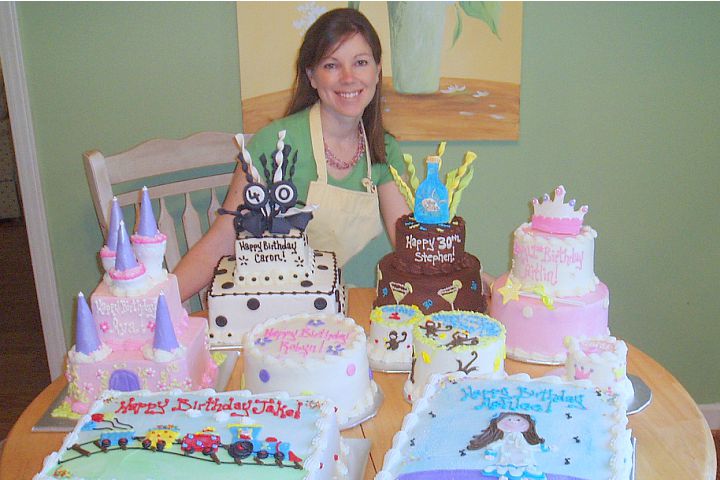 This is me sleeping with my eyes opened! (I really am.) –Let me take this moment to tell you NOT to make this many cakes all at once. Bad idea!
I ran my cake business from home for several years. I learned a lot. I loved the creative outlet, the excitement of coming up with new designs–and I loved being a part of so many celebrations.
About twelve years ago, I took my last cake order as I started a new adventure. Mom (aka BeBe) and I started My Cake School, so that we could teach cake decorating online! We have made hundreds of cake decorating video tutorials and cake recipes over the years!
As of August 25, 2022, we have phased out our paid membership section and now our entire cake decorating video library is open to everyone! Hooray for more cake tutorials!
For those that are discovering our site for the first time, we are so glad that you found us. Have fun exploring and make sure to leave questions or comments beneath our recipe & tutorial posts!
If you are a longtime follower of our site, we appreciate you so much and hope you will continue to stop by and visit often. We are looking forward to sharing many more cake adventures with you! xoxo
Melissa