Thanks for your interest in My Cake School!!
We all have something in common here, and that is a love for CAKE, or at least, cake decorating. For me, it is both! Here I am falling in love with cake for the first time…birthday cake #1!  If only I could still get away with just grabbing a piece out of the middle :0)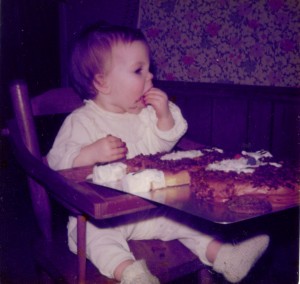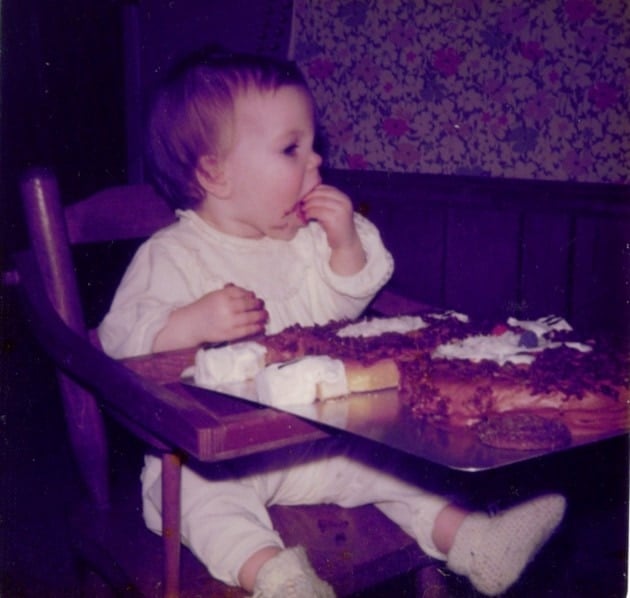 Mmmmmmm…… c-a-k-e!!!
Now, let's jump ahead  about 13 ish years…..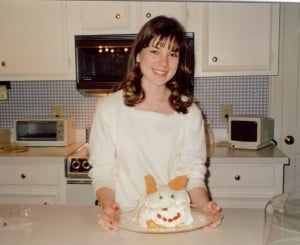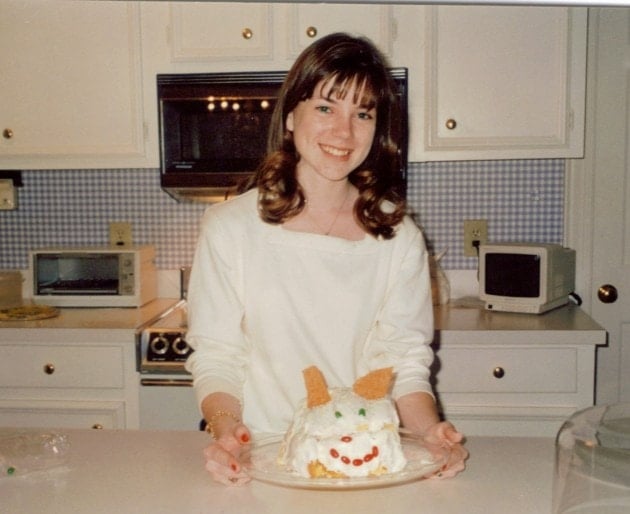 Do you know what I made?  I'm not sure that Mom knew, but she took a picture of me anyway with the smiling mound of cake and jelly beans :0) — It was the Easter Bunny!! A proud day for me.  (By the way, this is the same kitchen that I film our videos in today!)
Well, many years, a husband and a couple of daughters later, I was determined to find a stay-at-home business. I knew that I wanted something that would allow for a little creative expression…but what?  I thought of everything– and made lots of lists of possible job ideas….photography, floral design, party planning, children's book writing?? (of course I had no experience with any of these!) —   Then it hit me–
CAKE!!
I can do cake!!! (I'd already mastered the Easter bunny blob cake..how hard could it be?)–
With much practice on my family and the better part of a Wilton 1 Decortating class under my belt, I took my first order. Then magically, more orders came!  Business grew steadily by word of mouth until a typical Saturday morning looked something like this…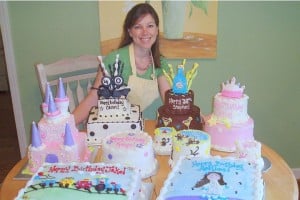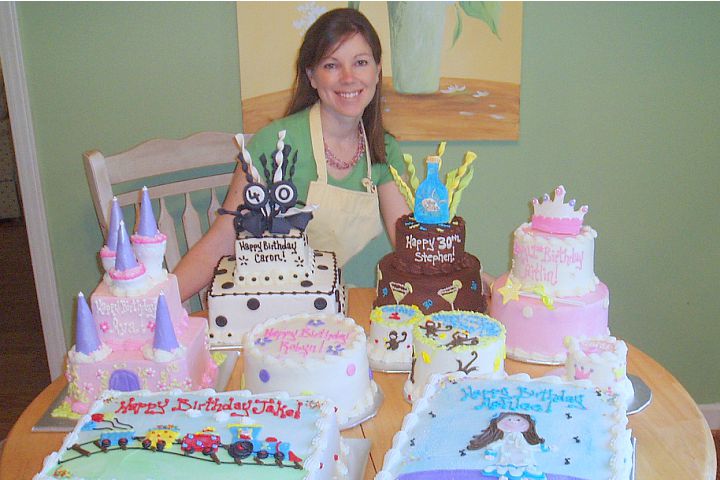 This is me sleeping with my eyes opened! (I really am.) –Let me take this moment to tell you NOT to make this many cakes all at once.  Bad idea!
I ran my cake business from home for several years, running on no sleep, and sleeping at inappropriate times (that could be a post all by itself!)…but I wouldn't trade that experience for anything.  I loved the creative outlet, the excitement of coming up with new designs–and I loved being a part of so many celebrations!!
About five years ago, I decided to take my cake life in a different direction.  I wanted to teach decorating, but wanted some flexibility in my schedule.  I wanted to cover lots of techniques too…and to teach however I wanted.   I also knew that there were lots of cakers and potential cake decorators out there who would love to take a class or two if only they could find the time!   That's when the idea of  My Cake School was born!  Cake videos and conversations on caking are available around the clock–all you have to do is turn on the computer!  We post weekly tutorials in the blog, which are open to everyone…or you can become a member of our site and access ALL of our videos, forums, and recipes! And all while in your pajamas :0)  What could be better?
I hope that you enjoy the site— let's talk cake!
Melissa