Hello everybody! I decided to take a little break from Valentine's Day posts and instead do a fun birthday tutorial. This is one of my favorite themes for milestone birthdays...and it involves chickens!
I've always favored fun, upbeat themes for over-the-hill cakes---and when the time comes for me, I'll take chickens over a tombstone themed cake any day ;0) -- Why chickens? Aside from the fact that they are very cute, I'm playing off of the phrase "She's no Spring Chicken". A funny phrase, but not something I'd like to see on any cake of mine, --so we're twisting it to say "Forever a Spring Chicken". Much better!
Ready to get started?
First, you'll want to use gum paste or fondant to shape a head, body, & wings. Round head, slightly elongated round body, and teardrop shaped wings. Use a toothpick to poke holes where the body and head will come together after they are dry. Its not a bad idea to let the body dry with a little piece of dry pasta poking out. It provides extra support later when you slide the head onto the body.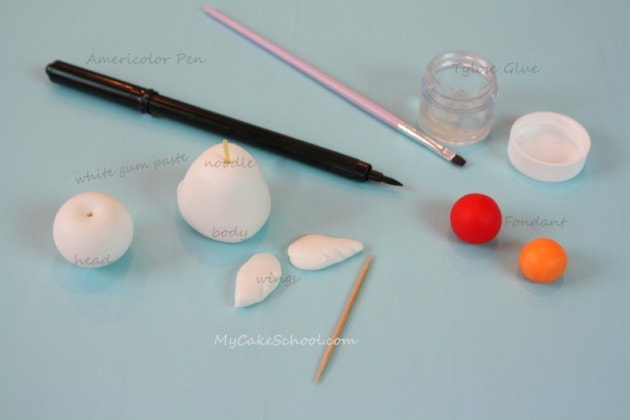 Once the head and body were dry (I dried overnight), I assembled them. (It's good to lightly brush tylose glue, piping gel, or your "glue" of choice on the top of the body before twisting on the head.) I added eyes with my food coloring pen. The wings, beak & comb can be added while still soft, or you can dry in advance and glue on later.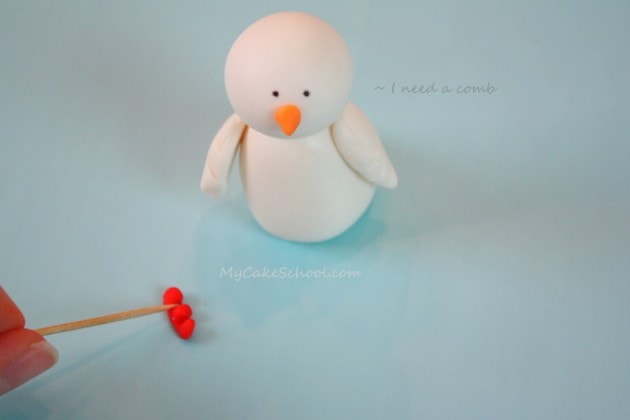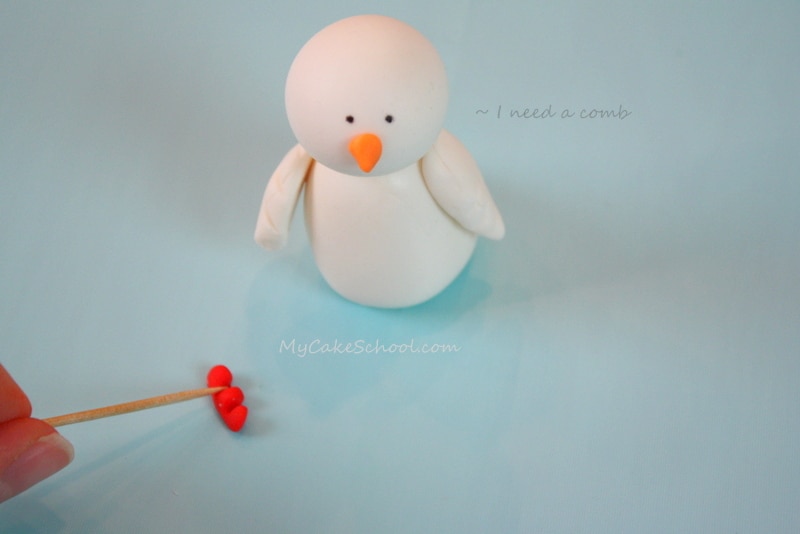 Then, I made another one...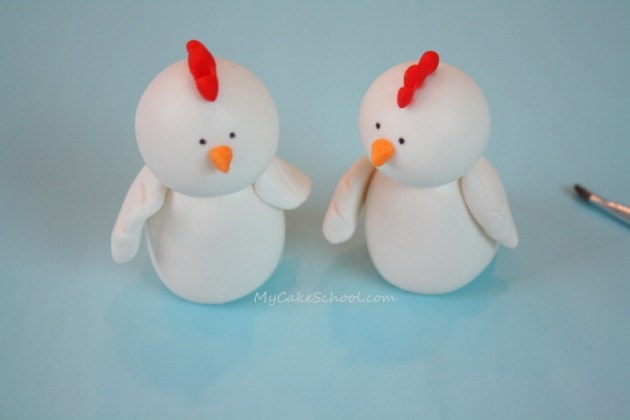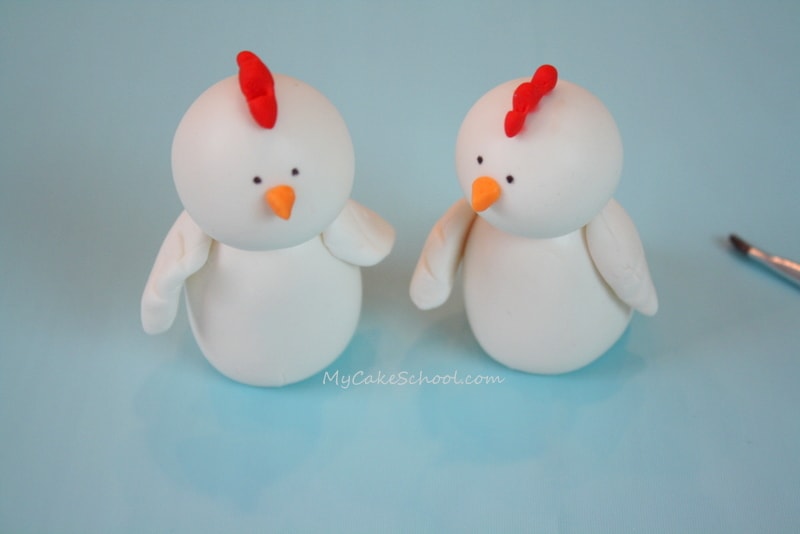 And now it's time to work on our star.  She's going to be laying on her side, so this is how I shaped the body.  Notice the angle of the noodle...   Let the head and neck and wings dry in advance.  I poked holes where the legs will go too.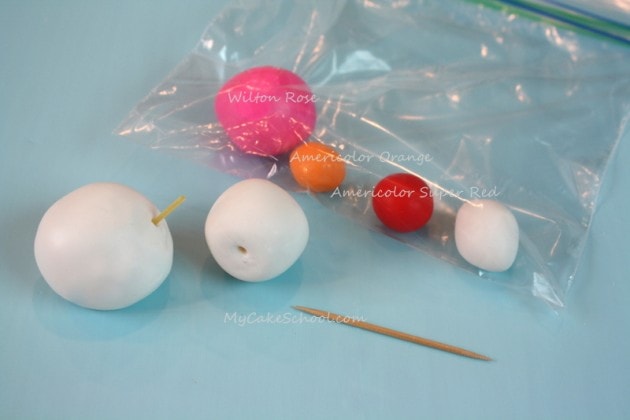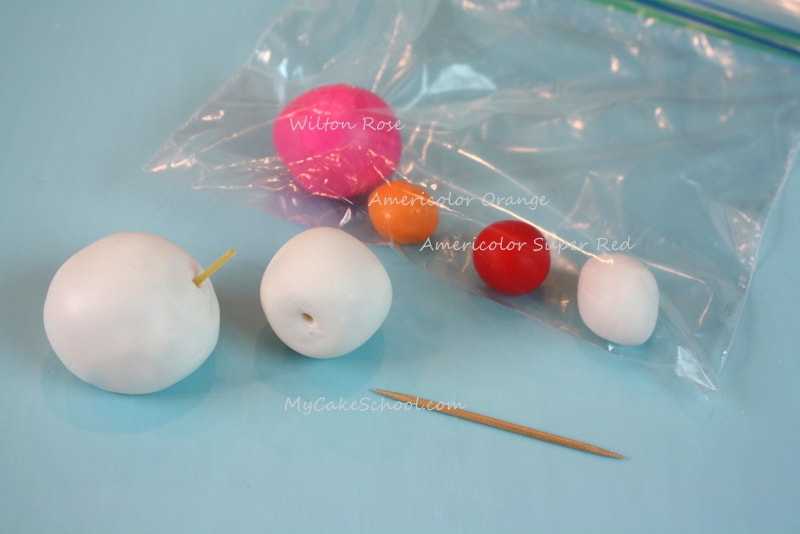 Once dry, it's time to start assembling!  ~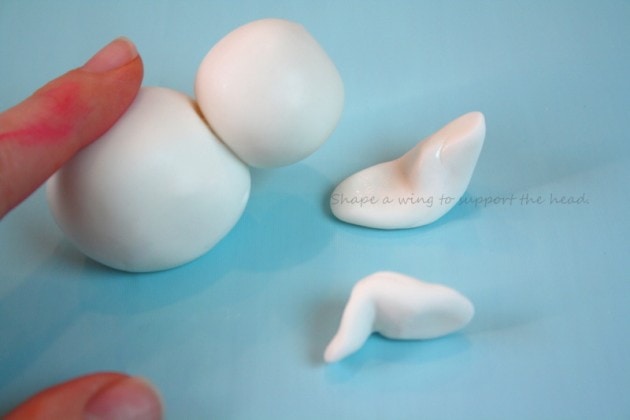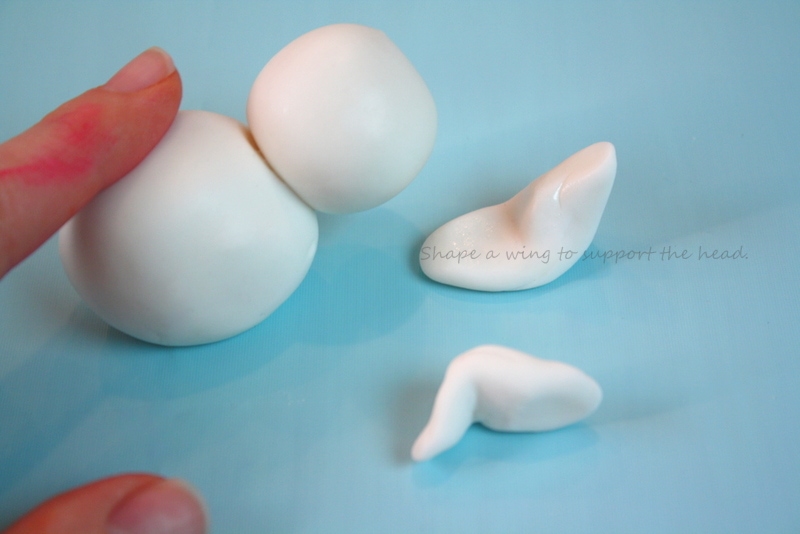 One pair of legs coming up!  (You could make fondant or gum paste legs, but floral wire is so easy.)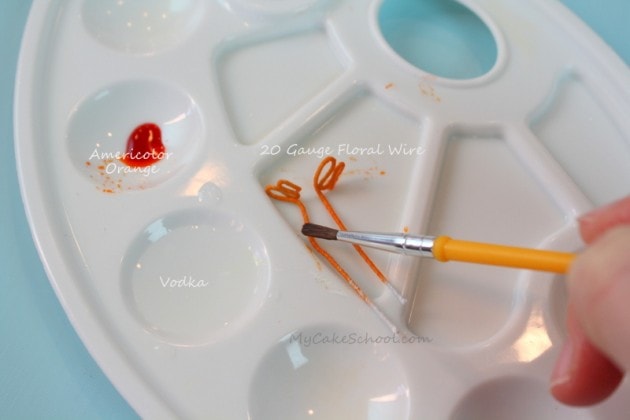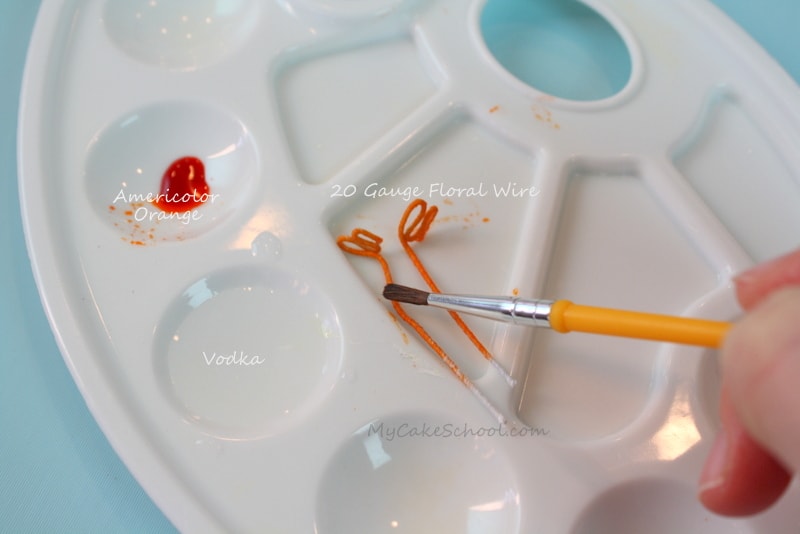 I made a pink fondant bikini top and skirt for our chicken of honor.  I changed the circles to trinangles later..-- she had a last minute outfit change.  I glued the outfit to the bird while the pink fondant was still soft.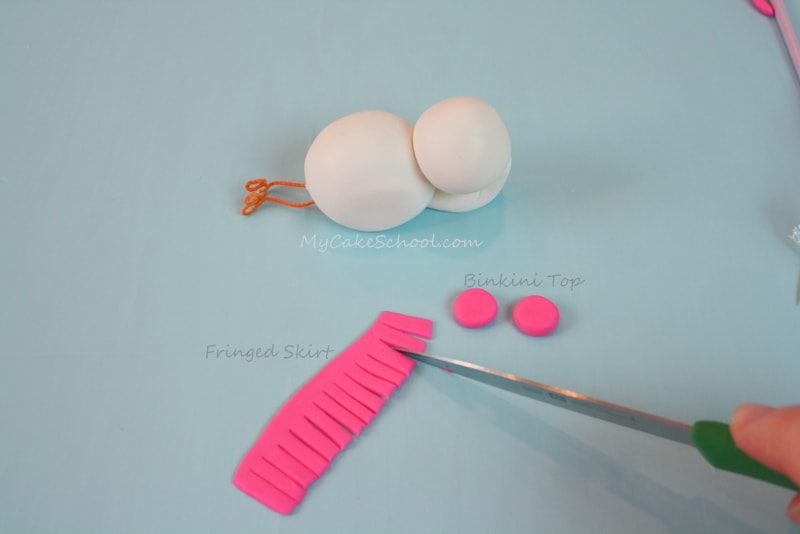 I added accents with my black food coloring pen, gave her a little fondant flower with a Wilton daisy cutter....and glittered her up with some disco dust!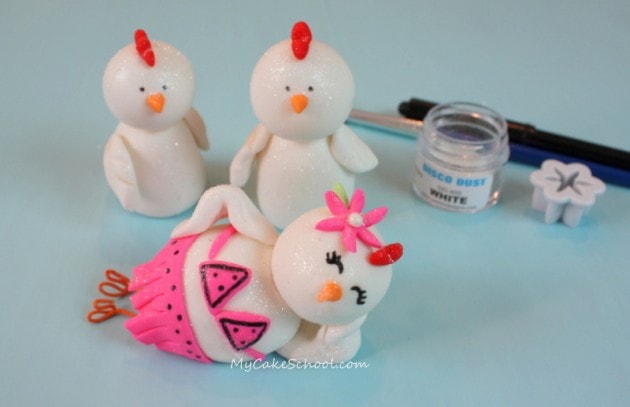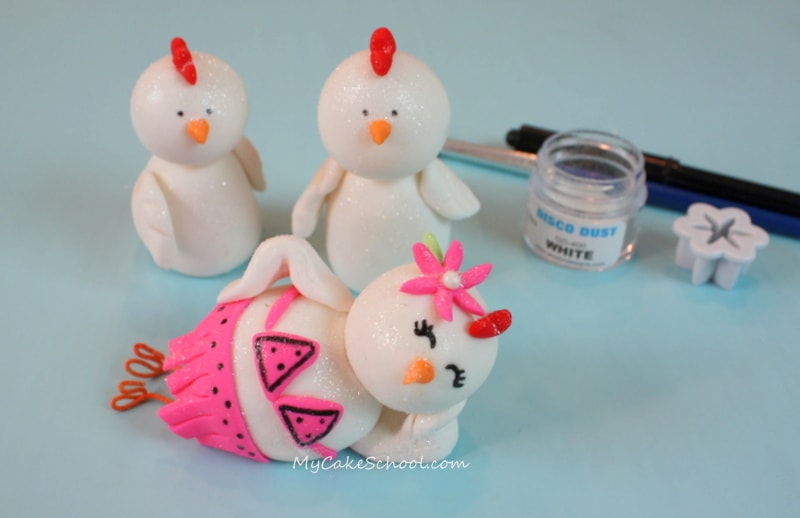 So that's pretty much it---the toppers are done!  But I wanted to show you a design idea for how to tie it all together ;0) --
For today's cake, I covered two tiers in fondant.  One 8" tier and one 4" tier.  Then, I painted on a foxy mama leopard print pattern using "paint" that I created from coloring gel and a little bit of vodka.  Lemon extract  is a good alternative to vodka if you'd rather go that route---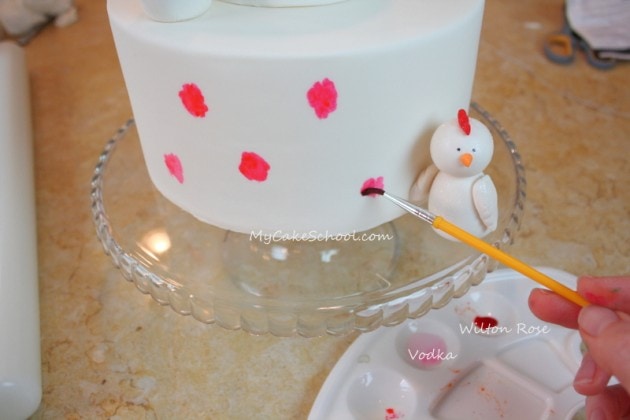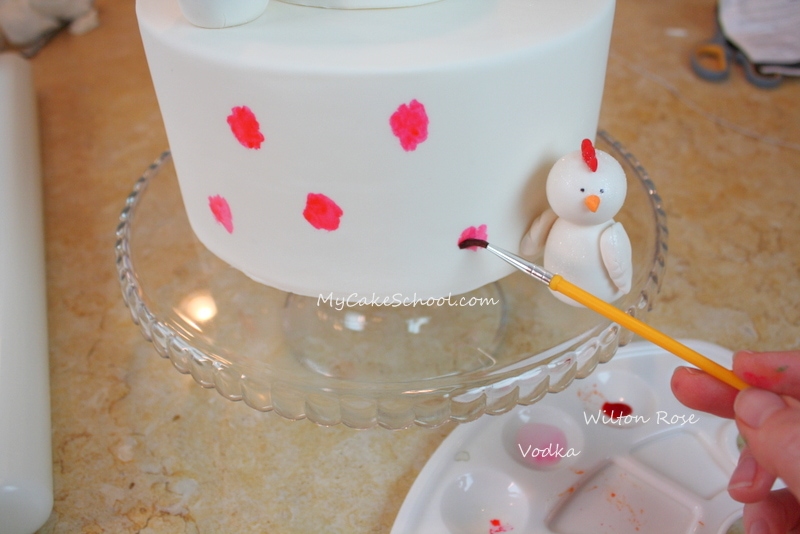 Next, the black.  The chicken is watching... :0)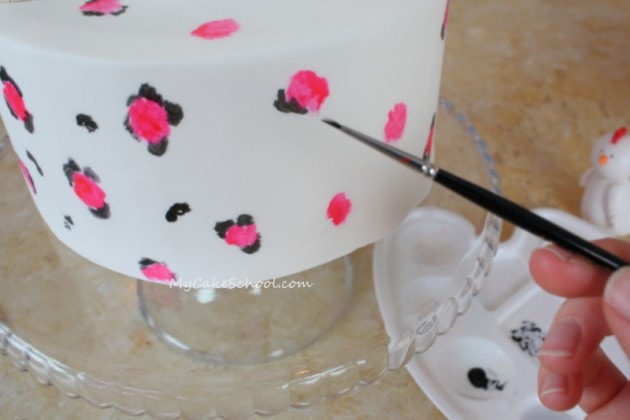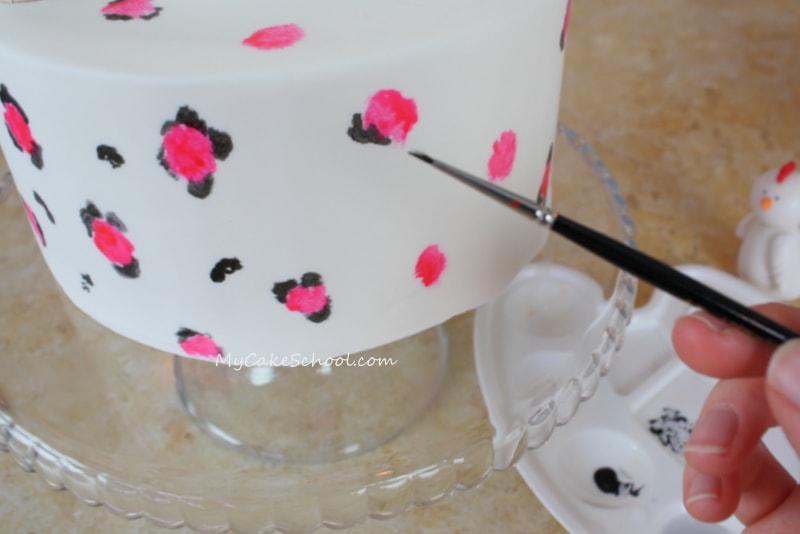 I added a cocktail umbrella to the top, used black ribbon for borders, & made fun little signs for the chickens.  I used a Wilton tip 2 to pipe my message in a crusting buttercream (although royal icing would work well too!)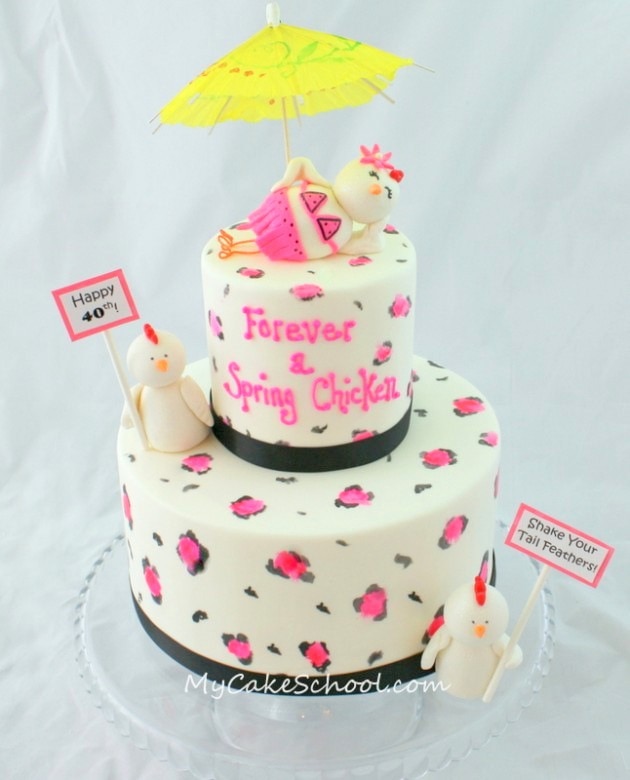 FUN!
I hope that you enjoyed this idea--- if nothing else, you now know how to make a foxy chicken ;0) -- By the way, in the past I've made some other funny signs for the chickens to hold like "Best Breasts in Town" & "Those Legs look Grade A to me!". I'm sure that you could think of some good ones! If you ever try this cake, you must send me a picture!
Thanks for swinging by the blog--see you next time!