Hi everyone-- In today's blog tutorial, we are going to make a super easy gumball machine cake!
This is such a cheerful, colorful design and one that is great for children's birthdays. I've seen some adorable gumball machine cakes online (both stand-up and 2D versions) and was excited to finally give this theme a whirl~ I hope you enjoy our simple take on it!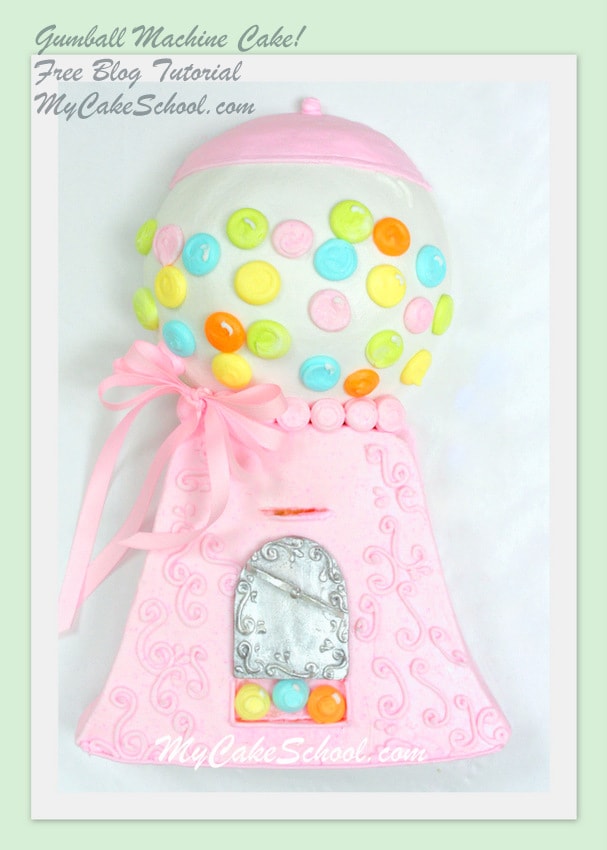 How to Make an Easy Gumball Machine Cake
For our cute Gumball Machine Cake, I started out with a cake from a Wilton half ball pan, and a 9 inch cake layer.
I was shooting for a cake that would serve about 12, but you can easily make adjustments to the number of layers or size to serve more.
Each cake is on it's own cardboard cake circle cut to the size of the cake. This makes it much easier for me to move them to their final cake board after frosting.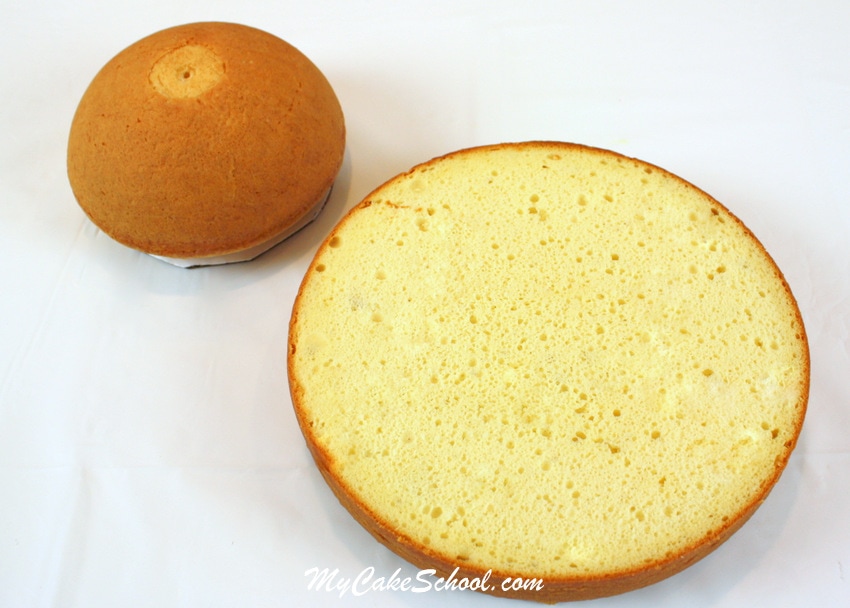 The half ball cake will be the top of the gum ball machine, so it is already perfect. We'll get back to that in a minute. -
Our single layer 9" round needs a little reshaping. To cut out our shape, I created a template from parchment paper. Then, I used an Americolor food coloring pen to mark off where I would be trimming after centering the template on the 9" round.
I trimmed some from each side as well as across the bottom. You can create your own template based on the size cake you are working with, or you can use mine by clicking HERE.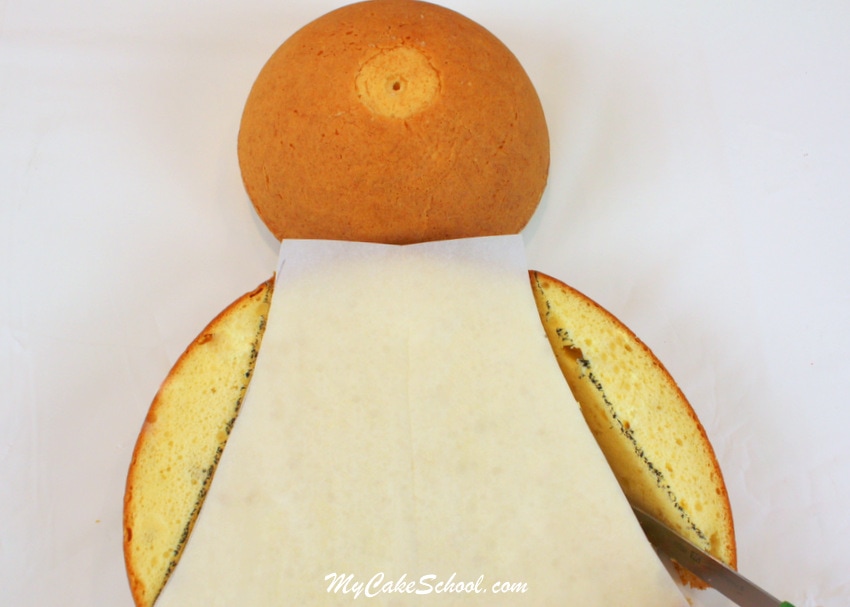 Now for the frosting! Use whatever you'd like--I like to use a crusting buttercream so that I can smooth it with a Viva paper towel (Viva is a good choice because it has no quilting or pattern.). -- Here is my frosted cake before smoothing...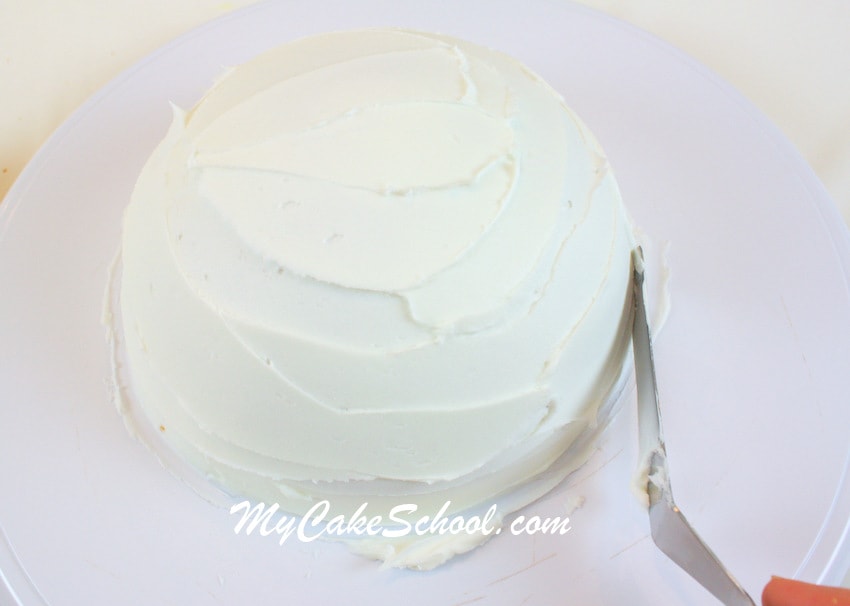 and here it is after..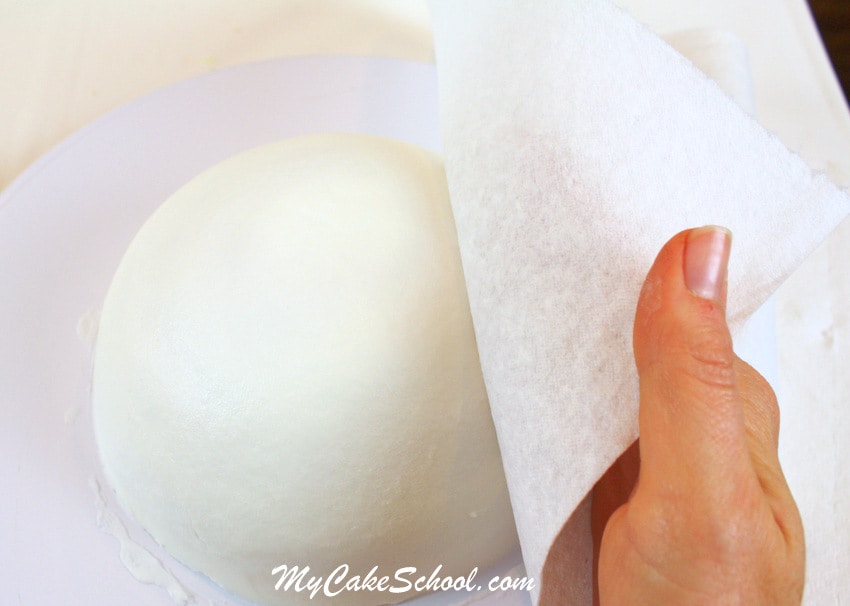 Same method for my carved 9" layer which will be the body of our gumball machine. It was frosted with buttercream tinted Americolor Deep Pink.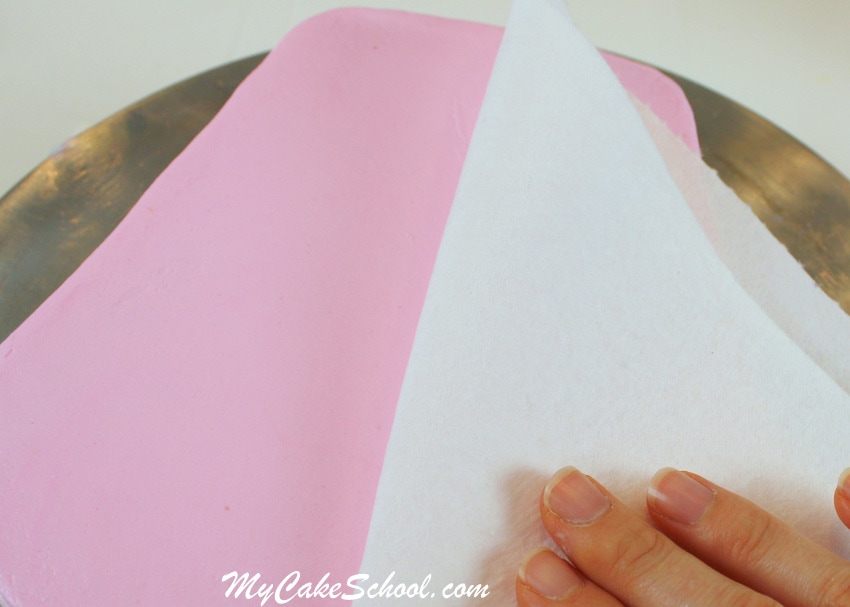 After both cakes were frosted and smoothed, I let them chill in the freezer for about 5-10 minutes (or until the buttercream has just firmed up), and then moved then to the cake board.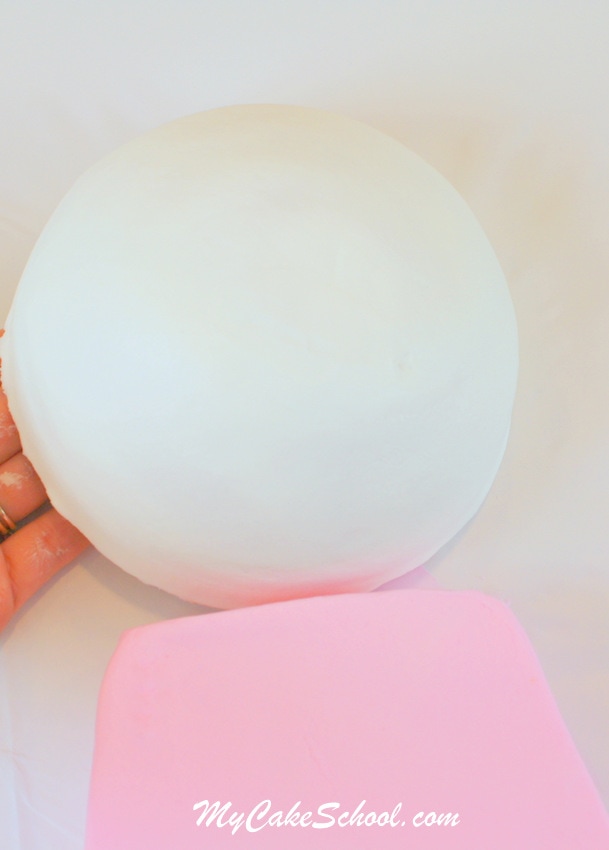 Now, for my favorite part...the metal plate on the front! This plate can be done a few different ways...and all with good results. So, if my way seems a little much, just know that you can do your own twist with fondant or even buttercream.
I wanted to make my metal plate out of candy coating--and in this case, I melted 20 white Wilton candy melts and 4 black. Then, I reserved a little for piping later (just a small amount) and spread the rest about ¼ inch thick onto a waxed paper lined cookie sheet.
Next, I let the chocolate set up for maybe 3 minutes in the refrigerator...not long at all. If I was more patient, I would have let it set up at room temperature...but I couldn't help myself! You want the chocolate to be set up but not really cold or rigid.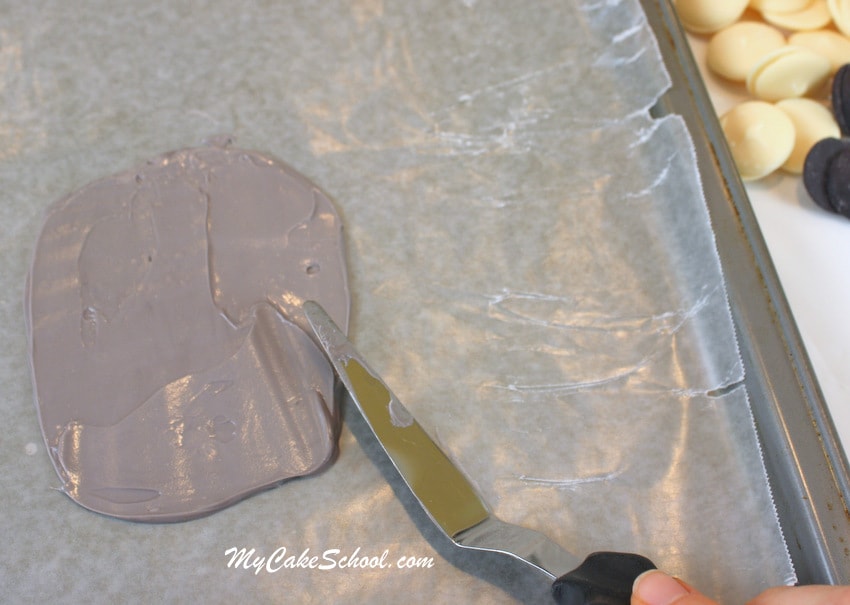 Next, take a sharp knife or x-acto knife and use my templates as a guide to cut out your shapes! In case you missed our link above--click here to see the templates.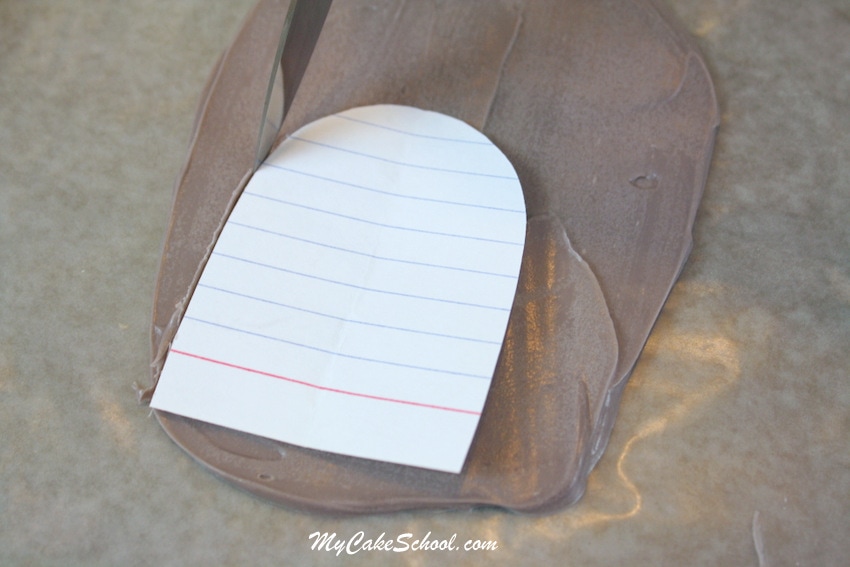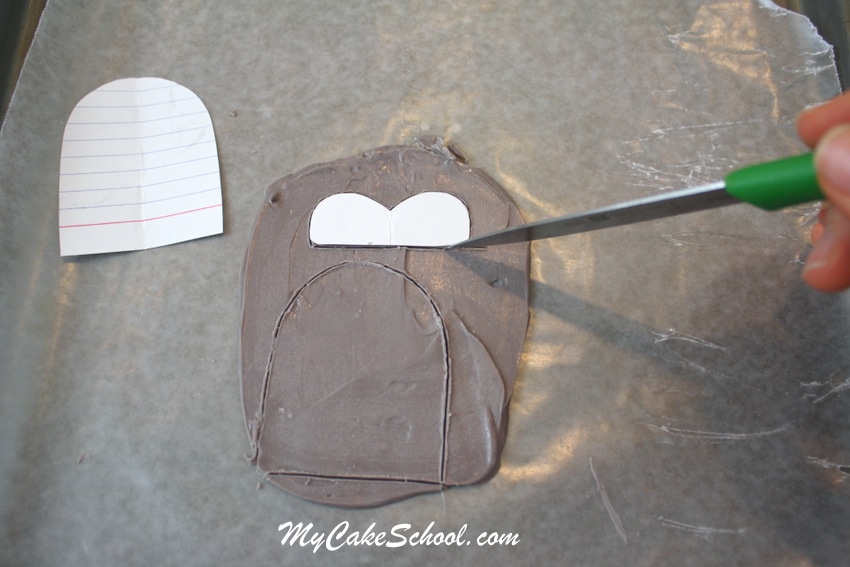 I placed the cookie sheet in the freezer for about 5 minutes or until the chocolate was firm. When I applied the slightest bit of pressure, the shapes popped right out. I attached the wind up piece to the metal plate with a little melted chocolate.
Things are starting to come together!
Remember the bit of chocolate that we reserved earlier? That's for this next part. Using a Wilton tip 4, I piped a little scrollwork over the chilled plate. This is completely optional, but it's a nice look! Then, I chilled the decorated plate in the freezer for 5 minutes more, until the scrollwork was firm.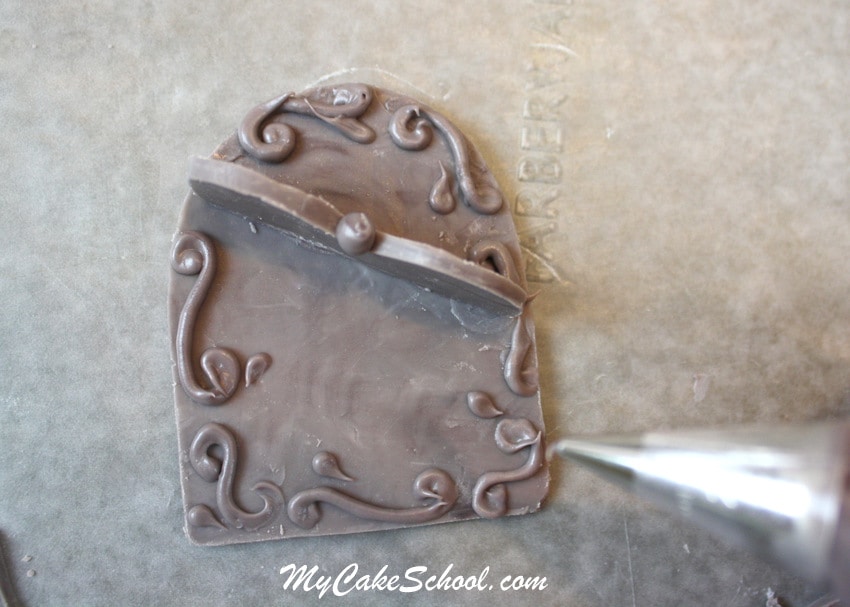 At this point, the plate could be finished--it is a nice grey shade which would work just fine for our cake. But, because I have some dusting powders on hand, I wanted to put them to use. I experimented with both pearl dust and silver luster dust on scrap chocolate pieces, and found the look to be almost identical. Ordinarily, the pearl wouldn't look silver...but on top of grey, it does! So, I brushed over my entire piece with a dry brush and Super Pearl dust.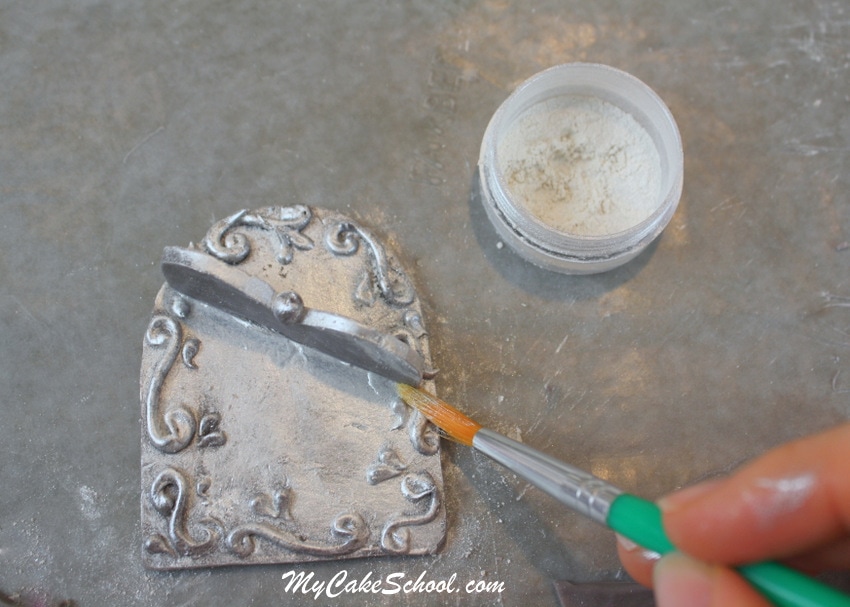 Up close! This made me so happy! ;0)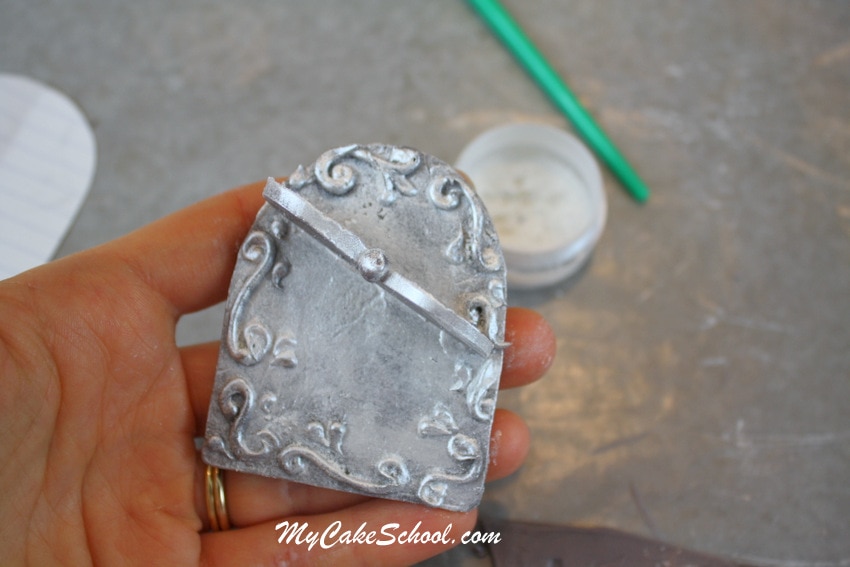 Now...back to the cake. I separated the buttercream into styrofoam bowls and started tinting colors: Americolor Lemon Yellow, Sky Blue, Electric Green, Orange, and the Deep Pink that we already had mixed up. Then, I fitted my piping bags with medium sized round tips to make the gumballs--I used Wilton tip 12. I also used the tip 12 to create the pink ball border that you can see below. I love the 12 tip ;0)!
A fun variation would be to use real gumballs or chocolate Sixlets candies (which look like gumballs).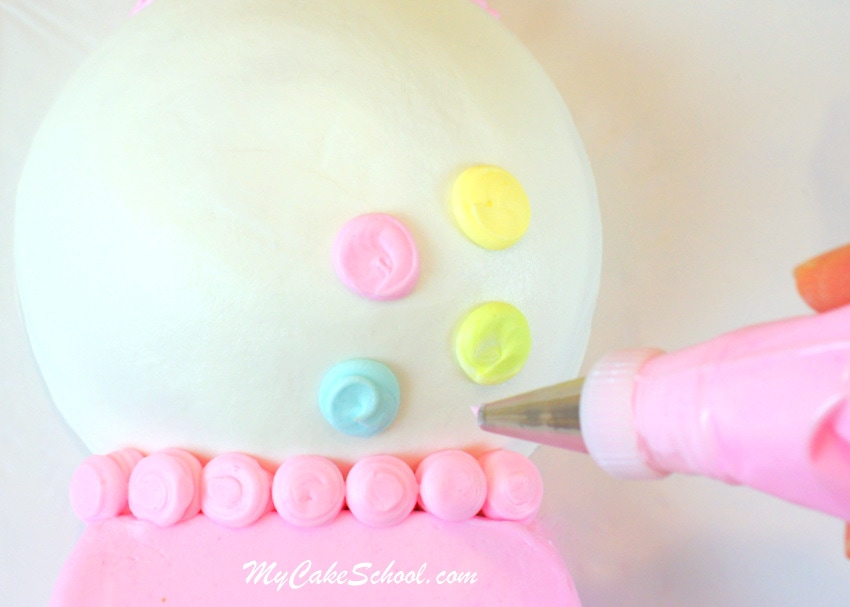 I placed my silver plate onto the cake and piped a little pink scrollwork for decoration with my Wilton tip 4. I was in a scrollwork kind of mood but you could leave it plain or even go striped!
You can also see below how I decorated the very top-- just frosted in pink (I piped on the frosting with a tip 12 and smoothed it), and then outlined with a tip 4.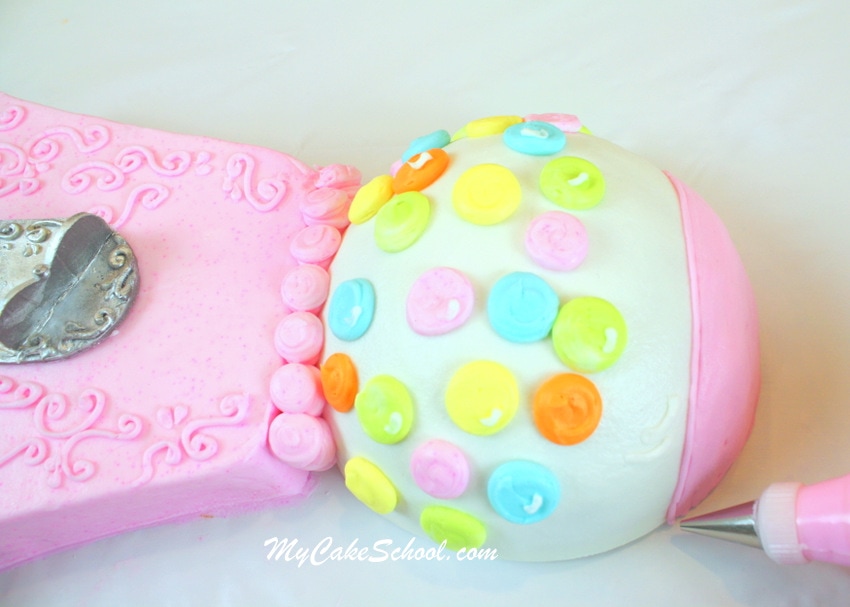 Once my frosting had crusted, I used a toothpick to create the coin slot. This could have been piped instead, but I liked the look.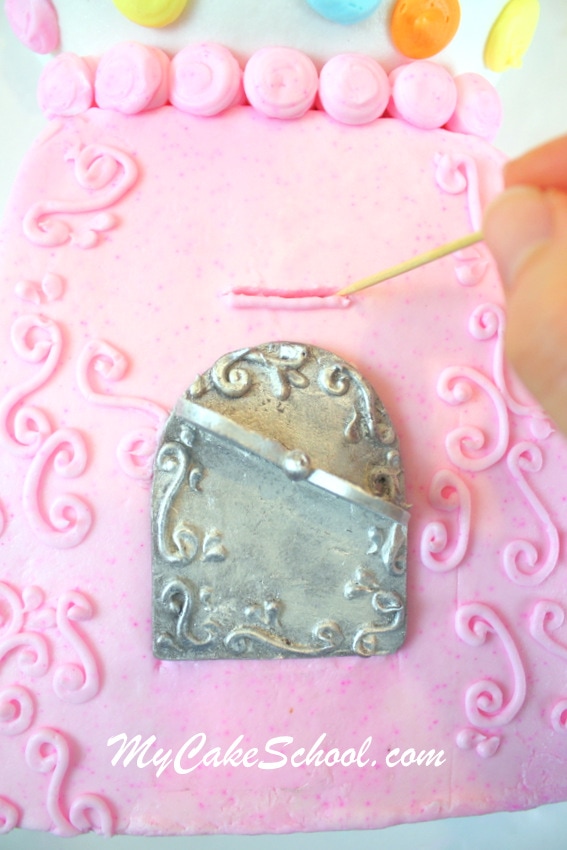 I also used a toothpick to outline the gum ball "chute" just beneath the metal plate. I removed just a little bit of frosting within that outline to give it a little dimension, but that is completely optional.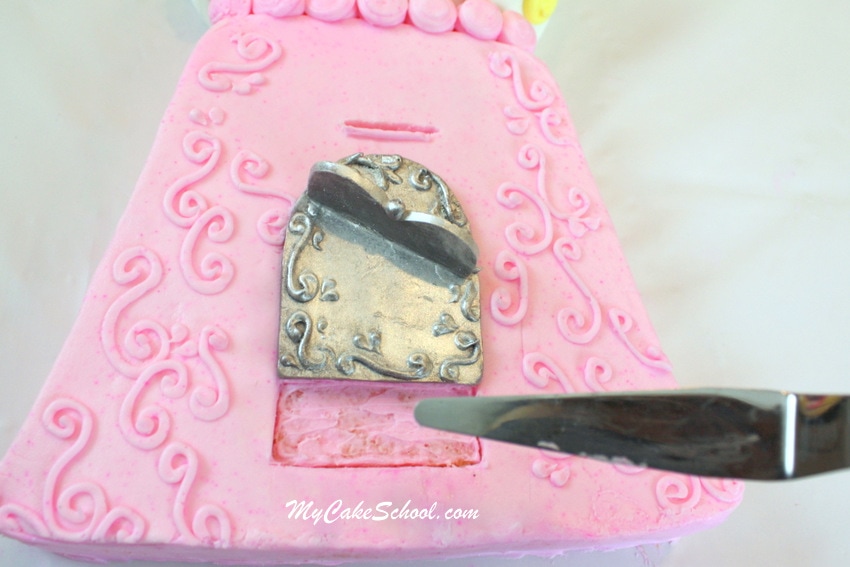 Then, I piped more gum balls with a tip 12 (I held the tip further away from the surface this time so that they would be puffier!). An alternative would be to use real gumballs ;0) --I finished things off by outlining with a tip 3.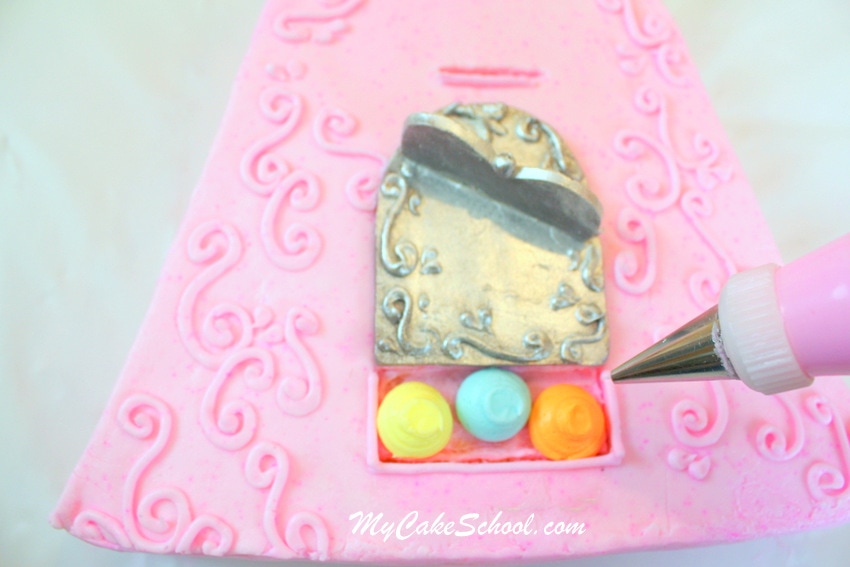 And finally, I added a little ball of pink buttercream to the very top (tip 4), and attached a bow to the cake with a little dot of buttercream.
Finished- hooray!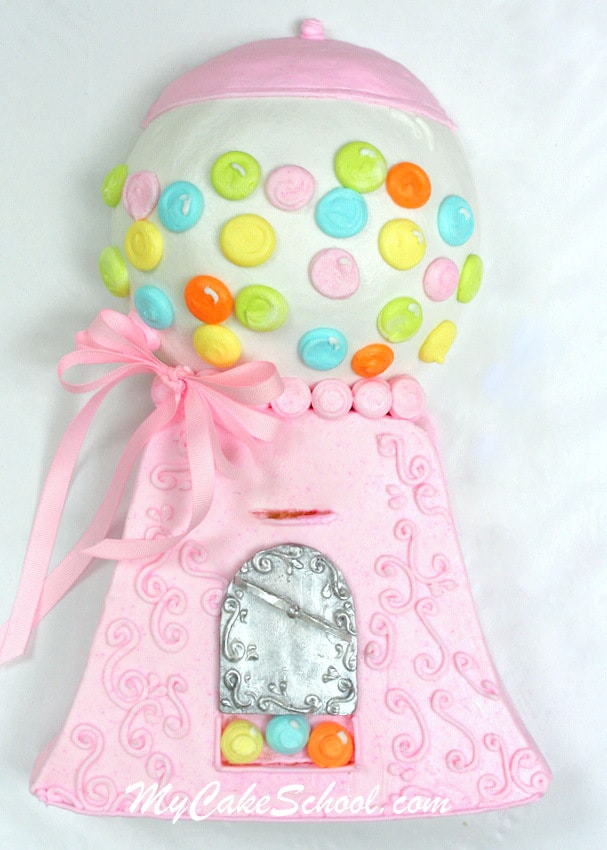 Thanks for stopping by the blog--and I hope that you give our sweet little gumball cake a try! See you next time ;0)