Today I had the best time making an Easter tree for my cake!
Last October, I really wanted to do a blog tutorial on how to make a "Halloween tree", but ran out of time.  I'm glad that I didn't make it then, because I like this design even better!  --   This is one of those cakes that takes a little bit more time to make than the usual cake decoration, but it is so much fun that you don't mind  :0).  In fact, if you have any little ones, they will love making the ornaments and decorating the tree!
I started out with some 20 gauge, fabric covered floral wire.  Any gauge that will hold it's shape nicely will work--just remember that it needs to be able to hold up a few lightweight ornaments.
Next, I coated my wire with a tiny bit of piping gel.  This is because I went on to pipe royal icing dots onto the wire and without the piping gel, it's trickier to make the dots stick.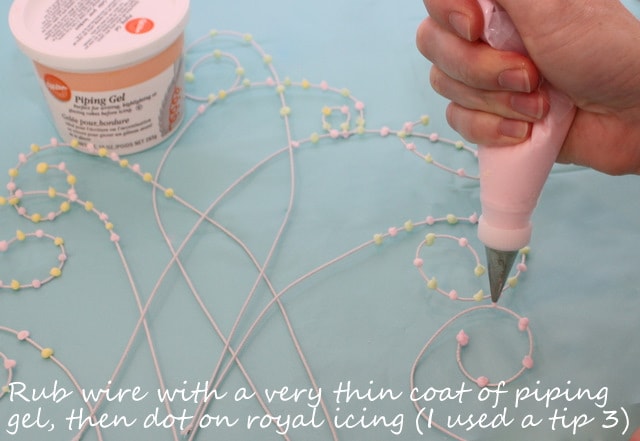 After about 30-45 minutes of dry time, I taped my wires together with a  piece of clear tape.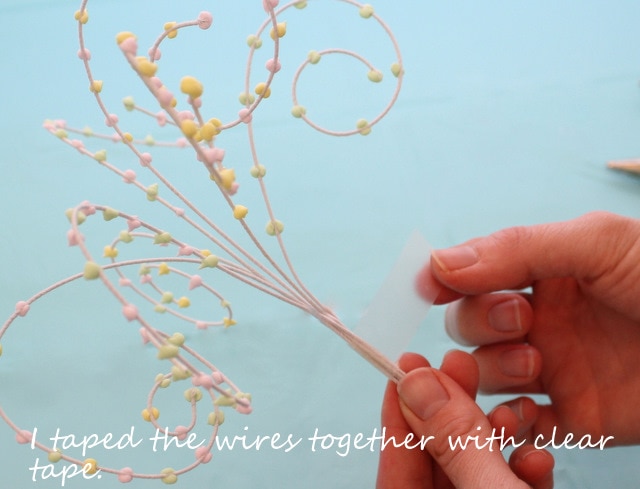 Next, I slid all of my wires into a clear drinking straw to create a "trunk".  The straw stopped at the top edge of the tape. so that everything was covered.  Then, I pushed everything into the center of the cake!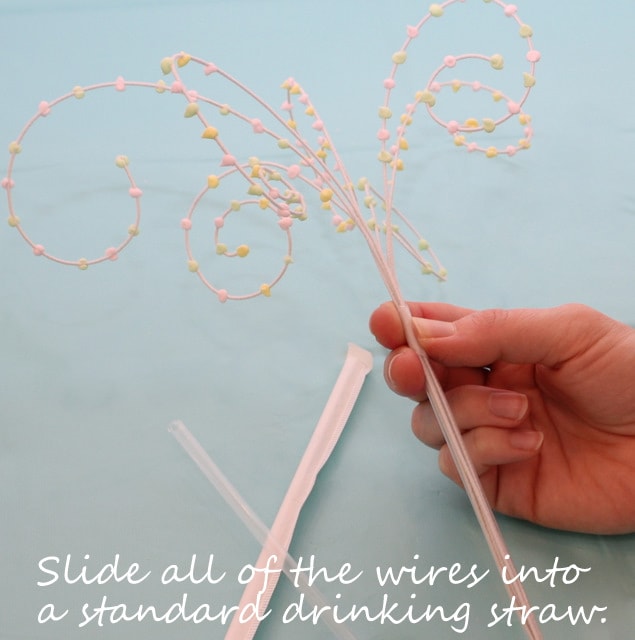 Time for ornaments!!!   This was my favorite part.  I made several ornaments a couple of days ago from gum paste that I rolled to ¼"- ⅛" thickness, and then cut out with a small oval cookie cutter (1  ½").  You could also use fondant but I would recommend kreading in some tylose or CMC to speed up the dry time.  After cutting my shapes, I made a hole in them with a toothpick.  Today, I looped a hook of thin floral wire (I used 26 gauge) through the holes and hung the ornaments on the tree!  The royal icing dots on the branches allowed me to hang several ornaments on each branch without them sliding too much.
I made some other ornaments too with small Easter  jelly beans!  I just snipped off some floral wire and drove it into the jelly bean.  (You may need to poke a tiny hole with a toothpick first to break the jelly bean "shell", then just slide in your wire and hook it on one end.) --The wire in the jelly bean probably kills any chance of it being food safe--but it is just so cute not to hang on your tree!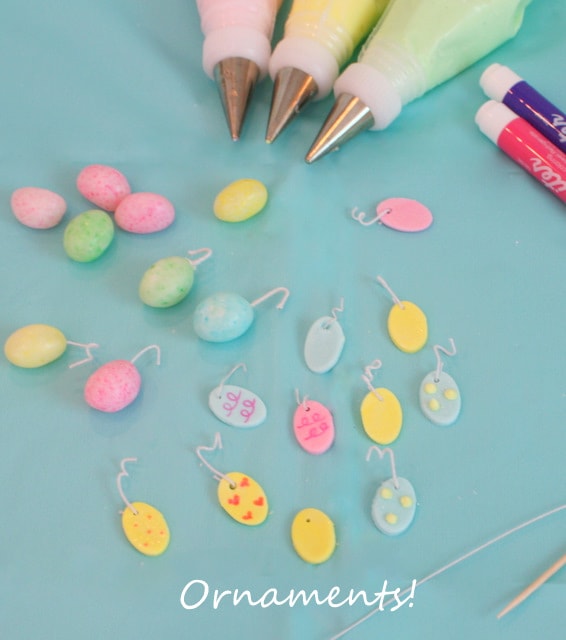 Finally, the Easter tree is finished!
This is a 6" buttercream-frosted cake (tinted with Americolor Mint Green).  I think it turned out really sweet   :0)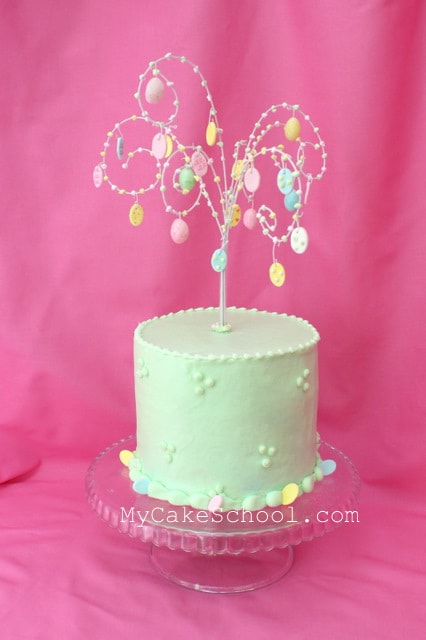 I hope you'll make a little tree of your own!  :0)