Today I made a cake involving two of my favorite things---chocolate, and polka dots!!!
I love anything and everything with polka dots---and so when I saw some polka dotted chocolate transfer sheets a while back, I knew that they needed to be in my kitchen.
Chocolate transfer sheets (not to be confused with edible image sheets) are strips of acetate that are embellished with cocoa butter.   These sheets, which come in a huge variety of designs and colors,  will give serious flair to your chocolate or candy coating accents.  The possibilities are endless!   Here is one idea for your cake file ~
First, I'm starting with a 6" cake frosted in my favorite Chocolate Buttercream--pretty, but in need of a little makeover :0) -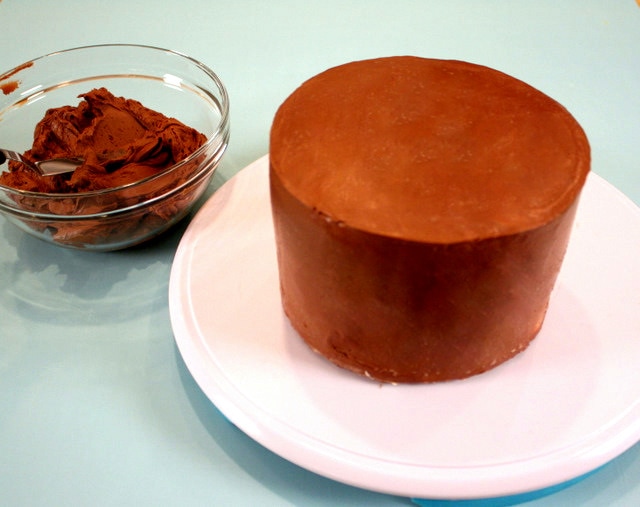 I like to use candy melts/candy coating with chocolate transfers...whatever your favorite brand may be.
I'm sure that you could use chocolate chips as well.  I like to keep this part as simple as possible.  Here's my melted chocolate, fresh from the microwave...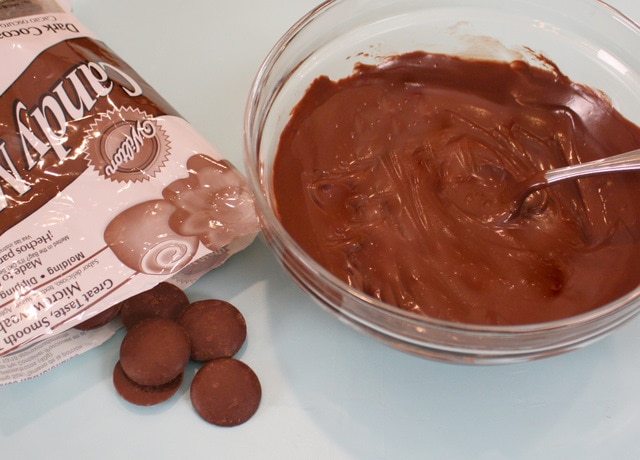 Here are my transfer sheets!  At this point, I was thinking I would incorporate both my beloved polka dots as well as a happy birthday sheet.
There's always the smooth side and the raised/rough side of the sheet.  The raised side is what makes all of the fun happen...always keep that side up!
Some people use their transfer sheets to make a decorative chocolate wrap or chocolate collar, but today we will be cutting our chocolate into shards.
I'm working with a cake that is 4 inches tall...and so I cut my transfer sheets a so that they would be just a little bit taller than the height of the cake-- at 4 ½ inches.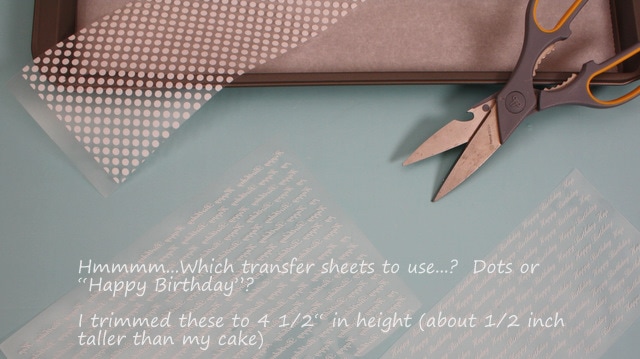 One at a time, I placed my transfer sheets on a parchment lined cookie sheet.  That splotch of chocolate is on the underside--I'm using it as a glue to hold my sheet in place.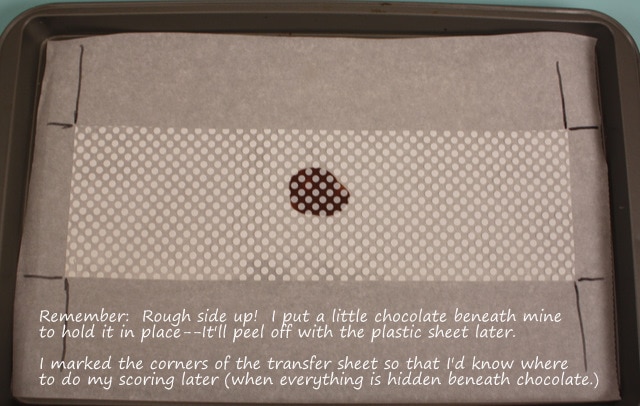 Time to spread on the melted chocolate!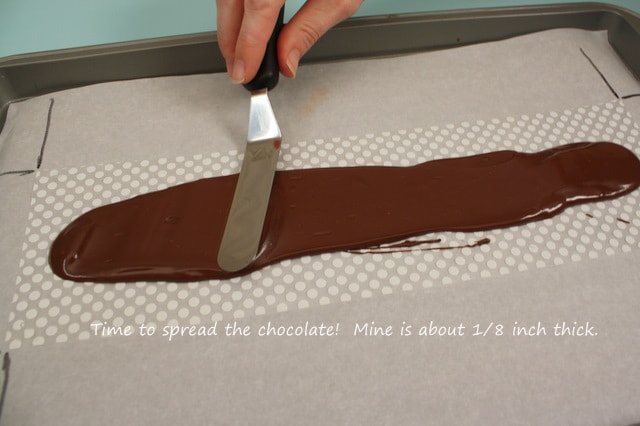 I let the chocolate set for about 5 minutes or so on the countertop-- just long enough for it to begin to take on a matte look.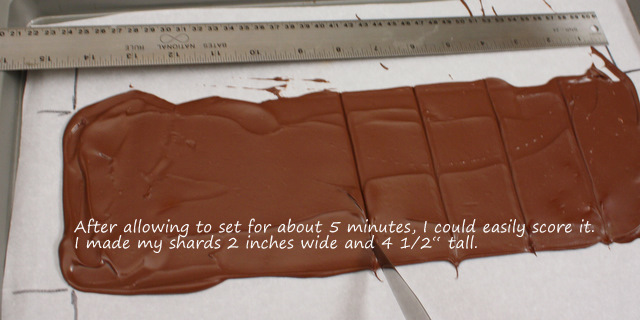 Here's a closer look.  I had to do a couple of these in order to have enough shards to go all the way around the cake (I needed 11 shards, each 2 inches wide.)
You could let them sit for an hour or so until totally firm....or, if you are impatient like me, you  can pop them in the refrigerator for 5-10 minutes.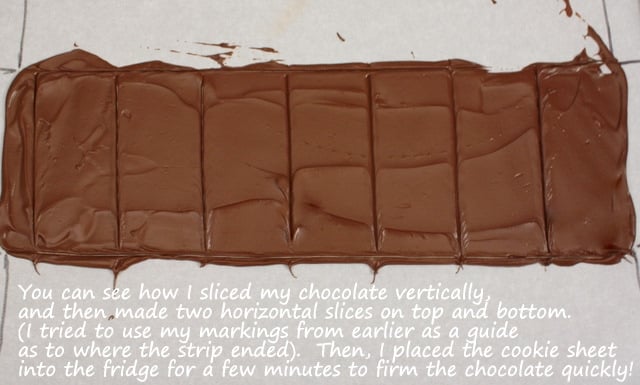 Once they are nice and firm--you can easily use the scores that you made earlier in the chocolate to peel them up and away from the transfer sheet.
The design that used to be on the sheet, now appears on the chocolate where it belongs!  :0)   Cuteness!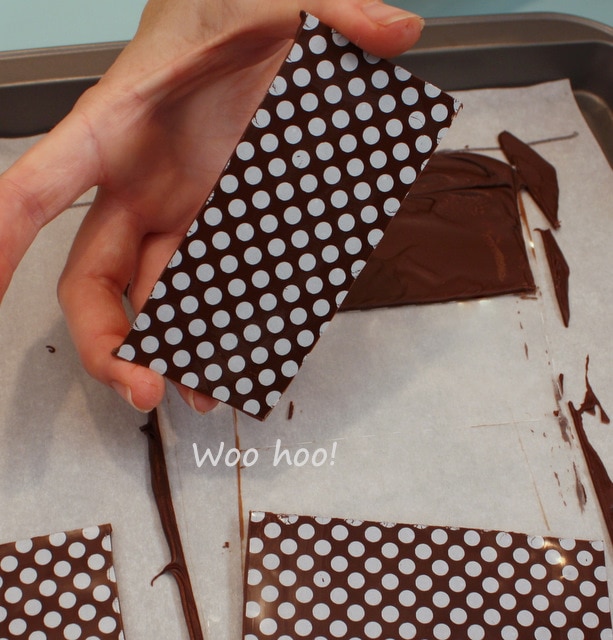 I made some Happy Birthday shards too--- this is how I was thinking of arranging them at first....then thought it may be too busy.  It makes a pretty picture though!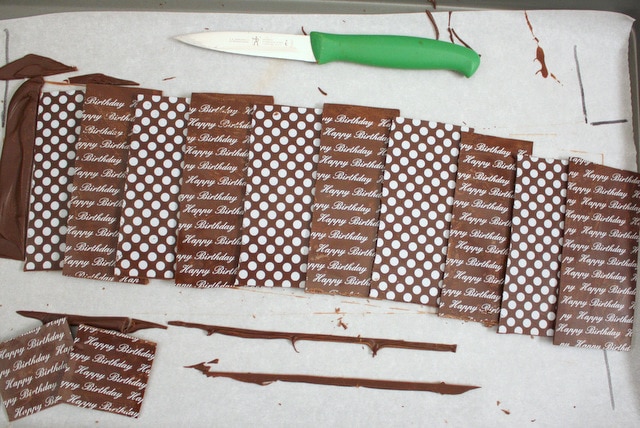 The polka dotted shards won out in the end-- you can see how I arranged them in this closeup shot below.
I chilled before applying them to make sure that they were not too fragile.  Then I made my way around the cake, slightly overlapping each shard with the next.  (If you need to, dot a little fresh buttercream on the back of each one to make sure it is secure.)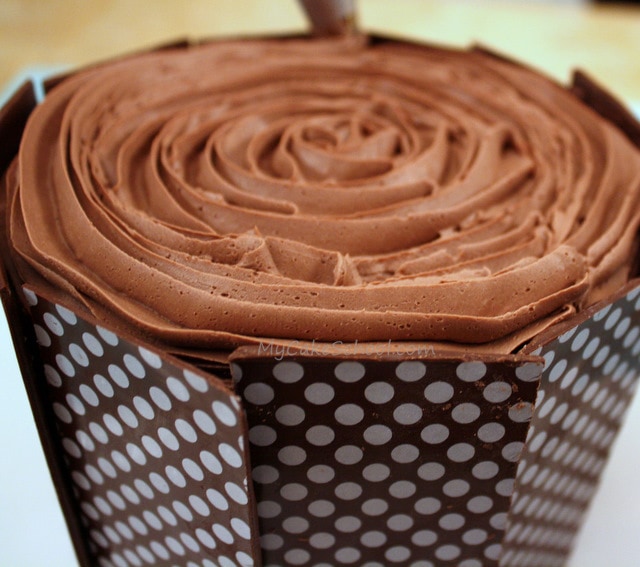 I had a few scrap pieces of embellished chocolate strips, and so I sliced them into smaller shapes :0)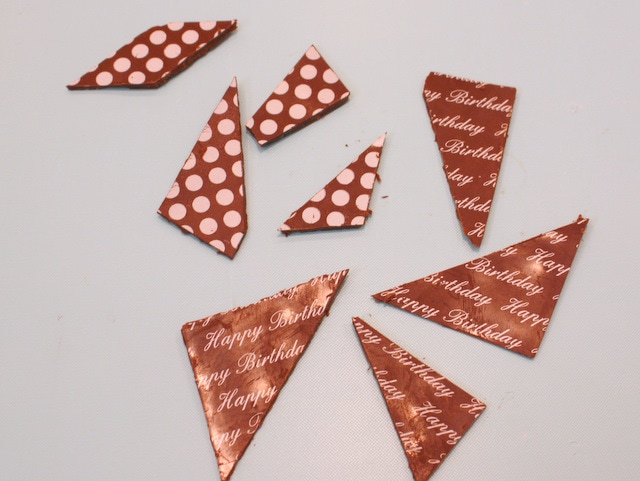 Here's an extreme closeup of the giant swirl of buttercream that I made on top. When in doubt, do a giant swirl of buttercream.
This was piped from a 2D tip.  Strawberries or chocolate shavings would be beautiful too!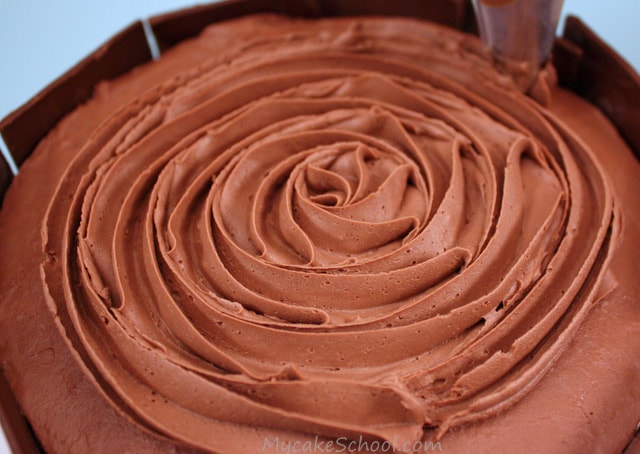 And now for the final shot!  I added a pretty little bow to tie everything together.  Aren't we fancy?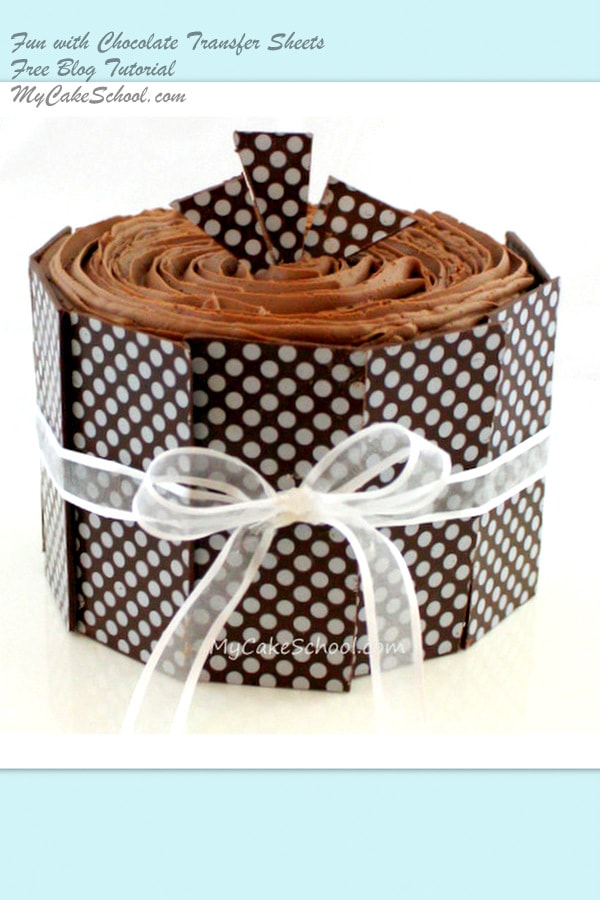 I hope that you enjoyed this little tutorial.  Nobody has to know how easy this was...we'll just keep it between us.
Don't miss our full collection of free cake tutorials and free cake videos in our Free Tutorials Section! Also, for our complete listing of FAVORITE cake and frosting recipes, don't miss our Recipes Section.
So much deliciousness!
*If you are not a member of My Cake School, check out our "Join Page" for all of the details! Members have full access to every video tutorial we've made over the years. We'd love to have you!
Thanks for stopping by!