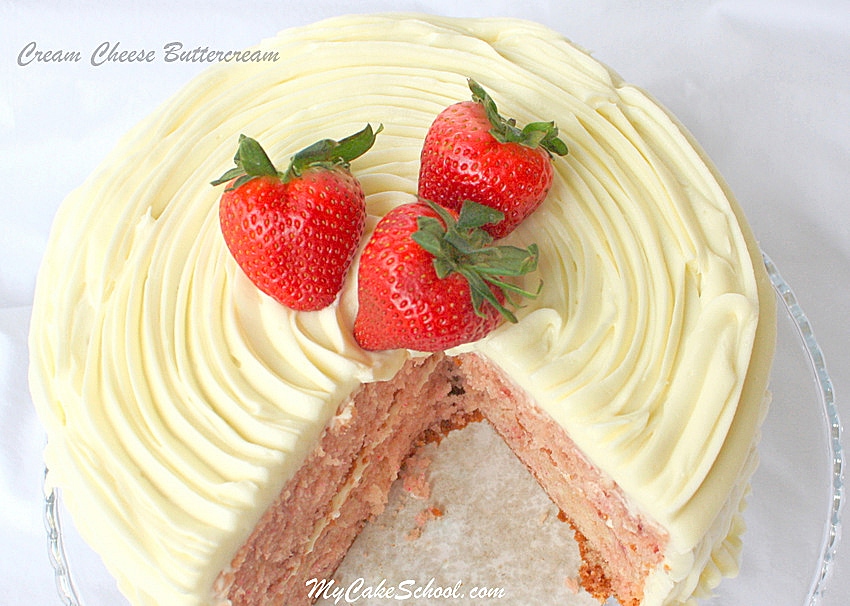 I love to use this as a frosting or filling in strawberry, chocolate, and spice cakes (just to name a few!). It's softer than most buttercreams and so when using it for an outer frosting, you may find that you need to thicken it a bit by either combining with vanilla buttercream, or simply adding additional powdered sugar. In the photo above, the cream cheese frosting was not altered, and was piped with a wilton 2D tip. (Strawberry cake!)
Enjoy the recipe!
1 8oz package cream cheese, ( 226 grams)  Use cold from the refrigerator, cut into pieces
1 stick butter, slightly softened - 113 grams
4 cups confectioner's sugar, 460 grams
1 teaspoon vanilla, 4 grams
Mix the butter, cream cheese and vanilla at medium speed. Add confectioner's sugar. Blend until smooth. Sometimes the consistency varies a little with the weather...add a little more sugar if you need to.
Double Batch-
Two 8 oz packages cream cheese (452 grams) Use cold  from the refrigerator, just into pieces
1 ½ sticks butter slightly softened (169 grams)
8c. confectioner's sugar (920 grams)
2 teaspoon vanilla ( 8 grams)
Blend as above
This frosting should be refrigerated.