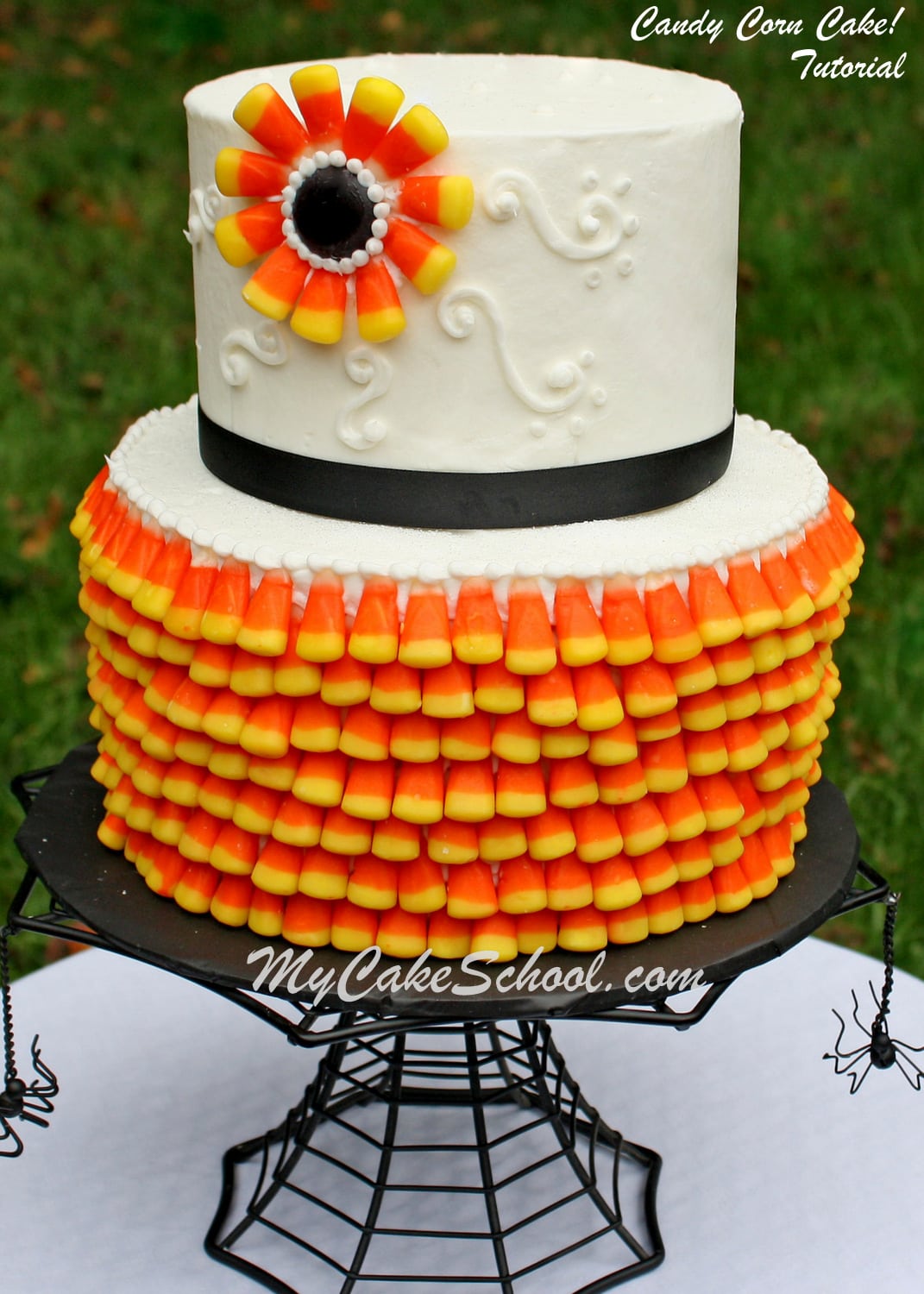 Hi everyone! I'm excited to show you today's Halloween design because it is super simple to create and has a surprisingly dressed up feel for something that relies so heavily on CANDY CORN!
This sweet staple of Halloween isn't exactly considered "fancy"... but we're about to change all of that with a dressed up novelty cake that will be perfect for your Halloween entertaining!
What you'll need is a cake 0r two frosted with your favorite frosting (I used a crusting buttercream on my 8" and 6" tiers.), LOTS of candy corn (I used a 2.5 bag of Brach's Candy Corn), and few optional decorations that you will read about below. Now, time to have some fun!...
Let's start with the bottom tier-- Here's my 8" tier, which is resting on a cardboard cake circle (cut down to size) and sitting on a cake base (2 10" cardboard circles covered with a black plastic tablecloth.)
My 2.5 pound bag of Candy Corn is ready!!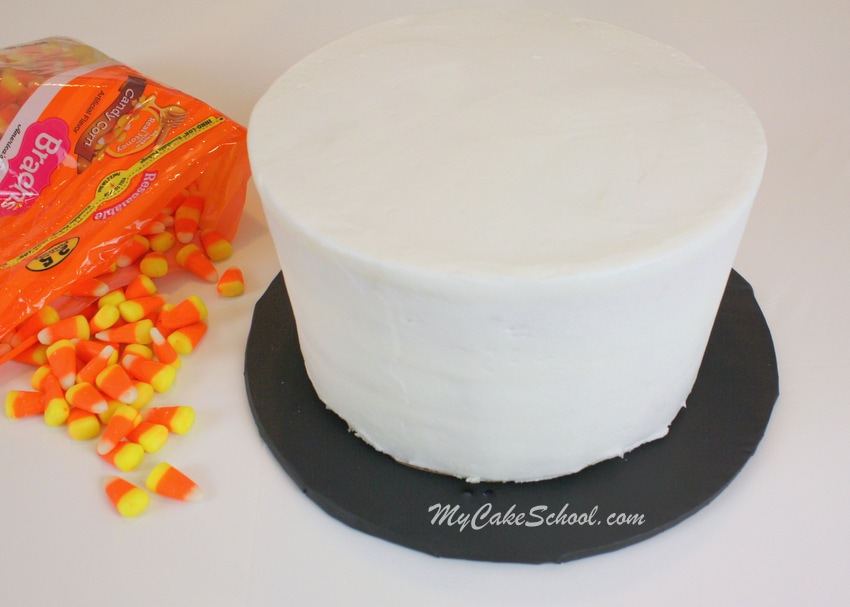 Starting at the bottom, I pressed in my first row of Candy Corn.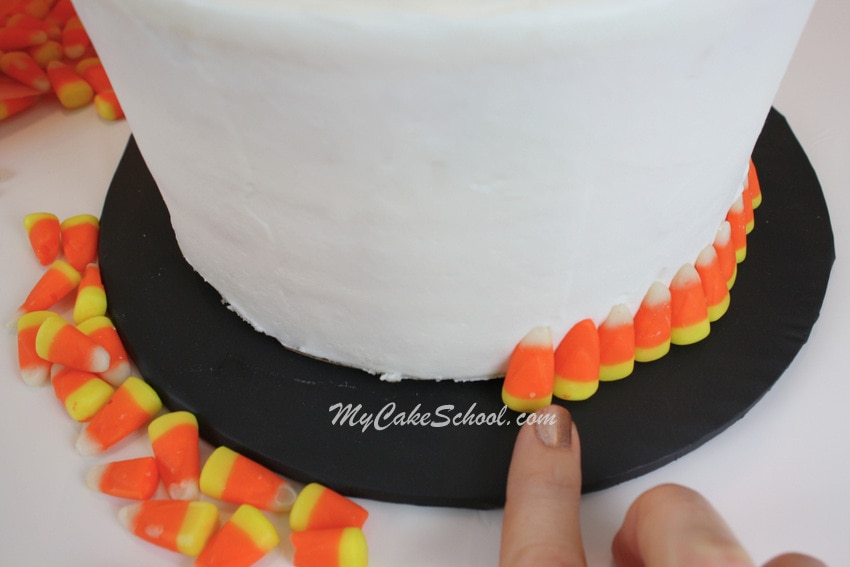 Then, I added another row, so that the upper row slightly overlaps. A little bit of an overlap is good....if you overlap too much, your Candy Corn will have less contact with the frosting which is the "glue" that holds everything in place. I also slightly staggered the next row but that's optional--it would look good either way!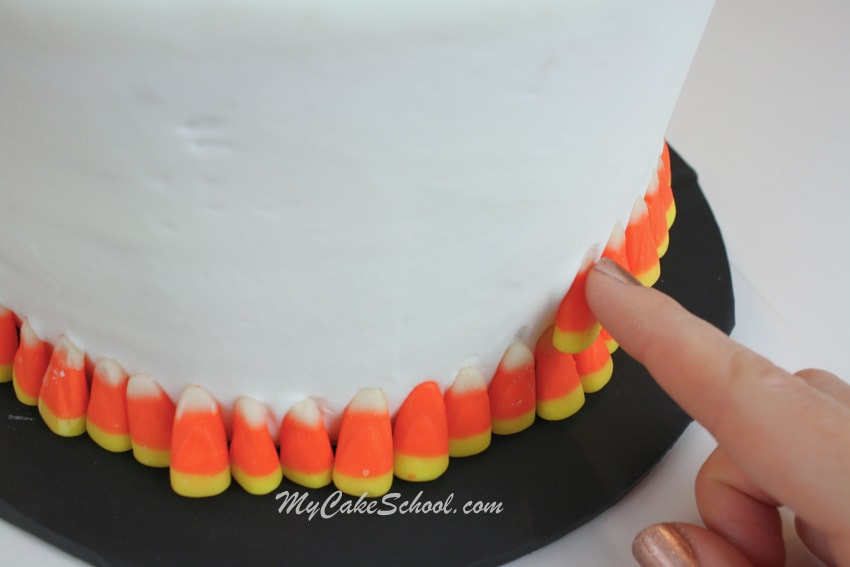 Then another row, and another, and another ;0)........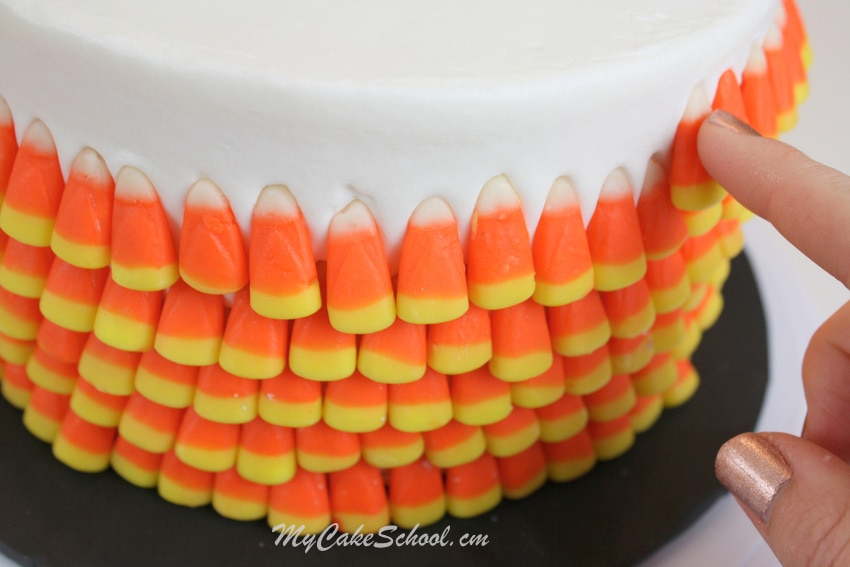 ...until we reached the top!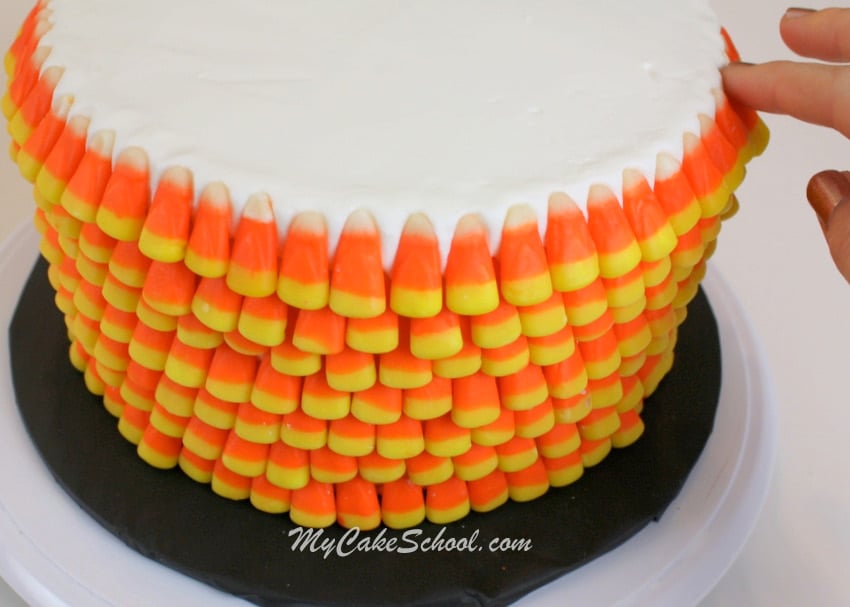 After placing 4 bubble tea straws (or your dowels/supports of choice) into the bottom tier as usual, I placed my 6 inch tier onto the cake. A black ribbon served as an easy border. Then, I pressed several candy corns into the top tier, forming a flower. I placed it high on the left side, so that the top "petals" extended past the top edge of the cake.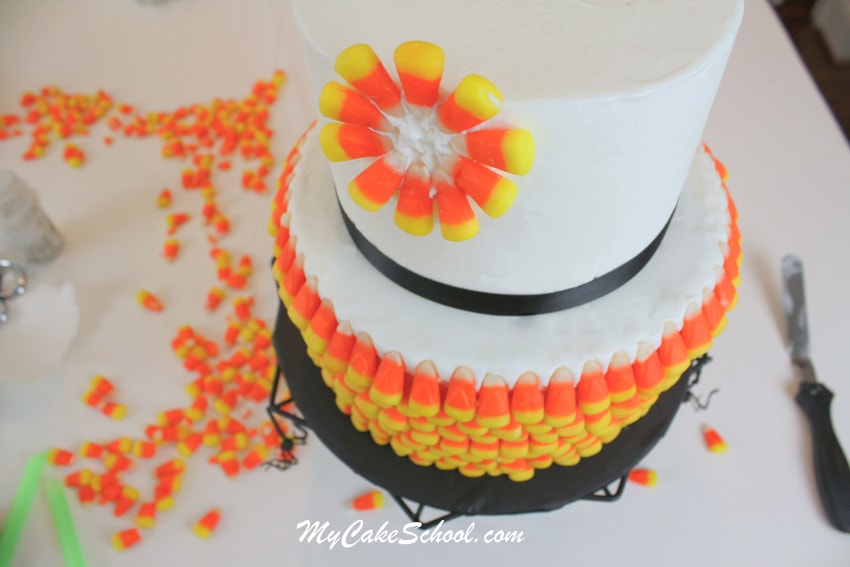 You can use some creativity with the center of the flower. I went the simple route, using a single Wilton black candy melt...but a sprinkle or dragee center, frosting, or other candy center would be great too!
Using a Wilton small round tip 3, I added a little bead border around the flower center, and on the top of the base tier. I also added a little scrollwork. Completely optional but I seem to sneak in scrollwork whenever possible these days ;0)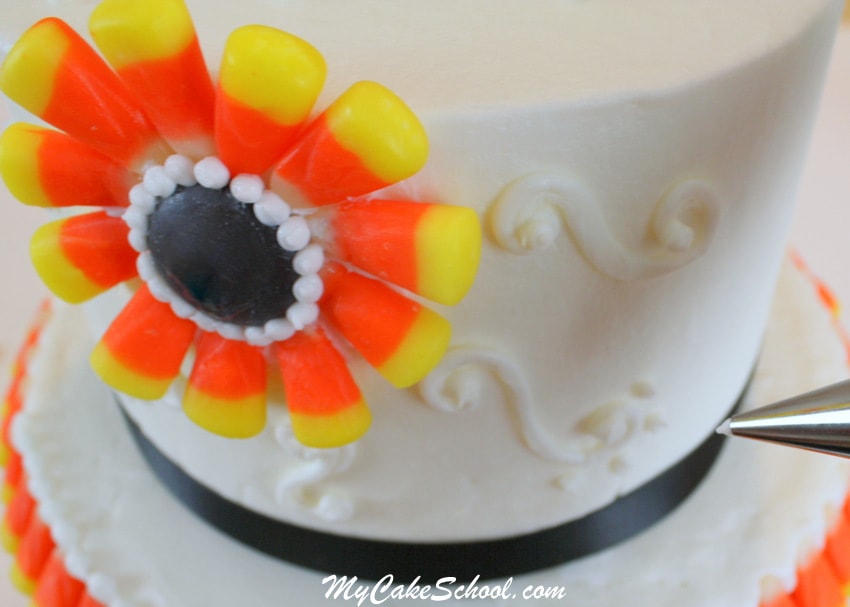 We are finished!
Our cake is resting on a new Halloween cake pedestal that we just bought at Sur La Table...but no matter what your base or pedestal is, the cake is truly the star of the show!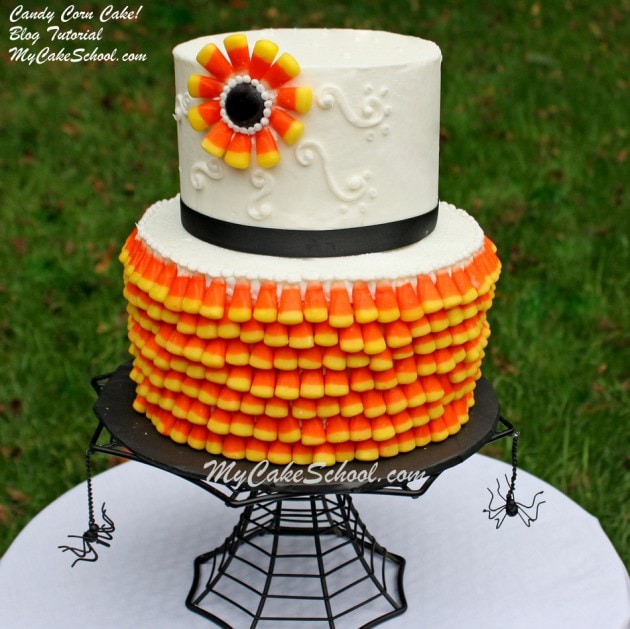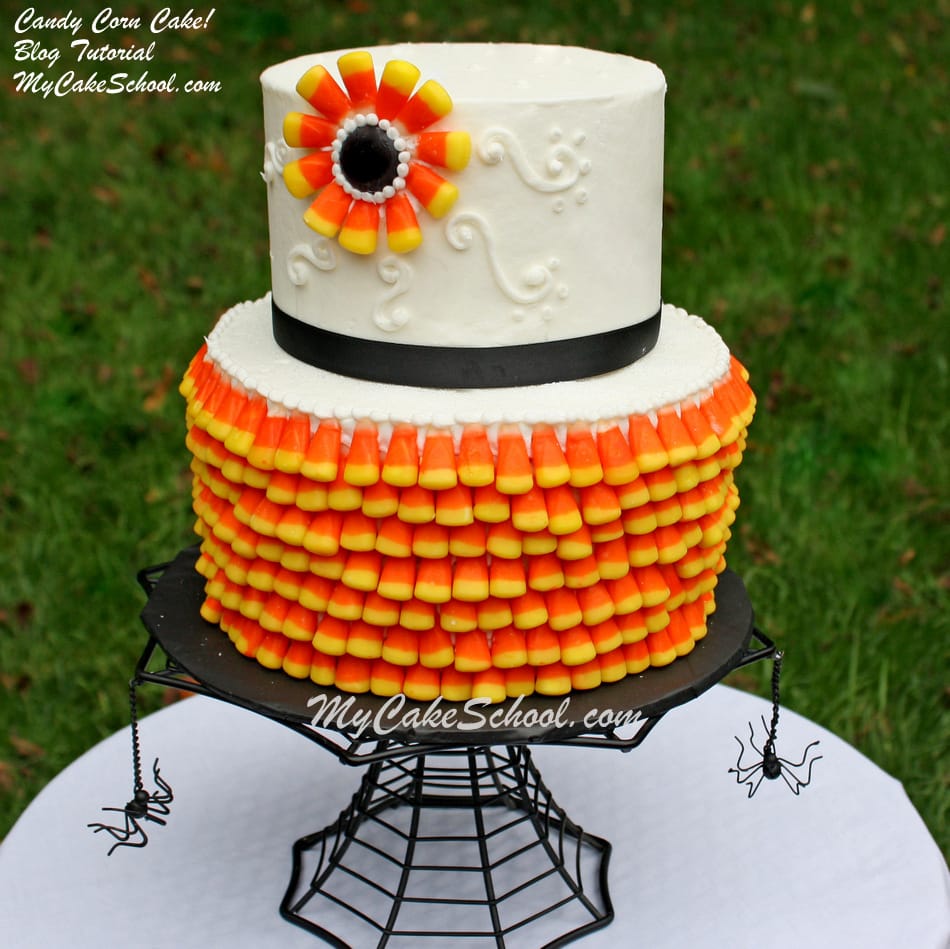 Thank you so much for stopping by, and I hope that you'll have fun experimenting with Candy Corn in your Halloween decorating! I'm sure that I'll do more on this next year...so many possibilities! ;0)