I absolutely love making custom cake toppers!  It's the easiest way to add that extra bit of flair!
Cake toppers can be 3-D gum paste or fondant figures, which I have several tutorials of on my site, OR.... you can use cookie cutters!
Today's topic is on the cookie cutter method, which I LOVE because it is so simple, but so effective!
Here, I have rolled out gum paste to about ¼" thick.  Satin Ice is my brand of choice.  You can also start with fondant mixed with a little tylose powder or CMC powder...but I like to keep it simple and go with gum paste.  It dries faster and stronger.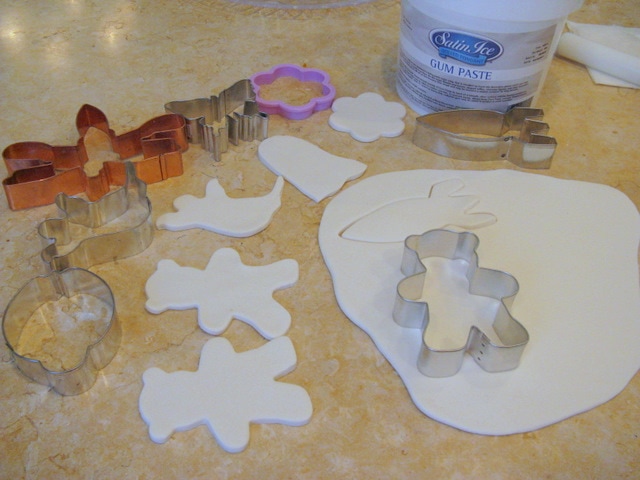 Once you have cut out your gum paste shapes, let them dry several hours or overnight on parchment paper.  The next day, it's time to decorate.  Here I am painting Bear #1 with pink paint (you could also just knead in your desired color before rolling out your gum paste).  My paint is a mixture of vodka and coloring gel.  You can substitute lemon extract for vodka if you'd like.  Painting gives almost a watercolor effect.  WARNING:  Don't drink and decorate....there's no telling what might happen  :0)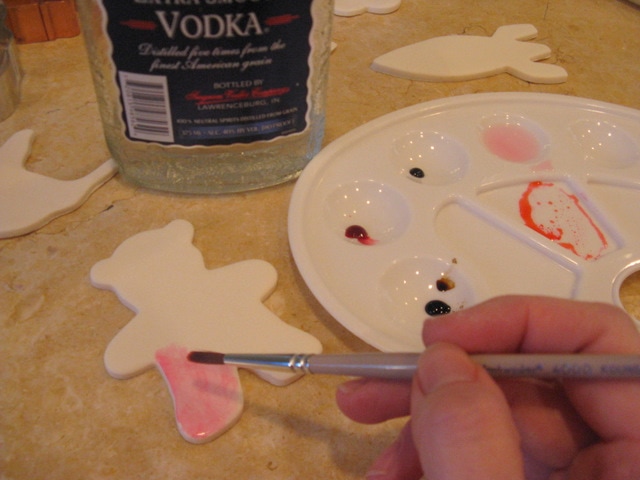 After Teddy dries, you can flip her over and attach a lollipop stick with slightly dampened gum paste or fondant.  See how I bent my stick slightly?  I did that so that the stick wouldn't show from the front.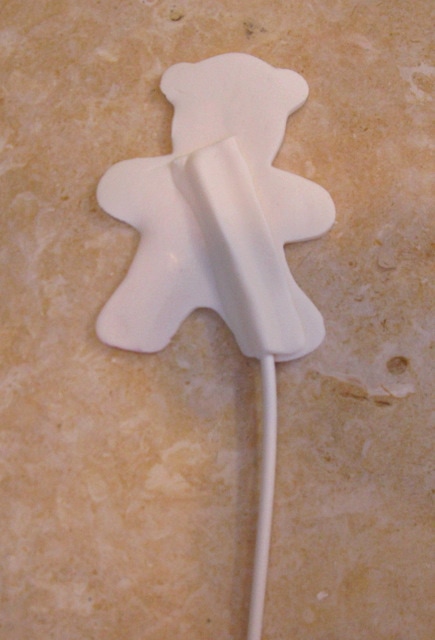 Here's Teddy #2, and some instructions on the details....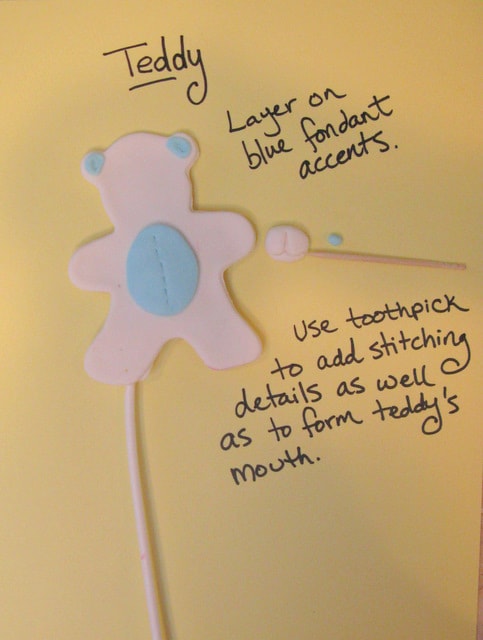 I finished him with two dots from my Americolor pen and a little dusting of pixie dust.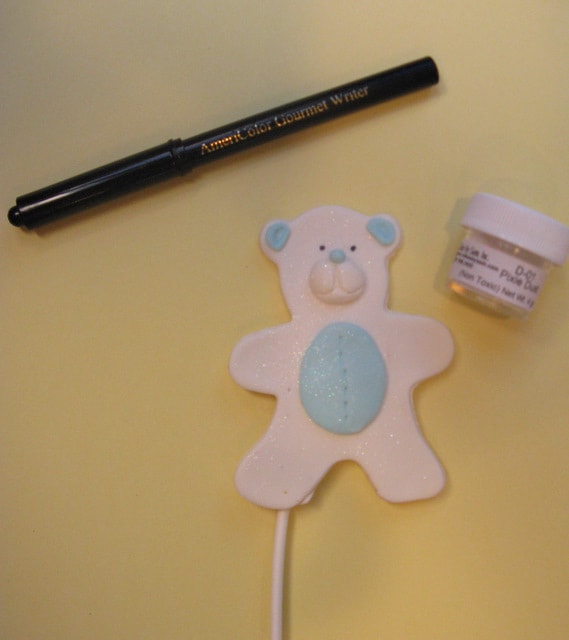 Here, I'm making a cute little girl.  You can find girl and boy cookie cutters in many different styles.  I just wanted to give you a little peek into how I made her.  Face was drawn in later with a food coloring pen....and dry petal dust for rosy cheeks.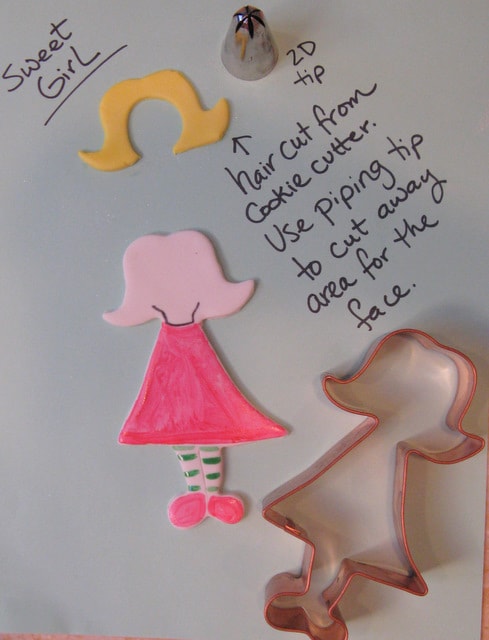 As quick as the cookie cutter cake toppers can be, sometimes you just don't have time...or materials.  In times like these, run to your nearest craft store and head straight for the scrapbooking aisle!  That's where I found these precious chipboard stickers.  They have tons of them, very reasonably priced, and for every kind of theme.  Just stick on a lollipop stick and you are done!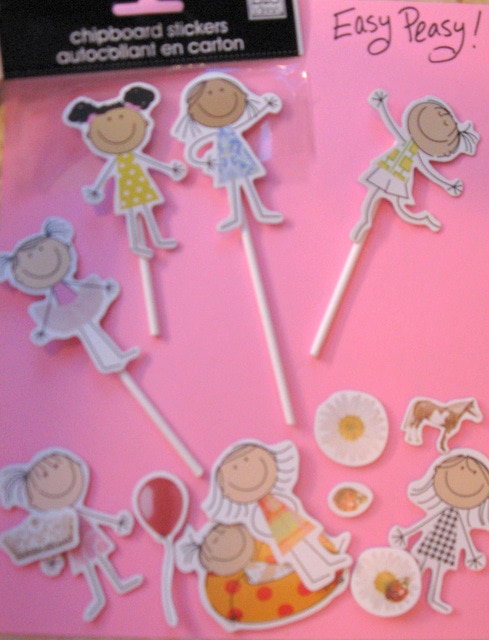 Okay, now it's time for the group photo!  I hope that you enjoyed this tutorial, and I hope that you pep up those cakes of yours with a little bit of creative fun!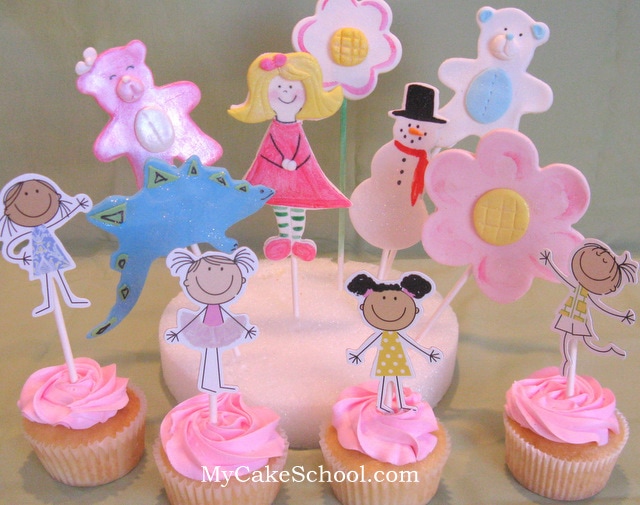 I want to Welcome our newest cake school members!!!  Welcome Mrsritafox, roses342, Tammy, rachael.springer, joy poole, coffmancakes, swatel, colemaury2004, carope, OZ, Cmartinez76, CakeMama04, renee804, dmjarrell, cupcakes, KraftyChristy, RDamaris, & CMiller!!  So good to have you with us!!
Thank you for stopping by the Blog today!! Come back soon!
-Melissa