Hi everyone!
We have a simple, QUICK, and festive design to share with you today.   This Christmas wreath cake and matching cupcakes are sure to bring smiles~
First, our cake~
This wreath design would work well on cakes of any size, but mine is a double barrel 6 inch cake.  This just means that it is taller than usual, and so there is a cake cardboard (with supports beneath) about halfway up.   Click here if you'd like more details on a double barrel construction.
Here's a look at our key players in today's tutorial~  Two round cookie cutters (small and large),  a waxed paper lined cookie sheet, melted red Wilton Candy Melts, a piping bag of buttercream (tinted Wilton leaf green) and fitted with a petal tip 104, and another bag on standby fitted with a round tip 3 (which will soon be filled with the red chocolate coating.)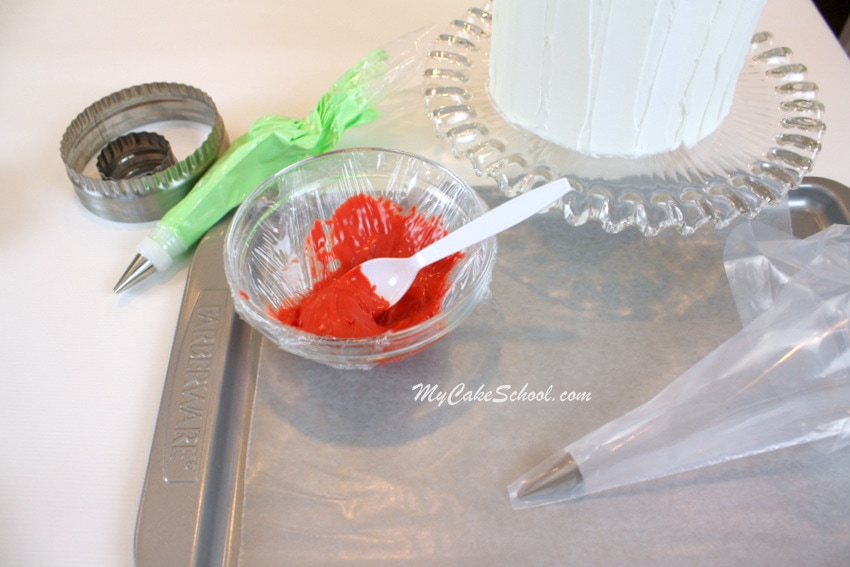 First, I piped several loops of red melted chocolate candy coating.  Make more than you think that you'll need, and each loop should have a "tail".  These tails are important because they will later act as anchors for our loopy decorations.  After piping lots of loops, place your cookie sheet into the freezer for about 5-10 minutes.  They will become nice and firm and much easier to handle!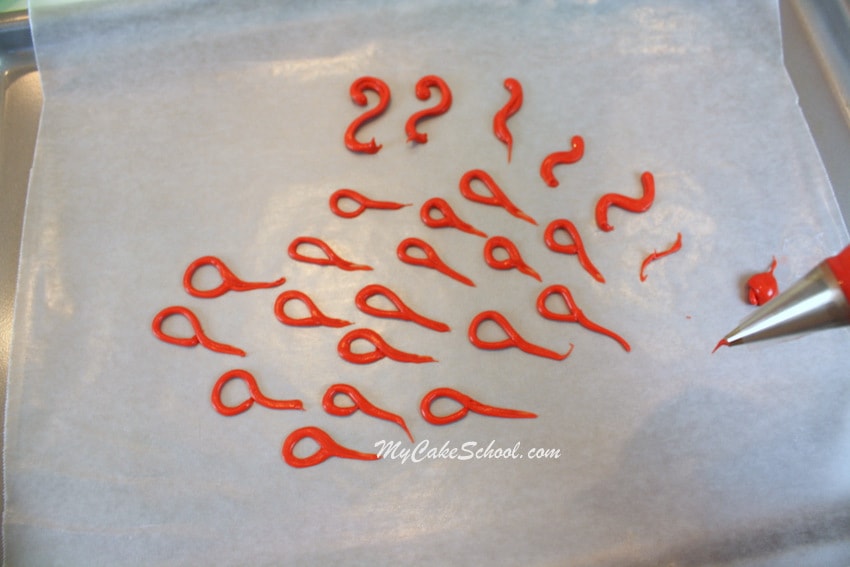 I used two round cookie cutters to map out my wreath onto the cake -- a two inch circle and a four inch circle.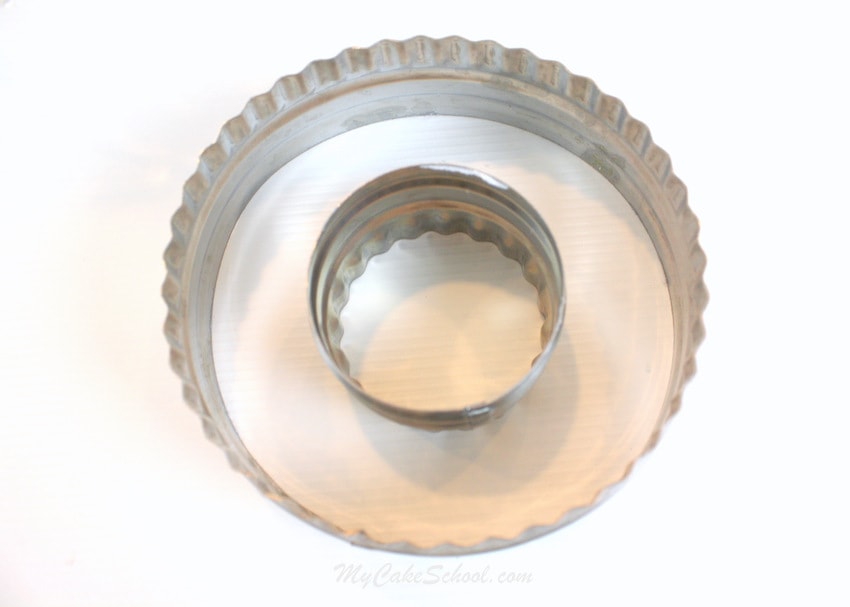 Here, you can see where I marked off my wreath.  Then, using my petal tip 104, I began creating rows of ruffles, working from the inner circle to the outer circle.  You'll want to make sure that the small end of your petal tip is facing you as you pipe.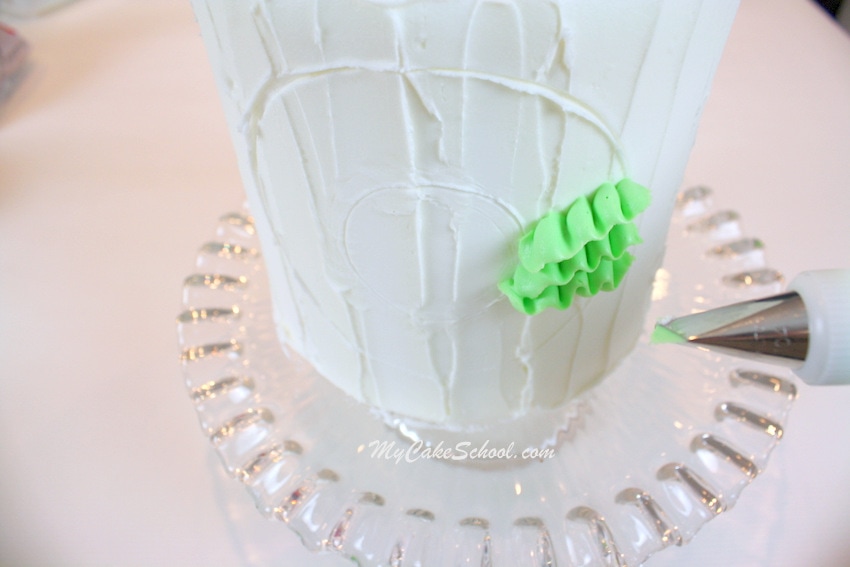 Moving along...
I love buttercream ruffles, and this step goes very quickly!  However, if you'd like to experiment with other piped buttercream designs, simple rosettes,  buttercream shells, stars, or piped leaves would be great alternatives.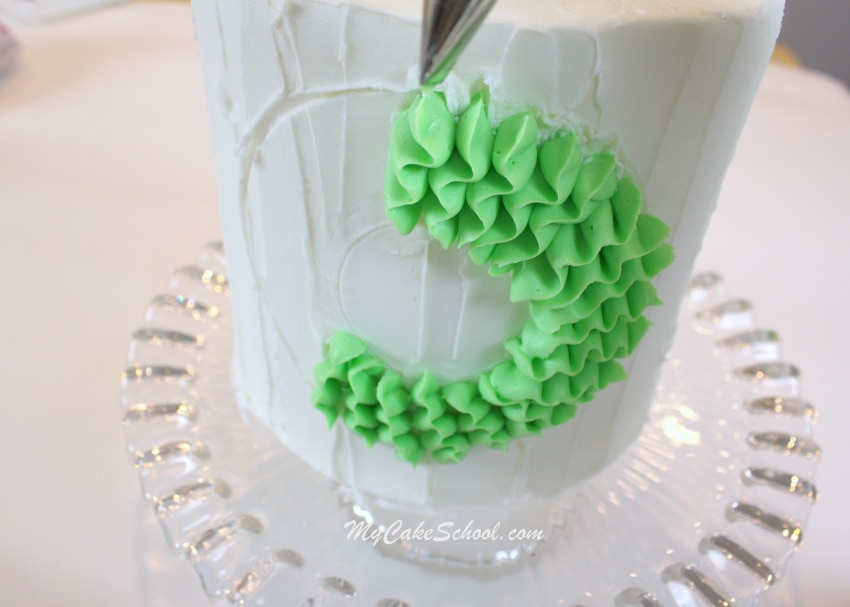 Now for our frozen loops!
You want the loops to be chilled when handling, so if you need to re-chill them for a few minutes before this next step, the extra bit of firmness will be helpful as you push them into the cake.  One by one I added my loops until our bow was nice and full!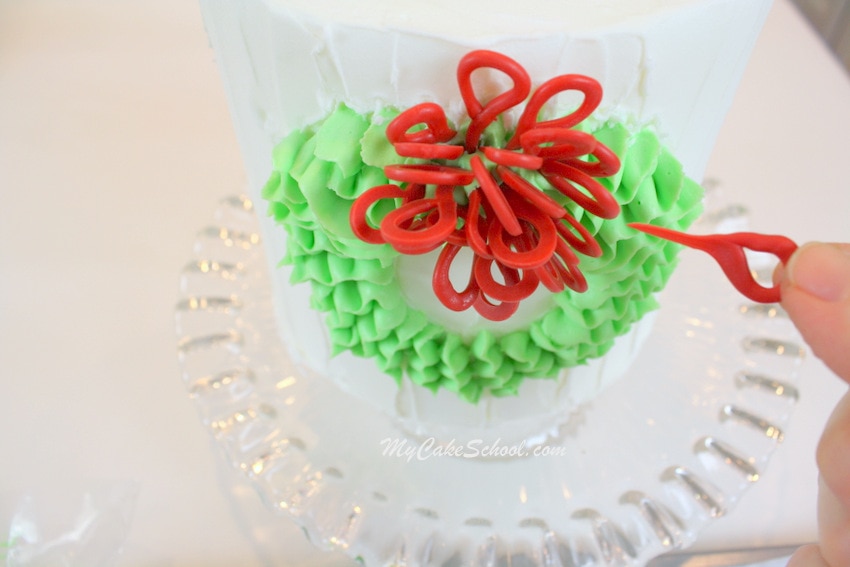 A buttercream bow would be nice too, but I really like the way that the chocolate loops extend out from the cake.  It's a great effect and gives our little wreath some personality!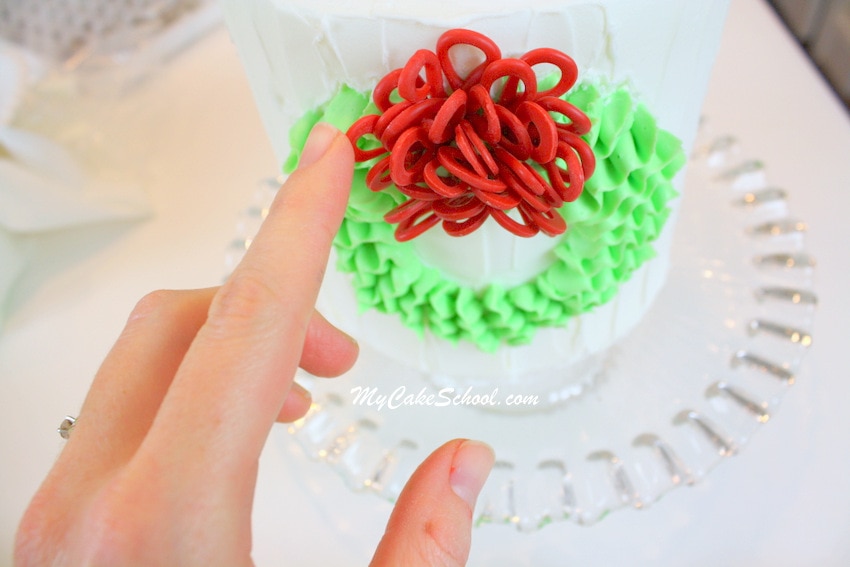 Our cake was decorated in no time, and I was so happy with the cute simplicity of our design that I wanted to keep going!  We had some extra cupcakes in the freezer and so I piped another tray of loops and brought out some white frosting. You can see some funny "tails" and bows on my tray also that I wound up not using-- but to give you an idea for number of  loops, I placed about 5-6 on each cupcake.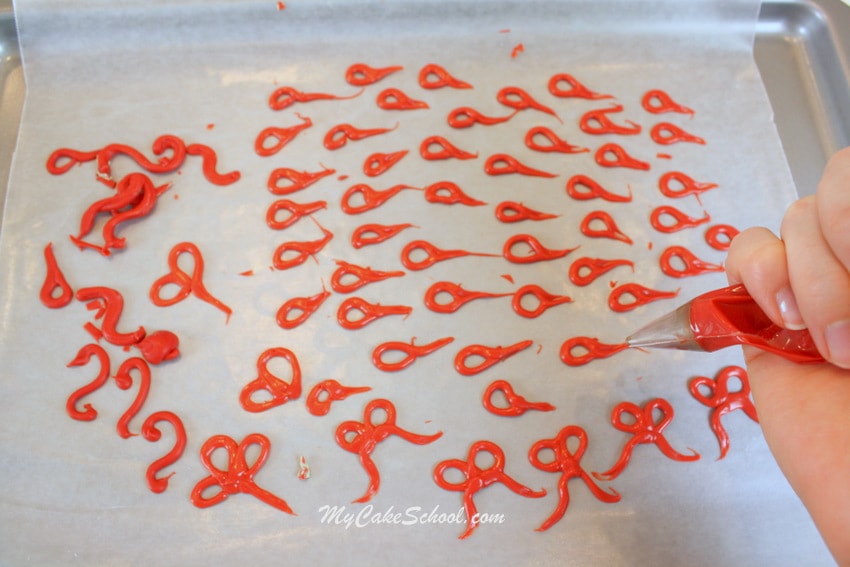 I frosted my cupcakes with using a medium sized round tip (12), and then smoothed the crusting buttercream with a Viva paper towel.  (Optional!)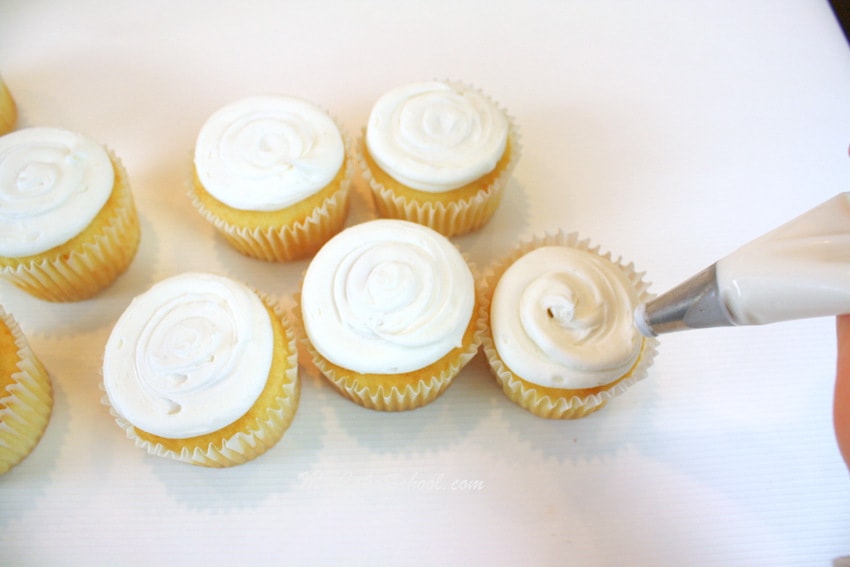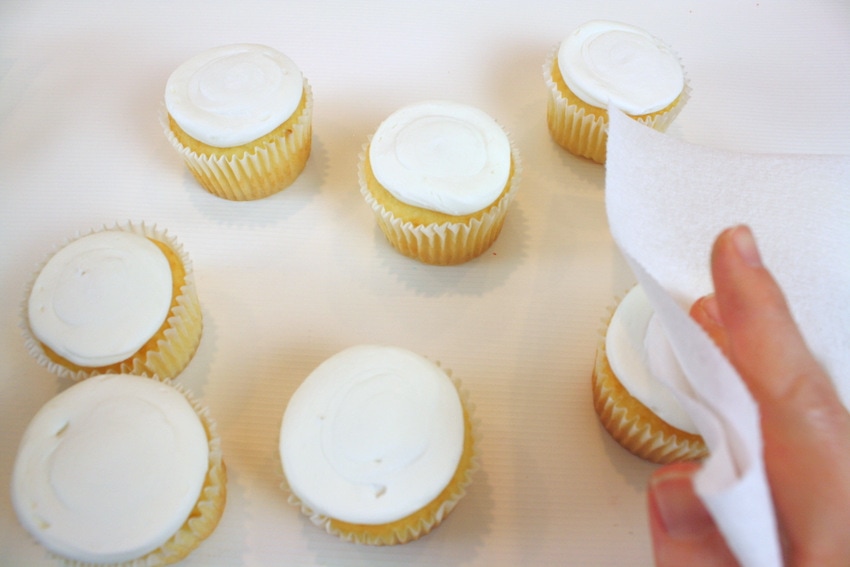 Just as before, I used my Wilton tip 104 for create my ruffled wreath.  If you'd like, you can use a 2D piping tip (or 1 inch circle cutter) to create an impression in the center, if you'd like to have a guide of some sort.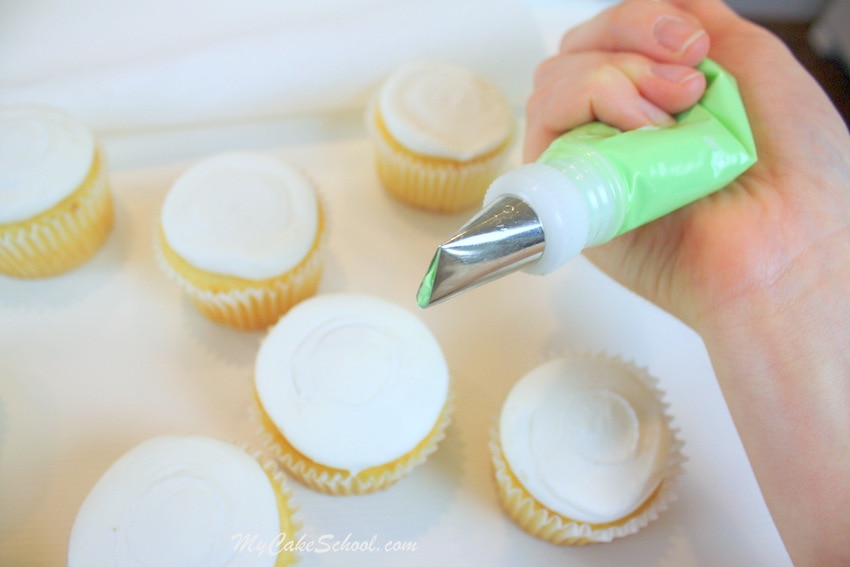 Here we go!  Just as with our cake, only much smaller.  As I piped this, I thought about how pretty it would be to do this on top of a cake also.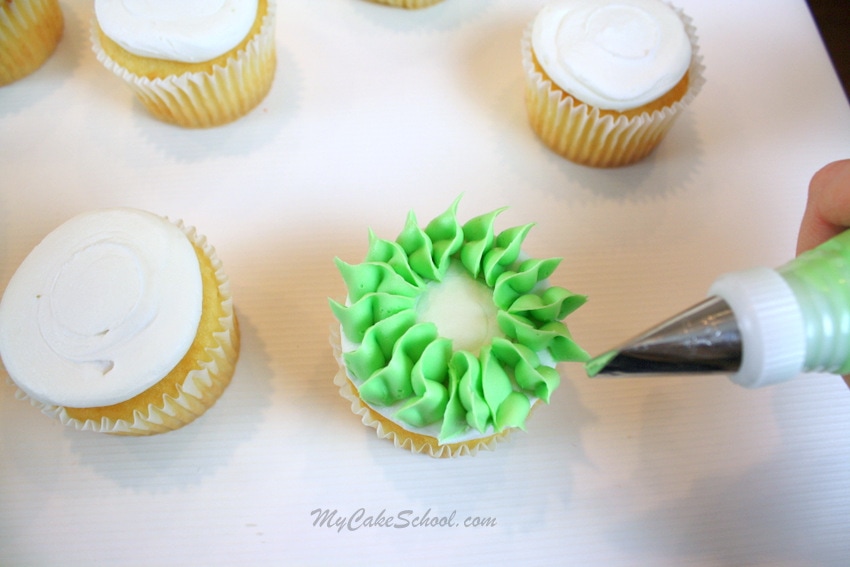 Next, I pushed our chilled loops into the cake.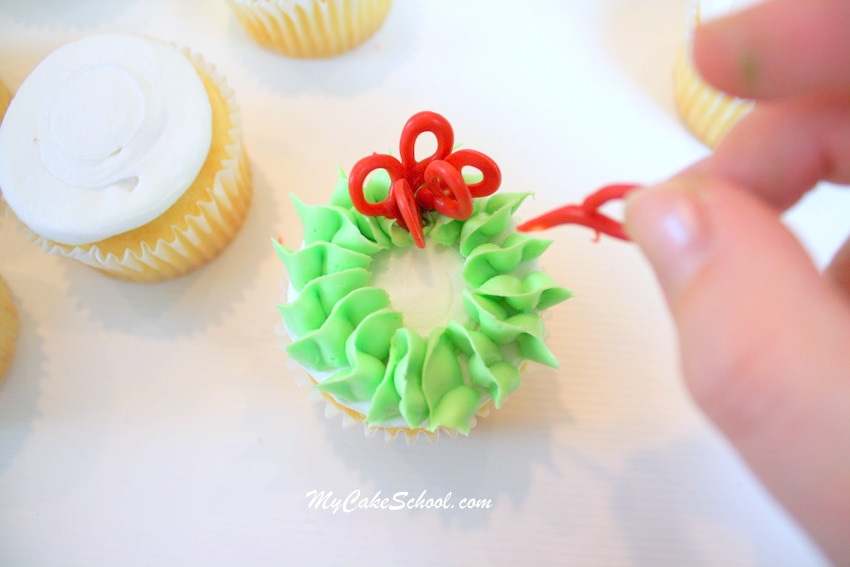 Here they are!  Pretty little wreaths~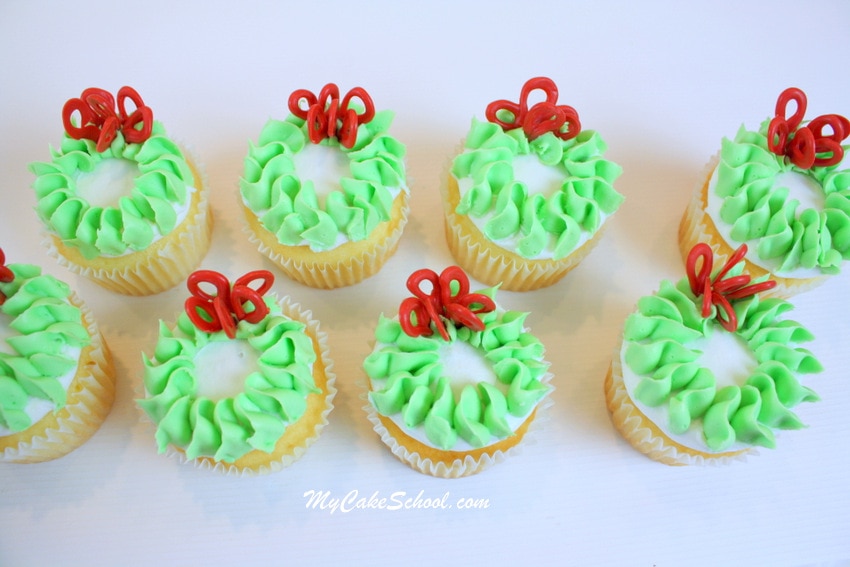 Thank you for stopping by!  I hope that you enjoyed our quick little tutorial, I think that they came out really cute!  Here's a group photo~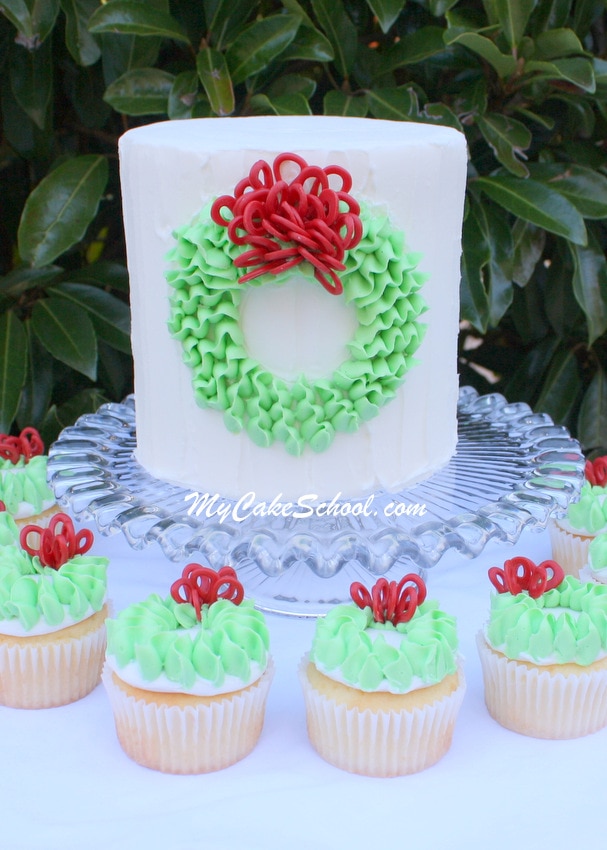 Merry Christmas!