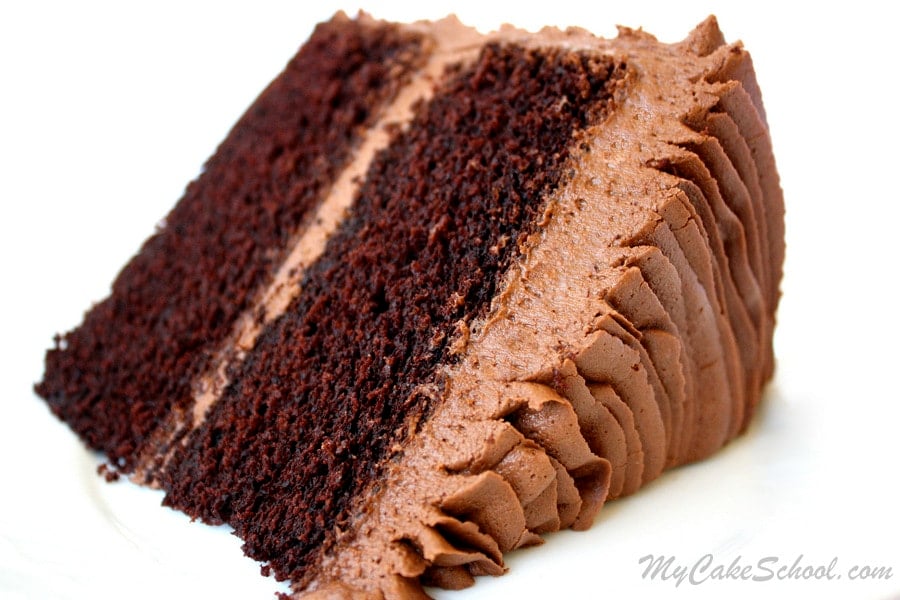 This is our favorite chocolate cake recipe!  In the photo, we've frosted the cake in fabulous chocolate buttercream, linked HERE!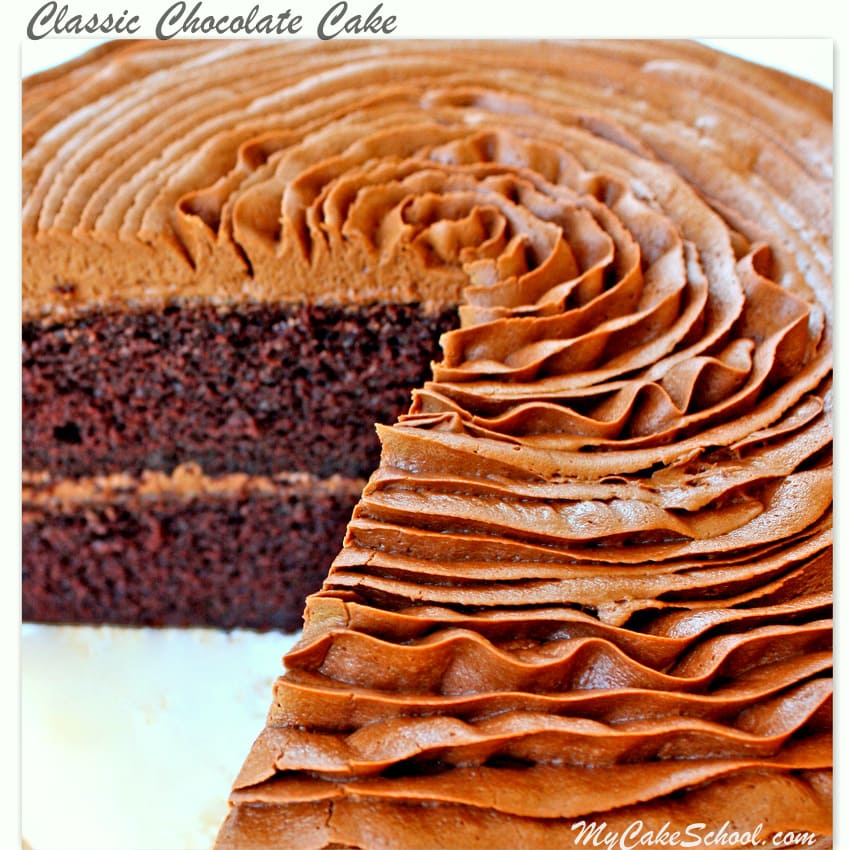 Classic Chocolate Cake — Scratch Recipe
I use the reverse creaming method with this recipe
2 cups (400g) granulated sugar
2 3/4 cup (322g) all-purpose flour
1 cup (82g) unsweetened cocoa (sifted)
2 teaspoons ((10g) baking soda
1/2 teaspoon (2g) baking powder
1/2 teaspoon (2g) salt
1 cup (2 sticks) (226g) unsalted butter, softened (do not soften in microwave)  I cut the butter into 1 inch pieces onto waxed paper and it will  soften while I am measuring out the other ingredients for the cake.
1/4 cup (54g) vegetable oil
4 large eggs at room temperature
1cup (220g) milk
1 teaspoon (4g) vanilla extract
1 cup (220) hot coffee, it can be instant or brewed
Preheat oven to 350 degrees
Grease and flour three 8 inch cake pans
1. In a mixing bowl, add the dry ingredients: sugar, flour, cocoa, baking soda, baking powder, and salt. Whisk for 1 minute to blend.
2. Add softened butter a few pieces at a time while the mixer is on low speed.   Beat approximately  1 minute or until the dry ingredients are crumbly and moistened.   Scrape the bottom and sides of the bowl.
3. In a separate bowl whisk the   eggs, milk , oil and vanilla until blended.
4.  Slowly add approximately 1/2 of the egg mixture to the dry ingredients,  beat for 1 1/2 minutes at medium speed.  Scrape the bottom and sides of bowl.  Add the remaining egg mixture , beating for 20 seconds . Scrape the sides and bottom of bowl.
5. Slowly add the cup of hot coffee and mix another 30 seconds until blended,
Pour into 3 prepared 8″ pans and bake at 350 degrees for 25 to 30 minutes or until the center of the cake springs back to the touch and a toothpick comes out clean.
Cool the cakes 10 minutes on a rack and  then turn  out of the pans.
CAKE TIP: To increase moistness of layers, cool another 10 minutes and while still very warm double wrap the individual layers in plastic wrap and freeze for up to a week. To freeze longer, use plastic wrap then put into a freezer bag or aluminum foil and freeze for up to 2 months. If you need the cake right away, even freezing for a couple of hours will increase the moistness.
*Yields approx 9 cups of batter.
This recipe also works well for cupcakes.