Learn from home!– My Blog is open to everyone. For only $30, gain access
to cake decorating assistance, advice, and well over 200 full length cake decorating
video tutorials for an entire year! Makes a wonderful gift too–click our "Gift Membership" button or contact me at info@mycakeschool.com for details!
Take a look at our sample video~  Springtime Flowers in Chocolate~
FREQUENTLY ASKED QUESTIONS
1.  $30 for a year's access to over 200 videos (and counting) sounds too good to be true. What's the catch?
There's no catch, this is truly the best deal around.  ;0) – Our aim is to make cake decorating lessons accessible to everyone by offering a huge amount of content for a very affordable membership fee.  We are excited about our growing community!
Someone asked this very question on our Facebook fan page and here are just a few of the responses posted~Click photo to enlarge. *** (You can see the full FB discussion by clicking  HERE!)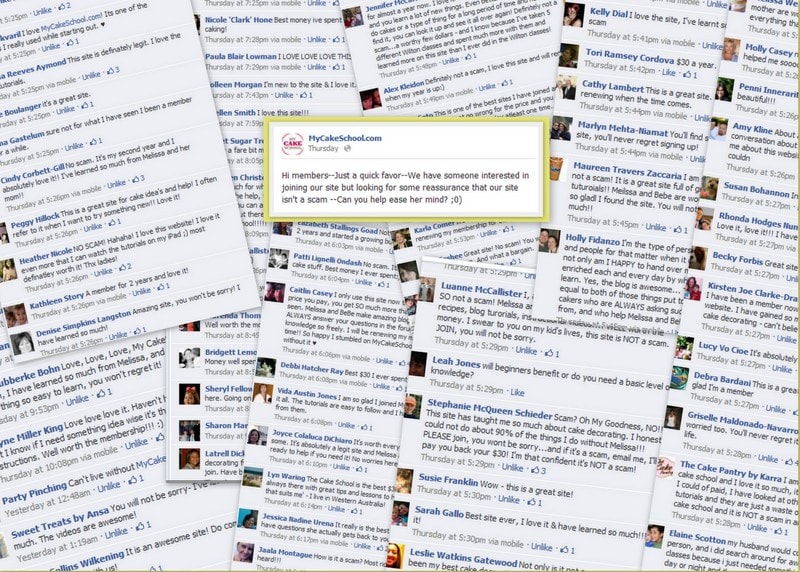 2. Why should I join when I can find cake decorating videos and tutorials online for free?
A MyCakeSchool.com membership is the best, most cost efficient, convenient way to learn cake decorating through quality video tutorials.  We are a trusted site with a growing community of beginning "students" as well as seasoned decorators.  The days of stumbling through video sharing sites are over–we have a huge amount of instructional video content on our site, and are here to help you become a better cake decorator!
With a My Cake School membership, you will have online access to every video tutorial that we have made, recipes, our message boards, and member photo gallery & member tutorial gallery.  These are invaluable tools, and our list of tutorials is constantly expanding!
3. What is the membership fee?
Membership is ONLY $30 usd for a full year.  Let's think about this… $30 for online access to over 200 full length, quality video tutorials that we have made.  You can watch our tutorials whenever you would like, as many times as you would like, for as long as you are a member!  If we break that down, that comes to less than 15 cents per tutorial.  With the skills that you will learn from our site, the membership will pay for itself many times over through the course of the year.
The main thing that separates us from other cake decorating sites is that we do not charge per video.  If we did, you would have to spend thousands of dollars to gain access to the hundreds of videos that we offer our members.  Instead, we want to make our instructions affordable…and we want our community of decorators to grow!
4. What online tutorials are available for members to watch?
Mycakeschool.com has over 200 VIDEOS,  and each one is available to our members!  Most average approximately 30-40 minutes–these are full length videos and are extremely thorough.  We add new videos at least twice a month, and I am constantly drawing from members' suggested topics.
*The easiest way to see exactly what we offer is to click on our Video Tutorials tab–here is the link:
http://www.mycakeschool.com/video-tutorials/
5. Will I have to pay more money in order to see the entire video?
No, videos in the tutorial section are complete videos that will allow you to fully grasp the techniques being demonstrated. This is what sets us apart from some of the other online cake schools. We currently have nearly 200 posted videos, and we have many, many more videos scheduled for posting.  Once a video is posted to our library, it stays there permanently.  So, new members will not have missed anything!
6. Who makes the videos?
My name is Melissa Diamond and I ran a successful cake business from home for years. A couple of years ago, I decided to take what I had learned and begin teaching.  That's when the idea of My Cake School was born.  My mom, also known as "BeBe" by our members, runs the site with me.  Not only is she the lady behind the camera, but she is also a great source for baking and decorating advice.
You may find that some decorators are reluctant to share all of their secrets. This is not the case for me. Since cake instruction is now my one and only job, I want to share EVERYTHING with you. It makes me so happy to hear success stories from members after trying out techniques that they have learned on the site.  We are always researching new ideas, and when I discover a new technique, I can't wait to share it with you all.
7. Can I cancel at any time?
Yes, memberships are $30/year, and renew annually.  However, at any time during the year, you can click the "subscription" button in the top right of our site and follow through with the auto-renew cancellation (or you can contact me directly.) –Due to the nature of our site, we do not give refunds (except in rare cases of compatibility issues or for members who forget to cancel their auto-renew and no longer wish to be a member.)
8. What if my computer is not compatible with the videos?
If you have ANY trouble viewing videos upon joining, contact us for advice.  If we cannot help you, you will receive a refund. The same goes for gift memberships.
9. Can I buy a gift membership for someone?
Yes!  Please do!  A Gift Membership is the perfect gift for anyone who loves cake decorating, anyone who has a creative or crafty streak, or even moms or dads who may want to decorate for their children. Look for the GIFT MEMBERSHIP button in the right side bar!
 Thanks for stopping by, I hope you will join us soon!