Hi Everybody!  Today…another Halloween cake!  It is that time of year, after all!  It's funny how the idea for the Blog in the morning always changes somewhere around lunchtime to something completely different.  We switched from spider cupcakes to Halloween cookies, and finally to a witch topper that I had been wanting to do for a while!
Love witch decorations because you can make them as ugly as you want– big noses, crazy hair, warts and moles….anything goes.  The witch that I went with is pretty tame, some of the "runner-up" witches that didn't make the cut were much uglier!  If only I had been working on a sheet cake, I could have lined them up in a row  :0) —
I started with a 1/2 of a store-bought Rice Krispie Treat tightly molded around a lollipop stick, but you could use fondant if you'd rather.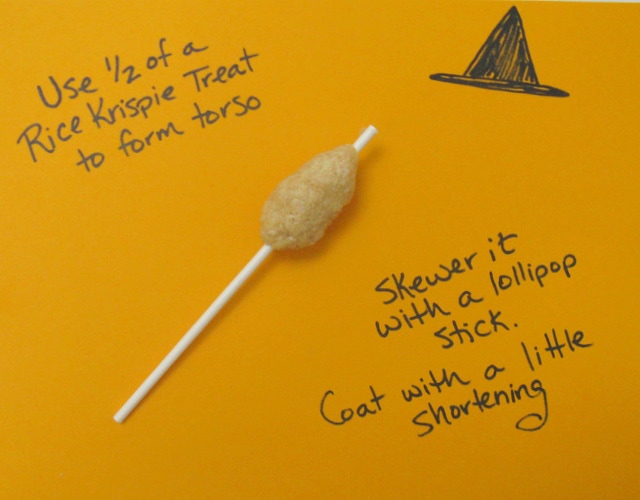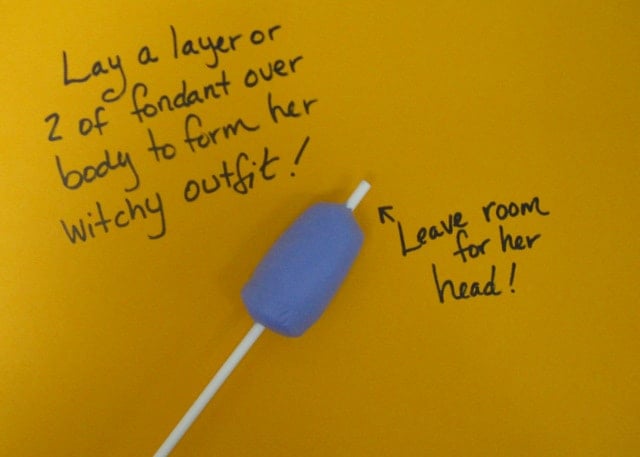 Now assemble and add the head to the top of the stick………use a little bit of water or sugar glue to make everything adhere. (FYI- I like to knead a little CMC or Tylose powder into my fondant when modeling–makes it dry faster & stronger.  Gum paste works great too.)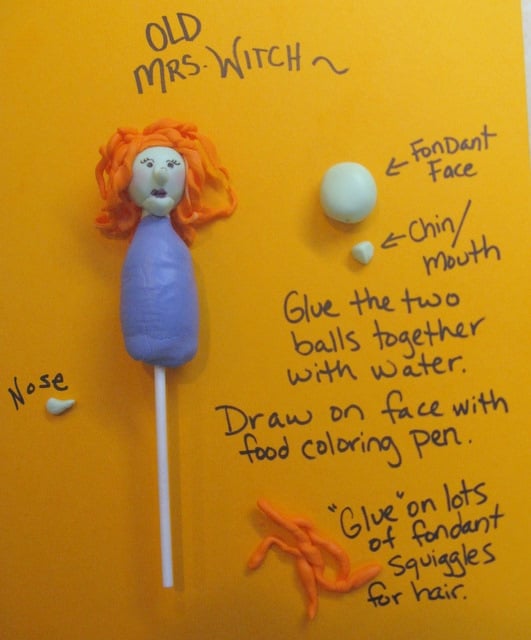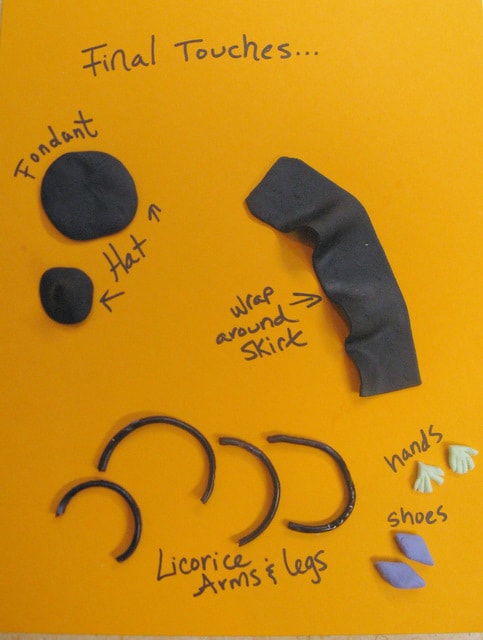 Oh, and don't forget to cut out some fondant shapes to press around the sides of the cake!  I am using my owl cookie cutter.  I added a buttercream beak and buttercream eyes later.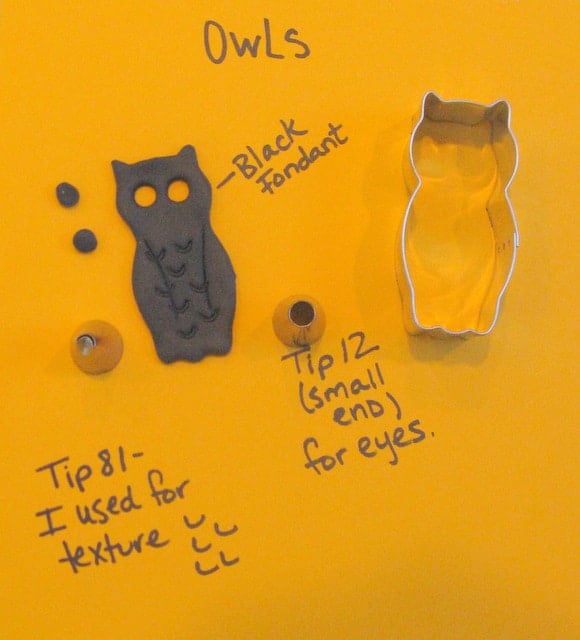 Okay, let's see what we have made!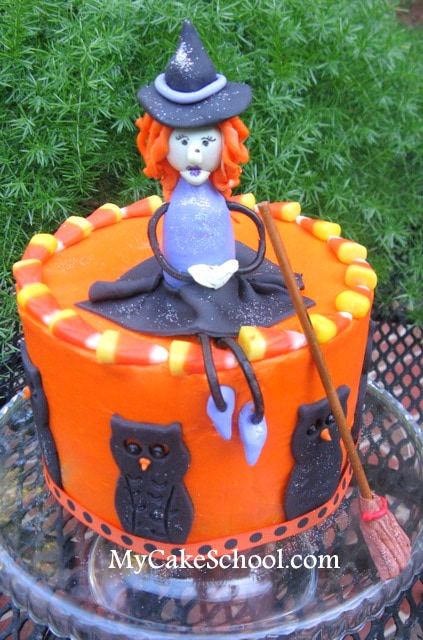 At the last second, I painted a lollipop stick (with vodka & brown coloring) and slapped on some fondant to make the broom.  How else is she going to fly around town?
Also, as it turns out, candy corns make a great mock border!  That's my kind of shortcut.  This is a 6″ buttercream-frosted cake.  Even without the witch, this simple design is a lot of fun.
Let's look at a side shot–Witchy's nose isn't showing up very well in the picture above–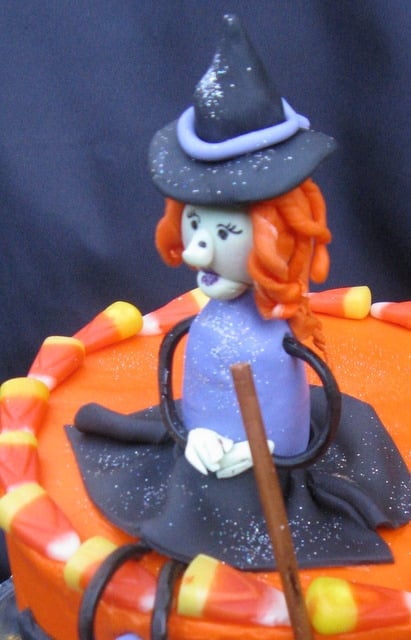 Any topper that you choose will do.  Witches not your thing?  Drape a blow pop with a piece of white fondant, draw on some eyes, and you have a ghost!
I hope you've enjoyed this little tutorial!  Now, start planning your Halloween creations!
****
In other MyCakeSchool happenings, I just added a cupcake bouquet tutorial to my cupcake videos section.  Here's a picture!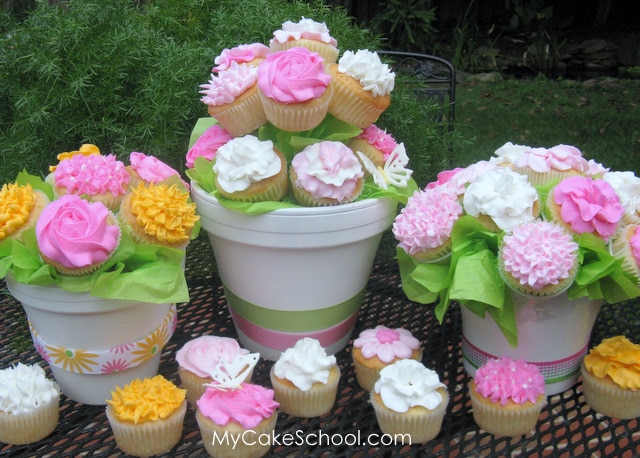 I want to Welcome, Welcome, Welcome our newest members to the site: 4seasons, isacatalan, crism, rconnag, abakerwannabe, lesliemansfield23, ysantiago2, seda, gogo, jamesysmom, mswelch, Le fou, & cupcakegirl!!!!
So glad to have you with us!!!!
Thanks everyone for stopping by the Blog today!