Well, I first saw these "cake push ups"  just a few weeks ago.  A member on our site mentioned them & I thought that this idea was pure genius!  Three cheers for a new way to eat cake! :0) –
Basically, a very smart person (I don't know who you are!) figured out that push ups are not just great to use with ice cream—but with cake too!
The good news is that you can order these push ups and make cake push ups for you and all of your friends!  The downside is that you have to buy in bulk.  So, if you are in the cake biz, I would say it's definitely worth a shot to buy them because they will be popular!  If you aren't in the cake biz, I would grab a few of your closest cake friends and split up an order :0)! –
One of our members was nice enough to send me 6 to experiment with!! (Thank you Stephanie!!!!) — (she found them here:  http://www.jbprince.com/table-service/clear-push-up-large.asp  )
Here's how you make them! –
Simply use a circle cutter to cut out little cake rounds from a cake layer or two.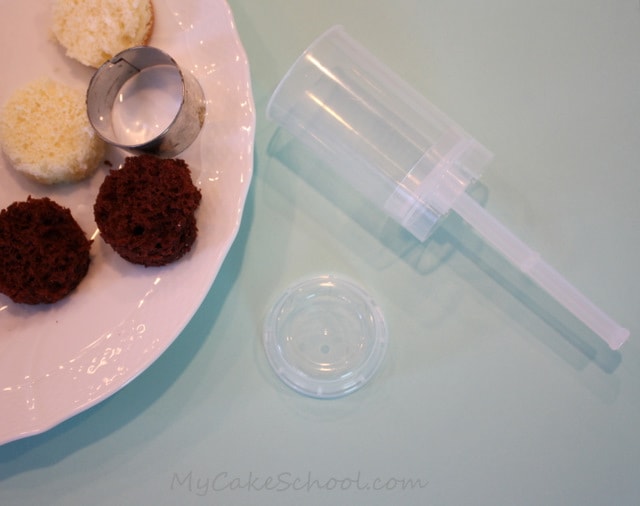 Experiment with your favorite flavor combinations…. I'm using strawberry & whipped cream here, but I also used vanilla buttercream, mint buttercream, chocolate chips, Andes mints, jimmies, sprinkles, & even a mock "mousse" made with vanilla pudding and whipping cream ….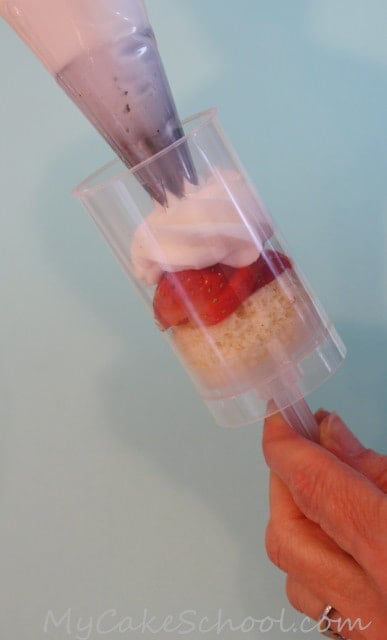 I made some cute little chocolate toppers that I piped with melted chocolate bark…  but they would have been cute also with just a swirl of icing!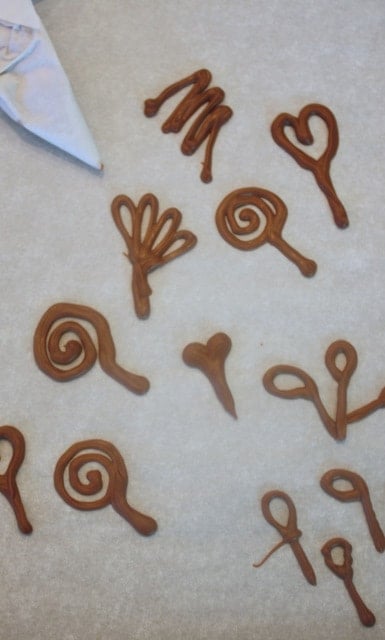 Finding a way to display these is a little tricky.  We used a circle of styrofoam which we wrapped with a brown ribbon (double sided tape) and covered with chocolate chips!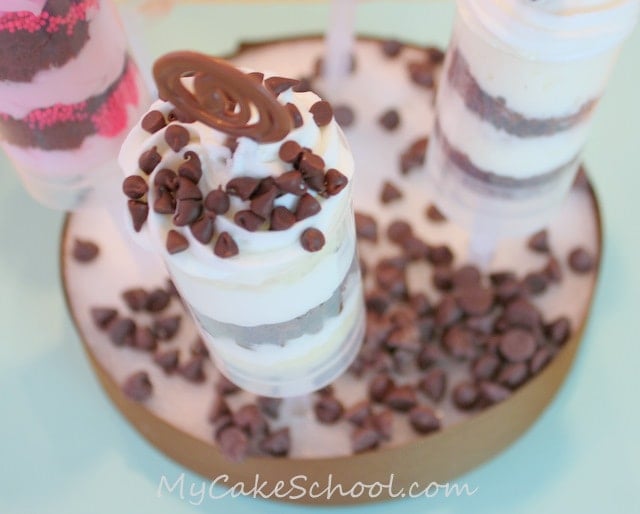 And the big finish!!!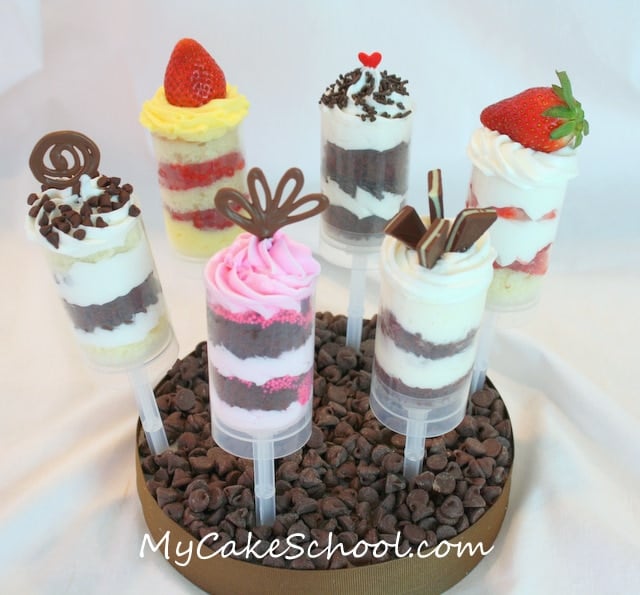 You can see that I experimented with lots of different flavor combinations!  The cake push ups do have lids, and so if you need to travel with them, you can attach the lids and do your final toppers before party time!  All in all, this little novelty is a lot of fun.  I did find out after launching a few strawberries across the counter that you really should "push up" gently! :0) — But once I figured that out, it was smooth sailing….and now I am full of cake! –
That's all for now!  Thanks for stopping by the blog today….and if you have any fun ideas for me to try, send me an e-mail!! :0)